A customized print-friendly version of this recipe is available by clicking the "Print Recipe" button on this page.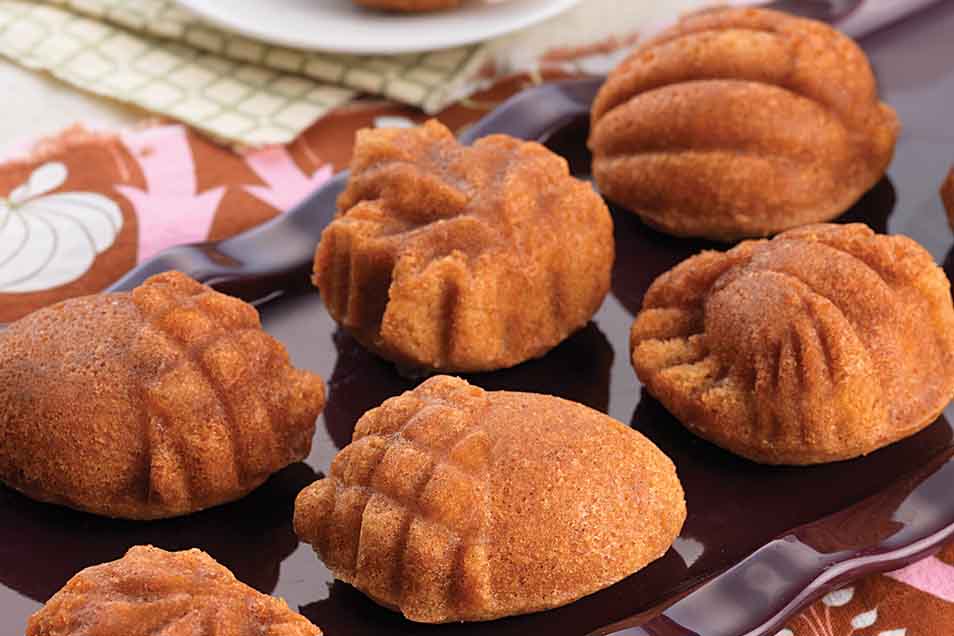 No longer just for drinking, chai tea has made a big splash in baking recently, enhancing everything from healthy breakfast granola with chai spices to decadent cupcakes with rich chai buttercream frosting. These cakelets are a sweet and simple way to enjoy the aromatic spices of your favorite chai tea.
Ingredients
Cake
1 1/2 cups King Arthur Unbleached All-Purpose Flour
1 teaspoon ground cinnamon
1 teaspoon ground ginger
3/4 teaspoon ground cardamom
1/4 teaspoon ground nutmeg
1/4 teaspoon ground cloves
1/4 teaspoon baking powder
1/8 teaspoon baking soda
1/4 teaspoon salt
1/2 cup (8 tablespoons) unsalted butter, softened
1/2 cup brown sugar
1/3 cup granulated sugar
1 teaspoon vanilla bean paste
2 large eggs
1/2 cup sour cream
Syrup
1/2 cup brewed chai tea
1 cup granulated sugar
Instructions
Preheat the oven to 350°F. Lightly grease the wells of an autumn cakelets pan, or mini muffin pan (see "tips," below).

To make the cakelets: Whisk together the flour, spices, baking powder, baking soda, and salt. Set aside.

Beat together the butter and sugars until light.

Beat in the vanilla; then the eggs, one at a time, scraping down the sides of the bowl between each addition.

Add half the dry ingredients, then all of the sour cream, then the remaining dry ingredients, stirring just to combine.

Scoop the batter into the prepared wells until they're ¾ full — a jumbo cookie scoop works well here.

Bake the cakelets for 14 to 17 minutes, until a cake tester inserted into the center of one comes out clean.

While the cakelets are baking, prepare the syrup: Heat the tea and sugar in a saucepan until the sugar dissolves, stirring frequently.

Remove the cakelets from the oven; cool them in the pan for 5 minutes, then turn them out onto a rack. Brush with syrup immediately.

Repeat with the remaining batter and syrup.

Store, covered, for 3 days at room temperature, or freeze for up to a month.
Tips from our bakers
These little cakes may also be baked in a lightly greased mini-muffin pan for 12 to 14 minutes. You'll end up with about 44 bite-sized cakes.
No vanilla bean paste? Substitute the same amount of vanilla extract.
Reviews
How much of the chai spice should I use? (It's easier than measuring out all those spices and smells delicious!)

You can keep it simple and just use the total amount of spices, which would be 3 1/4 teaspoons. Happy baking! Annabelle@KAF
This recipe always gets raves. It's a huge favorite at work and at school bake sales. I made them for the concession stand at a high school play, and was told afterwards that one person bought two, then came back and bought the entire batch at double the price they were charging. They are especially good after they've sat a bit so the glaze can really permeate the cake.
Delicious, quick, and quite simple! I made these for a bake sale and could barely bring myself to sell them and not keep them all for myself. I'm considering making the recipe again as a cake--has anyone done this and do you have any tips?

We haven't tried making this into a layer cake, but we think it should fit nicely in a 9" round cake pan. Bake at 350°F for about 25-30 minutes, and check for doneness. If it doesn't appear to be done, give it a few more minutes until a toothpick inserted into the center comes out clean. Happy baking! Kye@KAF
Loved the taste - easy to make. I ended up using a bite-sized bundt pan and they didn't bake up with a flat bottom (they rose as if they were a muffin) so they didn't sit flat on the plate. Did I perhaps overfill?
Very nice flavor for folks who love chai spices. These little cakes are rich and dense, much like a pound cake, so if you don't have a pan with small wells for bite-size treats, I think mini loaf pans, which another reviewer mentioned, would be a good choice, especially for holiday gifting.
Moist, dense, and loaded with rich spice flavor. Great for fall. Forgot I needed to replace my muffin pan, so I used a mini loave pan. Not the best presentation but still delicious.
Great recipe for the warming spices. I used cast iron muffin pan. reduced clove & brewed the tea with a vanilla bean. like spice cake but richer. brush cakes liberally for a sweet & sticky finish (I needed less glaze). Excellent!
So delicious. Works fine in a mini muffin pan, just don't overfill the wells or they will be tough to remove. They get better once they are fully cooled and have soaked up the delicious syrup. Brew the tea for the syrup strong. I used 2 tea bags for 3/4c boiling water and then measured out the 1/2 c needed. (Protip- don't just use 1/2 c water because the tea bags will soak some of your water up.) All in all, an easy, delicious cake that is a little unusual and fun. Recommended for sure.
Have not made this because I do not feel like spending $33 on a new pan. Can you use a jumbo cupcake tin for this receipe?
You could certainly try this recipe in a different pan. I would recommend a regular cupcake pan, since these treats are meant to be on the small side. There are recommendations in the recipe for using mini muffin pans, so you could adjust to bake about 12 regular sized cupcakes. Your baking time will be a bit longer. Barb@KAF