A customized print-friendly version of this recipe is available by clicking the "Print Recipe" button on this page.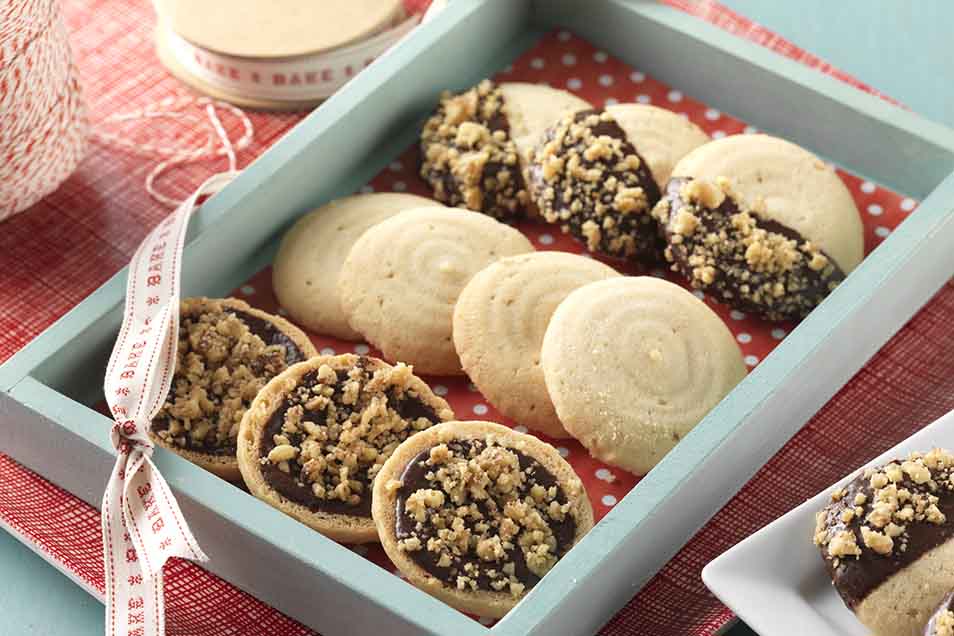 The ultra-tender, extra-crunchy texture of these cookies is unlike anything you can get using baking powder or baking soda. The secret? Baker's ammonia, a.k.a. ammonium carbonate; possibly available at your local pharmacy, and certainly available here at King Arthur Flour. Can these cookies be made without baker's ammonia? Sure; just substitute baking powder. Just be aware their texture won't reflect what we've just described.
Ingredients
Cookies
2 to 3 teaspoons vanilla extract
1/4 teaspoon baker's ammonia or 1 1/2 teaspoons baking powder
3/4 to 1 teaspoon salt*
1 1/4 cups sugar
1 cup unsalted butter
coarse or granulated sugar for topping, optional
*If you enjoy the "salty-sweet" combination, use the greater amount of salt. If you'd prefer the salt less prominent, use the lesser amount.
Chocolate dip
1 cup diced pecans or walnuts, crushed
1 cup chocolate chips
1 ½ tablespoons vegetable oil
Instructions
Preheat the oven to 300°F. Lightly grease (or line with parchment) two baking sheets.

Combine the vanilla, baker's ammonia, and salt in a very small bowl. Stir to dissolve the ammonia; the salt won't fully dissolve. Combine the vanilla mixture with the sugar and butter, and beat until smooth.

Mix in the flour; the mixture will seem quite dry and crumbly at first, but continue mixing until the dough comes together.

Break off pieces of dough about the size of a shelled chestnut (about 1/2 ounce); a teaspoon cookie scoop works well here. Roll the pieces into balls. Space them on the prepared baking sheets, leaving 1 1/2" between them.

For somewhat sweeter cookies with the added crunch of sugar topping, roll them in coarse or granulated sugar before placing them on the baking sheets.

Use the bottom of a glass, dipped in sugar if necessary to prevent sticking, to flatten the balls to about 3/8" thick. If you have it, use the end of the food pusher from a food processor; many of these have a circular, ridged pattern on their end, which imprints the cookies with a nice design.

Bake the cookies until they're a very light golden brown around the edges, about 25 minutes.

Remove them from the oven, and transfer them to a rack to cool.

To dip cookies: Crush the pecans finely, either by putting them in a zip-top plastic bag and pounding, or in a food processor.

Combine the chocolate chips and vegetable oil in a microwave-safe cup. Microwave till the chocolate softens, then stir till it melts completely.

Use a pastry brush to pain the bottom of each cookie with chocolate.

Dip in the crushed nuts.

Place cookies, chocolate-side up, on a piece of parchment or cookie sheet to set.
Tips from our bakers
Want to substitute salted butter for unsalted? Reduce the salt in the recipe to 1/2 teaspoon.
Reviews
Delightfully crisp little cookies! They're wonderful with tea or coffee.
Once a month I bake cookies for deployed service personnel. Last month I made and sent the Vanilla Dreams cookies. The response was overwhelming. To quote on serviceman, "I especially liked the Vanilla Dream - I couldn't stop eating them!" Thank you for a wonderful recipe which I am now sharing with my friends who love to bake as well.
I agree that you should put less sugar. Cookies using baker's ammonia is more crispy and stay crispy longer. I would like to know how do I substitute baker's ammonia for other cookie recipes, it's difficult since some use both baking powder and baking soda but some just one of them. And then there're some has lemon juice or yogurt in them, help please.
It had been a while since I made these cookies. I've sprinkled them with multicolored gourmet sugar crystals before baking or rolled the balls in various color sanding sugar. They are always a hit. I had never done the chocolate/nut dip version. In my fridge I discovered a jar of topping I made a while back for the Chocolate Caramel Almond Crunch Brownies which I never used because the caramel part was a a failure. I sprinkled some of the topping on the a few of the cookies before baking. YUM! Lots easier than painting and dipping too.
Update to my review of 1/29/16: These were improved by reducing the sugar to one cup. There was more butter flavor instead of just sweet. My favorite is still the chocolate version, though.
Made these as written and they were winners at Christmas. I used a glass bottom from a antique collection for the design. They looked great just as they were so some just had sugar for the topping. The other half were half chocolate with toasted nuts. This was the first time to use the ammonium carbonate and it is a little scary when you smell it. But KA is absolutely right. No smell and what a wonderful texture to the cookie. Another added to the Christmas neighbor cookie delivery. As the official taster I can tell you that both the sugar and chocolate versions are A+.
My son loves these cookies when I roll them in the coarse sparkling sugar! I use Baker's ammonia, and it makes a great texture. I am not a big nut fan, so since it's the holidays, I painted the bottom of some of these with the chocolate chip mixture recommended, and then dipped them in your Peppermint Crunch - festive looking and delicious! Thanks for another great recipe - well worth putting up with the ammonia smell which really only lasts a short time.
Definitely use the ammonia. I used baking powder instead and they turned hard and chewy. They were also much to sweet for me personally, but I prefer a more subtle flavor.

We're sorry to hear these cookies weren't to your liking, fellow baker. If we can help troubleshoot for a better next bake or point you in the direction of another recipe that might better fit your tastes, please don't hesitate to give us a call at 855-371-BAKE. Mollie@KAF
wow that was easy and turned out fantastic! new holiday go to.
They are beautiful and the texture is great but they are too sweet for me to enjoy. My husband liked them a lot and gave them 4 stars. I will make them again but will cut out some of the sugar and I'm going to try adding peanut butter powder and see how that tastes.