A customized print-friendly version of this recipe is available by clicking the "Print Recipe" button on this page.
Vanilla-Scented Madeleines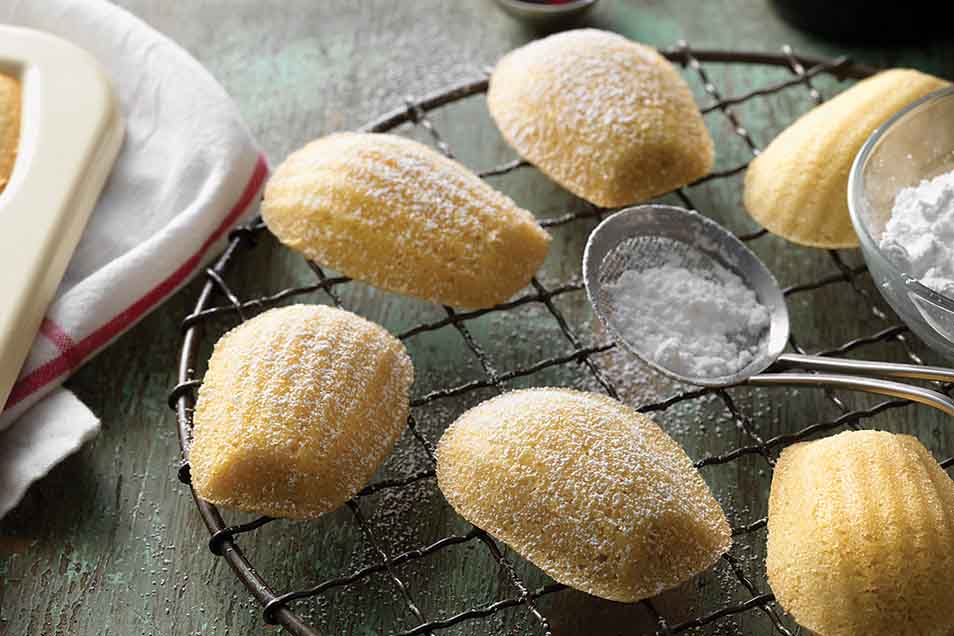 These elegant cookies are wonderful with tea or coffee.
Ingredients
Chocolate Glaze
1/4 cup corn syrup
1/4 cup water
3/4 cup sugar
1 cup chopped bittersweet or semisweet chocolate
Instructions
To make the cookies: Melt the butter, then set it aside to cool to room temperature.

In a medium-sized mixing bowl, beat the sugar, eggs and salt until they're light yellow and very thick. Stir in the vanilla and butter-rum flavor. Add the flour and melted butter alternately, using a folding motion (be gentle!), so the batter loses as little volume as possible. Refrigerate the batter, covered, for 45 minutes or so, until it's thick.

Scoop the batter into the lightly greased wells of a standard-size madeleine pan, using 1 slightly rounded tablespoon of batter for each cookie. (If you have only one pan, bake in sequence, keeping the remaining batter refrigerated).

Bake the madeleines in a preheated 375°F oven for 12 to 14 minutes, until they're light brown at the edges. Cool in the pan for several minutes, then remove from the pan and cool completely on a rack.

Sift a light coating of confectioners' sugar over the madeleines just before serving. Or, dip in chocolate glaze. Store cookies in an airtight container.

In a small pan, combine the corn syrup, water and sugar. Bring to a full rolling boil, stirring until the sugar melts. Remove from the heat, add the chocolate, and let stand for several minutes; then stir until smooth. Reheat as necessary to keep it soft enough for dipping, adding a bit of extra water if needed.

To glaze madeleines: Gently grasp a madeleine at one end, and dip the other end in the chocolate. Set on a rack (over parchment paper, to catch any drips) until the chocolate hardens.
Reviews
My Madeleines turned out kind of tough and seemed eggy. Could it be that my eggs were too old? They were room temperature but the egg/sugar/salt mixture looked kind of broken even after beating it in my stand mixer for a long time. They still taste good and I'm sure we will eat every crumb. I haven't made these before and am not sure exactly what the texture should be.

Hi Kerry! It's hard to say without seeing it, but the fact that the batter broke with all of the room temperature ingredients leads us to believe that the egg whites may have been a little too old. They'd still taste fine but their protein would be weaker and unable to hold a very good, fluffy rise. Annabelle@KAF
I wish there were a spot on the page to add my own notes. My oven runs hot but i forget to bake these at 325 so the bottoms don't burn. Also, used 1 teaspoon vanilla and 1/2 teaspoon Orange for a holiday difference. Then we added a bit of candied orange peel on top of the chocolate.
2 1/2 dozen? This made 1 1/2 dozen for me... (I mean, I ate a little batter but not that much)

Hmm...maybe your pan has wells that are a little bigger than ours, Caroline? Or maybe we used less batter per madeleine and it stretched out the final yield? It's worth a little experimentation! Annabelle@KAF
Absolutely lovely! Came out perfect...and so delicious!
My granddaughter and I made these together and they turned out beautifully! It was our first time in making madeleines, but it won't be our last. Thank you, KAF!
I have always enjoyed these little treats but have not found a good recipe to make them until now. This KAF recipe is a real keeper. They are easy to make and not too sweet. The instructions are clear and easy to follow. They are perfect for an after school treat or just a little break from the day.
Just baked two recipes of madeleines from other sites and was soooo disappointed; flavor and texture so so wrong. Then went back to my go to site- King Arthur, don't know why I didn't bake these first...would have saved so much time. Thank you for this FANTASTIC recipe, they are PERFECT!
Loved this recipe. Made them for the holidays in my new Madeleine's pan. Had never had to "fold" ingredients but easy peasy. Glazed with a lemon glaze. My new favorite. Making for a dinner party in February...btw, love your products. So happy to support an employee-owned company!
These turn out well. Remember the window between baked and burned is very small so monitor closely.
I prepared the chocolate glaze recipe only to use with a french lemon madeleines recipe. The glaze itself was correct, however, after dipping the madeleines in the chocolate glaze and placing them on a rack the glaze slid off the madeleines onto the parchment below. I dipped three times, as the first dip coated the madeleines but only in a thin layer. Also, I tried dipping oatmeal chocolate chip cookies with a lot of texture, but the chocolate glaze still slid off the top of the cookies onto the parchment paper. Perhaps less H2O in the recipe would help(?) Generally, I dip in straight chocolate, but thought this recipe was worth trying. I feel this chocolate glaze works best on a cake with a bigger surface area, while allowing the glaze to run off over the sides to coat. Thank you, I enjoy baking with King Arthur Flour:)

Thanks for reaching out to us, Pamela! Hmm it sounds like the glaze may have been a little too hot, or was possibly made with a chocolate chip containing a waxy coating which can alter the consistency. We're so sorry that the glazing was a poor experience, and encourage you to reach out to our friendly Baker's Hotline staff to troubleshoot at 855-371-2253. Kindly, Annabelle@KAF