A customized print-friendly version of this recipe is available by clicking the "Print Recipe" button on this page.
Vanilla-Scented Madeleines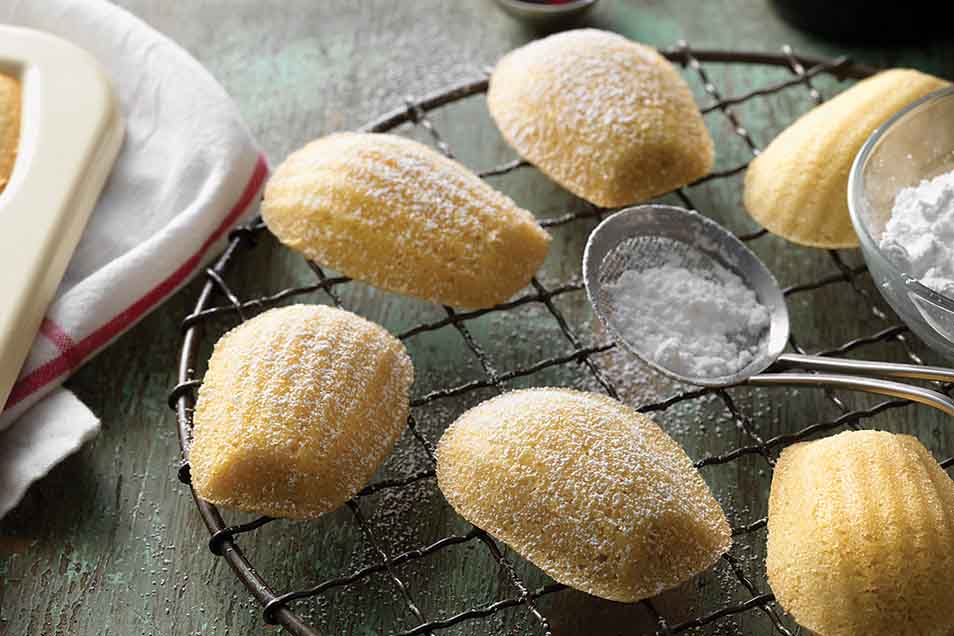 These elegant cookies are wonderful with tea or coffee.
Ingredients
Chocolate Glaze
1/4 cup corn syrup
1/4 cup water
3/4 cup sugar
1 cup chopped bittersweet or semisweet chocolate
Instructions
To make the cookies: Melt the butter, then set it aside to cool to room temperature.

In a medium-sized mixing bowl, beat the sugar, eggs and salt until they're light yellow and very thick. Stir in the vanilla and butter-rum flavor. Add the flour and melted butter alternately, using a folding motion (be gentle!), so the batter loses as little volume as possible. Refrigerate the batter, covered, for 45 minutes or so, until it's thick.

Scoop the batter into the lightly greased wells of a standard-size madeleine pan, using 1 slightly rounded tablespoon of batter for each cookie. (If you have only one pan, bake in sequence, keeping the remaining batter refrigerated).

Bake the madeleines in a preheated 375°F oven for 12 to 14 minutes, until they're light brown at the edges. Cool in the pan for several minutes, then remove from the pan and cool completely on a rack.

Sift a light coating of confectioners' sugar over the madeleines just before serving. Or, dip in chocolate glaze. Store cookies in an airtight container.

In a small pan, combine the corn syrup, water and sugar. Bring to a full rolling boil, stirring until the sugar melts. Remove from the heat, add the chocolate, and let stand for several minutes; then stir until smooth. Reheat as necessary to keep it soft enough for dipping, adding a bit of extra water if needed.

To glaze madeleines: Gently grasp a madeleine at one end, and dip the other end in the chocolate. Set on a rack (over parchment paper, to catch any drips) until the chocolate hardens.