A customized print-friendly version of this recipe is available by clicking the "Print Recipe" button on this page.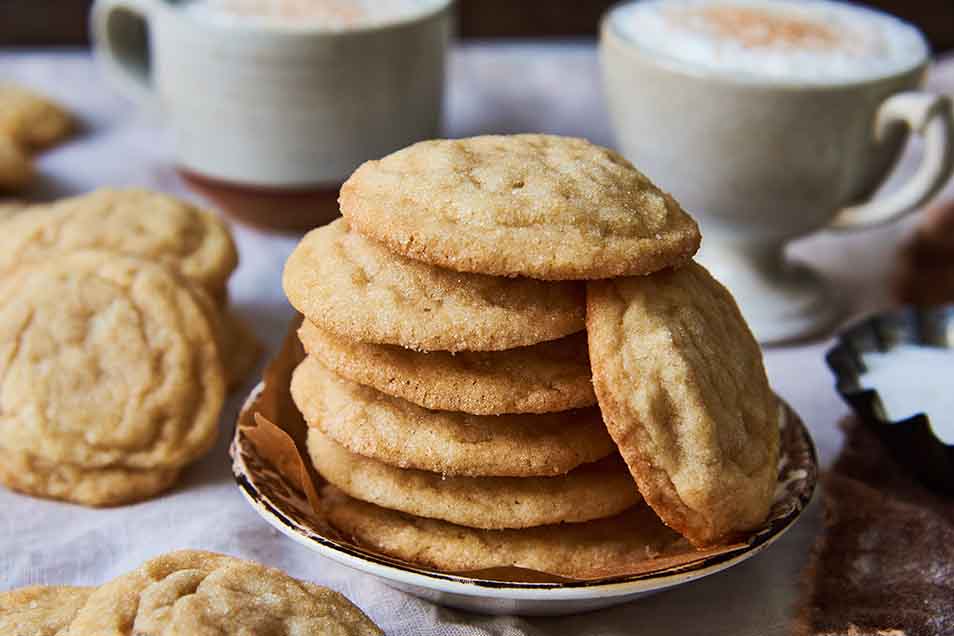 AJ Quigley, a regular on King Arthur's Baking Circle community, emailed us this recipe with the following message: "I ran across one of my favorite sugar cookie recipes years ago in one of those 'company' fundraiser cookbooks, and have used it quite often since then. I checked KAF's recipes and there's not one like it, so I thought I'd share. It makes a tender-crisp, melt-in-your-mouth cookie." We've changed AJ's recipe slightly (baker's prerogative!), but feel it's still true to its origins. Thanks, AJ!

Interestingly, this cookie can go either way, texture-wise: crisp-crunchy, or soft-chewy. If you store them airtight, the cookies will remain crisp. But if you prefer soft sugar cookies, bake them for 13 minutes, then leave them uncovered overnight; they'll soften nicely.
Ingredients
Dough
1/2 cup vegetable oil
1/2 cup (8 tablespoons) butter
1/2 cup confectioners' sugar
1/2 cup granulated sugar
1 large egg
2 to 3 teaspoons vanilla extract, to taste
1/4 teaspoon almond extract, optional
1/8 to 1/4 teaspoon ground nutmeg, to taste; optional
scant 1/4 teaspoon baking soda
3/4 teaspoon baking powder
1/2 teaspoon salt*
*Reduce the salt to 1/4 teaspoon if you use salted butter.
Instructions
Beat the oil, butter, and sugars together until fairly smooth; a few lumps of butter may remain.

Add the egg, beating until smooth. Beat in the extracts and nutmeg.

Stir in the dry ingredients, again beating until smooth.

Cover the bowl and refrigerate the dough for at least 2 hours, until it's stiff enough to scoop easily and hold its shape; overnight is fine.

Just before shaping the cookies, preheat your oven to 350°F. Lightly grease (or line with parchment) 2 or 3 baking sheets.

Place some granulated sugar or coarse white sparkling sugar in a shallow pan, and scoop the chilled dough by the tablespoonful into the sugar, rolling to coat. Roll each ball into a round in your palms. The dough softens quickly; refrigerate it between batches.

Place the cookies on the prepared baking sheets.

Bake the cookies for about 13 minutes, until their edges are just beginning to brown. Bake slightly longer for a crisper cookie.

Remove the cookies from the oven, and cool on the pan for at least 10 minutes before transferring to a rack to cool completely.

As soon as the cookies are completely cool, store them airtight, to retain their crunchy texture. For soft cookies, allow them to rest uncovered overnight before wrapping and storing.

Yield: 2 1/2 dozen 3" cookies.
Tips from our bakers
Vanilla is obviously the most important flavor in these cookies, but we suggest nutmeg and almond extract, as well. Nutmeg will give the cookies a distinctive, old-fashioned "sugar cookie taste." And we feel a small amount of almond highlights vanilla's flavor, without adding any flavor of its own.
Reviews
My first taste of this cookie was at a party where the baker had topped it with peppermint and vanilla cream icing. It was one of the best cookies I'd ever had. I looked up the recipe and have made it several times myself with no problems. Today I had two issues mentioned in previous reviews. One was the "meaty" flavor. After my second cookie I decided the flavor was probably from using old vegetable oil. The second problem was that this batch didn't flatten and crack properly but stayed domelike. I was able to improve it a little by flattening the uncooked ball somewhat but it still wasn't the cookie pictured (though the texture was fine). From reading the King Arthur response, I can only assume I over-mixed.
If you are an experienced cookie baker, you might be 'put off' by reading the oil as an ingredient, along with butter, because it does sound odd. Have faith..try it!! These are fabulous. As others stated, they really, truly, melt in your mouth and there is not much left to swallow, lol! So light and crispy but full of flavor. I make a double batch of these every Christmas. I love them with just rolled granulated sugar, or with a buttery frosting.
I had the same experience as bkramer947. The batter turned out very, very soft. I used KAF flour and a digital scale to measure everything out. I don't think that my butter was too soft. When I made the cookies they all ran together, there was no substance there at all. I would have had to add a whole lot of flour to make them come out. The whole thing is a mystery to me.

We're so sorry to hear about this, Susan. We encourage you to reach out to our friendly Baker's Hotline staff to help troubleshoot at 855-371-2253. Kindly, Annabelle@KAF
I had a really odd experience with this recipe. I measured the dry ingredients in grams using my beloved digital scale. Upon mixing it all up in the correct order listed on the recipe, I found the cookie dough more like a very loose batter. It was unlike any cookie dough I had ever seen. I was afraid that even upon chilling for 2 or more hours, it would not be dough-like. It was THAT loose. I added quite a bit extra flour, a little at a time, to make it a consistency that I felt I would be able to scoop out onto a cookie tray. Chilled the dough and they baked up nicely. I can't imagine if I hadn't thickened up the mix with a lot of extra flour, though. The cookies tasted good - nice flavor - but the texture was more crumbly than expected, I am sure from the added flour. Strange experience.

We're surprised to hear about the consistency of your cookie dough, as we haven't experienced this for ourselves or heard about these results from other reviewers. It sounds like there may have been a measurement error, or your butter may have been too soft, causing it to act like a liquid instead of a solid ingredient. Another possible cause is a low protein content of the flour you used; we recommend using King Arthur Flour brand all-purpose flour, as it's higher in protein than most others and therefore gives baked goods a better structure. We hope that helps! Kye@KAF
I have been looking for a recipe like this one, for so very long. Velvety, melt in your mouth sugar cookies. This recipe is perfection! Thank you so much!
Baked them today. Literally melts in your mouth. What a fantasic cookie. I used nutmeg,vanilla and butter rum flavorings snd they were wonderful. They melt so fast you really don't have time to chew them!! Wonderful flavor!
We like the flavor of these cookies and wonder if they can be rolled then used with a cookie cutter. Thanks
We have not tried this recipe as a cut-out. Give it a whirl and report back! Elisabeth@KAF
Absolutely delicious after following the recipe exactly! Also appreciated the fact that half the fat was oil. Will be adding this recipe to my collection.
Love,Love, Love this recipe!!! So does my husband! Vanilla is one of his favorite flavors. I made 2 batches! I followed the recipe on both batches except for the second batch I made I used slightly less of the almond extract because to me in the first batch they were more predominantly an almond flavor, I also used less nutmeg in the second batch and I think my husband loves the second batch more!! Both are very, very good sugar cookies!! I love KAF's recipes!! I follow them step by step and everything always turns out perfect!! If I have a question about something in the recipe during chat hours, there is Always a friendly and helpful baker to help me out and encourage me along the way!! Thank you KAF for everything!
The taste was excellent, I left the dough in the fridge overnight it was harder than I thought but it was fine. I also used a regular spoon. 10 minutes was fine.