A customized print-friendly version of this recipe is available by clicking the "Print Recipe" button on this page.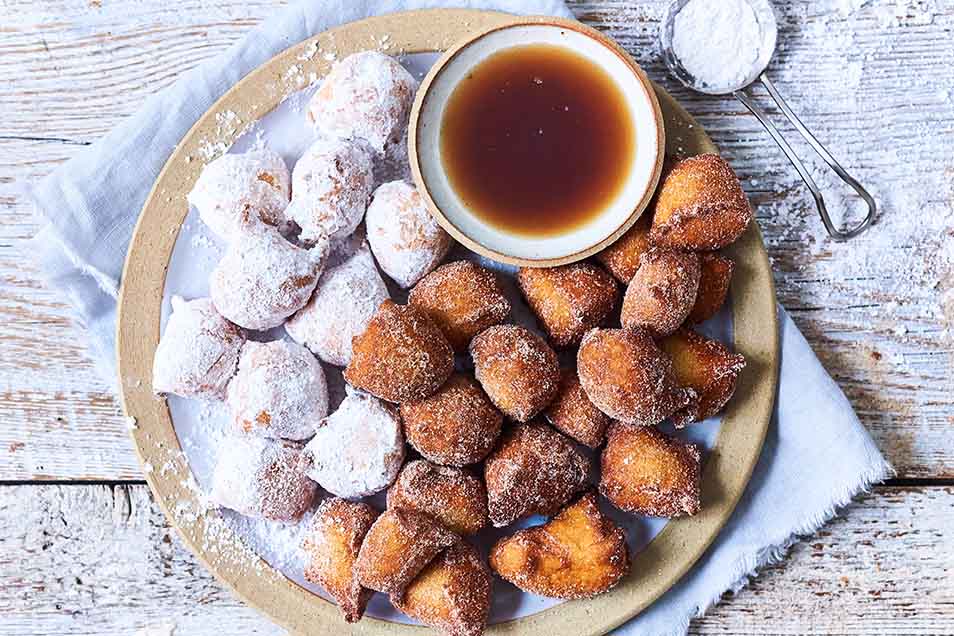 Never mind the doughnut — this recipe is an easy way to make only the holes, crunchy little nuggets perfect for dipping into maple syrup. There's no finicky rolling or rising involved. Instead, simply stir up a stiff pancake-like batter and drop it by spoonfuls into a shallow (1") bath of hot oil. Four minutes later — golden brown, ultra-crisp doughnut holes, soft and tender inside, ready to sprinkle with cinnamon sugar or confectioners' sugar, or dunk in maple syrup or honey.
Ingredients
For frying
5 cups vegetable oil (peanut oil is a good choice for frying)
Doughnut batter
2 cups King Arthur Unbleached All-Purpose Flour, King Arthur White Whole Wheat Flour, or a combination
1/4 teaspoon ground nutmeg; optional, for flavor
2 to 4 tablespoons granulated sugar, to taste
1 1/2 tablespoons (4 1/2 teaspoons) baking powder
1/2 teaspoon salt
1 large egg
1 cup milk
1/4 cup (4 tablespoons) melted butter
Instructions
Pour the oil 1" deep into a 10" skillet that's about 2 1/2" deep or use an electric frying pan. You want the oil to be about 1" deep. Start to heat the oil to 350°F while you're preparing the doughnut batter.

Whisk together the dry ingredients. In a separate bowl, whisk together the milk and egg.

Pour the milk/egg into the bowl with the dry ingredients, stirring briefly; then add the melted butter, stirring to make a thick batter/soft dough.

When the oil has come up to temperature, use a cookie scoop (or a spoon) to drop balls of batter into the hot oil. This recipe will make 2" doughnut holes using a tablespoon cookie scoop, and dropping in balls of dough about as big as an undersized ping pong ball; or 1 1/2" holes, using a teaspoon cookie scoop, and dropping in balls of dough about as big as a chestnut.

Fry the doughnut holes for 2 minutes on the first side, or until they're deep brown. Some of them may turn themselves over; that's OK, just use a pair of tongs to turn them back. After 2 minutes, turn the holes over, and fry for an additional 2 minutes (for the larger doughnut holes), or 1 1/2 minutes (for the smaller ones).

Transfer the doughnut holes to a baking sheet lined with paper towels to drain and cool.

Serve warm or at room temperature, sprinkled with sugar and/or dipped in maple syrup or honey.
Tips from our bakers
An electric frying pan is a good choice here, especially since its adjustable dial makes it really easy to heat the oil to the correct temperature.