A customized print-friendly version of this recipe is available by clicking the "Print Recipe" button on this page.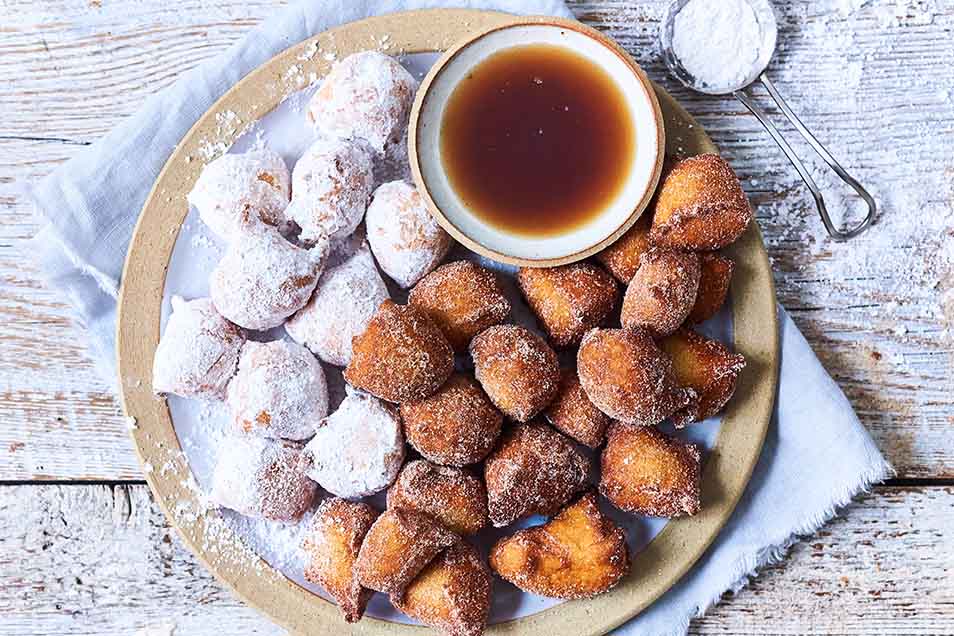 Never mind the doughnut — this recipe is an easy way to make only the holes, crunchy little nuggets perfect for dipping into maple syrup. There's no finicky rolling or rising involved. Instead, simply stir up a stiff pancake-like batter and drop it by spoonfuls into a shallow (1") bath of hot oil. Four minutes later — golden brown, ultra-crisp doughnut holes, soft and tender inside, ready to sprinkle with cinnamon sugar or confectioners' sugar, or dunk in maple syrup or honey.
Ingredients
For frying
5 cups vegetable oil (peanut oil is a good choice for frying)
Doughnut batter
2 cups King Arthur Unbleached All-Purpose Flour, King Arthur White Whole Wheat Flour, or a combination
1/4 teaspoon ground nutmeg; optional, for flavor
2 to 4 tablespoons granulated sugar, to taste
1 1/2 tablespoons (4 1/2 teaspoons) baking powder
1/2 teaspoon salt
1 large egg
1 cup milk
1/4 cup (4 tablespoons) melted butter
Instructions
Pour the oil 1" deep into a 10" skillet that's about 2 1/2" deep or use an electric frying pan. You want the oil to be about 1" deep. Start to heat the oil to 350°F while you're preparing the doughnut batter.

Whisk together the dry ingredients. In a separate bowl, whisk together the milk and egg.

Pour the milk/egg into the bowl with the dry ingredients, stirring briefly; then add the melted butter, stirring to make a thick batter/soft dough.

When the oil has come up to temperature, use a cookie scoop (or a spoon) to drop balls of batter into the hot oil. This recipe will make 2" doughnut holes using a tablespoon cookie scoop, and dropping in balls of dough about as big as an undersized ping pong ball; or 1 1/2" holes, using a teaspoon cookie scoop, and dropping in balls of dough about as big as a chestnut.

Fry the doughnut holes for 2 minutes on the first side, or until they're deep brown. Some of them may turn themselves over; that's OK, just use a pair of tongs to turn them back. After 2 minutes, turn the holes over, and fry for an additional 2 minutes (for the larger doughnut holes), or 1 1/2 minutes (for the smaller ones).

Transfer the doughnut holes to a baking sheet lined with paper towels to drain and cool.

Serve warm or at room temperature, sprinkled with sugar and/or dipped in maple syrup or honey.
Tips from our bakers
An electric frying pan is a good choice here, especially since its adjustable dial makes it really easy to heat the oil to the correct temperature.
Reviews
Absolutely fab recipe very easy to make and yeah can't fault it thanks
Really easy - super delicious
These are fantastic! I made the batter in 5 minutes...fried them to order for late night wedding snacks and rolled in cinnamon sugar and lemon sugars. They were a huge hit, light, fluffy and so delicious. I have made them 3 times since then for my staff at work.
Hmm, not sure what I did wrong, when I made these they burned within one min of being in the oil. I used a candy thermometer to make sure the oil was at the right temp and even tried lowering the temp but still had the same problem. Does anyone have an suggestions... Does the type of oil affect the cook time? Also, the small pieces that broke off looked like burnt egg, should I use a smaller egg? If I made them very thin and only left them in for 15 sec per side they turned out ok.

We're sorry to hear these didn't fry up as nicely as we'd hoped, Johnny. We've shared your feedback with our recipe team to do some testing with different oils. One possibility is that the oil towards the top of the pot was hotter than where your thermometer was. We'd love the chance to talk through the recipe with you, so we encourage you to reach out to our free and friendly Baker's Hotline staff to help troubleshoot at 855-371-BAKE (2253). Kindly, Annabelle@KAF
Made these gluten and dairy free/raw dairy and they were delicious!!!! I used coconut oil in place of butter and divided the flour into two parts for the two cups (1 cup whole grain gf flour mix and 1 cup tapioca flour). We use raw milk, but you could definitely use almond or coconut milk. Added 1 tsp nutmeg (instead of 1/4 tsp.) and a dash of vanilla. They were sooo delicious! It's not easy to make donut like gluten free goods, but these were a huge hit! Recipe made about 30 donut holes.
This recipe was great and easy to whip up before a party. My only mistake was using a large ice cream scoop - they came out like enormous fritters but the crust was exceptional and, hey, bigger is not REALLY a problem here :) I used a countertop basket fryer from target (bought for $30) because I like being able to consistently control temp but you should still have a candy thermometer handy to gauge whether the Fryer is actually at the temp you set it to (I found mine is off by at least 10 degrees!). Would adding pumpkin spice or puree drastically affect the recipe?

Ooh pumpkin doughnuts sound amazing, Mike! Adding pumpkin puree in place of some of the other liquid would potentially alter the texture to be a bit gummier. However, pumpkin spice would be delicious and easy to incorporate a teaspoon or two into your dry mixture. Happy baking! Annabelle@KAF
These came out great. Really crispy on the outside which I loved. However my wife asked if there's a way to make these more tender on the outside. Would adjusting the recipe or frying temperature have that effect?

We're so glad to hear this recipe was a hit in your kitchen, Aaron! One thing to give the overall texture some extra tenderness would be to substitute 1/4 cup of the All-Purpose flour with some potato flour. Happy baking! Annabelle@KAF
An excellent recipe because there is no rolling or cutting involved, just drop dollops of dough into the hot oil. I used a commercial 2 Tablespoon disher which is the perfect size for cookie dough but a tad on the large side for donut holes. I subbed in coconut/almond milk because we were out of the real stuff. I also used 1/2 tsp of fresh grated nutmeg and would double that next time.. the fresh grated (microplaned) doesn't seem to equal 1/4 tsp of ground. Holes came out nice and crisp on the outside, soft, moist and almost custardy inside; definitely delish!
This recipe yields pure, little pillows of perfection. I was able to use a baking blend sweetener in place of straight sugar and I added a little more nutmeg. I was amazed at how quickly they cooked and how lite they were. I sprinkled them with another sweetener while warm--these are so very delightful. I made only half of the recipe and got 3 1/2 dozen holes. Thank you, thank you, thank you---for THE perfect donut hole recipe.
I followed the recipe assembly exactly and included 3 tablespoons of sugar and the nutmeg. I decided to use a cake pop maker to bake the donuts to reduce calories. They turned out well (about 3/4 tablespoon of dough in each well and baked for 3 minutes). The recipe yields 3 dozen donut holes exactly. We dipped them in maple syrup. They were good this way but, I'm going to take the advice of a previous commentator and add vanilla and more nutmeg because they were a little "flavor flat". If you bake these the texture is much like a biscuit with a crispy outside.

Becky, It sounds like the flavor of these doughnuts was almost there for you, but not quite. If you're looking to bump up the taste, feel free to add vanilla as you mentioned, or you can also add some of our Natural Maple Flavor. This would really make the Vermonters proud! Happy baking! Kye@KAF