A customized print-friendly version of this recipe is available by clicking the "Print Recipe" button on this page.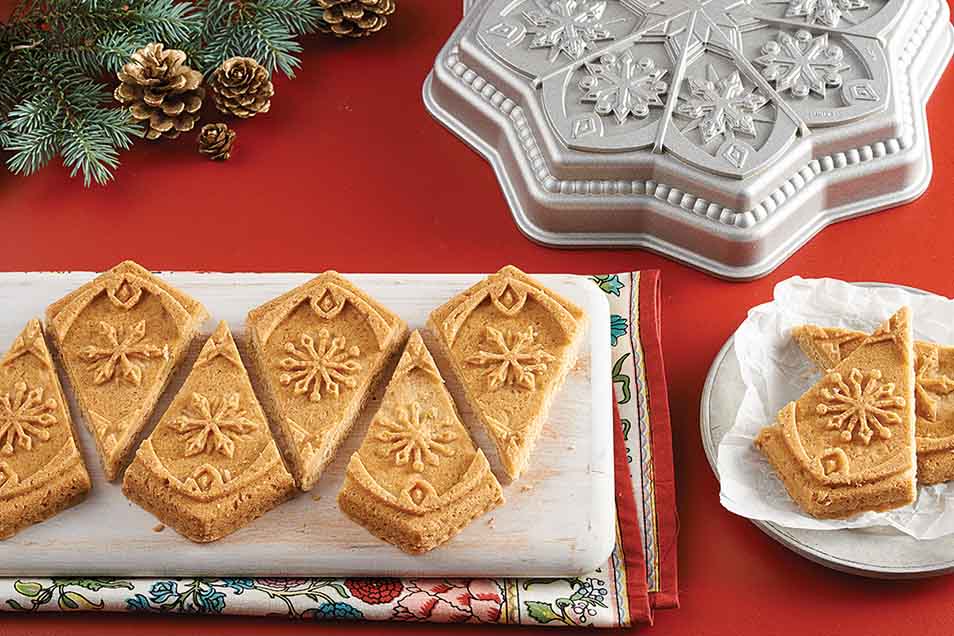 Maple is practically synonymous with Vermont, and as good Vermonters, we like to make sure we have an ample stash of recipes using every form of it. This shortbread is a great alternative to its traditional vanilla counterpart. With its bold flavor (from both maple sugar and syrup), any maple lover is sure to devour these.
Instructions
Preheat the oven to 325°F. Melt a tablespoon of butter and brush it onto the bottom and sides of a shortbread pan. Alternatively rub soft butter onto the bottom and sides of an 8" round pan.

Beat together the remaining 15 tablespoons butter, maple sugar, salt, and flavors until well blended.

Weigh your flour; you'll find its weight by toggling to "ounces" at the top of the ingredient section above. Or measure it by gently spooning it into a cup, then sweeping off any excess. Mix in the flour to form a smooth, cohesive dough. The dough will be crumbly at first, but will come together as it's mixed.

Fold in the chopped nuts.

Divide the dough in half. Wrap one half in plastic and set aside. Press the second half into the prepared pan.

Use a fork to prick the dough all over; this allows any steam to escape, and prevents the shortbread from bubbling as it bakes.

Bake the shortbread for 25 to 30 minutes, until the surface is a light golden brown, and the edges are a darker golden brown.

Remove the shortbread from the oven, and immediately turn it out onto a clean work surface. Gently brush the shortbread with the maple syrup (you want to be careful not to brush away the pattern if you used a shortbread pan).

Using a pizza wheel or sharp knife, cut the shortbread while still warm into 8 equal wedges and transfer them to a rack to cool completely.

Repeat the bake with the remaining half of dough.

Store the shortbread, well wrapped, at room temperature for several days; freeze for longer storage.
Reviews
made this last night and my house smells wonderful. I followed the directions to use 1 tablespoon of the butter to grease the dish (9 inch square glass baking dish) and used the remaining 15 tablespoons in the batter. I didn't use either flavor extract or nuts. Just pure unadulterated maple. The finished shortbread did not want to come out of the pan immediately as stated in the instructions & I ended up cutting the pieces in the pan & cooling for 5 min before removing them. For the second batch (I only had 1 pan available) I used a piece of parchment to line the pan, pressed the dough into it and proceeded as directed. I was able to lift the baked shortbread out with no problem and they cut beautifully. I normally give away most of my baked good so I won't be temped to eat all of them. But this decadent treat will be all mine!
I called the KAF hotline to see about making this as cookies. Good advice. It works well, making something very similar to the commercial Pecan Sandies. I started with a food processor fitted with the plastic dough blade after reading other reviews. The butter wasn't incorporating to my satisfaction so I dumped the dough into a larger bowl and just used my hands to mix the dough thoroughly. It came together nicely. I used 1/2 teaspoon maple extract because I didn't (yet) have the butternut flavor extract from KAF. Made 39 balls using a 1 Tablespoon scoop, then rolled them smooth by hand and smashed them to 1/2 inch thick with the wet bottom of a drinking glass. The edges sort of crack. When baked, the cookies don't spread. I pressed a few pecans into the surface of a few flatted cookies, which was fine. I forgot to brush them with maple syrup after baking but might still do that to further increase maple flavor. In the future, if I opt to include pecans, I'll just use a half pecan pressed into the top of the cookie. I'm tempted to try black walnuts. Excellent flavor even without the surface brushing & texture and very quick to make. Would be even faster in a shortbread pan. Recipe is excellent shortbread cookie and flavors can be varied with different extracts, sugars, zest, etc. This is a recipe I'll use often for quick thank you gifts, afternoon tea, with fruit desserts.
These are great cookies. I weighed the ingredients and used both the maple and butter-nut extracts. That snowflake pan makes beautiful cookies. People oohed and aahed! Large cookies, too, So large,, that most of us were satisfied with half a wedge! Highly recommend.
These shortbreads are fabulous! I used both an aluminum pan and a ceramic pan and they did well in both. Flavor is tremendous!
Very good, rich shortbread. I didn't have any maple flavor on hand, will try again with that next time to make the flavor more intense. I made this dough in the food processor, which seems to moot the problem of "coming together." It made a nice smooth dough.
I'm a lifelong baker and regular KA customer and longtime fan. But this...um, it just does not work. I weighed the flour. I took the temp of the butter. The first batch never came together and I had to toss it. The second batch did not come together until I added quite a bit more butter. When baked, it looked nice, and the house smelled divine, but the taste was completely bland. This had the shortbread consistency but not enough actual flavour...and it was so hard to get it to combine. A complete waste of money in flour/sugar/butter. Love you all, but this recipe does not work as written...too much flour and in need of a serious flavour boost.

Thanks for the love, Valerie, and for giving this recipe a try. We'd love to help figure out where things went wrong and hope you'll consider giving our Baker's Hotline a call at 855-371-BAKE. Our bakers are here seven days a week and happy to chat. Mollie@KAF
We live in Vermont and have the joy of making our own maple syrup (and sugar) so the minute I saw this shortbread in the KAF catalog I knew I needed to make it. I ordered the pan, made the sugar and finally made the shortbread tonight. To sum it up, my husband (a food and maple snob) took one bite of a broken piece and said "This is the most fantastic food I've ever eaten!" I made my maple sugar from very dark syrup, so my shortbread came out a bit darker than the photo. The first pan I baked for 25 minutes, the second for just 20 and the second are much lighter in color so the design stands out more. Also, I did not use either flavoring and they still have a wonderful maple taste. The dark sugar probably helps there. I did all my mixing with a stand mixer and had no problem with crumbly dough, although it did take awhile for it to come together. I did add walnuts which I chopped in a food processor, but I think next time I might almost grind them a bit - a few of my pieces were too large and resulted in a break in one of two of the shortbread wedges.
this is ok. you certainly don't need the fancy pan. it seemed like the dough needed to cool a bit more before cutting it. the kids liked it, though.
Shortbread is delicious, but the dough never did come together. The more I mixed it, the crumbs just became smaller but still distinctly crumbly. I don't have the shortbread pan so I used 2 pyrex piepans and pressed the crumbs in. It did bake together and came out of the pans easily, but it didn't cut well. Broke apart as much as cut. I forgot to poke the dough but it didn't matter, there was no steam to escape.

Beth, we're glad that despite some challenges, the final product still turned out tasty. In order for the dough to come together, it's important for the butter to be the right temperature (about 68-70°F). Additionally, be sure you're either measuring your flour by weight using a scale or by fluffing and sprinkling it into the measuring cup. Please click on the "Measuring Standards," link to the right of the Ingredients header for more details about how to ensure success. Kye@KAF