A customized print-friendly version of this recipe is available by clicking the "Print Recipe" button on this page.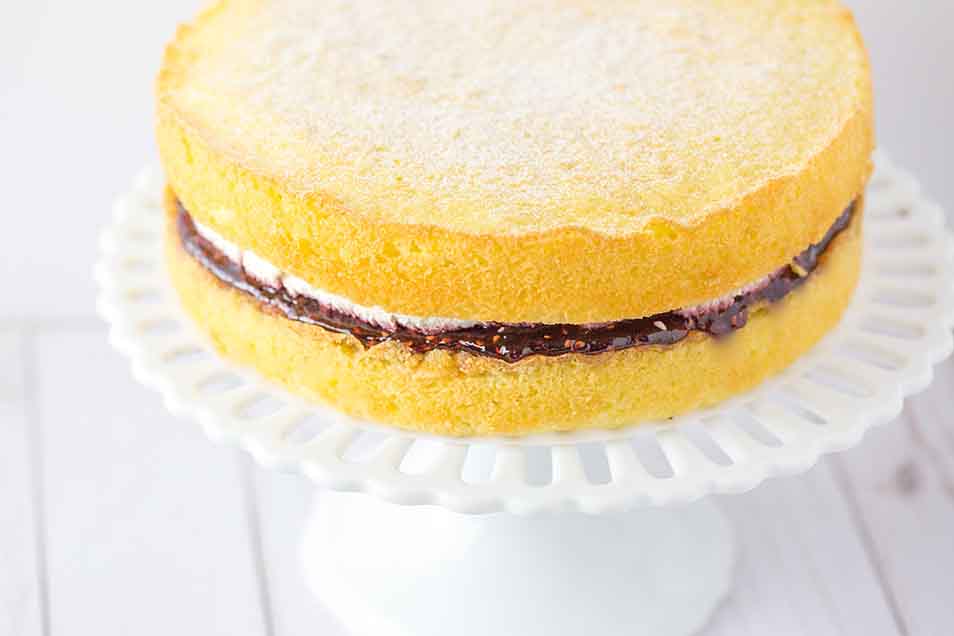 The Victoria Sandwich (named after Queen Victoria) was originally shaped in a long loaf, filled, and cut into fingers or "sandwiches." It has become the quintessential round cake that every English homemaker has had in her repertoire from the time of its royal debut, both the original and, in the decades since, countless versions and incarnations. This is a small everyday cake meant for tea rather than an elaborate celebration. And, because it's made with "self-raising flour," it's an everyday kind of cake to make. You'll find almost this exact recipe for Victoria Sandwich or Sponge in every British baking book.
Ingredients
Filling
about 3/4 cup jam
2/3 to 3/4 cup heavy cream
1/2 teaspon vanilla extract
2 tablespoons granulated sugar, or to taste
2 tablespoons simple syrup or the flavored syrup of your choice
Instructions
Preheat your oven to 350°F. Grease two 8" round cake pans.

In a medium-sized mixing bowl, beat together the butter and sugar until well combined and smooth.

Beat in the eggs one at a time, scraping the bottom and sides of the bowl after each addition.

Add the extracts, if you're using them.

Add the flour, beating gently just until well combined.

Divide the stiff batter evenly between the cake pans; there'll be 11 to 12 ounces of batter in each, depending on the size eggs you used.

Bake the cakes for about 20 minutes, or until they start to pull away from the edges of the pans. Remove them from the oven, cool for a couple of minutes, and turn out of the pans onto a rack to cool completely.

When the cakes are cool, place one layer on a plate. Spread with the jam of your choice.

Whip the cream — 2/3 cup cream makes a medium-thickness layer of filling; 3/4 cup cream, a thick layer. Sprinkle in 2 tablespoons granulated sugar, or to taste, as you whip the cream until it's quite stiff. Stir in the vanilla at the end.

Spread the whipped cream over the jam. Top with the second layer of cake.

Brush the top of the cake with syrup, and sprinkle with coarse white sparkling sugar, if desired. Or sprinkle with confectioners' sugar just before serving.

Refrigerate the cake until you're ready to serve it. It'll be at its best within 12 hours; but is still quite good up to 2 or even 3 days later. The difference will be the whipped cream, which will gradually settle/compact.

Yield: about 12 servings.

This recipe reprinted from The Baking Sheet Newsletter, Vol. XI, No. 6, Autumn 2000 issue.
Tips from our bakers
A typical British version of this cake might be topped with extra-fine (castor) sugar or confectioners' (icing) sugar, and filled with jam and buttercream, rather than whipped cream. British buttercream, unlike what we're used to here in America, is simply butter and confectioners' sugar whipped together until smooth.
Strawberry jam is the typical British filling. However, we usually choose apricot jam or ginger marmalade paired with ginger syrup; stirring a bit of finely diced crystallized ginger into the whipped cream is tasty, too.
Don't have self-rising flour? Try our recipe for Golden Vanilla Cake using all-purpose flour; then finish with jam and whipped cream as directed in the recipe above.
Reviews
This is a go-to recipe and a must have for any home baker! I fell in love with it on the British Baking Show and then sought a recipe that I could adapt for the US and this is IT! It's really important to not overbake it. If using 8 inch pans, I start with the least amount of time recommended. And it's also important to know that it won't rise much. There isn't much batter for each of the two pans. But as you can see, once you stack it it's really a good sized cake.
This recipe came out perfect for me, however I have made a few Victoria sandwich cakes using recipies from the UK so I feel I may have already learned some of the finer points of baking it. Most importantly do not over bake and do not open the oven to check it too early-the middle will collapse. Also, these do not bake up four inches thick the way I think we are accused to seeing our American style later cakes. Also-it bears mentioning I think in case some bakers may not realize, there is a difference between US and UK self rising or self raising flour. A baker may not have had KA self rising flour, may have looked up a recipe to make it at home and may have made the UK version which I'm guessing will Not quite work out as expected in a US recipe. Thank you KA for your attention to detail and your amazing products and recipes!
Tried it, and measured carefully. Try another recipe, gang.

We're sorry to hear that this well-loved recipe didn't do the trick for you. If we can help pick out a recipe that better fits your tastes, please give our Baker's Hotline a call at 855-371-BAKE. Kindly, Annabelle@KAF
I called the Baker's Hotline yesterday to ask if I could make the sponge gluten free using Measure foreasure, with the addition of 2 1/4 tsp baking powder and 3/4 tsp of salt. Everything else was identical and weighed. The cakes hardly rose! It's ok, I will use extra jam and whipped cream, but this isn't what I expected.
I had the same problem that others have had in the the cake didn't rise much. I noticed that similar recipes on the BBC website include the addition of extra baking powder even though they are using self rising flour. I suspect this will solve the problem.

We're sorry to hear this cake came out denser than you'd hoped, Dick. If you don't already, we strongly recommend measuring your ingredients by weight using a kitchen scale to ensure you're getting the most accurate measurement possible as any extra flour weighs down cakes and prevents them from rising well. We also encourage you to experiment by adding additional baking powder. Our free and friendly Baker's Hotline is here at 855-371-BAKE (2253) to answer any questions along the way. Kindly, Annabelle@KAF
This recipe was DELICIOUS in flavor, but dense in texture. Now I'm not saying that I made it right, but I'm not sure about it. I used self rising flour for sure, but the batter was stiff more like a cookie dough. But seriously so tasty I can't even believe it because the ingredients are so simple.

We're so glad you enjoyed the light, rich flavor of this cake, Jill! The dense texture is most commonly a sign of there being a little too much flour for the amount of liquid in the recipe. This is very common, and thankfully, easy to fix! For ideal measurement accuracy when not using a scale, we recommend fluffing the flour with a whisk or spoon, sprinkling it into the measuring cup, and scraping off the excess. This will give you a nice, light, 4 to 4 1/4 oz cup of flour, and a light, fluffy finished cake. Happy baking! Annabelle@KAF
I am replying to my previous post regarding the flatness of the sponge. The conversion was done via your recipe guide switching it from ounces to grams. My concern is that I don't believe there is enough flour in this recipe to make two 8 inch cakes rise to 1 1/2 inches tall. I am an experience baker and followed directions carefully. I weigh everything possible in grams. I purchased another bag of your Self-rising flour and will try again, but I do not have much hope

We're glad you're going to give this recipe another try, Db. We have hope that it will turn out better this time around. One other baker who took a look at your remarks thought it sounded like perhaps your oven was not quite hot enough. Before you try again, you might consider using an independent oven thermometer to test the temperature of your oven. Make sure it's fully preheated before putting your cakes in the oven. The blast of high heat will give you the oven spring you're looking for. Good luck! Kye@KAF
Made this recipe as listed, including King Arthur Self-Rising flour. Two eight inch pans. Each cake layer was about 1/2 inch in height. I'm thinking there is not enough flour or baking powder in recipe. I converted this recipe to grams and double checked all the weights. Could this recipe just be incorrect?

Hi Db, we're sorry to hear your Victoria Sandwich Cakes didn't turn out quite as lofty as you hoped. It's true that when the batter is spread into the bottom of the cake pans, it looks to be quite thin. However, if your Self-Rising Flour is fresh and the butter and sugar have been properly creamed, the layers should get some lift in the oven. The final cakes should be about 1 1/2" tall, as pictured above.

We've doubled-checked the gram weight of the ingredients to ensure they're correct as listed here. Rather than doing the conversion yourself, you might have better results if you click on the "grams," button below the ingredients header to see the ingredients converted for you. If you think there might be something else going on with your cake that these tips wouldn't remedy, feel free to give our Baker's Hotline a call at 855-371-BAKE(2253). We'd love to help. Kye@KAF
The cake did not rise at all, it was like a pancake. I followed the recipe exactly. I will be using a different recipe. I even used King Arthur flour. Very disappointing!

Oh no, fellow baker. We're sorry to hear about the trouble you had with this recipe. It sounds like there's a chance King Arthur All-Purpose Flour was used rather than Self-Rising Flour. It's critical to use Self-Rising Flour, which already has leavener (baking power) added to it. Otherwise, you'll need to follow the baker's tip listed at the bottom of the recipe for how to make a delightful golden cake with all-purpose flour. (Another fabulous choice!) We hope you decide to give this recipe again and find that using Self-Rising Flour was just the change you needed to make. Good luck! Kye@KAF
Easy and delicious! Note: these cakes stuck to my (greased) pans and wouldn't come out without a fight - I recommend taking the extra step of cutting parchment pan liners.