A customized print-friendly version of this recipe is available by clicking the "Print Recipe" button on this page.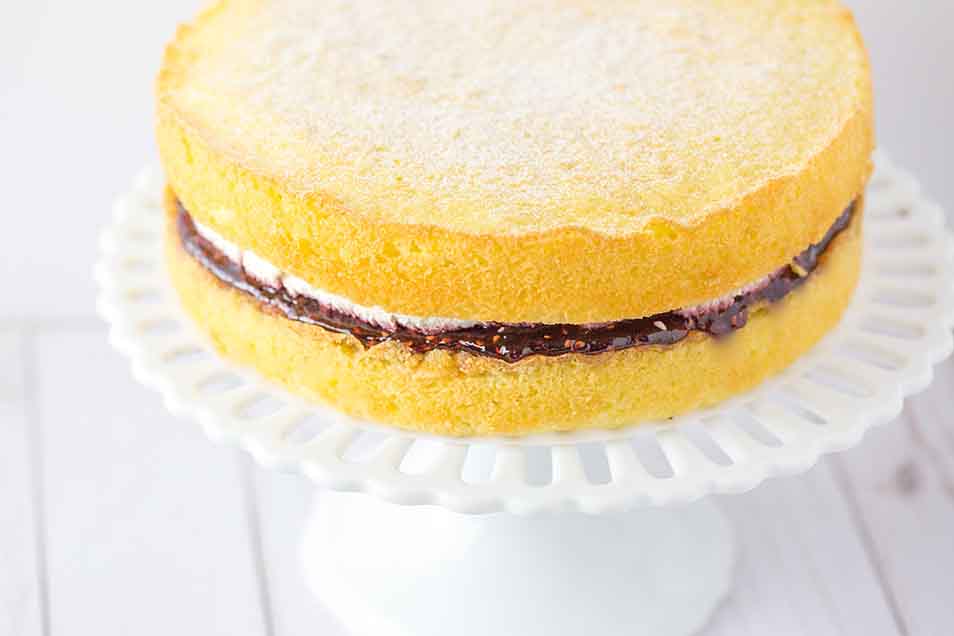 The Victoria Sandwich (named after Queen Victoria) was originally shaped in a long loaf, filled, and cut into fingers or "sandwiches." It has become the quintessential round cake that every English homemaker has had in her repertoire from the time of its royal debut, both the original and, in the decades since, countless versions and incarnations. This is a small everyday cake meant for tea rather than an elaborate celebration. And, because it's made with "self-raising flour," it's an everyday kind of cake to make. You'll find almost this exact recipe for Victoria Sandwich or Sponge in every British baking book.
Ingredients
Filling
about 3/4 cup jam
2/3 to 3/4 cup heavy cream
1/2 teaspon vanilla extract
2 tablespoons granulated sugar, or to taste
2 tablespoons simple syrup or the flavored syrup of your choice
Instructions
Preheat your oven to 350°F. Grease two 8" round cake pans.

In a medium-sized mixing bowl, beat together the butter and sugar until well combined and smooth.

Beat in the eggs one at a time, scraping the bottom and sides of the bowl after each addition.

Add the extracts, if you're using them.

Add the flour, beating gently just until well combined.

Divide the stiff batter evenly between the cake pans; there'll be 11 to 12 ounces of batter in each, depending on the size eggs you used.

Bake the cakes for about 20 minutes, or until they start to pull away from the edges of the pans. Remove them from the oven, cool for a couple of minutes, and turn out of the pans onto a rack to cool completely.

When the cakes are cool, place one layer on a plate. Spread with the jam of your choice.

Whip the cream — 2/3 cup cream makes a medium-thickness layer of filling; 3/4 cup cream, a thick layer. Sprinkle in 2 tablespoons granulated sugar, or to taste, as you whip the cream until it's quite stiff. Stir in the vanilla at the end.

Spread the whipped cream over the jam. Top with the second layer of cake.

Brush the top of the cake with syrup, and sprinkle with coarse white sparkling sugar, if desired. Or sprinkle with confectioners' sugar just before serving.

Refrigerate the cake until you're ready to serve it. It'll be at its best within 12 hours; but is still quite good up to 2 or even 3 days later. The difference will be the whipped cream, which will gradually settle/compact.

Yield: about 12 servings.

This recipe reprinted from The Baking Sheet Newsletter, Vol. XI, No. 6, Autumn 2000 issue.
Tips from our bakers
A typical British version of this cake might be topped with extra-fine (castor) sugar or confectioners' (icing) sugar, and filled with jam and buttercream, rather than whipped cream. British buttercream, unlike what we're used to here in America, is simply butter and confectioners' sugar whipped together until smooth.
Strawberry jam is the typical British filling. However, we usually choose apricot jam or ginger marmalade paired with ginger syrup; stirring a bit of finely diced crystallized ginger into the whipped cream is tasty, too.
Don't have self-rising flour? Try our recipe for Golden Vanilla Cake using all-purpose flour; then finish with jam and whipped cream as directed in the recipe above.