A customized print-friendly version of this recipe is available by clicking the "Print Recipe" button on this page.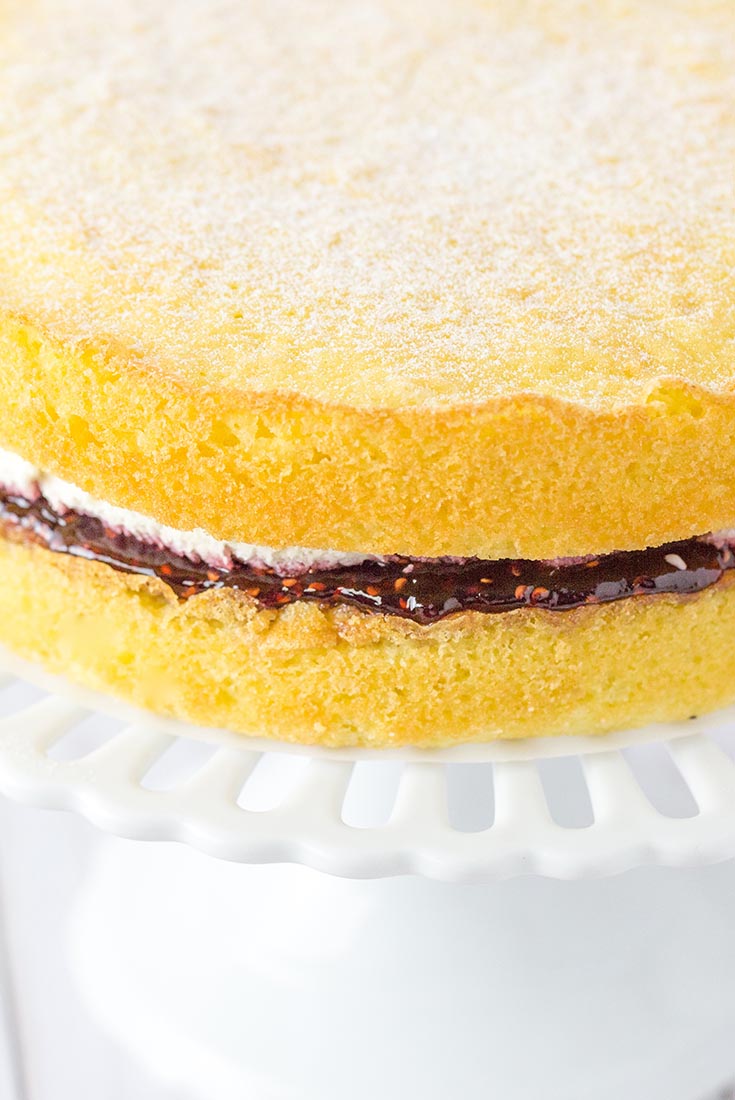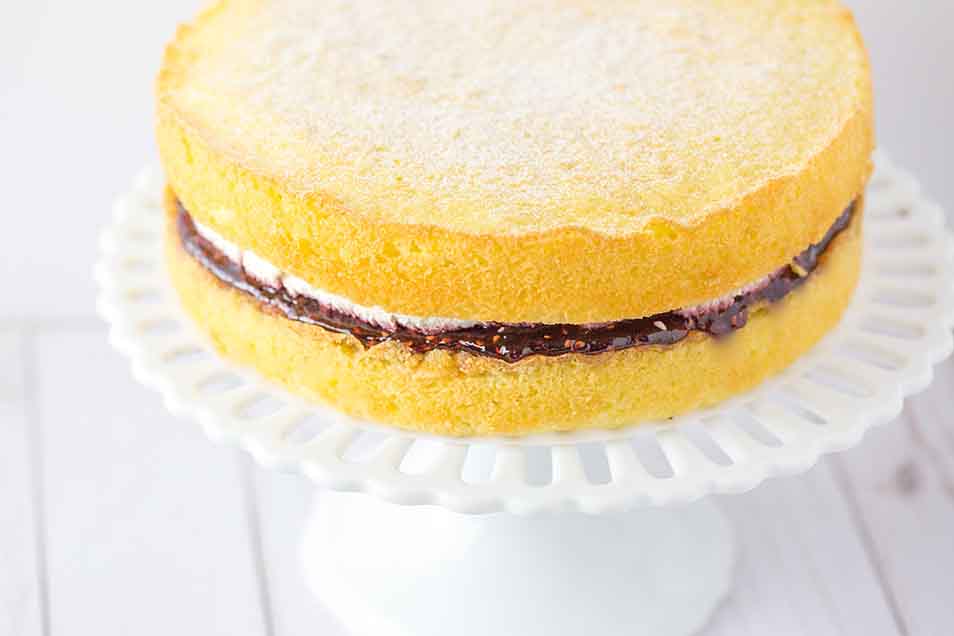 The Victoria Sandwich (named after Queen Victoria) was originally shaped in a long loaf, filled, and cut into fingers or "sandwiches." It has become the quintessential round cake that every English homemaker has had in her repertoire from the time of its royal debut, both the original and, in the decades since, countless versions and incarnations. This is a small everyday cake meant for tea rather than an elaborate celebration. And, because it's made with "self-raising flour," it's an everyday kind of cake to make. (Note the similarity of the ratio of ingredients to pound cake.) You'll find almost this exact recipe for Victoria Sandwich or Sponge in every British baking book.
Ingredients
Filling
about 3/4 cup jam
2/3 to 3/4 cup heavy cream
1/2 teaspon vanilla extract
2 tablespoons granulated sugar, or to taste
2 tablespoons simple syrup or the flavored syrup of your choice
Instructions
Preheat your oven to 350°F. Grease two 8" round cake pans.

In a medium-sized mixing bowl, beat together the butter and sugar until well combined and smooth.

Beat in the eggs one at a time, scraping the bottom and sides of the bowl after each addition.

Add the extracts, if you're using them.

Add the flour, beating gently just until well combined.

Divide the stiff batter evenly between the cake pans; there'll be 11 to 12 ounces of batter in each, depending on the size eggs you used.

Bake the cakes for about 20 minutes, or until they start to pull away from the edges of the pans. Remove them from the oven, cool for a couple of minutes, and turn out of the pans onto a rack to cool completely.

When the cakes are cool, place one layer on a plate. Spread with the jam of your choice.

Whip the cream — 2/3 cup cream makes a medium-thickness layer of filling; 3/4 cup cream, a thick layer. Sprinkle in 2 tablespoons granulated sugar, or to taste, as you whip the cream until it's quite stiff. Stir in the vanilla at the end.

Spread the whipped cream over the jam. Top with the second layer of cake.

Brush the top of the cake with syrup, and sprinkle with coarse white sparkling sugar, if desired. Or sprinkle with confectioners' sugar just before serving.

Refrigerate the cake until you're ready to serve it. It'll be at its best within 12 hours; but is still quite good up to 2 or even 3 days later. The difference will be the whipped cream, which will gradually settle/compact.

Yield: about 12 servings.

This recipe reprinted from The Baking Sheet Newsletter, Vol. XI, No. 6, Autumn 2000 issue.
Tips from our bakers
A typical British version of this cake might be topped with extra-fine (castor) sugar or confectioners' (icing) sugar, and filled with jam and buttercream, rather than whipped cream. British buttercream, unlike what we're used to here in America, is simply butter and confectioners' sugar whipped together until smooth.
Strawberry jam is the typical British filling. However, we usually choose apricot jam or ginger marmalade paired with ginger syrup; stirring a bit of finely diced crystallized ginger into the whipped cream is tasty, too.
Don't have self-rising flour? Try our recipe for Golden Vanilla Cake using all-purpose flour; then finish with jam and whipped cream as directed in the recipe above.
Reviews
Easy and delicious! Note: these cakes stuck to my (greased) pans and wouldn't come out without a fight - I recommend taking the extra step of cutting parchment pan liners.
Why, oh WHY didn't I come to the KAF website first before trying my hand at this recipe from a British baking site?! I'm so annoyed because I first made my own "self-raising" flour with AP flour and 2 tsp baking powder. Then, the British site said to add 2 tsp baking powder in addition to the "self-raising" flour. I questioned this but went ahead anyway. So in goes the 1/2 lb butter (honestly, too much butter!) and the flour, sugar and 4 eggs. I beat until all incorporated and heeding the instructions, was careful not to 'overbeat'. Both layers collapsed horribly. They were both literally flat as pancakes in the middle. My husband didn't care, but I was devastated. I've never gone ahead against my better instincts like this and I never will again. Plus, I can't believe I didn't check here first!! So, this is my warning to everyone in the USA who wants to make a Victoria Sandwich... come here for the recipe!
A delicious "everyday" cake, not too sweet. An easy, not-too-sweet cake, good for an everyday treat. I've made this twice now, both times using all-purpose flour in 9 inch pans. First time, cake was a little dry but still good. Second time, I replaced 2 Tbsp of the all-purpose flour with cornstarch and watched the time more carefully. Results were excellent. An English friend tells me that a classic, homey way to serve this cake is with coffee icing and walnuts sprinkled on top. I used coffee-flavored buttercream icing (1 cup butter, 1 lb confectioner's sugar, 1/2 tsp espresso powder dissolved in 2 Tbsp milk or cream.) DELICIOUS, and even more so on the second and third day.
We loved this cake. I used 9" pans, and it got a bit dry, so in the future I'll get some 8" as called for, but even being a bit dry this was wonderful. Loved the apricot jam, and the note of almond in the cake.
wonderful light cake recipe. I used raspberry jam & buttercream for the filling and raspberry syrup on top. Heavenly!
This is a perfect, simple bake with some of the most essential, clean flavors out there. Vanilla cake, whipped cream, and raspberry (or whatever) jam. If you do the simple syrup brush, and then sprinkle sugar over it you also get a nice little crunch at the top.
I love this cake! It is so fast and easy to put together, and I much prefer the jam and whipped cream to a traditional frosting. It is so pretty and such a great use for some of the more exotic jams I make. I used strawberry lavender with amazing results, and also used the whipped cream stabilizer to make the cream less of a worry. Will be making this often.
I have not tried this recipe yet but I am commenting on "the English Sponge" mentioned in the introduction to this recipe. The English Sponge is nothing like a Pound Cake, please note the name, it is a sponge and not a brick! Please don't misunderstand me, I like Pound Cake very much. TRADITIONAL ENGLISH SPONGE CAKE 1 cup all purpose flour 1 1/2 teaspoons baking powder 2 tablespoons cornstarch 1/4 teaspoon salt 4 eggs I cup sugar 2 teaspoons butter, melted 3 tablespoons hot milk Filling & finishing suggestions 1. Mock Cream II 2. Plum or raspberry preserves and Mock Cream. 3. Strawberry preserves and fresh whipped cream. 4. Lemon Curd. 5. Dust top with powdered sugar, or top with a light, fruit flavored or chocolate frosting. Preheat oven to moderate, 375°F. You will need 2 round 8" cake pans, sides buttered and dusted with flour, bottoms lined with rounds of lightly buttered parchment. Sift flour, baking powder, cornstarch and salt three time to mix ingredients well and incorporate the greatest possible amount of air for the lightest possible results. Separate eggs and put whites into a large mixing bowl. Copper or stainless steel are the best types of bowls. Beat whites until frothy and stiff but not dry; incorporate as much air as possible into the egg whites during the beating. While still beating, gradually adding the sugar. Continue beating until the sugar is dissolved. Add egg yolks, one at a time, beating well. Sift and gently fold dry ingredients into the egg mixture. Lifting mixture high and folding spoon over incorporates air into the batter. Add melted butter and hot milk and fold quickly and gently into batter. Do this with a little mixing as possible. Over-mixing now will cause the sponge to be leathery. Divide the batter evenly between the 2 cake pans. Note: The perfectionist sponge cake baker weighs the empty pans, then adds mixture by weigh to make two identical height cake layers. Bake in the center of oven for 20 minutes, or until cakes are light golden brown, and start to shrink from the sides of the pans. Cool for 5 minutes in pans. Remove cakes from pans by inverting onto cooling racks and lifting pans from sponge cakes. Remove the parchment and cool completely. Fill and ice (frost) the cake as desired.
Thank you King Arthur flour for bringing self-rising or self-raising as we say in the UK to your store. I am English and Victoria sandwich cake is the quintessential tea time recipe and my comfort food. This is a good recipe and will be in my faves folder. I like the cake without cream and good quality jam in the middle and of course with a good cuppa - English tea naturally! You have made me very happy!