A customized print-friendly version of this recipe is available by clicking the "Print Recipe" button on this page.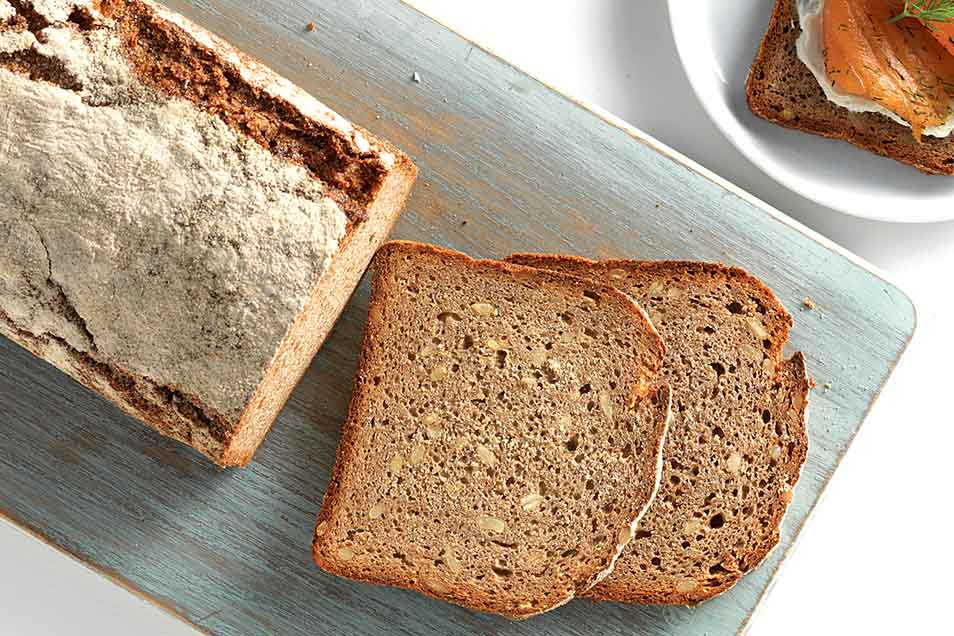 One hundred percent pumpernickel bread? Yes, it can be done! In fact, this loaf requires very little active hands-on time or kneading, and the biggest challenge you'll face is allowing it to sit for 24 to 48 hours once it's made. Enjoy thin slices of this loaf with cured ham or salmon, your favorite preserve, or a simple slather of butter. It will keep for weeks, wrapped in plastic in the refrigerator, or for months in the freezer, so the possibilities are endless.
Instructions
Mix the starter ingredients until smooth, cover, and let rest at room temperature overnight.

At the same time, combine the soaker ingredients, cover, and let rest at room temperature overnight.

The next day, lightly grease the inside of a 13" pain de mie (pullman loaf) pan, then dust it with pumpernickel flour.

Combine the starter, soaker, and dough ingredients, by hand or using a stand mixer. Mix and knead the dough until it becomes dense and sticky, but still loose; it won't require a lot of mixing.

Transfer the dough directly to a lightly greased work surface and form it into a 13" log. Place the log into the prepared pan.

Sprinkle a thin layer of pumpernickel flour over the surface of the dough, cover with plastic wrap, and allow the dough to sit for 60 minutes, until just slightly risen.

Towards the end of the rising time, preheat the oven to 450°F.

Bake the loaf (without the lid on the pan) for 15 minutes, then reduce the oven temperature to 425° and bake for 50 to 60 minutes longer, until the surface is cracked and dark brown.

Remove the bread from the pan, transfer it to a baking sheet, and bake for another 5 to 10 minutes, until the loaf's internal temperature reaches at least 205° on a digital thermometer inserted into the center.

Remove the loaf from the oven, and transfer it to a rack to cool completely.

Wrap the cooled bread in a towel, or place it in a paper bag and let it rest for at least 24 to 48 hours before slicing.
Nutrition Information
Serving Size

1/3", 53g

Servings Per Batch

39 thin slices
Amount Per Serving:
Calories

105

Calories from Fat

18

Total Fat

2g

Saturated Fat

0g

Trans Fat

0g

Cholesterol

0mg
Sodium

226mg

Total Carbohydrate

20g

Dietary Fiber

4g

Sugars

1g

Protein

4g
* The nutrition information provided for this recipe is determined by the ESHA Genesis R&D software program. Substituting any ingredients may change the posted nutrition information.
Reviews
I have been trying to recreate the tonasket rye bread from Edison Wa which is the most perfect bread ever and this recipe is the closest. It is really good. I made my own rye sourdough starter and it turned out great. Crusty outside and chewy inside. I love the rye chops, I don't think it would be as good without them. Thanks ka I will make this always!
This is a FANTASTIC and quite simple recipe. Thank you, KA! I am from Germany and can truly say that this tastes just like home! I usually buy the packaged breads by Mestemacher when I want Vollkornbrot. But now I don't have to!! There are many recipes for Vollkornbrot: all-rye, whole wheat, with rye berries, w/ or w/o flax seeds, pumpkin seeds, or sunflower seeds, etc. This recipe, however, is basic and perfect. I love that it is 100% pumpernickel! The rye chops and sunflower seeds give just the right amount of bite and chew. For other bakers who find that this makes too large of a loaf, don't hesitate to freeze it. Once cooled and rested for 24 hours, I slice the whole loaf into thin slices. Then I package slices of 8-10 into quart-size freezer bags. I then place 4 of these packages into a labeled, gallon freezer bag. I take out a package at a time as needed. It thaws quickly and tastes awesome toasted. I actually think the flavor improves over time. Thank you again, KA!!!!
I don't know how you do it! This is exactly the bread we had hoped to bake, and it worked on the first try. This is joining our list of "Go to" recipes for baked goods. And it should not be a surprise that for us King Arthur recipes outnumber other sources by far. We would pass along the suggestion that smaller households may find it more practical to put one batch of dough in 2 smaller pans, which is what we do.
This is my go to recipe for rye bread after a long hunt. I grind my own flour/chops, so I need to add more water. I use it as a foundation recipe and switch it up with : more sourdough, more yeast, molasses, caraway, fennel, Anise, rind, honey.....etc
FYI for bread machine I have made this recipe successfully twice in my Zojirushi bread machine. Slight changes that I made were: -used 1/2 tsp King Arthur french style sourdough starter in the first sourdough step in addition to other ingredients and used my bread machine sourdough setting. covered and left for days (once 2 days, once 7 days) -then followed next steps, soaking, put all ingredients in bread machine. used basic bread setting, smoothed top of bread near end of rising stage, removed from bread machine, covered and sliced two days later. had my husband slice it, I am not strong enough, could use a food slicer, other than hubbie, but don't own one.
This recipe absolutely nails it. The details in this recipe were enough for me to figure out what I was doing wrong with prior "dark German rye" bread recipes, so I'm sure I can make an outstanding rye bread with what I've learned from this one. I substituted cracked oat (groats?) grains for the cracked rye berries and added some flax seed along with the sunflower seed, all because these are what we have available here. Also, instead of a pan de mie pan, I used a small dutch oven with a cover that my wife uses to cook rice dishes. The entire process worked very well with no surprises. The method of sprinkling rye flour on top of the dough after the second rise, then cooking on high heat for 15 minutes without the cover before cooking with a cover on lower heat was the first key to a perfect rye bread or Vollkornbrot that's better than even our local German bakery (of course because it's fresh). That produced a round bread wheal instead of the classic rectangular loaf, but that's OK because we're used to that shape with other dark German rye breads we buy. The second key to success I found in this recipe was in taking the loaf out of the pan and cooking an additional 10 minutes on a sheet. I believe that and the initial high heat ensured it was cooked all the way through, which I've had a problem with in the past. So, I am very thankful to King Arthur Flour for straightening out my technique! Believe me, this is the ONLY recipe to get the job done right.
I have not bake this recipe yet but I'm planning to do so very soon after I have solved these minor problems. I only have a 14 cm x 23 cm pan, how can I convert this recipe to fit my pan? Also, is it possible to skip the soaker since I can't find rye chop anywhere.

Elsie, as long as your pan is at least 10-12 cm high, you should be able to fit this whole recipe in your pan. It won't have the classic look of a Vollkornbrot Loaf (which is typically skinny and tall), but will be a large loaf and fill the pan all the way. Make sure the internal temperature reaches 205°F before you remove it from the oven. Happy baking! Kye@KAF
I have made this twice now. I can't get rye chops in my area so I first substituted rye flake. The second time, I substituted steel cut oats. Both worked just fine, but the rye flake gave it a slightly softer texture with less chewiness. I think I actually prefer the rye flake! Really a wonderful bread for winter or for anyone looking to reduce wheat intake through smart substitutions.
This bread is fantastic. It is dense and flavorful. It was perfect with lentil soup. It is extremely difficult to mix by hand, the consistency being a cross between cement and glue. This may encourage me to get a mixer.
i, too, was puzzled by this recipe, which I tried once with a hard almost uneatable result. I was thinking that maybe it was because I should have put the top on the pullman pan before the bake. The recipe does not state whether the bread should be baked with or without the top, so I baked it without in the 13" pullman pan. When it turned out so dry and hard, I thought maybe I should have baked it with the top. Please let me know what you think. (I have an oven thermometer that I monitor closely, and a thermapen)

We apologize for any trouble you may have had with this recipe. Volkornbrot is traditionally a very firm bread that is supposed to be enjoyed in thin slices. This bread is supposed to be baked without the lid on, which we've added to the recipe to clarify. If you'd like a softer loaf, reduce the second bake time and also try brushing the loaf with melted butter once it comes out of the oven to keep the crust soft. I hope that helps! Kye@KAF