A customized print-friendly version of this recipe is available by clicking the "Print Recipe" button on this page.
Walter Sands' Basic White Bread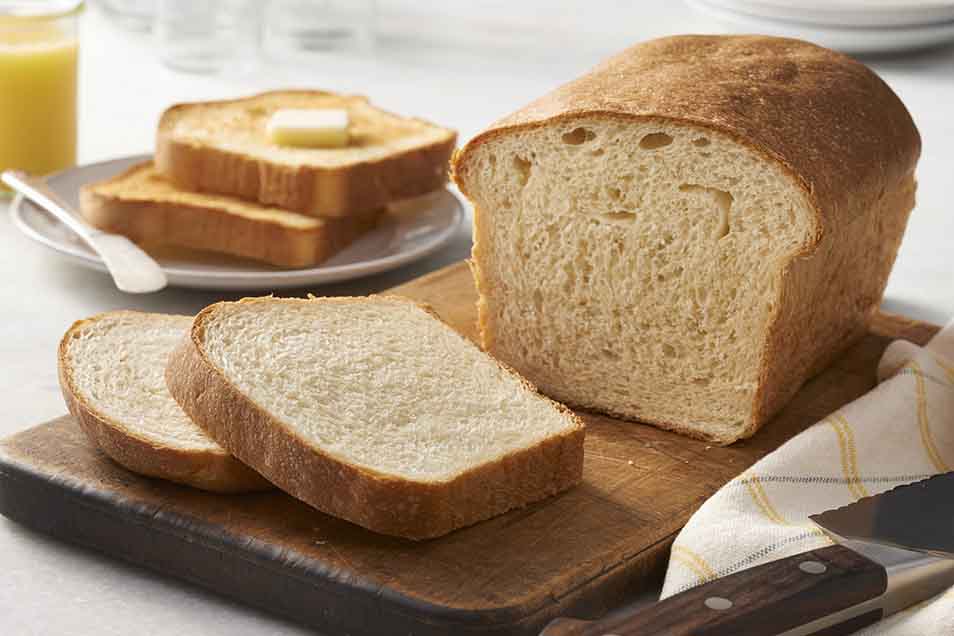 Walter Sands, one-time president and owner of the King Arthur Flour company, was a member of just one of the many generations of the Sands family associated with the business. Walter made this bread faithfully once a week for years. Because of his arthritic hands, he used a bread bucket with a crank, which kneaded hundreds of loaves of this fragrant, soft sandwich bread with all its happy associations.
Ingredients
Dough
2 cups warm water
2 tablespoons sugar or honey
1 packet active dry yeast; or 2 1/2 teaspoons instant yeast or active dry yeast
1/2 cup Baker's Special Dry Milk
2 tablespoons soft butter, or vegetable oil
2 teaspoons salt
Instructions
Pour the warm water into a mixing bowl. Add and let dissolve the sugar or honey and then the yeast.

When the yeast is bubbling, add the butter, 3 cups of flour, the dry milk, and salt. Mix together.

Stir in another 2 1/2 cups of flour, keeping the last 1/2 cup in reserve. Knead the dough for 3 to 4 minutes, until it begins to behave as if it belongs together. Cover and let the dough rest while you clean and grease the mixing bowl.

Continue kneading for 3 or 4 more minutes, until the dough feels smooth and springy. Use up to 1/2 cup of the reserved flour, if necessary, to keep the dough from sticking to the kneading surface.

Place the dough in the greased bowl, turn it over to coat both sides, and cover the bowl. Let it rise in a draft-free place until doubled, 1 to 2 hours. Deflate the dough, and divide it in half. Form into loaves (or make into cinnamon-raisin bread as described in tips, below), and place in greased 8 1/2" x 4 1/2" pans. Cover with greased plastic wrap and let rise until the dough domes an inch above the rim of the pans.

After the dough has been rising for 20 minutes, preheat the oven to 350°F. When the loaves are sufficiently risen, bake for 35 to 40 minutes, or until nicely browned and the center of the loaves reads 190°F when measured with an instant-read thermometer. Remove from the oven and tip the breads out of their pans. Place on a rack to cool completely before slicing.
Nutrition Information
Serving Size

1 slice, 41g

Servings Per Batch

32
Amount Per Serving:
Calories

94

Calories from Fat

9

Total Fat

1g

Saturated Fat

1g

Trans Fat

0g

Cholesterol

2mg
Sodium

153mg

Total Carbohydrate

18g

Dietary Fiber

1g

Sugars

2g

Protein

3g
* The nutrition information provided for this recipe is determined by the ESHA Genesis R&D software program. Substituting any ingredients may change the posted nutrition information.
Tips from our bakers
You can make this bread richer by using milk instead of water; just bring 2 cups of milk to a simmer, then cool to lukewarm before using.
Want to make cinnamon-swirl bread? Roll one (or both) pieces of dough into a rough 9" x 15" rectangle. For each loaf, spread with 1 1/2 tablespoons melted butter, then sprinkle with 1/2 cup raisins, 1/4 cup brown sugar, and 1/2 teaspoon cinnamon. Starting with a short edge, roll into a cylinder. Place the loaf or loaves in the pan, seam-side down, and let rise and bake as directed above.
Want to make this bread using a mixer, or a bread machine set on the dough cycle? Combine all of the ingredients except 1/2 cup of the flour. Mix and knead, using your machine of choice, and adding just enough of the remaining 1/2 cup flour (if necessary) to make a soft, slightly sticky dough. Continue at step 5, letting the dough rise in a bowl, then finishing the bread as directed.
Reviews
Great recipe and practically fool proof. Have made this dozens of times and it always comes out beautifully. A good bread to start with if you're just starting out with bread baking and a trusty stand by with consistent results if you're and old hand.
I love this bread, sometimes I make one loaf white, one loaf cinnamon. It is very tasty either way, and I love it toasted! As I live alone, I cut the loaves when cooled and stick 2 slices each in a small freezer bag. I put those in a large freezer bag (usually 2 bags worth of bread) and put it in the freezer. Then I just pull out what I need for the day. The bread is great toasted, or not. I love that I am not wasting any, the last 2 slices are as good as the first 2 and it lasts me quite awhile.
This is a great white bread! I've started cutting this recipe in half and adding 1 large egg, 1/8 teaspoon extra yeast, and about 2 tablespoons of extra flour! It makes an ever so slightly wetter dough that bakes up 4" above the pan! It's an even better bread, now! Thanks, King Arthur Flour Co. You're the best!
I have been using this receipe for a few months now. I have never baked before and this bread turns out great! I watched the video many times. I have forgotten the butter, not let it rise enough, used bread flour and it still turned out! Now that I am doing things as I should, it turns out fantastic. I think there's a life lesson there!
where do i add the butter?

Good question, Terrance! The butter goes into the mixing bowl during Step 2: "When the yeast is bubbling, add the butter, 3 cups of flour, the dry milk, and salt. Mix together." Happy baking! Kat@KAF
Great recipe! It rises beautifully and never lets me down. I love the fact that it yields 2 loaves. Great for sharing. I use my bread maker on dough setting and bake it in the oven. It is always a winner even though we are at 7000 feet; I don't have to change a thing except for sometimes more water because I measure scooping the flour out of the bag (I know, I know...)
I made this recipe three times, because I really wanted it to work. I love King Arthur products! I bought your 8x4inch bread pans just to do this recipe. My problem is the dough just wouldnt rise properly for me. It rose some, yes, but I let it rise twice the recommended time and still didnt get very good rise. the bread was tasty, but super dense and shorter than usual breads. It made excellent toast! I finally tried the basic white bread recipe from my old Betty Crocker book, and it rose like a rocket, and came out fluffy and light. I think the only difference in their recipe and yours is it calls for twice the yeast, and hotter water.

Hi there, Beth. We're sorry to hear that you're having trouble with this recipe. Most often when a dough is slow to rise it is because it's too dry. To ensure you're using the right amount, we recommend checking out the "Recipe Success Guide," link next to the ingredients header above. You'll see that either measuring your flour by weight using a scale, or fluffing and sprinkling the flour into your measuring cup are the best ways to ensure your recipe turns out perfectly. Also you can use water that is a little on the warmer side, but we'd suggest not going over 115°F, as this can kill off the yeast cells. We hope this helps! If we can help troubleshoot further, please feel free to give our friendly Baker's Hotline a call at 855-371-BAKE (2253). Kindly, Morgan@KAF
I made the bread today it is really very good. I am not in my own home kitchen so the only loaf pans I had were 9x5 I am not sure if this is the reason they did not make a tall loaf. I let the dough rise in the pans double over 40 min. I baked them in the pans before they were over an inch high because I was worried that the dough would rise too much and then sink when I put them in the oven so I went ahead and put them in when I thought the dough was risen by double. Hence, I have two loaves that are good but the size of the slice is not so much like it shows in the picture. It is very good though and certainly tall enough to make a sandwich with just not what I expected from the picture. I did everything according to the recipe except I did not have dry milk so I used fresh whole milk. The video said it was ok to use fresh milk. The dough was pretty sticky so I think I added a tad more flour than the recipe called for to get it so I could need it but it was still pretty tacky when I put it in to rise the second time in the pans. I was, however, afraid to add too much flour. Maybe that is what the problem was. Not sure. I am just starting out bread baking so any suggestions would be appreciated.

Barbara, this recipe will definitely be pretty short when baked in a 9x5" pan instead of 8 1/2" x 4 1/2". It may not seem like a half inch makes that big a difference, but the total volume is actually very different! We think you'll find it gets significantly taller when baked in the proper pan. Happy baking! Kat@KAF
I have tried several standard white bread recipes from King Arthur and this recipe is the best by far. I did use milk instead of water and tell result was a very nice textured bread with a great flavor. I would definitely recommend this recipe.
This was a great recipe. Very easy with a perfect crumb. I did use an instant read thermometer to check both the water temp and to check for donenes. So easy with my mixer and dough hook!