A customized print-friendly version of this recipe is available by clicking the "Print Recipe" button on this page.
Walter Sands' Basic White Bread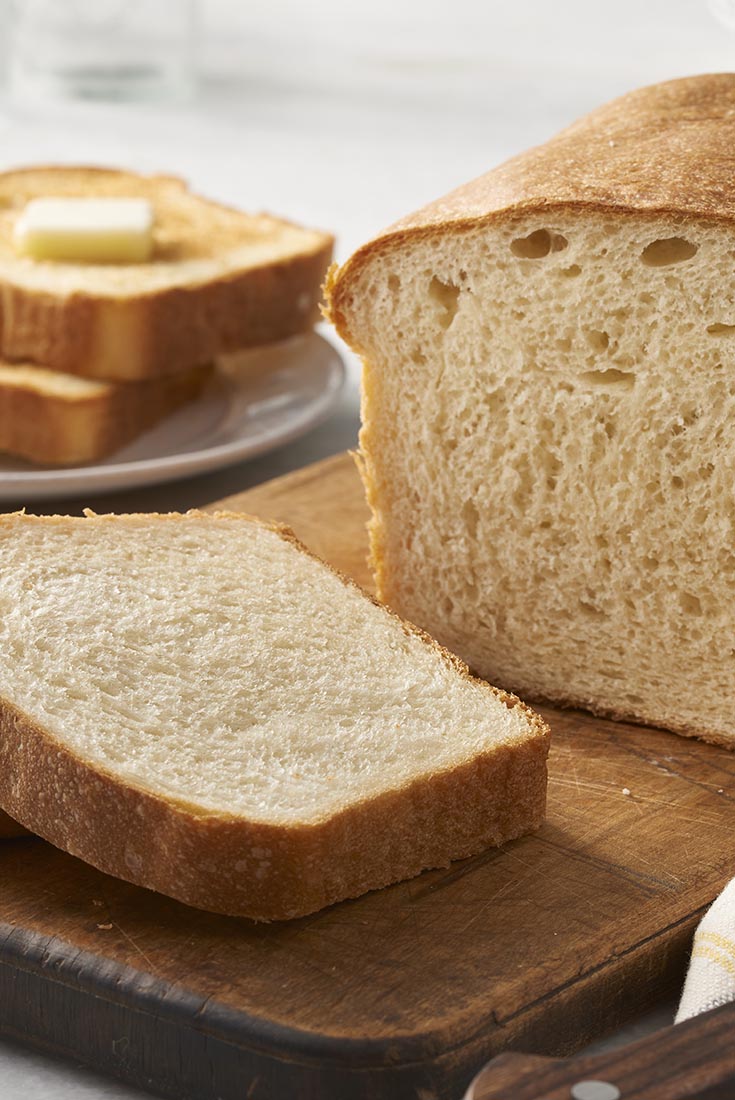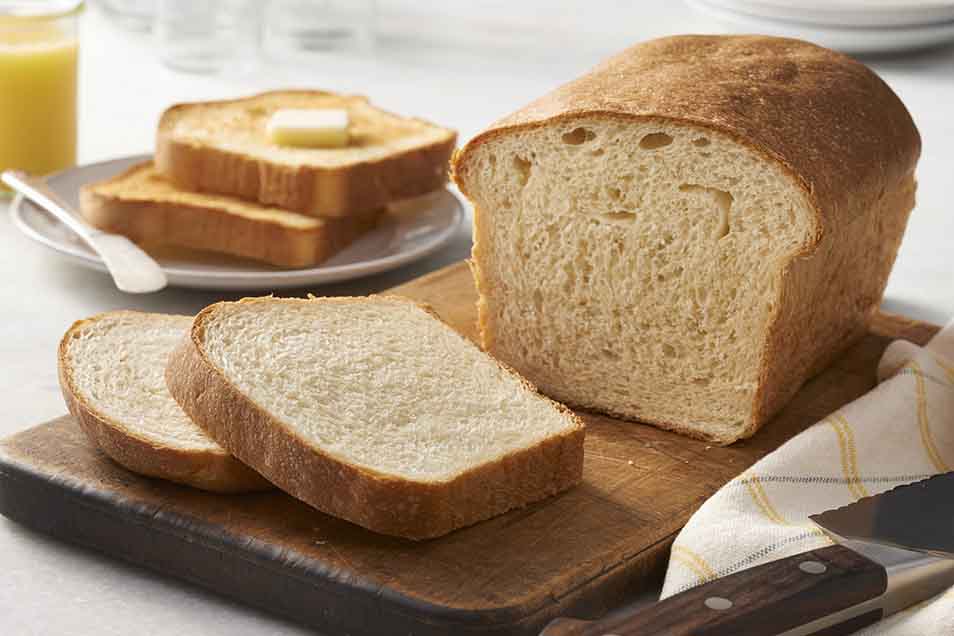 Walter Sands, one-time president and owner of the King Arthur Flour company, was a member of just one of the many generations of the Sands family associated with the business. Walter made this bread faithfully once a week for years. Because of his arthritic hands, he used a bread bucket with a crank, which kneaded hundreds of loaves of this fragrant, soft sandwich bread with all its happy associations.
Ingredients
Dough
2 cups warm water
2 tablespoons sugar or honey
1 packet active dry yeast; or 2 1/2 teaspoons instant yeast or active dry yeast
1/2 cup Baker's Special Dry Milk
2 tablespoons soft butter, or vegetable oil
2 teaspoons salt
Instructions
Pour the warm water into a mixing bowl. Add and let dissolve the sugar or honey and then the yeast.

When the yeast is bubbling, add the butter, 3 cups of flour, the dry milk, and salt. Mix together.

Stir in another 2 1/2 cups of flour, keeping the last 1/2 cup in reserve. Knead the dough for 3 to 4 minutes, until it begins to behave as if it belongs together. Cover and let the dough rest while you clean and grease the mixing bowl.

Continue kneading for 3 or 4 more minutes, until the dough feels smooth and springy. Use up to 1/2 cup of the reserved flour, if necessary, to keep the dough from sticking to the kneading surface.

Place the dough in the greased bowl, turn it over to coat both sides, and cover the bowl. Let it rise in a draft-free place until doubled, 1 to 2 hours. Deflate the dough, and divide it in half. Form into loaves (or make into cinnamon-raisin bread as described in tips, below), and place in greased 8 1/2" x 4 1/2" pans. Cover with greased plastic wrap and let rise until the dough domes an inch above the rim of the pans.

After the dough has been rising for 20 minutes, preheat the oven to 350°F. When the loaves are sufficiently risen, bake for 35 to 40 minutes, or until nicely browned and the center of the loaves reads 190°F when measured with an instant-read thermometer. Remove from the oven and tip the breads out of their pans. Place on a rack to cool completely before slicing.
Nutrition Information
Serving Size

1 slice, 41g

Servings Per Batch

32
Amount Per Serving:
Calories

94

Calories from Fat

9

Total Fat

1g

Saturated Fat

1g

Trans Fat

0g

Cholesterol

2mg
Sodium

153mg

Total Carbohydrate

18g

Dietary Fiber

1g

Sugars

2g

Protein

3g
* The nutrition information provided for this recipe is determined by the ESHA Genesis R&D software program. Substituting any ingredients may change the posted nutrition information.
Tips from our bakers
You can make this bread richer by using milk instead of water; just bring 2 cups of milk to a simmer, then cool to lukewarm before using.
Want to make cinnamon-swirl bread? Roll one (or both) pieces of dough into a rough 9" x 15" rectangle. For each loaf, spread with 1 1/2 tablespoons melted butter, then sprinkle with 1/2 cup raisins, 1/4 cup brown sugar, and 1/2 teaspoon cinnamon. Starting with a short edge, roll into a cylinder. Place the loaf or loaves in the pan, seam-side down, and let rise and bake as directed above.
Want to make this bread using a mixer, or a bread machine set on the dough cycle? Combine all of the ingredients except 1/2 cup of the flour. Mix and knead, using your machine of choice, and adding just enough of the remaining 1/2 cup flour (if necessary) to make a soft, slightly sticky dough. Continue at step 5, letting the dough rise in a bowl, then finishing the bread as directed.
Reviews
Holy Mother of Pearl Batman . I have been baking bread for 40 years and this is the BEST recipe I have ever used. I would recommend viewing the tutorials on You Tube as well. It is a 3 video series by King Authur Flour with Teri and Robyn. I picked up several techniques that really refined the process. I followed the recipe listed above, but took technical tips from the videos. I got so many compliments on these loaves. The crust was tender, the texture was even and fine. Thanks for sharing and producing a fantastic product.
My husband and I LOVE this recipe! I've made it quite a few times over the last month. I used this recipe and made a jalapeno cheese bread. I split the water in half and used the first half to activate my yeast. Then put some jalapeno juice in the other half. Once I had added about half of my flour, I mixed in the diced jalapenos. After my first rise I added my cheese squares into the mixture and let it have its final rise in my pan. It turned out delicious! So good, I had to make another one for a friend!
This bread is a favorite with my 9 year old granddaughter. She is so disappointed when i run out. She is interested in learning to cook. I always use King Arthur ingredients as I have found they are superior and my products always come out well.
This is the one I keep coming back to and bake most frequently. Everyone loves it. But here's a question. At the top of the page it says "we'll show you how to turn the second into a raisin-cinnamon swirl variation for an extra treat." So, are the cinnamon ingredient amounts for one loaf or two?

We apologize for any confusion, Daniel. We've updated the recipe with a Baker's Tip about making a cinnamon-swirl version of this loaf, which we hope is more clear. For each loaf, spread 1 1/2 tablespoons melted butter over the dough, then sprinkle with 1/2 cup raisins, 1/4 cup brown sugar, and 1/2 teaspoon cinnamon. Roll up and bake as directed above. Happy baking! Kye@KAF
I made this bread yesterday and did the cinnamon roll without the raisins. It was really delicious, my only regret was holding back on the cinnamon-sugar spread because I was scared it will be too sweet. Very very delicious. Thanks again for a wonderful, simply delicious recipe.
I make this bread (Walter Sands' Basic White Bread) every week & we love it but it does begin to get more crumbly as the week goes on. I do store it in a twist-tied bag which then goes inside a snap-lock storage container. I just saw your post about the Tangshong method you have noted for the Classic Sandwich Bread recipe. I Iike getting two loaves in one baking session since the grands are apt to be here at times during the week. Can I simply double all ingredients in the Classic Sandwich Bread recipe to get two loaves & use the Tangzhong method noted with that recipe? Would I need to double the amounts of flour & milk/water you have noted? Alternatively, will the proportions for Tangzhong method work for this (Walter Sands') recipe? Many thanks for such great products and recipes. I switched to King Arthur flour a number of years ago and was impressed with the difference your flour made. As long as your quality & commitment to U.S. non-GMO grains continue I am a customer for life.

Hi Michelle, thanks for your loyalty and positive feedback! As a general rule of thumb, most yeast bread recipes can be easily doubled. You can simply multiply most ingredients, using anywhere from 1-2x the amount of yeast called for in the original recipe. The amount of yeast used can vary depending on your preference, with more yeast leading to a faster rise but less flavor development, and less yeast leading to more flavor development but a longer rise. If you'd also like to use the tangzhong method with your double-batch of dough, you'll want to double the amount of milk and water that's cooked beforehand. It's going to be delicious. Happy baking! Kye@KAF
I had some difficulties with this. Based on the other reviews and the fact that I'm a novice I assume the problem is me, not the recipe. I followed the recipe exactly, except I eliminated the salt, since I used salted butter and am on a low-salt diet. The step-by-step on your blog said to knead for 7 minutes; the mixer manual said only three, I compromised at 5. I used a KitchenAid stand mixer, and used a speed of 4, about medium, rather than the 2 recommended in the mixer manual, based on your blog. After 6 minutes the dough seemed nice and bouncy/stretchy. It doubled nicely in slightly over an hour. I used two 8.5x4.5 pyrex loaf pans. The dough reached an honest 1 inch above the edge of the pan in slightly over a half hour (I had previously learned my lesson about over-rising). I pulled them from the oven when the internal temperature was 102 degrees. The taste was excellent, but there was no oven rise, and half of one of the loaves had fallen. The texture was more like cake than bread, with large crumbs. Definitely not a success. Any ideas where I went wrong, and/or suggestions for next time? While it wasn't much good for sandwiches (it crumbled when cut) it did make excellent french toads so it wasn't a complete loss.

We're happy to help, Oz! Eliminating salt can greatly effect how a loaf rises as it's one of the 4 integral ingredients of bread. We'd recommend cutting the salt in half rather than eliminating it entirely for the best results. Since half of the loaf fell it sounds like the heat in your oven may be stronger on one side than the other, so turning your loaf after the first 10 minutes or so should help somewhat. We'd love the chance to talk through the recipe with you, so we encourage you to reach out to our free and friendly Baker's Hotline staff to help troubleshoot at 855-371-BAKE (2253). Kindly, Annabelle@KAF
This is my go to bread recipe. I sometimes use part white whole wheat flour. I make sandwich rolls by rolling out dough and cutting into rectangles. They freeze well.
After a few more than acceptable attempts, I finally tweaked this to perfection. The type of dry milk powder really does matter. I didn't have KA, so used what I found in the grocery store. Results were not so good. Ordered KA and it made a difference. Also, because tap water can be unpredictable, I use bottled spring water. I also add 2 teaspoons of diastatic malt powder. Using this method, this is consistently perfect bread. An added bonus is that it stays fresher longer than most.
I have made this recipe many times...after I made it from the recipe as is, I read the reviews and some fellow KAF lover said that she used buttermilk and one egg in the recipe. I have been doing this since. I tried to find that review and could not. I always do a small sponge starter which makes it fantastic. I rely on King Arthur Flouer for all my baking. I have gotten my DILs to use it also. if someone does not use the KA you can taste the difference in the results. A Faithful Fan/Baker