A customized print-friendly version of this recipe is available by clicking the "Print Recipe" button on this page.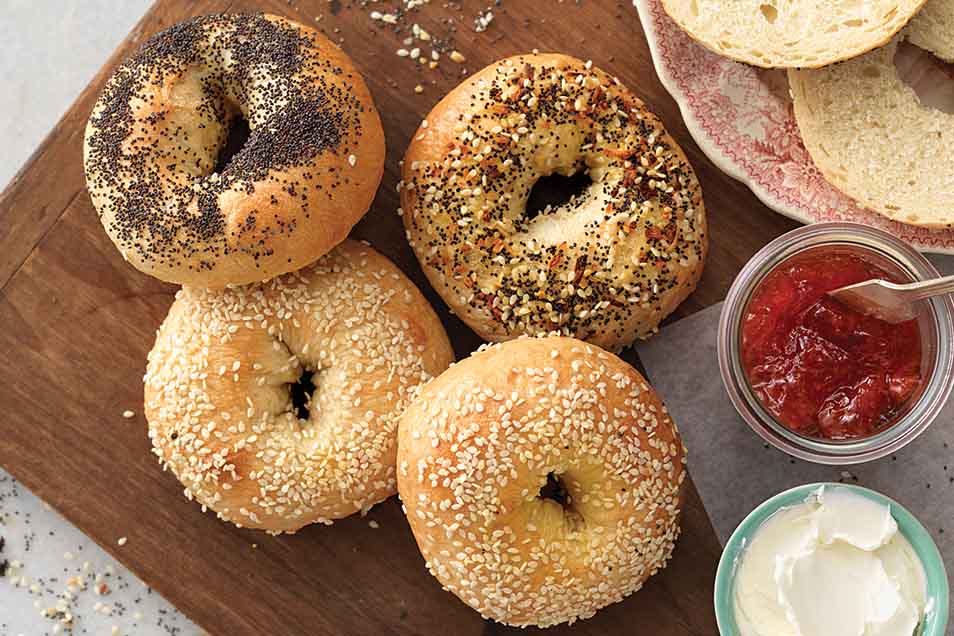 The bagel is a breakfast classic, and great ones are hard to find. If you don't live near a bakery, or if you just like the challenge of making your own, the following recipe should get you started.
Instructions
To make the dough: In a large bowl, mix all of the ingredients, then knead until smooth, using your hands, an electric mixer, or a bread machine set on the dough cycle.

Shape the dough into a ball, place it in a lightly greased bowl covered with lightly greased plastic wrap, and allow it to rise until doubled in bulk, 1 to 1 1/2 hours.

Gently deflate the dough, and transfer it to a lightly greased work surface.

For the water bath: Put the water into a large, shallow pan; it should be about 3" deep. Add the malt and sugar. Bring the water to a boil while you're shaping the bagels.

Preheat the oven to 425°F.

Divide the dough into 16 pieces. Working with one piece of dough at a time, shape it into a ball. Poke a hole through the center with your index finger, and twirl; the dough will form a ring.

Place the bagels on a parchment-lined baking sheet as they're shaped.

Once all the bagels are shaped, reduce the boiling water bath to a very gentle simmer. Starting with the first bagels you shaped, gently transfer 3 or 4 at a time to the water bath; don't crowd them. Simmer them for about 30 seconds on each side, then return them to the baking sheet.

Bake the bagels for 20 minutes, or until they're a deep golden brown. Remove them from the oven, and cool them on a rack.

Serve bagels warm or at room temperature. Store at room temperature, well wrapped, for several days; freeze for longer storage.
Nutrition Information
Serving Size

1 bagel

Servings Per Batch

16
Amount Per Serving:
Calories

173

Calories from Fat

Total Fat

1g

Saturated Fat

Trans Fat

Cholesterol

1mg
Sodium

423mg

Total Carbohydrate

34g

Dietary Fiber

1g

Sugars

2g

Protein

5g
* The nutrition information provided for this recipe is determined by the ESHA Genesis R&D software program. Substituting any ingredients may change the posted nutrition information.
Tips from our bakers
You can use a doughnut cutter to make bagels; it's an easy, quick method to shape nice-looking bagels. Divide the dough in half. Working with one half at a time, roll the dough out to a 9" circle, and cut as many bagels as you can. Gather the scraps and cut more bagels; you should end up with 8 to 10. Repeat with the remaining piece of dough.
After you've boiled the bagels, and before you bake them, you may sprinkle them with sesame seeds, poppy seeds, caraway seeds, everything bagel topping, coarse salt, or whatever you wish. Bagels brushed with a bit of beaten egg white before topping will be shinier, and hold onto their topping better.
To make flavored bagels, add ingredients to the dough before kneading. Bits of cooked spinach or fresh chive or garlic, diced onions, cinnamon (up to 1 teaspoon), and raisins are all popular.
If you'd like fresh bagels for breakfast, mix and shape the dough the night before. Immediately cover and refrigerate. In the morning, turn on the oven and bring the water to a boil, then remove and follow the boiling and baking as above. The bagels will not need to warm up or rise any further.
Reviews
Amazing. Seriously, I don't think I can ever buy bagels again! They turned out perfectly, with great flavor.
Second time I've made these, and this batch was even better than the first. I upped the boiling time just a bit, and used an egg wash to keep the toppings (everything, sesame and salt) in place and to give even better color.
I used a convection oven thinking it will not work but it was the real thing. thanks King Arthur.
I made the recipe without sugar or malt powder and the bagels were fantastic! I add two spoonfuls of baking soda to the boiling water for extra good bagel crust. I also recommend adding 2 teaspoons of rosemary while you are kneading the dough for an extra-special treat.
Is it possible to halve this recipe? I love bagels, but it makes a few too many for me! Thanks!

Hi John, you're welcome to go ahead and make a half batch of the bagels, dividing all of the ingredients in half. You can also consider making the full batch and freezing any bagels that you're not able to eat right away. You can split them in half first and then freeze; pop the bagel halves straight into the toaster to reheat and enjoy. Kye@KAF
Easy. Great recipe. My first bagel. I bake bread but never a bagel. Thank you. I made garlic bagels. Next time I want to make my favorite pumpernickel raisin. Got a recipe for me?

We do, Madeline! Search for our recipe for Pumpernickel Bagels, and knead 2/3 cup of raisins into your dough towards the end of the kneading period. Happy baking! Annabelle@KAF
I often work from home, so I'll typically start a batch of these early around 7:00 and they're done by 9:00. Today I should have checked first. I had early conference calls leaving no time for the boil and bake. No problem. After the first rise, I cut the dough into 16 pieces and left them in the fridge on parchment lined baking sheets for a few hours. They puffed up nicely and they were easier to handle when I finally got around to the boil.
Oh my goodness, I have no excuse now to ever buy bagels again. Hubby is already requesting all kinds of flavors (I used the KAF Everything Bagel Topping today)! It was so easy, took very little time which is even better! I purchased the non-diastatic malt powder just for this project, and what a difference it made! Any other bagels I've ever made were just bread rings compared to these. Thank you for making it easy to make things like this in my own kitchen. Having the recipes AND carrying the ingredients to make them. I live in the wilds of northern Michigan and there's no way I'd find anything in my area. I appreciate the ability to shop the site and have it delivered to my door!
Wonderful flavor! I'm having issues with getting the bagels to rise properly/hold the rise thru the water bath. So I did some checking and one of the possible things I could be doing is using too much yeast(or at least that is what I've found on the web so it must be true lol). I've been using the full tablespoon per the recipe above. However, I noticed on the non-diastolic malt package's recipe that the amount of yeast is 2 1/4 teaspoons(standard packet amount). Which amount would be best to use? Thanks

We're glad the flavor has been a hit! We recommend using the full tablespoon but you're welcome to experiment using smaller amounts. If you ever have any baking questions, we encourage you to reach out to our free and friendly Baker's Hotline staff at 855-371-BAKE (2253). Kindly, Annabelle@KAF
I made these a couple of weeks ago to take for co-workers. They were a big hit. I made the dough and formed the bagels the night before; boiled and baked that morning. I used Carnation malt powder, other than that followed the recipe as is. I would add a bit more salt. I made 16 bagels and they came out small, Barbie bagels was a term used. I would make 8 or ten instead. Will definitely make again.