A customized print-friendly version of this recipe is available by clicking the "Print Recipe" button on this page.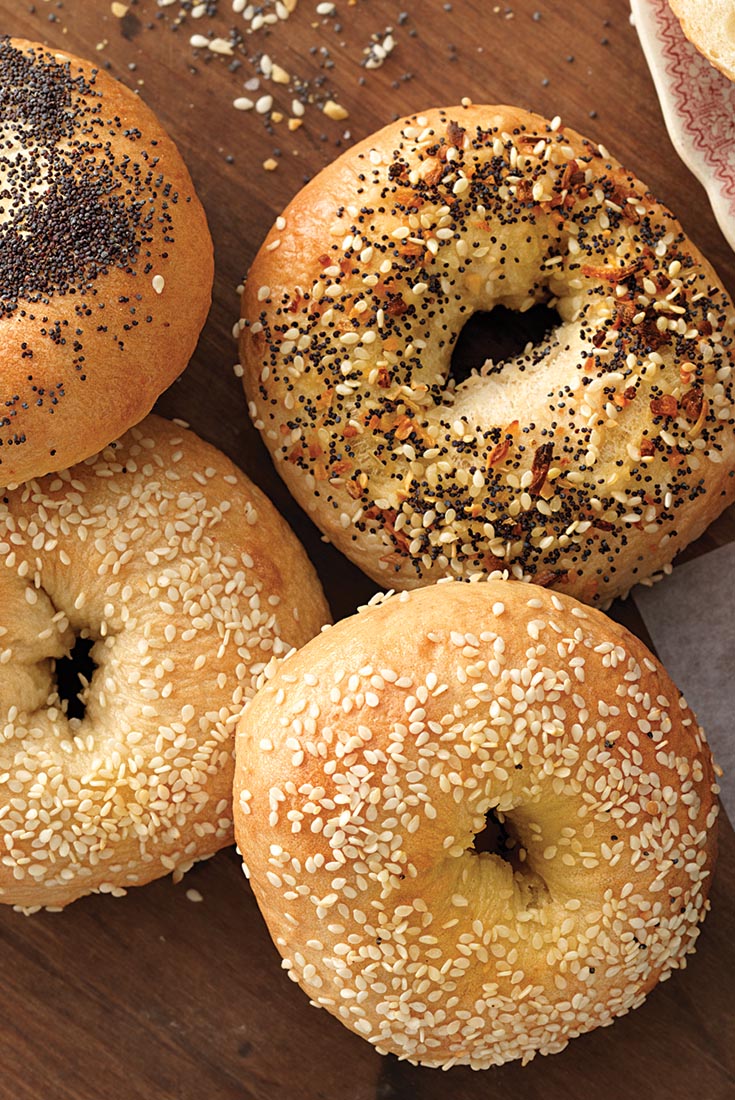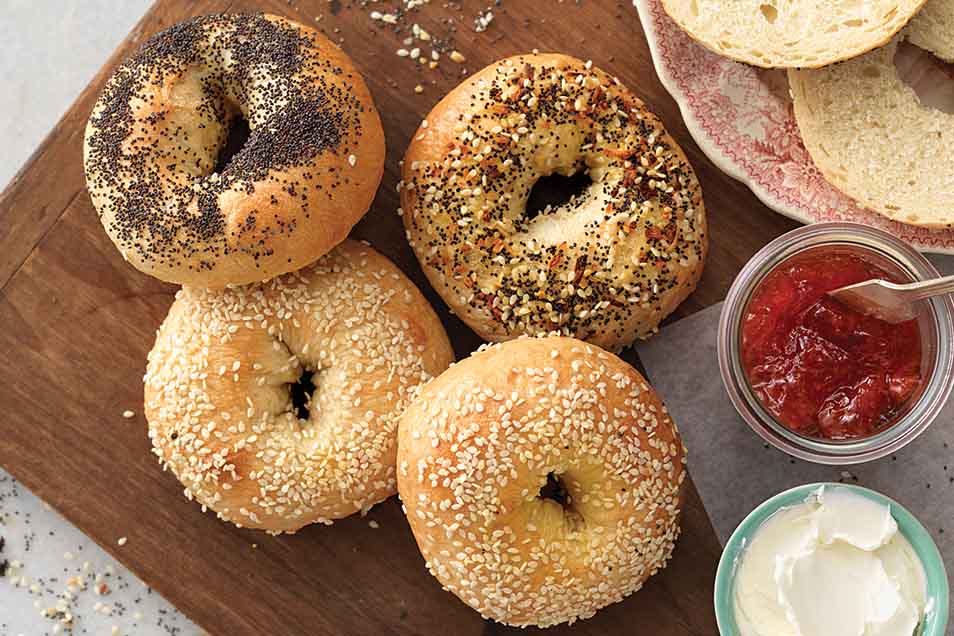 The bagel is a breakfast classic, and great ones are hard to find. If you don't live near a bakery, or if you just like the challenge of making your own, the following recipe should get you started.
Instructions
To make the dough: In a large bowl, mix all of the ingredients, then knead until smooth, using your hands, an electric mixer, or a bread machine set on the dough cycle.

Shape the dough into a ball, place it in a lightly greased bowl covered with lightly greased plastic wrap, and allow it to rise until doubled in bulk, 1 to 1 1/2 hours.

Gently deflate the dough, and transfer it to a lightly greased work surface.

For the water bath: Put the water into a large, shallow pan; it should be about 3" deep. Add the malt and sugar. Bring the water to a boil while you're shaping the bagels.

Preheat the oven to 425°F.

Divide the dough into 16 pieces. Working with one piece of dough at a time, shape it into a ball. Poke a hole through the center with your index finger, and twirl; the dough will form a ring.

Place the bagels on a parchment-lined baking sheet as they're shaped.

Once all the bagels are shaped, reduce the boiling water bath to a very gentle simmer. Starting with the first bagels you shaped, gently transfer 3 or 4 at a time to the water bath; don't crowd them. Simmer them for about 30 seconds on each side, then return them to the baking sheet.

Bake the bagels for 20 minutes, or until they're a deep golden brown. Remove them from the oven, and cool them on a rack.

Serve bagels warm or at room temperature. Store at room temperature, well wrapped, for several days; freeze for longer storage.
Nutrition Information
Serving Size

1 bagel

Servings Per Batch

16
Amount Per Serving:
Calories

173

Calories from Fat

Total Fat

1g

Saturated Fat

Trans Fat

Cholesterol

1mg
Sodium

423mg

Total Carbohydrate

34g

Dietary Fiber

1g

Sugars

2g

Protein

5g
* The nutrition information provided for this recipe is determined by the ESHA Genesis R&D software program. Substituting any ingredients may change the posted nutrition information.
Tips from our bakers
You can use a doughnut cutter to make bagels; it's an easy, quick method to shape nice-looking bagels. Divide the dough in half. Working with one half at a time, roll the dough out to a 9" circle, and cut as many bagels as you can. Gather the scraps and cut more bagels; you should end up with 8 to 10. Repeat with the remaining piece of dough.
After you've boiled the bagels, and before you bake them, you may sprinkle them with sesame seeds, poppy seeds, caraway seeds, everything bagel topping, coarse salt, or whatever you wish. Bagels brushed with a bit of beaten egg white before topping will be shinier, and hold onto their topping better.
To make flavored bagels, add ingredients to the dough before kneading. Bits of cooked spinach or fresh chive or garlic, diced onions, cinnamon (up to 1 teaspoon), and raisins are all popular.
If you'd like fresh bagels for breakfast, mix and shape the dough the night before. Immediately cover and refrigerate. In the morning, turn on the oven and bring the water to a boil, then remove and follow the boiling and baking as above. The bagels will not need to warm up or rise any further.
Reviews
These bagels are phenomenal! I did use my own sourdough starter, though, and proofed the shaped bagels in the refrigerator overnight. The flavor is wonderful. However, although they looked perfect after the simmering water bath, they lost their shape in the oven - the hole disappeared, and the center has risen into a point, and the bagels are very round like balls. They resemble very rotund volcanoes. I baked them at 425 F convection - could it have been the hot air in the oven that caused the shape change? I want to make them again, but would like a more conventional shape. Thank you for the recipe, and for any advice!

While we're glad your bagels rose, we can understand the difficulties in spreading cream cheese on a rotund volcano. Convection may have assisted in this shape, not necessarily the hotter temperature, but the circulating air blowing on the dough can definitely effect the oven spring. We've had success using bagel molds, or just making the hole in the center a little larger than you would think to compensate the bagel growth in the oven. Hope this helps! Annabelle@KAF
My favorite bagel recipe so far. I'm from Skokie, so I know my bagels. The shorter boil in this recipe results in a thinner crust, and higher rise in the oven. It is absolutely essential to get that good non-diastatic malt for the dough to get a traditional bagel flavor. Since I also brew, I have diastatic malt (DME) on hand, which is not the same as non-diastatic. DME works in the boil, but never in baking. Another approach to the hole, roll a long, thin snake and attach the ends giving more of a thinner, denser Montreal-style bagel with a larger hole.
Finally, a homemade bagel that tastes RIGHT! Local bagels seem to be just ring-shaped white bread, which doesn't make them BAGELS, so I have been experimenting with a home version. This time, I used KAF high-gluten flour for the extra "chew," with an overnight rise in the refrigerator. They came out beautifully this morning--a definite "make regularly!"
Made these today and was very happy with the results. I didn't have any kind of malt powder or malted milk, so I used about 1/2 cup of milk in place of water in the dough. I used some brown sugar instead of the malt powder in the water bath. I also made 8 larger bagels - they were about standard size for NY style, right size to make a sandwich. All in all, turned out chewy and tasty and would make again. and to anyone reading this wondering if you can make it without the malt, yes, do! That said, I'm looking forward to trying again with all the right ingredients and seeing if it makes a big difference. @KA, maybe you can explain exactly what the malt does? Flavor, texture? Thanks!

The non-diastatic malt powder gives the bagels their distinctively shiny crust. It also adds a subtle barley flavor that makes the bagels even more delicious and classic-tasting. Kye@KAF
These are REALLY good! I made 12 good sized bagels. I recently purchased bagel molds from KA...which work great. The first six were on the molds through the water bath, then got placed on a parchment lined baking sheet. The other 6 stayed on the molds through baking. The ones placed directly onto the baking sheet got much darker on the bottoms, but still very good! Next time, unless our kids are coming over for breakfast/brunch, I'll just make 1/2 a recipe.
I saw in the comment section that you should prod in the frig for 12-14 hours but no where in the recipe does it state that. In fact, there is no mention of proofing other that the initial dough ball for 1-1.5 hours. This doesn't seem right?

Our apologies for any confusion, Hugo, but it is intentional that this recipe only calls for a bulk rise. With just a short dip in the boiling water, these bagels will rise a bit more in the oven. An overnight rise is by no means necessary, but if you'd like to use one, try replacing the bulk rise (of 1-1.5 hours) with this longer, cooler one. And if you prefer a slightly lighter bagel, check out our recipe for "Bagels", which calls for a short second rise, and a longer time in the water bath (and consequently no oven-spring). Hope this helps to clarify! Mollie@KAF
I made these bagels yesterday and they were fantastic. I used KA all purpose flour, a bit less salt because I always do, and skipped the malt in the dough because I didn't have malt powder. BUT, I did put barley malt syrup in the boiling water. I used approximately 2 T in place of the malt powder and sugar. I boiled 30 sec per side and the bagels were very chewy and delicious.
Fantastic! I'll never buy bagels again. I could never find what I wanted when I wanted. I did have a problem locating someone name Luke but I warmed the water all by myself. I put roasted Kale and onions inside with garlic and cumin. then topped them with different things. Even made a few with 4 year old extra sharp cheddar inside. I have to go now, I have to go throw rocks at the local grocery store.
This is a GREAT recipe for bagels. One question: do I still do the first rise when making them for the morning? In other words, do everything as the recipe states thru step 7 (minus the preheating oven and getting the water bath ready, which you do immediately in the morning)? How long maximum should it stay in the fridge? Thanks in advance!

Great question. Since this recipe only calls for one rise, go ahead and skip the first rise when allowing them to proof in the fridge before boiling and baking. For best results, we'd aim for 12-14 hrs in the fridge. Hope this helps and happy baking! Mollie@KAF
These turned out great, chewy and delicious. I made 12 and next time I'll try making 8 for larger bagels. I topped with poppy seeds and like an idiot didn't use parchment paper so the egg wash shellacked them to my baking sheet. USE PARCHMENT PAPER. Otherwise perfect.