A customized print-friendly version of this recipe is available by clicking the "Print Recipe" button on this page.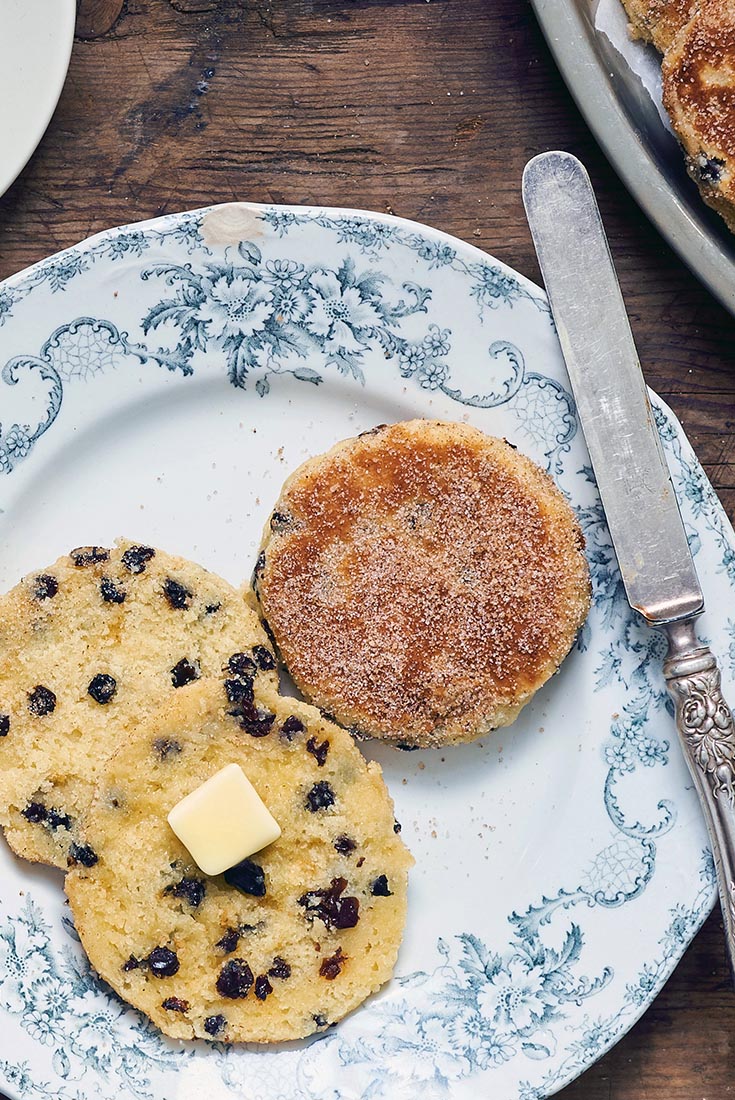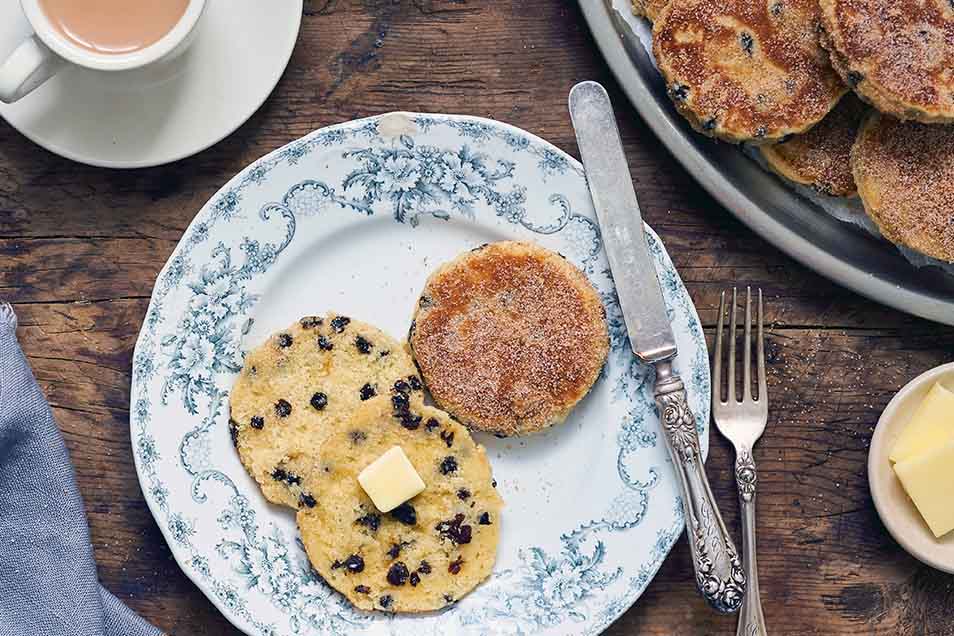 These soft, tender cakes are a cross between a pancake and a baking powder biscuit, with elements of cookies and muffins thrown in for good measure. Sturdy enough to be eaten out of hand, they can be served plain; sprinkled with sugar (or cinnamon-sugar, our favorite); or spread with butter, and gilded with sugar or jam. In addition, they're excellent the next day, warmed in the toaster as you'd warm toaster cakes.

Native to Wales, as their name suggests, Welsh Cakes are the perfect breakfast on the feast day of their native country's patron saint, St. David — celebrated each year on March 1.
Ingredients
3 cups King Arthur Unbleached All-Purpose Flour OR 3 cups King Arthur Unbleached Self-Rising Flour*
1 cup granulated sugar
2 teaspoons baking powder
3/4 teaspoon salt
1/2 teaspoon ground nutmeg
16 tablespoons (1 cup) cold unsalted butter, cut into pats or diced
3/4 to 1 cup currants
2 large eggs beaten with enough milk to yield 3/4 cup liquid
*See "tips," below.
Instructions
In a medium-sized mixing bowl, whisk together the flour, sugar, baking powder, salt, and nutmeg.

Work in the butter until the mixture is fairly evenly crumbly; a few larger pieces of butter can remain.

Mix in the currants.

Add the milk/egg mixture, mixing until the everything is moistened.

Turn the sticky dough out onto a well-floured work surface, and divide it in half. Shape each half into a thick, 4" to 5" disc. Cover one of the discs with plastic, and refrigerate. Leave the other on the floured work surface.

Roll the soft dough into a 9 1/2" circle; it should be about 1/4" thick. Be sure to lift up the dough and flour underneath it as you roll, so it doesn't stick.

Using a 2 1/2" to 3 1/2" biscuit or other round cutter, cut the dough into circles. Gather and re-roll the scraps, cutting until you've used all the dough.

Heat an ungreased skillet over low-medium heat; an electric frying pan or skillet, set at 325°F, works well here.

Dry-fry the cakes (no grease) for about 2 1/2 minutes on each side, until they're golden brown and cooked all the way through. It's best to fry one sample cake first, to see if your pan is the right temperature.

Transfer the cakes to a rack to cool.

Repeat with the refrigerated dough. Cut the circles, then let them warm at room temperature for about 10 minutes before dry-frying.

Dust the finished cakes with cinnamon-sugar or superfine (castor) sugar; or split them, butter, and spread with jam. A pot of tea is the perfect accompaniment.
Tips from our bakers
If you use self-rising flour, omit the baking powder and salt in the recipe.
Reviews
My Welsh dad says these are some of the best Welsh Cakes he has ever had. And I didn't even have to convert everything from grams. Thanks KA!
Excellent results. We used 1/2 cup (one stick) of butter and 1/2 cup of shortening, just because we were short of a full cup of butter, but the results were still great. Also used a smaller diameter cutter so we ended up with slightly over 4 dozen cakes. Very happy with the recipe - especially because these are made on a griddle rather than in the oven - and will definitely make again.
An excellent recipe for these. A nice soft dough that was easy to work with (have a little flour on the side to keep everything moving on the board). Having eaten many of these (probably too many) in my travels to Wales I knew I had to find a good recipe to make them back home. I think a key to this recipe is that the space in the case of this recipe nutmeg gives a bit of an exotic flavor that sets these apart. I used the nutmeg called for but also add about 1/2 tsp of ground cardamom. The difference is subtle but makes many say 'oooo - what is that?' Try these - you will be surprised at how irresistible they are!
Me again. I had a difficult time with this recipe. Hope it turns out OK, though. PLEASE follow the directions to a T; I had only cake & white whole-wheat flours handy.
I just a question, it's NOT a review... What could you substitute for the currants if you can't find them in your area? I don't think we have them where I hail from (but I really haven't any idea). Would really want to give this recipe a try soon, though.

No problem, Shelby. You can use raisins, either dark or golden, or dried cranberries. If they're particularly large, a quick chop will allow them to be more evenly distributed in each bite. Happy baking! Annabelle@KAF
My name is Chef Helena and I made this recipe. I used cream instead of milk. They are excellent hot out of the pan. I dipped them into cinnamon sugar. Moment by moment they changed in texture. They went from a very tender like cakey cookie to a firmer cookie in moment. Some of then I bruleed. That was awesome and it retained a bit more flavor that way. They are figity to make and the dough looked like it was not going to work but it did. Very nice and I would make these again, hands down
The cakes had a nice consistency, were not difficult to make, and we liked the taste (I used 1/2 cinnamon and 1/2 nutmeg). But they were way too sweet for our taste.

Karin, if you'd like these cakes to be less cake-like and more bread-like, you're welcome to reduce the sugar to your taste. Just be aware that they may be a bit more dry without the sugar, so consider adding 1-2 tablespoons of vegetable oil to help the dough stay moist. Happy baking! Kye@KAF
My niece sent a package of Welsh Cakes from Wales and they were delicious so of course I immediately went to the KAF site for a recipe. I much appreciated the associated blog so I could see how the dough should look. I also appreciated the blog recommendation to try one first before cooking them all because it was gummy in the middle even though it looked done to me. Cooking an additional minute did the trick. Everyone raved about how good they were. We will make again ! Recipe contains ingredients that are always on hand and they can be made (and eaten) very quickly so you have the instant gratification factor as well. This recipe would be good for junior bakers.
Delicious!!!! Only made a few minor changes to cooking time etc, but they were awesome!