A customized print-friendly version of this recipe is available by clicking the "Print Recipe" button on this page.
White-on-White Coconut Cupcakes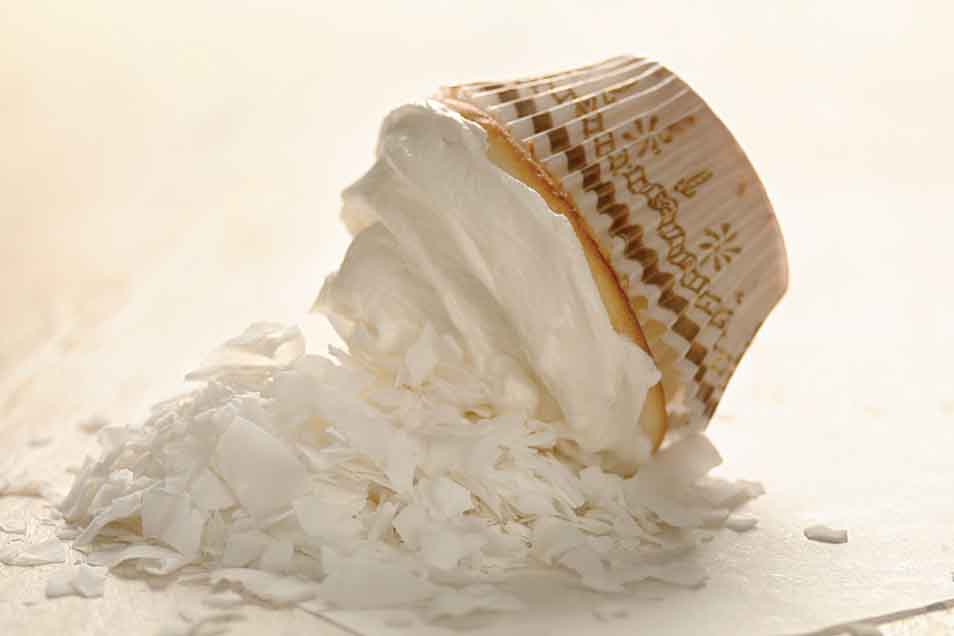 These pure white cupcakes are a symphony of coconut flavor.
Ingredients
Frosting
1/2 cup (4 ounces) soft butter
1/4 cup coconut milk powder
1 tablespoon cake enhancer, optional
pinch of salt
1 1/4 cups confectioners' sugar, sifted
1 teaspoon vanilla extract
1/16 teaspoon coconut flavor
Instructions
Note: Thanks to reader feedback, this recipe has been amended as of 12/18/12, as follows: the milk has been omitted from the frosting, to make a firmer frosting.

Preheat the oven to 375°F. Grease a 12-cup muffin pan, or line with cupcake papers and grease the papers, for easiest removal.

To make the cupcakes: Whisk together the cake flour blend, coconut milk powder, and toasted coconut.

In a separate bowl, cream together the butter, sugar, cake enhancer, salt, baking powder, and flavors until the mixture is well blended.

Beat in the eggs whites one at time, beating until fluffy after each addition.

Add the dry ingredients alternately with the milk.

Scoop about 1/3 cup batter into each muffin cup.

Bake the cupcakes for 16 to 18 minutes, until they're very lightly browned and test done with a cake tester. Remove from the oven, after 5 minutes turn out of the pan, and cool on a rack.

To make the frosting: Beat the butter, coconut milk powder, cake enhancer, and a pinch of salt until fluffy.

Add the sugar in 3 parts, beating until fluffy after each addition. If the frosting is too stiff to spread, beat in a little milk or cream.

Beat in the vanilla and coconut flavor.

Ice each cupcake with about 2 tablespoons of frosting. Roll in coconut flakes.

Yield: 12 cupcakes.
Reviews
I made these without cake enhancer and coconut flavoring but used the coconut milk powder and cake flour. I believe the coconut flavoring would have added much more depth to the cupcake and the cake enhancer would have made the texture lighter, hence the five stars. To increase the complexity I added lemon zest to the icing and sprinkled it with toasted coconut. The coconut flavor was subtle but delicious and the crumb was moist. I'm wondering if I had beat the egg whites less if the crumb would have been even lighter or if the cake enhancer is the key.
You need to add an option to answer if I would recommend this recipe with modifications, lol. The texture of the muffins is great. Very light & fluffy. But it didn't taste very coconutty to me. I even used the coconut oil you guys sell. The muffins are quite bland. And the frosting isn't very firm. I've put it in the fridge, hoping the butter in the recipe will solidify some, so we'll see how that works out. Don't get me wrong, the muffins are completely edible. I'm not throwing them out, but they lack in the flavor department, imho.

Cindy, you must be a serious coconut-lover! We're surprised to hear that between the coconut milk powder, the toasted coconut, and the coconut extract, the coconut flavor was still lacking for you. Feel free to use slightly more of these ingredients, especially the extract, to boost the coconutty-ness of these cupcakes. We hope that helps bring them up to par for you! Kye@KAF
Thanks for the info...if I make just one layer what size pan would I use...and, do I bake it at 375 degrees or 350 degrees and for how long? Thanks
I would recommend a 9-inch cake pan and reduce the baking temperature to 350 degrees. Baking time will be around 25-30 minutes, but check early and reset timer accordingly. You might want to look at our Coconut Cake recipe for baking instructions, since this is a similar recipe. One cake pan will bake more quickly than two. Barb@KAF
I get lots of compliments on these (even from people who claim not to like coconut!) My question is: could I make this into a 2-layer cake & if so, what pan size should I use. Thanks!
You'll need to double this recipe in order to make two 9-inch cake layers. Barb@KAF
Although I have not made these cupcakes yet (I am very sorry I know you want us to make them first). I am sure they are excellent and I will be making them for my dad's birthday next month I just want to point out one thing. I have noticed that some people have been having problems with the frosting and sometimes the wording of a recipe gets in the way. For example: 1 cup of flour, sifted or 1 cup of sifted flour 1 cup flour, sifted means you put the flour into the cup and then sift it. 1 cup sifted flour means to set the cup on a counter and sift the flour into the cup until it mounds above the top. Then, with a metal spatula or knife, level it off. Be sure to use a cup with an unbroken rim, referred to as a dry measure as opposed to a liquid measure which has a spout. With this second method you will have the least amount of flour because the flour is aerated. Do not be tempted to shake the cup or tap it as that compacts the flour. Just an FYI. It could be that there is not enough confectioners' sugar being used, hence the water frosting.
Wonderful cupcakes! I used whipping cream instead of milk in the frosting and it was amazing. The flavor is fantastic in both the cupcakes and the frosting. I did not have the cake enhancer, but they had a wonderful texture and were kind of buttery. I like them a lot more than the chocolate ones I made at the same time. Easy to make, and fantastic results :)
Made these this weekend for my husbands' birthday. They were the best cupcakes I have ever made. I did cut back on the amount of milk in the frosting, I toasted the coconut for the top. There was sooo!! much coconut flavor it was like biting into a freshly cut coconut. I will make these again and again.
The cake was course and heavy. The frosting was the consistency of a milkshake. I had to add several more cups of confectioners sugar to a third of it and saved the rest. I think I will use what's left of the milky frosting to make a base for coconut muffins..
I am sorry to hear of your difficulty. Please give us a call, 800-827-6836. We're happy to send a replacement mix for you. Our bakers would be happy assist you with tips for success. Frank @ KAF.
These were delicious! I used the coconut flavor and coconut powder that I bought from KAf, but I used regular, sweetened coconut flakes from the grocery store. I looked at the other comments, and reduced the milk in the frosting to 3 Tbsp. I also lightly toasted the coconut for the topping, which increased its flavor and added a bit of crunch. I brought these to a fundraiser bake sale, and wished I had made 2 dozen instead of just one! Many coconut cakes just seem like white cakes with coconut sprinkles -- these tasted of coconut through and through!
These cupcakes are wonderful! My son, who doesn't usually like coconut, loved them. The only problem I came across was in the frosting: 1/3 cup milk is simply just too much! The frosting was extremely runny, to the point where I had to add an extra cup of powdered sugar to salvage it...better, but still too runny. Next time I'll cut the milk all the way down to 3 tablespoons and increase the powdered sugar to almost 2 cups. Also, think I would have preferred toasted coconut on top.
Thanks for letting us know about your adjustments, Linda. Elisabeth @ KAF