A customized print-friendly version of this recipe is available by clicking the "Print Recipe" button on this page.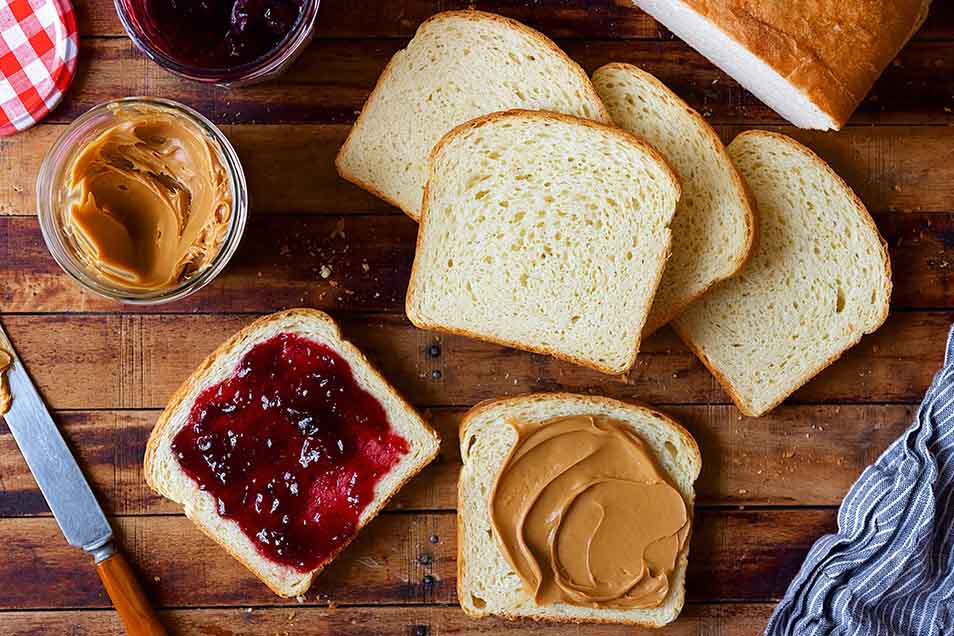 This golden-crusted, soft white bread is a versatile star. Enjoy it toasted (or made into French toast) in the morning; for sandwiches at lunchtime; and in the breadbasket, ready for buttering, at dinner.

Our guarantee: This tender, close-grained loaf rises to a lovely 4 1/2" dome, and bakes up golden brown.
Ingredients
2 1/2 teaspoons active dry yeast; or 2 1/2 teaspoons instant yeast
7/8 to 1 1/8 cups lukewarm water*
1 1/4 teaspoons salt
3 tablespoons sugar
6 tablespoons unsalted butter, room temperature
1/4 cup Baker's Special Dry Milk or nonfat dry milk
1/4 cup potato flour or 1/2 cup instant mashed potato flakes
*Use the lesser amount in summer (or in a humid environment), the greater amount in winter (or in a dry climate), and somewhere in between the rest of the year, or if your house is climate controlled.
Instructions
If you're using active dry yeast, dissolve it with a pinch of sugar in 2 tablespoons of the lukewarm water. Let the yeast and water sit at room temperature for 15 minutes, until the mixture has bubbled and expanded. If you're using instant yeast, you can skip this step.

Combine the dissolved yeast (or instant yeast) with the remainder of the ingredients. Mix and knead everything together — by hand, mixer or bread machine set on the dough cycle — until you've made a smooth dough. If you're kneading in a stand mixer, it should take about 7 minutes at second speed, and the dough should barely clean the sides of the bowl, perhaps sticking a bit at the bottom. In a bread machine (or by hand), it should form a smooth ball.

Place the dough in a lightly greased bowl. Cover the bowl, and allow the dough to rise, at room temperature, for 1 to 2 hours, or until it's nearly doubled in bulk. Rising may take longer, especially if you've kneaded by hand. Give it enough time to become quite puffy.

Gently deflate the dough, and shape it into an 8" log.

Transfer the log, smooth side up, to a lightly greased 8 1/2" x 4 1/2" loaf pan. Tent the pan loosely with lightly greased plastic wrap.

Allow the bread to rise until it's crested about 1 1/4" over the rim of the pan, about 1 hour. Again, it may rise more slowly for you; let it rise till it's 1 1/4" over the rim of the pan, even if that takes longer than an hour. While the dough is rising, preheat the oven to 350°F.

Bake the bread for 15 minutes. Tent it lightly with aluminum foil, and bake for an additional 20 to 25 minutes, till the crust is golden brown, and the interior temperature measures 190°F on a digital thermometer.

Remove the bread from the oven, and gently loosen the edges with a heatproof spatula or table knife. Turn it out of the pan, and brush the top surface with butter, if desired; this will give it a soft, satiny crust. Allow the bread to cool completely before slicing. As soon as it's completely cool, wrap it tightly in plastic wrap; or in a plastic bag, air pressed and fastened securely at the top.
Nutrition Information
Serving Size

1 slice (47g)

Servings Per Batch

16
Amount Per Serving:
Calories

140

Calories from Fat

40

Total Fat

4.5g

Saturated Fat

3g

Trans Fat

0g

Cholesterol

10mg
Sodium

190mg

Total Carbohydrate

21g

Dietary Fiber

1g

Sugars

3g

Protein

3g
* The nutrition information provided for this recipe is determined by the ESHA Genesis R&D software program. Substituting any ingredients may change the posted nutrition information.
Tips from our bakers
If you're kneading bread by hand, it's tempting to keep adding flour till the dough is no longer sticky. Resist the temptation! The more flour you add while you're kneading, the heavier and drier your final loaf will be.
The amount of liquid you use to make the "perfect" dough will vary with the seasons. Flour is like a sponge; it absorbs water during the humid days of summer, and dries out during the winter. Your goal should be making the dough as it's described (e.g., soft, and smooth, but not sticky), rather than sticking religiously to the amount of liquid.
When making yeast bread, let the dough rise to the point the recipe says it should, e.g., "Let the dough rise till it's doubled in bulk." Rising times are only a guide; there are so many variables in yeast baking (how you kneaded the dough; what kind of yeast you used) that it's impossible to say that bread dough will ALWAYS double in bulk in a specific amount of time.
Reviews
Another wow-er from KAF. This was the first bread recipe I tried from KAF and it's a definite keeper. It's a good solid bread that will handle a sammie for sure. This bread stands up to whatever dressings, mayo, catsup, deli spread, etc. and the bread stays intact. It has a great flavor, not boring like most white breads and a great dental chew because the crumb is close together. It's dense without being dry. I've had it last 8 days in my home without going bad. I highly recommend trying the recipe. I don't think you'll be unhappy.
This bread is fantastic! Best white bread I've eaten yet... I ended up using a 9" pan as the dough completely filled the 8.5". Even the 9" was a little full. I might try a 10" next time. I used the dough cycle on my Zo and the final proof only took 20 minutes - I put it in the oven with the light on.
This is the Best White Bread I have ever made. Very easy. Soft on the inside. Not dry when toasted. It is a Keeper.
I use KAF. I ordered the potato flour and yes, it made a difference. Still moist but not as wet. Thank you for the response and I also used 7 oz water in place of the 8 oz. Really good tasting and it is fun. I will mix in the bread machine but bake in the KAF bread pans in the future. I have tried it both ways and while both work, the bread is nicer looking and not so moist baking in the oven. I also use the bread recipe on the KAF sack and it works marvelously in the bread machine from start to finish. Called "Our Easiest Sandwich Bread". So for quick and easy that is my go to recipe. But we love this one as well.
Is this suppose to be a wet dough? I mixed using the Zoe, using 8 oz water. I did not use potatoe flakes or flour. It rose fast after shaping. It looked perfect. Baked and it had a continued high rise in pan size recommended. I baked it the full time and the testing said 200 deg. It cooled. When sliced it was really moist; almost too much but really delish. So, should I add less water? I did order the potato flour today from KAF. Could that have been why?

Julianne, the dough should be just slightly tacky to the touch--not a wet, sticky mess. If you used another brand of flour that wasn't King Arthur Flour, that's likely the cause. Typically our flour is higher in protein than other kinds, which means it absorbs water more readily. Next time, try using the potato flour plus add additional flour as necessary to make a smooth, slightly tacky dough. Happy baking! Kye@KAF
I've made this bread a few times now, and it has become a favorite for my family. I do have a question about the rise. I've read in other bread posts about using a shower cap to cover, but how on earth do you keep the cap from sliding down the slightly angled sides of the pan??? It looks as if it would touch the bread unless I find some way to keep it at the top of the pan.

It sounds like the shower cap you're trying to use is a bit too loose. If the elastic part of the cap is tight enough, it should stay near the top of the pan. You may want to look into our Set of 10 Bowl Covers in the Shop section of our website; they're perfect for covering rising dough and shouldn't give you any trouble. Kye@KAF
Love...love...love this bread. It's my favorite white bread for sandwiches. You can easily spread peanut butter on a slice and if you want to talk grilled cheese, tuna melt ect....perfection!
I've made this bread three times with exactly the same issue every time. It has a wonderful 1 inch crown on the second rise, but if I wait just a few minutes more hoping for the 1-1/4 inch rise per the recipe, it suddenly falls flat! Im looking at a loaf of bread right now that smells wonderful, but is truly in the shape of a brick. Am I over proofing it? Today's batch only had a 45 minute second rise, and as I said, it hadn't quite reached the recipe's 1-1/4 inch rise before if flopped down. Suggestions?

Barbara, it sounds like your dough is over-proofed, as you suspected. The loaf should only rise to about 1" above the rim of the pan in the very center (the edges will rise less), then it's ready to go in the oven. Try using cool water to slow down the rise next time, and as soon as you get close to 1", move quickly to get it in the oven. It's better to air on the side of caution here to prevent your bread from collapsing. Kye@KAF
I made this recipe about 2 weeks ago. The bread has an excellent taste, however, after it came out of the oven it fell in the middle. That didn't seem to affect it too much; it didn't seem under done. The bread was kind of crumbly to slice. I'm going to try the recipe again adding some instant potato flakes and maybe an egg. I live in Florida, which has a very humid climate. That doesn't seem to have any effect as the house has a dehumidifier in the heating and cooling system, so I don't adjust ingredients for altitude or climate.

Pam, it sounds like your loaf was slightly over-proofed. This is easy to fix; simply reduce the yeast by 1/4 teaspoon or cut back on the rising time. This way the structure of the dough won't be so delicate because it won't have stretched quite so far. We're glad to hear you liked the flavor of this bread. It's perfect for toast! Kye@KAF
My family absolutely loves this bread. I'm new to baking and I had no trouble with this other than one part of the top caved in a little while baking, but it did not affect that flavor or texture in any way. I made a loaf yesterday and it was supposed to last a few days, but it's almost gone already! The butter gives it a rich flavor that is delicious. I will be making this bread on a regular basis.