A customized print-friendly version of this recipe is available by clicking the "Print Recipe" button on this page.
Whole Grain Cinnamon-Nut Baby Biscotti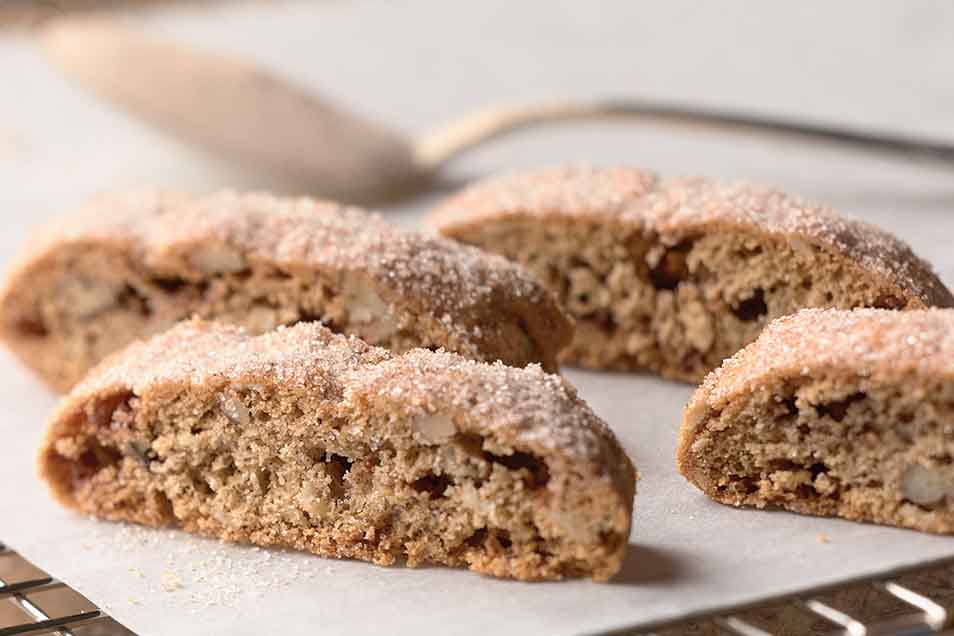 Cinnamon, sugar, and butter play a starring role in these crunchy mini-biscotti. Best of all, your family and friends will never guess they're made with whole wheat flour, especially when you use white whole wheat.

Since they're already dry and pretty firm, biscotti are a great choice when you're looking to send cookies through the mail; to kids at college, or even overseas. They travel and keep very well.


Ingredients
6 tablespoons butter
2/3 cup sugar
1 1/2 teaspoons baking powder
1 teaspoon ground cinnamon
1/4 teaspoon salt
1 teaspoon vanilla extract
2 large eggs
1 3/4 cups King Arthur whole wheat flour, white whole wheat preferred
1/2 cup old-fashioned rolled oats
1/2 cup cinnamon chips or cinnamon sweet bits
1/2 cup chopped pecans or walnuts
3 tablespoons cinnamon-sugar, for dusting
Instructions
Preheat the oven to 350°F. Lightly grease (or line with parchment) a large cookie sheet or a half-sheet (18" x 13") pan.

In a medium-sized bowl, beat together the butter, sugar, baking powder, cinnamon, salt, and vanilla till smooth.

Add the eggs and beat till the mixture is well combined. It may look a big coagulated. That's OK.

Add the flour and oats, mixing to combine.

Stir in the chips and nuts.

Divide the dough into four equal pieces, placing them on the prepared baking sheet.

Shape each piece into a rough log about 10" to 11" long, placing the logs crosswise on the sheet, and spacing them about 2" apart. Using your wet fingers and/or a wet spatula, flatten and smooth the logs till they're about 3/4" thick, and about 1 1/4" wide.

Spritz the top of each log with water, and sprinkle heavily with cinnamon-sugar.

Bake the logs for 23 to 25 minutes, until they're beginning to brown around the bottom edges. Remove them from the oven, and allow them to cool right on the pan for about 10 minutes. Spritz with water, sprinkle with more cinnamon sugar, and let them cool for another 15 to 20 minutes. While the logs are cooling, reduce the oven temperature to 325°F.

Cut the logs crosswise into 1/2" to 3/4" slices, using a sharp chef's knife.

Place the biscotti back on the baking sheet, spacing them close together without touching.

Bake the biscotti for 25 minutes, until their cut edges are a light golden brown. Remove them from the oven, and cool on the pan.
Reviews
I didn't want to do four small loaves, so I baked this as one big loaf and just cooked it longer. It turned out fine. After slicing I cooked it until it was dry, a little longer than the stated time. Very tasty, but a little crumbly despite the loaf having good shape and texture before baking.
Great recipe. I used oat flour instead of oatmeal, and I added more vanilla and 1/2 tsp of coffee flavoring, just to punch it up a bit. These will be gone before cooling.
This recipe worked perfectly. However, I was not expecting such a small cookie! I only used 1/2 cup sugar in the dough. They are crispy and crumbly. I used my choice of chopped nuts and dried fruit in them -- craisins and almonds.
While submitting comments for the black and white biscotti, I asked if KA had a recipe for oatmeal raisin biscotti, something that a friend asked me to make. This recipe was recommended. I substituted 1/2 cup of raisins for the nuts and gave the oats a quick whirl in the food processor before using. I made no other changes in the recipe. They are very good - a true oatmeal raisin flavor, and the cinnamon chips add a nice flavor. I really like the texture - they are tender and crispy, and have a pleasant lightness about them. They were easy to cut without very much crumbling. Love the cinnamon-sugar "glaze" - it really stays on the biscotti and adds so much flavor. I think these will be a winner.
Excellent whole grain plus oatmeal recipe. Easier to indulge with a bit less concern. Easy and delicious. I used the cinnamon chips which are perfect and almost dissolve in the finished product. I suggest bakers trust the timing in the recipe rather than how brown they appear. Mine never really browned, but got very crunchy nonetheless. In the end, it is best to "Know thy own oven!" I tried half without the extra dustings of cin-sugar to reduce the sugar slightly. Tasted almost identical. Will make again! thank you
Easy and delicious. I should have waited for them to cool a bit more before I sliced them, but it's late and they smell so good! This recipe will definitely become part of the holiday repertoire.
Very tasty and very simple. A bit on the crumbly side, even though I let them cool thoroughly before cutting for the second baking. Should the dough have been sticky but not stick together all that well? Maybe I needed more liquid, though I followed the recipe precisely by weight. I'll make these again as I have a bunch of cinnamon-lovers around.
It's that time of year that weather conditions will affect recipes - namely flour additions. Let the dough speak to you to tell it what it may need. When in doubt, I always check the blog entry so I can "see" what the dough or finished product should look like. Check the "Biscotti, baby! blog for this recipe. Irene @ KAF
Such a lovely recipe! I had seen a white-flour version of cinnamon-sugar biscotti recipe on a few baking blogs (and epicurious) and really wanted to try it, but with whole grain flour instead...so I was super excited when I found it here! The recipe is truly a winner and the flavor is outstanding. I left out the cinnamon chips and nuts completely because I was really craving that pure "cinnamon toast" taste, and I got it plus some. I also ground up my oats so the texture was more even and the loaves easier to cut. I'll use this recipe time and time again. Thanks!
Delicious! The house smells like cinnamon rolls. I ground up the oats in the food processor and It gave the cookies a crispier texture. The cinnamon chips give it a more buttery flavor. Can't wait to eat them with a cup of coffee for breakfast!