A customized print-friendly version of this recipe is available by clicking the "Print Recipe" button on this page.
Whole Grain Devil's Food Cupcakes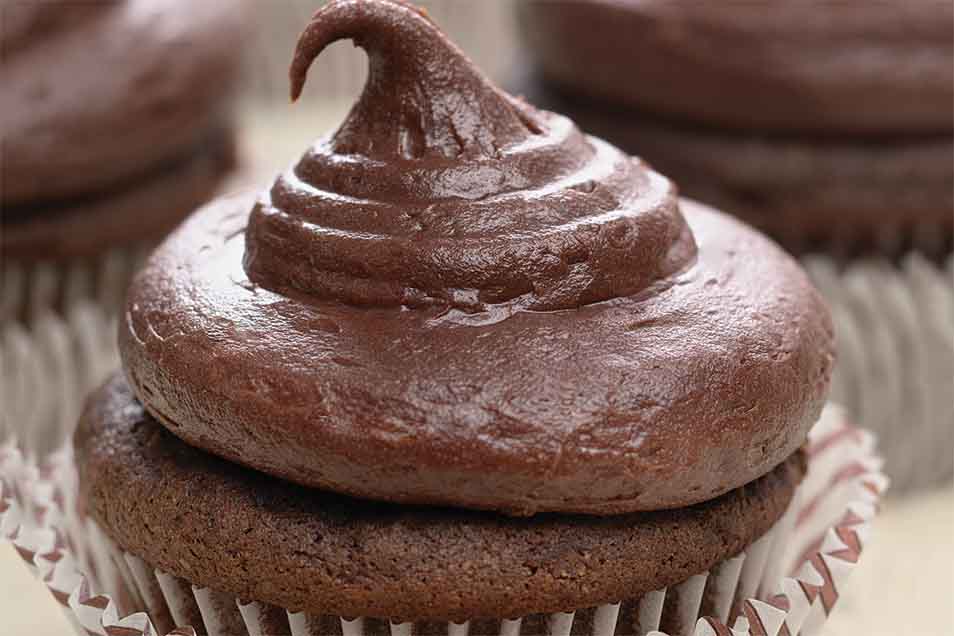 If you're looking for an easy way to add whole grains to the diet of your fussiest eater, this is the place to start. None of our veteran tasters had any idea there were whole grains in this cake. We've heard a lot about the antioxidant properties of chocolate; isn't it nice to know that chocolate is even better for you than you thought?
Ingredients
3/4 cup unsalted butter
1 cup light or dark brown sugar, firmly packed
3/4 cup Baker's Special Sugar or granulated sugar
1/2 teaspoon salt
4 large eggs
2 teaspoons vanilla extract
1 1/2 cups whole wheat pastry flour
1 cup unsweetened baking cocoa
1 1/2 teaspoons baking soda
1 cup plain low-fat or whole-milk yogurt*
3/4 cup water
*Or substitute 3/4 cup (6 ounces) yogurt and 1/4 cup milk.
Instructions
Preheat the oven to 350°F. Line two 12-cup muffin pans with cupcake papers; spray the papers with vegetable oil spray.

Beat together the butter, sugars, and salt until fluffy and light, at least 5 minutes, scraping the sides and bottom of the bowl.

Add the eggs to the butter mixture one at a time, beating well (at least a full minute) after each addition, stopping to scrape the sides and bottom of the bowl before adding the next egg.

Mix in the vanilla.

In a separate bowl, whisk together the flours, cocoa, and baking soda. If lumps remain, sift or strain.

Stir half the flour mixture into the batter; then the yogurt and water; then the remaining flour mixture, stopping to scrape the sides and bottom of the bowl.

Scoop the batter into the prepared pans, using l/4 cup for each cupcake (a muffin scoop is a great help with this).

Bake the cupcakes until a cake tester inserted into the center of a middle cupcake comes out clean, 22 to 24 minutes.

Remove the cupcakes from the oven, and after 10 minutes transfer to a rack to cool.

Frost completely cooled cupcakes, if desired. Our Super-Simple Chocolate Frosting is a great match here.

Yield: 2 dozen cupcakes.
Reviews
I just took these out of the oven. They are tender and moist with a very pronounced chocolate flavor. I made them for a community meal ( minus the one I just ate). I will be making them again for my family. I cannot imagine anyone would be able to taste the whole wheat flour. Thank you for another great recipe!
This was great. Husband and two boys didn't realize I used whole wheat flour. I thought I could tell but that's not a great test since I knew it was in there. It did seem a little crumblier than a standard butter cake--I used bakers grease on the pans and had to do a bit of gluing back together with frosting when I took them out of the pans. If I were making a special occasion cake that I wanted to have a slick presentation, I think I would use parchment circles (I made 9 inch rounds rather than cupcakes). It also seemed just slightly drier also--I thought it was good when generously frosted with vanilla buttercream. My older son insisted "it doesn't taste any different" though!
I made this exactly and measured with scale-it was very pretty and frosted it with marshmallow icing. It was very dry and a little bitter. My husband ate it but my girls and I passed-not worth the calories.
The bitterness was either a result of using rancid whole wheat flour or from improper leavening/cocoa. Please feel free to give us a call on the baker's hotline should you have further questions. ~Amy
For the first time, I found myself disappointed in a KAF recipe. I am excited to experiment with whole-grain baking and have even asked for the KAF whole-grain cookbook for a Christmas present. The recipe was easy to make and the cupcakes rose nicely - no complaints there. I found the whole wheat taste in these cupcakes to be a little strong. That didn't bother me too much, as I assumed that I am just not used to baking with whole grains. However, asserting that people will not be able to taste the whole grains at all is, I think, misleading. What *did* really bother both myself and my husband was the significant lack of chocolate flavor. The "devil's food" name implies a rich chocolate taste, and we could barely taste the chocolate. I used Ghirardelli unsweetened cocoa powder and made the recipe following the instructions (including sifting), but the cupcakes lacked depth and flavor. They were also a little dry, but I think that's my fault for having left them in a minute or two past when I should have pulled them. They tasted like whole wheat muffins with just a hint of chocolate, which is not at all what I was expecting from the name. I was too embarrassed to serve them!
Sorry to hear that this recipe was not a favorite. We hope you'll give other whole grain recipes a go though. MJR @ KAF
i found this recipe in my whole-grain cookbook, and it tastes incredible! but I didnt really get much rise out of the cupcakes...they rose just enough to spread out of their papers, and then formed a nice flat layer across the top of my muffin pan. taste is great, but I was hoping to make these as a gift, and presentation style is not too hot. still, I think I will have to try again (maybe when i get a newer oven!)
I am glad you like the taste. As directed by the recipe, fill the cups with 1/4 c. of batter. And be sure your oven is properly preheated to 350 degrees before baking. An oven thermometer is a great tool! Elisabeth
I THINK this is probably a great recipe. I made a little mistake and used non-fat yoghurt rather than regular or lowfat. I could tell right away that the batter looked a bit too light and liquid-y. The cupcakes failed to rise much but they are light and delicious anyway. Don't make my mistake and you should have some nice, light cupcakes. I will try it again.
Delicious! My family really enjoyed eating these moist, light cupcakes. I frosted them with your whoopie pie filling (uses meringue powder) and also a chocolate frosting. I appreciate the recipes by weight - using a scale is so much quicker. Is this a recipe from the Whole Grain Baking cookbook?
Yes, this one is from the Whole Grains Cook Book, pg 370-1. Frank @ KAF.