A customized print-friendly version of this recipe is available by clicking the "Print Recipe" button on this page.
Whole Grain Pain au Chocolat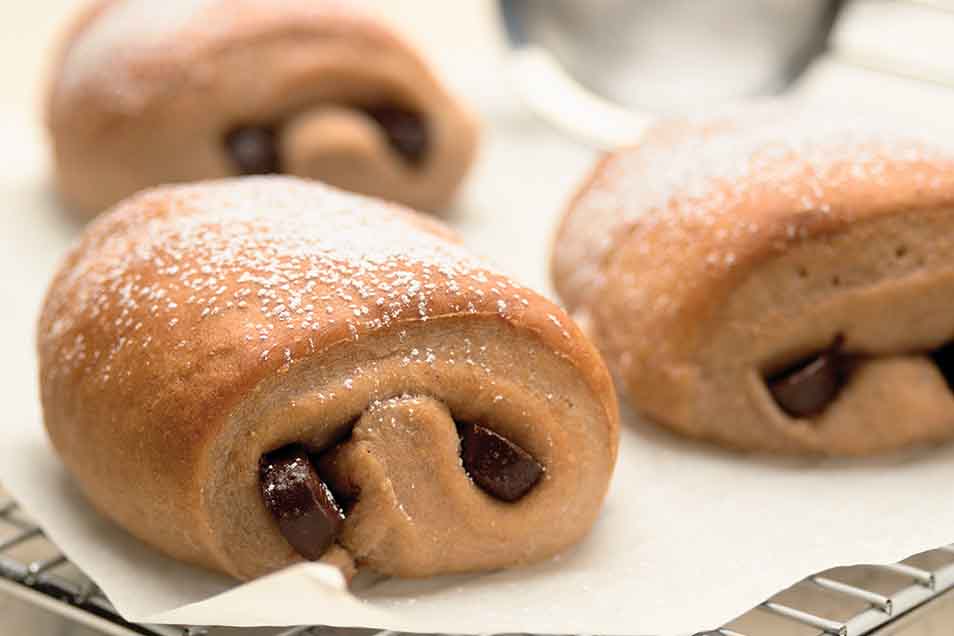 These soft, chocolate-filled yeast rolls are a favorite after-school or morning treat in France. We've increased their fiber and nutrition with whole wheat flour and grape seed flour, which give them a wonderful chocolate-y look, as well as rich flavor.
Ingredients
Topping
2 tablespoons milk
1/4 cup glazing sugar or confectioners' sugar
Instructions
Combine all of the dough ingredients. Allow the dough to rest for 20 minutes, covere

Knead the dough — by hand, mixer, or bread machine — until it's soft and somewhat sticky. Kneading by hand is tricky; avoid adding too much more flour (an oiled board and hands can help here).

Allow the dough to rise, covered, for about 90 minutes. It'll become puffy, but won't double in size. You'll find it loses most of its stickiness after this first rise.

Gently deflate the dough, and divide it in half. On a lightly oiled surface, roll each half of the dough into an 8" x 9" rectangle.

Cut each rectangle into six 4" x 3" pieces, for a total of 12 pieces. Keep the dough you're not working on covered.

To shape: Turn one of the pieces of dough so the short (3") edge faces you. Put a stick of chocolate on the dough, about 1" from and parallel to the far edge.

Fold the far edge toward you, over the stick, to the middle of the dough. Press the edge lightly to seal. Put a second stick on that sealed seam.

Fold the near short edge away from you, over the second stick, and press lightly. This second seam should end up about 1" from the new top edge of the roll.

Flip the shaped roll so that the seam side is down, and put it on a greased or parchment-lined baking sheet. Note: The pain au chocolat sticks won't melt out the end of the rolls as they bake, so there's no need to seal the outside edges of the dough.

Repeat with each piece of dough, leaving about 1 1/2" between the finished rolls on the baking sheet.

Cover the rolls and let them rise for 60 to 90 minutes, long enough to become puffy.

About 15 minutes before the rolls are done rising, preheat your oven to 350°F.

Brush each roll with a little milk.

Bake the rolls for 14 to 18 minutes, until they're a light golden brown and register 190°F to 200°F on an instant-read thermometer inserted into the bread.

Remove the rolls from the oven, and after 5 minutes transfer them to a rack. Dust with glazing sugar.

Serve warm. The chocolate will harden as the rolls cool; if you want to serve rolls later, reheat them briefly (about 15 seconds in the microwave) just before serving, to melt the chocolate.

Yield: 12 rolls.
Tips from our bakers
The grape seed flour will turn these rolls a chocolate-y brown color. Leave it out if you like.
Reviews
Great recipe! came out so so nice. Because of time constraints I had to make a few changes - most notably I didn't have time to make the whole recipe at once, so I followed the recipe up until the shaping, and then I put it in the fridge overnight so I could let them rise for 90 mins in the morning and then bake then! I was worried that this might make them not rise or be yeasty but they came out great still. Also, I didn't have the choclate sticks so I rolled up lines of chocolate chips and it still came out fine!
O yum! 2nd time that I made these . They are delicious. I used four Valrhonana dark chocolate ovals per this time . Perfect melted goodness.
These rolls are tender and tasty! I used my bread machine to make the dough, and the shaping was super easy. Will make again!
The family loved this dessert. Easy to follow recipe. It was a sticky dough, but with the oil on my board and light flour on my roller, it was very easy to roll out. My husband's favorite desserts are with baked apples. He requested I make this with apples instead of chocolate next time. Any suggestions on how to make this substitution?
An apple variation sounds great to me! I would just toss some sliced apples in some cinnamon sugar to fill them. ~Amy
I made this recipe last year and liked it so much I'm ordering more chocolate sticks so I can make it again. My husband has been requesting more of these for a while now. The bread has a nice consistency and if you microwave the rolls for a few seconds, I think it was 10, the rolls are nice and warm and the chocolate gets soft. Yum.
This is one recipe I can give 5 stars to without a single reservation. My hubby brought bulk baking chocolate back for me from a business trip to Italy in April, and I was looking for the perfect recipe to use it in - this was it. The bread is pillow-soft with a delicate, sweet and buttery flavor. I sliced the chocolate to fit the dimensions of the rolls, and they baked perfectly in 17 minutes. Absolutely delicious!
I made these this week, and they were fantastic! It made me feel like a French schoolgirl having my after-school snack!!! Thank you for a terrific recipe. I mixed the dough up on Thursday evening, using 100% white whole wheat flour plus the grapeseed flour, and refrigerated it after the first rise, because I wanted to bake them fresh for a meeting on Friday morning. Early Friday I rolled out the dough, cut and shaped it, and it rose beautifully. I don't know if it was because the dough had been refrigerated overnight, but I had no trouble whatsoever with stickiness. I did put a very light layer of canola oil on my work surface. They baked to perfection in 14 minutes. Thanks again for another GREAT recipe!
Love them! I've made them twice and they are wonderful. Since I am the sole consumer, I freeze them and take out one or two at a time. They are not overly sweet, just right with coffee. . . or anything else!
Yum! I've made these twice now and both times they turned out great. I was running out of Pain au Chocolat sticks, so I made smaller buns with only one stick in each. I love that these buns aren't super sweet, but they are soft and lovely and then you get the surprise of a little chocolate in there.