A customized print-friendly version of this recipe is available by clicking the "Print Recipe" button on this page.
Whole Grain Pumpkin Yeast Bread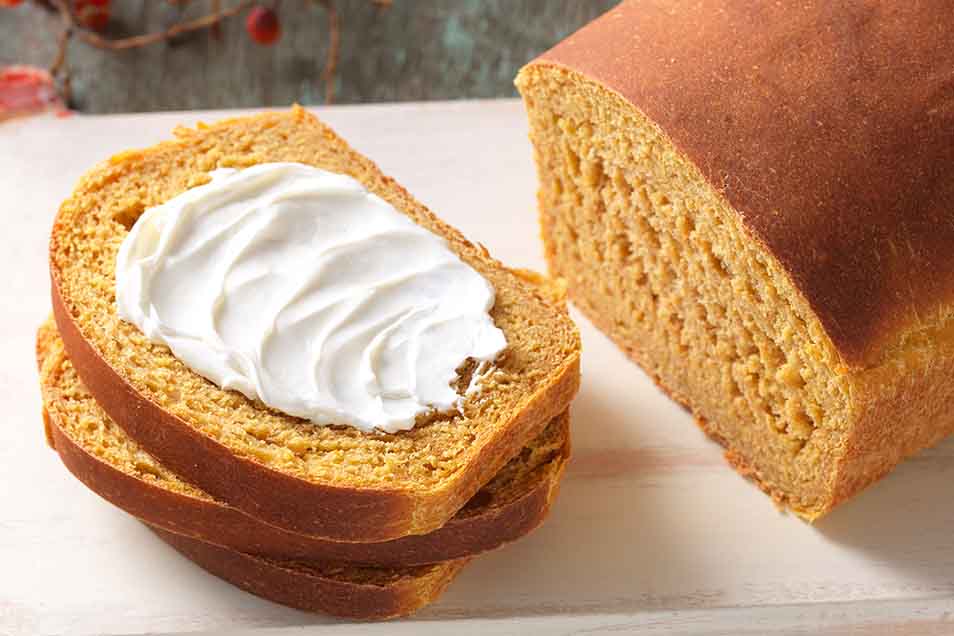 A tender bread, with a hint of spice and sweetness, great for toast or sandwiches. This dough would also make wonderful sandwich rolls or dinner rolls to go with your turkey dinner.
Ingredients
1/4 cup water
1/4 cup brown sugar
2 teaspoons instant yeast
1 tablespoon vegetable oil
1 cup canned or pureed pumpkin
1 1/2 cups King Arthur Whole Wheat Flour (white or premium)
1 3/4 to 2 cups King Arthur Unbleached All-Purpose Flour
1 teaspoon salt
1/2 teaspoon ground ginger
1/2 teaspoon allspice
1/2 teaspoon cinnamon
Instructions
Combine the ingredients in the order listed, by hand, in your bread machine set on the dough cycle, or in your stand mixer. Use the lesser amount of all-purpose flour to begin.

Mix and knead until the dough comes together, then touch lightly with your finger. If it's very sticky, add the remaining 1/4 cup of flour, a tablespoon at a time, until the dough is soft and smooth, but not sticky.

Allow the dough a first rise of about 45 minutes, or let the bread machine finish its dough cycle.

Deflate the dough and shape into a loaf. Transfer to a greased 9" x 5" loaf pan and cover lightly with greased plastic wrap.

Preheat your oven to 350°F. Let the dough rise until the center crests 1" above the rim of the pan, then uncover and bake for 45 top 50 minutes until the center reads 190°F when measured with an instant-read thermometer.

Remove from the oven and tilt out of the pan. Place on a rack to cool before slicing.

Yield: one 9" x 5" loaf, approx. 16 slices
Nutrition Information
Serving Size

1 slice (51 grams)

Servings Per Batch

16
Amount Per Serving:
Calories

118

Calories from Fat

Total Fat

1g

Saturated Fat

0g

Trans Fat

0g

Cholesterol

0mg
Sodium

149mg

Total Carbohydrate

24g

Dietary Fiber

3g

Sugars

4g

Protein

4 g
* The nutrition information provided for this recipe is determined by the ESHA Genesis R&D software program. Substituting any ingredients may change the posted nutrition information.
Tips from our bakers
Test kitchen baker and recipe writer Susan Reid likes to include 1 tablespoon of non-diastatic malt to her pumpkin loaves for a hint of malty sweetness. Give it a try!
This recipe was originally published in the Fall/Winter Baking Sheet 2014
Reviews
I just made this recipe yesterday. Very good. I'm going to make the two loaf version next and I was wondering after reading the (pumpkin braid recipe), why was it kneaded then left to sit for 15 minutes and then kneaded again? There must be a good reason for this step.

Hi there, Judy! We're so glad to hear that you enjoyed this recipe! In the blog article linked to this recipe, we suggest letting the dough rest for 10 to 15 minutes to allow the whole wheat flour to fully hydrate. This helps to prevent you from adding too much flour to your dough, as this dough starts out very sticky. Happy baking! Morgan@KAF
I made this recipe this morning - I doubled it. I made rolls and a mini loaf. I baked them too long - usually only bake regular sized loaves - but still quite good. And I don't really like pumpkin bread. Definitely plan to make again.
This was a different type of dough than I expected and I was used to--if you measured well, then trust the recipe. It won't feel like regular yeast bread dough. We loved the flavor of this bread since it didn't taste like pumpkin or spices, just a nice blend of both. We thought it worked best as a roll and was delicious with cinnamon butter (or BBQ pork or deli meat too!).
Delicious flavor and tender texture but I could not get my first rise to complete! After an hour and what I estimate to be about 30% increase in size I punched it and shaped into loaf pan. I set oven to warm and put plastic wrap on the pan and placed in the oven. After about an hour it had risen a lot more than rise one, but still did not reach over the crest of the pan. I baked the bread and it mostly held its shape but seemed to fall a little bit. The result is a bit dense and not as tall as I hoped.

Jamie, we're glad to hear you're determined to get a nice rise from this bread. There's a number of reasons why your bread didn't rise as much as you expected, including the type of yeast you used, the way the flour was measured, the temperature of your kitchen, and even the pan size. All of these factors are outlined in the article on our blog called "My bread didn't rise," which we highly recommend taking a look at for more information. If you're still have trouble once you give it another try, consider giving the Baker's Hotline a call at 855-371-BAKE(2253). We're here to help! Kye@KAF I often have trouble with my first rise- this time I placed my bowl with just a dish cloth in the corner of my kitchen where it wasn't terribly warm. Any tips? Will try this recipe again and place into rolls as a holiday test!
I baked this today using a gram scale the measurement spot on I used the minimum amount of flour with the rest set aside sprinkling in about 5 grams additionally. I treated the dough like a rye and left it slightly sticky. The dough rose wonderfully but I was waiting for it to crest the pan it never did I tend to roll tightly and that maybe the reason. This loaf lost some height in the oven so it was overproofed next time I'll just wait till it doubles and passes the poke test. All in all a decent bread.
I did not alter the recipe and it needed more liquid, I added 1 T of pumpkin and just a bit more water. I kept the flour at the lower amounts. This turned out tasting good but very dense. I believe it needs even more liquid than the recipe calls for.

Sandy, we're glad you added additional liquid until the dough felt like it was the right consistency so your loaf came out well. If you use volume to measure flour, be sure to fluff and sprinkle the flour gently into the measuring cup one spoonful at a time before leveling it off with a knife. This will give you light cups that weigh about 4 (or 4 1/4) ounces. I hope that helps! Kye@KAF
Fantastic! My double batch was cooling as the kids got home from school. They are happily gobbling it up now. I did also have issues with the dough seeming too dry - I did as shown in the Flourish blog post, with an initial soak sans salt and AP flour. I found the dough texture was right with half the AP flour, and I did end up adding another 1/4 c. water in the initial soak. Maybe this was due to our local weather. I was afraid of adding too much flour (the neuroses of a baker, eh?). That being said, it did still turn out wonderfully. My dough's texture was quite different from our usual whole wheat sandwich bread recipe, but I attributed that to the pumpkin. It was easy to handle, and it is SO delicious. We will definitely be making it again and again. It will make excellent toast and I bet a mean grilled PB&J. I can't wait to try rolls with this recipe. Thanks!
We are so happy this recipe is a real hit! Enjoy discovering other ways to bring those smiles back again and again! Elisabeth@KAF
I can't give this 5 stars yet because I screwed up somewhere along the way but it's still my new favorite. With butter and honey or all natural peanut IT ROCKS! It did not seem like there was enough moisture so I did add about 1 tbsp of water. It also wouldn't rise. It's fall, getting cooler drier so I'm not sure if that had anything to do with it. I know the yeast is good as I'm always baking bread regardless I baked it anyway. It is so tasty! I could have eaten the whole loaf. I was having a hectic day and didn't bother calling the hot line. Next time I bake this if I have issues I'll call but honestly despite the lack of rising it's great! Not to sweet, perfect spices.
Call us anytime on our Baker's Hotline at 1-855-371-BAKE (Monday-Friday 7:00am-9:00pm EST, Saturday & Sunday 8:00am-5:00pm), and we'd be happy to provide you with further assistance at that time. Elisabeth@KAF
If I could give more stars, I would. Excellent, excellent autumn bread. I've made both this and the regular Yeasted Pumkin Bread, and while both are very good, I prefer the more intense, spicier flavor of this. Simply outstanding.
Smiles all around Boston Baker. Yeasted pumpkin breads are as much of a treat as this spectacular foliage season. Happy Baking! Irene@KAF
I added 1/2 cup of water instead of 1/4 cup and used the smaller amounts of flour listed. With that adjustment the loaf was soft and good textured. it smells wonderful!