A customized print-friendly version of this recipe is available by clicking the "Print Recipe" button on this page.
Whole Wheat and Rye Sourdough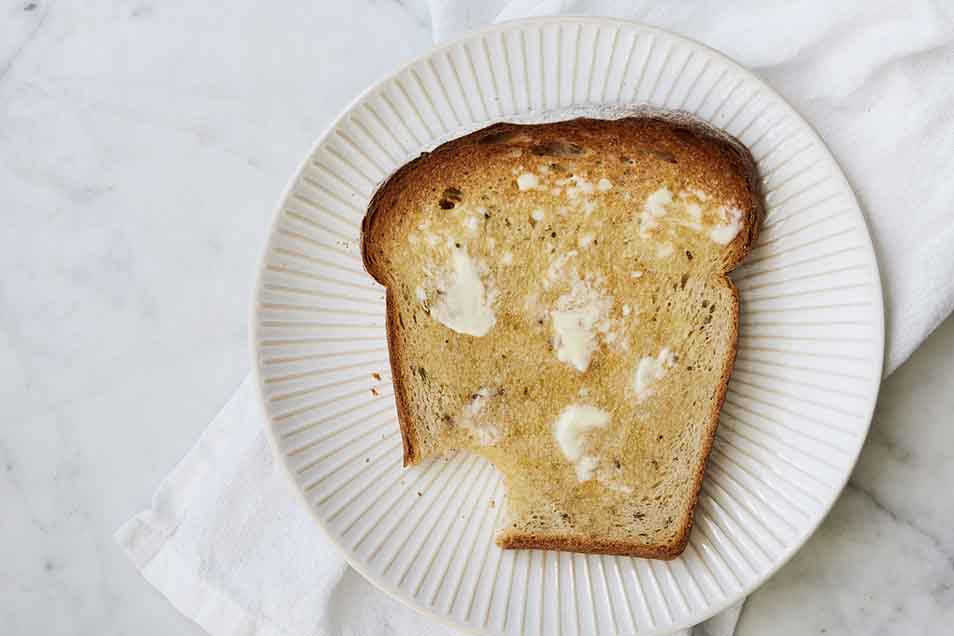 This crisp-crusted whole wheat and rye loaf gets its heady perfume from caraway, anise, and cardamom.
Ingredients
1 1/2 teaspoons active dry or instant yeast, optional*
3/4 cup plus 2 tablespoons lukewarm milk
1 cup sourdough starter, ripe (fed) or discard
2 tablespoons packed dark brown sugar
1 teaspoon salt
1 1/2 teaspoons caraway seeds
1/2 teaspoon whole anise seeds
1/4 teaspoon ground cardamom
1/2 cup rye flour, light or dark (pumpernickel)
1 3/4 to 2 cups King Arthur Unbleached All-Purpose Flour
*If you use a ripe (fed) starter, bubbly and vigorous, you can skip the added yeast.
Instructions
In a large bowl, combine the yeast (if using), milk, starter, sugar, salt, seeds, and cardamom. Stir in the rye flour and beat until the batter is smooth.

Add the whole wheat flour, then the all-purpose flour 1 cup at a time, stirring after each addition. When the dough has formed a shaggy mass, turn it out onto a lightly floured work surface.

Knead the dough for 8 minutes or so, using only enough flour to keep it from sticking. The dough should be smooth, elastic, and a little tacky, but not so sticky that it coats your finger. You can also knead the dough for 6 to 7 minutes using a stand mixer equipped with a dough hook.

Place the dough in a greased bowl, cover, and let rise until doubled, about 1 1/2 to 2 hours.

Deflate the dough and shape as desired: a freestanding round, a fat log with tapered ends (bâtard), or a log to fit in a 9" x 5" loaf pan. Cover the loaf with greased plastic and let it rise for 45 to 60 minutes, until puffy.

Towards the end of the rising time, preheat the oven to 400°F.

Bake the bread for about 25 minutes, or until nicely browned and hollow sounding when thumped on the bottom. Remove it from the oven and cool on a rack.

Store bread, well wrapped, at room temperature for several days. Freeze for longer storage.
Nutrition Information
Serving Size

3/4" slice, 50g

Servings Per Batch

16 servings
Amount Per Serving:
Calories

115

Calories from Fat

0

Total Fat

0g

Saturated Fat

0g

Trans Fat

0g

Cholesterol

1mg
Sodium

152mg

Total Carbohydrate

24g

Dietary Fiber

1g

Sugars

2g

Protein

4g
* The nutrition information provided for this recipe is determined by the ESHA Genesis R&D software program. Substituting any ingredients may change the posted nutrition information.
Reviews
I made this recipe exactly as it is written and the resulting loaf turned out beautifully! I did need to bake it longer to get to an internal temperature of 205°F. The bread itself has a very pleasant, mild flavour; you can really taste all the different ingredients. I definitely recommend this recipe!
This recipe is a keeper for me. I didn't use any caraway so I doubled the anise seeds. This, plus the cardamom and sugar make for a very tasty loaf. I used a rye 100%-hydration starter, and to make up for that I substituted the rye flour in the recipe with whole wheat flour. I didn't add any extra yeast. The dough rose beautifully, though it took some extra time: 2 h 30' for the first rise, 2 h for the second rise.
I have maked Marilyn's sourdough bread and it did not rise very well. However when I baked this bread, it rose very well. The texture was beautiful, light and airy with a crispy crust. I did not add ant spice and it still tasted very good. I should have read the reviews more carefully. I took it out after 30 minutes, I think the bread will taste much better if I baked it longer. Am going to try again. Thanks KAF for the recipe!
This turned out REALLY nice! I used proofed starter, so skipped the yeast, and all caraway seeds, and 1/8 teaspoon each cinnamon and nutmeg for the cardamom. I utilized the method for Extra Tangy Sourdough bread, using the rye and wheat flours along with 1 C of the all-purpose flour for the initial rise, then refrigerated it overnight to hopefully achieve some extra tang. The next morning I added the additional 1 1/4 C all-purpose flour, kneaded it in the bowl, and let it rise again. Lastly, I sprinkled in the remaining optional 1/4 C flour because it was still a tad sticky, kneaded it again in the bowl, then shaped and put it in a glass loaf pan for the last rising. Baked at 400 for 200 minutes. Yummy!
I think I'm about 1 loaf away from not baking bread anymore. Some loaves rise a little and others don't rise at all and have a dry biscuit like top. I followed this recipe except I didn't have anise seeds and my ingredients are fresh.The dough was slightly sticky but did not stick to my fingers. The dough rose to double in 90 minutes. It domed to one-half inch above the 9X5 pan and then deflated to level with the pan and did not rise at all after that.

We're sorry to hear that bread baking has been frustrating lately! The loaf most likely collapsed because it had over-risen, but we'd love to be able to help you out so we encourage you to reach out to our free and friendly Baker's Hotline staff to help troubleshoot at 855-371-BAKE (2253). Kindly, Annabelle@KAF
I would definitely make this again. A nice soft loaf with mild but delicious flavor. I used the brotform for this and it came out perfect. I didn't have anise seeds, but next time will try with them.
I have made this a number of times now. One time I decided to put in 1/2 the amount of caraway, anise and cardamon but first slightly grind them with a mortar and pestle. That loaf was fabulous, as I don't prefer biting down into a whole seed. Another time I left out the seeds completely and substituted KAF sprouted wheat flour for the whole wheat flour. Again it was a perfect loaf. I have also used whole wheat white with great results. I am using this recipe as my base loaf all the time and using different grains. I love this recipe.
This recipe is basically a half recipe of Marilyn's Whole Wheat & Rye Sourdough which is also on this website. I've made a half recipe of Marilyn's twice and thought it was great, but I preferred this recipe because for some reason the bread domed better than Marilyn's during the second rise. I used unfed starter for both breads; however the starter for Marilyn's was right from the fridge, and this time I let the starter sit at room temperature for 8 hours before mixing the dough. Perhaps that's why I got a better rise. I also added 2 tbsp vital wheat gluten. The dough was tacky and a bit slack, but not sticky. I added dried cranberries so omitted the caraway seeds. This bread is great toasted or plain, and makes delicious French toast. It took 40 minutes to bake to an internal temperature of 205 degrees. I tented it with foil after 20 minutes because the top crust was getting too brown. I also reduced the temperature to 375 degrees for the last 20 minutes. The crumb in the baked bread is moist and somewhat tender, but has a bit of a chew at the same time.
Delicious. I believe the bake time indicated here is incorrect, however. When I temped my bread at 20 minutes it was only 145. I called the Baker's Hotline and a very helpful Annabelle told me to bake it 35-40 mins, or to a 205 deg F internal temp. The top crust gets quite dark.

Theresa, we're glad you gave our Baker's Hotline a call and we were able to help you get the fantastic results you were looking for. Home ovens are notorious for running off temperature, so it's possible that your oven was just a bit lower than 400°F, which slowed down the baking process. We always recommend gauging doneness by the look, smell, and temperature of the bread rather than the time on the clock. Whole wheat sourdough breads require that higher 205°F internal temperature to be baked all the way through. Feel free to tent the top with foil if you'd like it be less brown. Kye@KAF
I LOVE this bread. I used my own sourdough starter and it all came together beautifully. My teenagers also loved it. I will definitely be making this again.