A customized print-friendly version of this recipe is available by clicking the "Print Recipe" button on this page.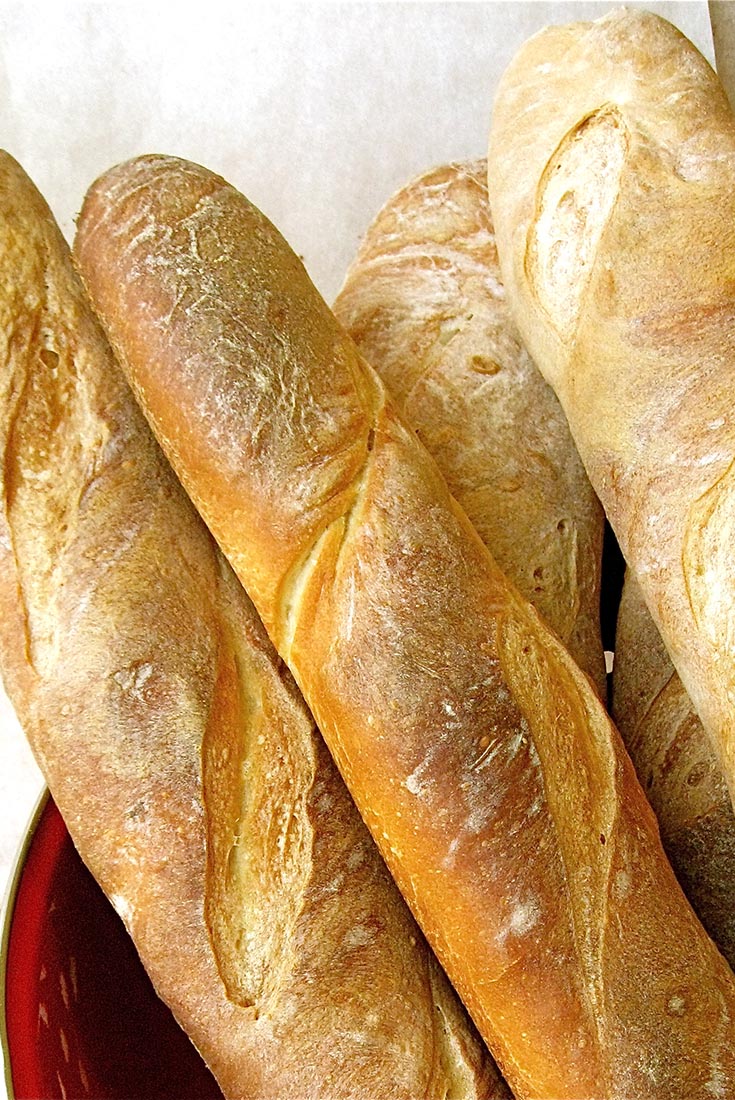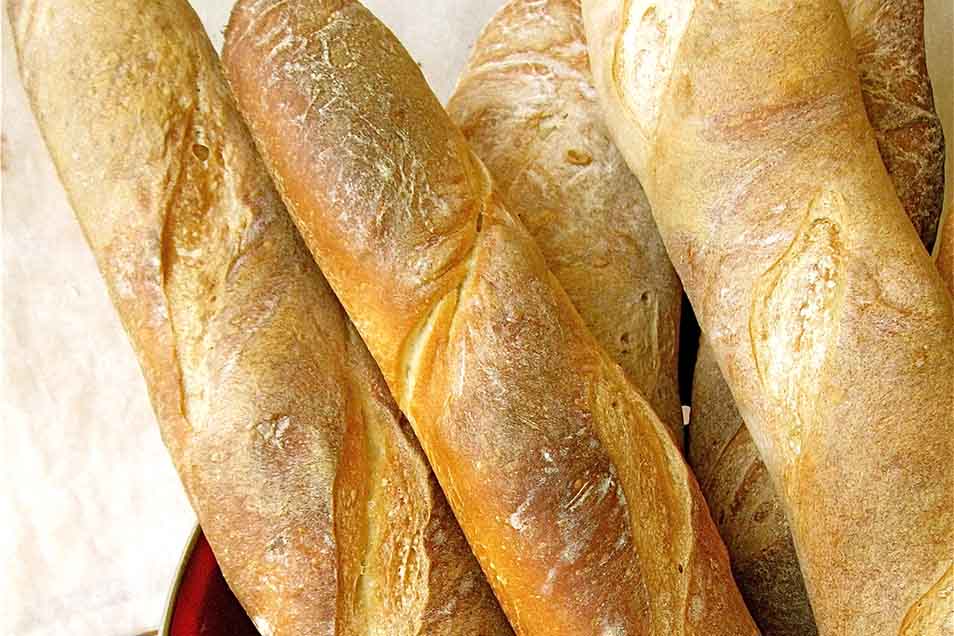 These crackly-crusted baguettes feature complex flavor, thanks to the addition of sourdough to the dough. While not particularly sour, their taste is rich and compelling.

New to sourdough? Find the help you need for all of your sourdough baking at our Sourdough Essentials page.
Ingredients
1 cup ripe (fed) sourdough starter
1 1/2 cups lukewarm water
1 teaspoon instant yeast
1 tablespoon sugar
2 1/2 teaspoons salt
5 cups King Arthur Unbleached All-Purpose Flour
Instructions
Combine all of the ingredients, kneading to form a smooth dough. If your sourdough is thin 9thinner than a very thick pancake batter), you'll probably need to add more flour.

Allow the dough to rise, in a covered bowl, for 1 hour; then refrigerate overnight, up to about 18 hours.

Next day, divide the dough into 6 pieces.

Gently shape the dough into six 12" baguettes, and place them on two lightly greased or parchment-lined baking sheets; or into baguette pans. Cover and let rise until very puffy, about 3 hours. Towards the end of the rising time, preheat the oven to 425°F.

Spray the loaves with lukewarm water.

Make three fairly deep diagonal slashes in each baguette; a serrated bread knife, wielded firmly, works well here.

Bake the bread for 25 to 30 minutes, until it's a very deep golden brown. Remove the loaves from the oven, and cool on a rack.

Yield: six 13" baguettes.
Reviews
Cut recipe in half, 3 baguettes. Let them rise 3 hours, they doubled in size. Beautiful. Did not have a spritzer, so brushed them lightly with water, 3 slashes in each, and baked 25 minutes. Nice and golden brown, but they deflated a bunch and were flattened when done. Taste is great, color is great, just flattened! Any thoughts so can avoid this again?

Joanne, the good news is this is easy to fix. It sounds like your baguettes were just a bit over-proofed. To avoid this, either put the baguettes some place slightly cooler to rise, or cut back on the rising time slightly. As soon as you can poke the dough with your finger and the indent stays rather than springing back, you're ready to move onto the next step. Good luck! Kye@KAF
I talked to a delightful lady on the bakers hotline; and she clearly answered my questions and gave me encouragement. I proceeded as directed & everything turned out as I had hoped. Thank you & I am looking forward to a couple of classes @ the WSU FACILITY.. great help & great products thanks again.
Am I the only one who had a really hard crust on it after rising? It was really hard to slash them, and when I did they went completely flat. I am hoping they puff up in the oven....not out yet. The recipe is great! Me...not as great. Still learning how to use my sourdough.

It sounds like the loaves were not properly covered when they were rising. It is important to keep the dough moist by covering them with greased plastic wrap. This should leave the dough soft and supple, easy to slash. Kye@KAF
I'm always happy to try something new with my sourdough starter. These were pretty good, but I prefer the French Baguettes/Classic Baguettes, which seem more flavorful to me.
Fast and easy. Once again, as with the Tangy Sourdough recipe, I omitted the commercial yeast and just used my starter. Left everything else the same. I gave up on baguettes years ago after a couple of fails. I'm back.
Mine turned out tasting a little bland. Also, the hydration of the starter is not specified. Is it 100%, is it stiff starter, liquid. It will make a big difference in the flavor, crumb, holes. Also what's sugar doing in a baguette recipe? Flour, water, salt. That should be it, or call it something else.
Sorry to hear that you had some difficulty with the recipe. This would be a great time to get in touch with our hotline to troubleshoot. MJR @ KAF
Great bread, great consistency, not that tangy. The flavor is 5 star. The directions are either a little lacking or I'm not all that good at baking bread. I used 6 day old starter that had been fed 4 hours before. All went well until I had to score the bread tops. My bead fell and never recovered to the full fluffiness it was before cutting. I've had this problem every time I have to cut the bread. Why does it fall and not fully recover? I don't think I'll cut it from now on as it doesn't seem to make a difference because I don't get a large oven rise anyway. What I ended up doing was letting the bread rise longer to get some of the lift back. Some of the bread never really recovered and I ended up with flat bread (which made good sandwich bread). Some of the other loaves fluffed again but not to the same nice big size.
It sounds like you may be over proofing your dough during the final rise. A good way to check if dough has risen enough is a touch test. Press your finger against one of the baguettes, if it springs back within 3-5 seconds, it is ready. Any faster and it is probably over proofed, any slower and it is under proofed.-JDB
I loved this recipe. Traditional baguette flavor with a little extra umph from the sourdough starter. Rather than six loaves, I diveded mine into three 16 inch ones that I baked in my baguette pan over my stone. Baked them at 500 degrees for the first ten minutes, spritzing with water twice, and let them cool completely in the oven with the door cracked. The loaves came out beautifully, with a moist tender holey crumb and a chewy and crusty crust.
Another amazing recipe! The crust is crisp, perfectly so; the inside is soft and fluffy. Perfect. Out of this recipe, I made three as is baguettes and two stuffed, one with swiss and a little dijon and one with smoked kilbasa. All cooked for 27 minutes and were great.
Well, hmmm. I'm a sourdough and all-things-yeast rookie (but I made my own starter!), so that plus a mighty cold house may have combined to the flattest loaves ever. I have been so excited with all-things-sourdough that I may not have let my starter 'recover' from make-sourdough-waffles-all-weekend visit from my nephews. They still smelled and tasted wonderful, just really....flat. No rise at all. Well, practice makes perfect, and I certainly have people clamoring to eat the "oooops!" Keep you posted!