A customized print-friendly version of this recipe is available by clicking the "Print Recipe" button on this page.
Winter Spice Stamp Cookies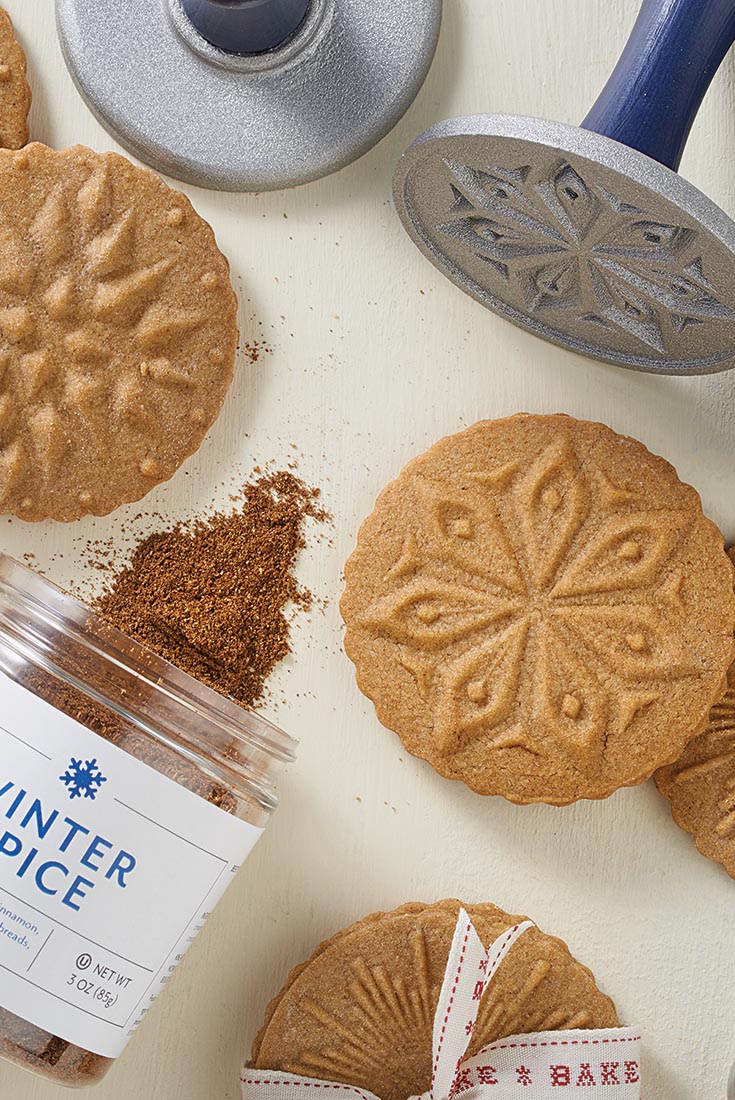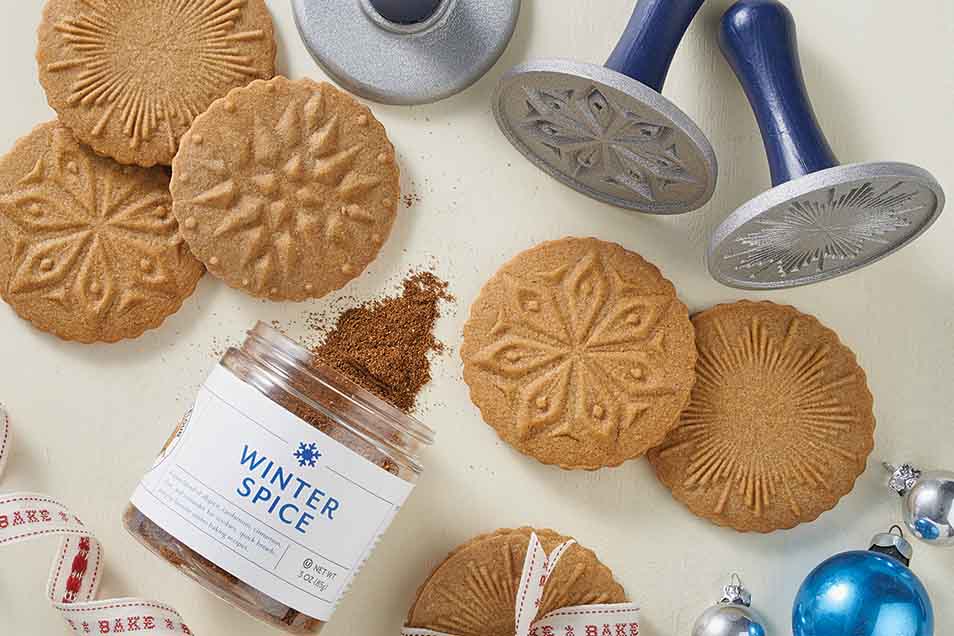 Our new Winter Spice and star-themed cookie stamps add holiday charm to these buttery, tender brown sugar cookies. Enhanced with just a hint of molasses to bring out their warm, holiday spice flavor, they're stamped to become simple, festively decorated cookies that will distinguish your holiday cookie assortment.
Ingredients
1 cup (16 tablespoons) unsalted butter, at room temperature
1 cup light brown sugar
2 tablespoons Winter Spice
3/4 teaspoon salt
1 large egg
2 tablespoons molasses
2 3/4 to 3 cups King Arthur Unbleached All-Purpose Flour
3 tablespoons cornstarch
*Use the lesser amount in winter or drier climates; the greater amount in summer or humid climates.
Instructions
Beat together the butter, sugar, spice, and salt until light and creamy. Add the egg and molasses and beat well.

Combine the flour with the cornstarch and fold this dry mixture into the butter-egg mixture until evenly incorporated.

Divide the dough in half, shape each half into a disk, wrap the disks in plastic, and refrigerate for at least 1 hour.

Preheat the oven to 350°F. Grease (or line with parchment) two baking sheets.

Remove one disk of dough from the refrigerator and allow it to warm up for 10 to 20 minutes; this will make it easier to roll. Flour your work surface and roll the dough 1/4" thick.

Dip the cookie stamps into flour, then press them into the dough. Using a 2 3/4" round cutter, cut out stamped cookies and transfer them to the prepared pans.

Bake the cookies for 15 to 18 minutes, until lightly browned.

Remove the cookies from the oven, and let them cool on the baking sheet for several minutes, or until set. Transfer the cookies (on their parchment) to a rack to cool completely.

Store airtight at room temperature for several days. For longer storage, wrap well and freeze.
Tips from our bakers
In the absence of cookie stamps, roll and cut the dough into your favorite shapes and sizes using traditional cookie cutters.
If you find the dough difficult or stiff to roll out, gently pound it with your rolling pin until it's flatter and softer. This will also help to avoid any cracks or breaking in your dough when you roll.
Reviews
I can not find "winter spice" to purchase on your website. What spices are/were in that? I used ginger, nutmeg, cloves and cinnamon. Was I close?

Betsy, Winter Spice is an ingredient that's seasonally available through the Shop section of our website. It is a delicious, warming combination of cinnamon, allspice, clove, coriander, and cardamom. Feel free to use your own mixture of these spices if necessary. Kye@KAF
The taste is good, but boy these are dry. I measured my flour by using a spoon and leveling w/knife (always when making cookies). If I make these again I'll try weighing the flour. I used the suggestion about rolling and stamping as I don't usually have very good luck with rolled cookies. I have only made half of the recipe, any suggestions as to what I could do the the 2nd dozen to make them a little less dry. I did find the flour hard to incorporate into the sugar/butter/egg/molasses, had to knead the dough a little to mix it in.

Dee, we think weighing the flour is a good way to go to see if you like the improved results; also, try baking the cookies for about 3-5 minutes less next time. This should help the cookies hold some of their moisture and be less dry. Happy baking! Kye@KAF
After refrigerating this dough, I found the dough dry and cracked a lot. Also, I pressed hard but they still didn't come out like the picture. The taste is great but I'm not so excited about the dough. Must be some way to come out like the ones in the picture.

We're sorry to hear you had some trouble with this recipe, Jorja and Alex. It sounds like you might be using too much flour in the dough. To ensure you're using the right amount, we recommend either measuring your flour by weight using a scale, or fluffing and sprinkling the flour gently into your measuring cup one spoonful at a time before leveling off with a knife. This will help you measure light cups of flour that weigh about 4 1/4 ounces per cup. This should give you a softer dough that holds the impression of the stamps better. Good luck! Kye@KAF
These taste so good, especially if they're allowed to mellow for a day or two. The first day, I could detect a bit of heat from the spices. I had some trouble getting the stamps to imprint well in rolled out dough, so I rolled it into 1 ounce balls instead, then rolled them in granulated sugar before pressing them flat. I also dipped the cookie stamps in sugar.