A customized print-friendly version of this recipe is available by clicking the "Print Recipe" button on this page.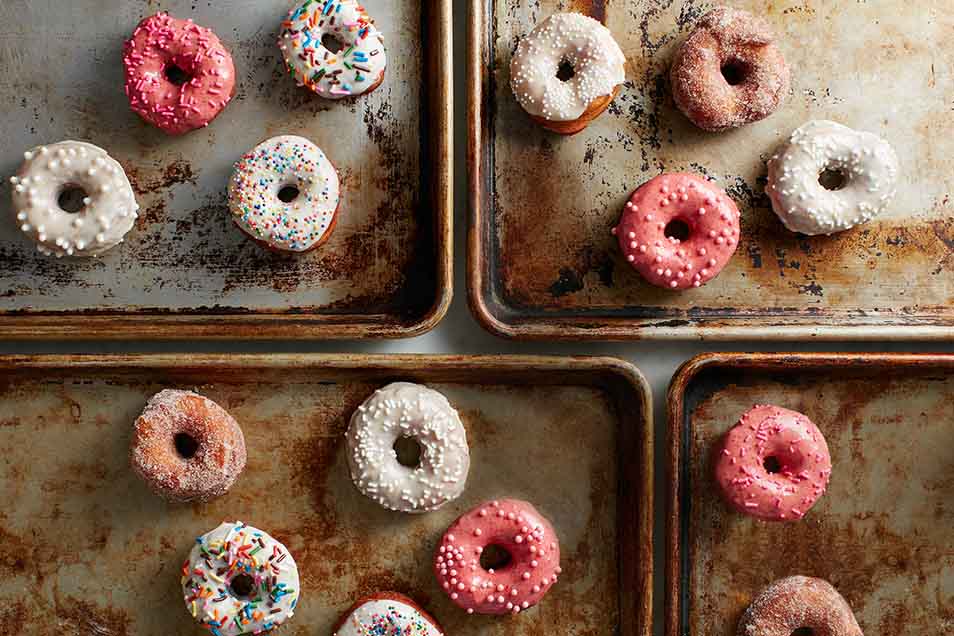 Light and airy, these doughnuts are ready to finish in any way you can imagine. Dredge the outside with cinnamon-sugar and fill with raspberry jam. Fill with pastry cream and top with a quick chocolate glaze for a Boston Cream Doughnut. Or cut into rings before frying, then dip in glaze for the ultimate glazed doughnut creation.
Ingredients
1/4 cup sugar
1/2 teaspoon salt
2 teaspoons instant yeast or active dry yeast
1/4 teaspoon ground nutmeg
1 large egg
1 cup milk
2 tablespoons melted butter
1/2 teaspoon vanilla extract
6 cups peanut oil or shortening for frying
Instructions
To make the dough: In a large bowl or the bucket of your bread machine set on the dough cycle, whisk together the dry ingredients. In a small bowl, whisk together the egg, milk, melted butter, and vanilla. Add all at once to the dry ingredients. If you're using a bread machine, press Start. If you're preparing by hand or mixer, mix and knead to make a soft dough. Cover and let rest for 5 minutes.

If preparing by hand or mixer, knead the dough after its rest for 6 to 8 minutes, until it's smooth and soft. Place the dough in a greased bowl, turn it over to coat the top, cover, and let it rise for 1 1/2 to 2 hours, until doubled in bulk.

To shape the doughnuts: Deflate the dough and turn it out onto a lightly floured surface. Gently roll it 1/4" thick, and cut out doughnuts with a 2 1/2" to 3" round cutter. Cover loosely with greased plastic wrap and let the doughnuts rise for 30 minutes to an hour, until doubled.

To fry: Heat the oil or shortening in a heavy frying pan or skillet to 350°F. Carefully place the doughnuts in the oil, 2 or 3 at a time, and fry until golden brown. Turn over and cook the second side; each side should take no more than a minute. Remove from the oil with a slotted spoon and drain on absorbent paper. Fill or frost doughnuts as desired, using your choice of sugar topping or glaze.
Nutrition Information
Serving Size

1 doughnut, 48g

Servings Per Batch

16
Amount Per Serving:
Calories

140

Calories from Fat

36

Total Fat

4g

Saturated Fat

1g

Trans Fat

0g

Cholesterol

16mg
Sodium

12mg

Total Carbohydrate

21g

Dietary Fiber

1g

Sugars

4g

Protein

4g
* The nutrition information provided for this recipe is determined by the ESHA Genesis R&D software program. Substituting any ingredients may change the posted nutrition information.
Reviews
I made these donuts this morning, the only change was omitting the nutmeg. The dough was very wet and sticky in the initial mixing step. I resisted the urge to add more flour. During the kneading step, I reminded myself to trust the recipe. My dough formed a ball, but never cleaned the side of my mixer (I use an Ankarsrum). After my dough doubled in size I used my hands to push out the dough to my desired thickness. The dough was so soft and surprisingly not sticky anymore. My results were flawlessly perfect donuts. The most difficult part of this recipe is waiting for the donuts to cool completely before eating. They were truly fabulous when cooled.
Hi team, what can I use instead of the egg ? Can I replace it with cornflour or milk ?

Hi Seema! For best results, you'll want to use an egg replacer, either storebought or homemade. Our favorite homemade egg replacer is flax based. You can see the recipe by putting "egg replacer" into the search bar above. Happy baking! Annabelle@KAF
I followed the recipe as provided with some minor changes and used weight-based measurements. The doughnuts turned out fantastic: Chewy, airy, and great flavor. I added 1/4 of cardamom to the recipe, replaced 20 grams of sugar with malt syrup, and worked the dough with my hands. Once all the ingredient were mixed, using water on my hands to prevent the dough from sticky, with minimal effort, I stretched and folded the dough about 12 times. I will be coming back to this recipe. It has impressed my family and friends so far.
Loved this recipe! Do you think I could swap in a gluten-free flour mix?

We're so glad this recipe was a hit! Because gluten is such an important factor of yeasted baked goods, a 1:1 swap usually winds up producing a very dense product. However, we encourage you to check out our three gluten-free doughnut recipes here in the Recipe section, or, our Gluten-Free Doughnut Mix available in grocery stores and on our website. Happy GF baking! Annabelle@KAF
Never worry about how wet the dough is. The more you knead it, and work that gluten, it will Smith out and become a beautiful, soft dough. Since you want lots of air in your dough, don't be afraid to work it until it's smooth. If you add too much flour, you'll end up with heavy donuts. My dough was wet too, but I worked my dough until it was smooth. Get those elbows going, and knead.
OK here's one for you guys. My father was in the navy stationed in Washington DC back in the 1950's. He told me the big thing there was a chocolate yeast raised doughnut (not a cake) that was very popular in DC that you could get just about anywhere. My question, how can I take this recipe and add some form of chocolate that would get me close I'd like to try make them for him if possible. What do you think?

It sounds like you're in for some delicious experimentation, Joe! The first thing to try would be to replace 1/3 cup of the flour with 1/3 cup of cocoa powder, preferably a Dutch-processed cocoa powder as that has a stronger, chocolaty flavor. To help enhance the chocolate flavor, you can add a teaspoon of Espresso powder or instant coffee, or, replace 1/2 cup of the liquid in the recipe with cooled, brewed coffee. Let us know how it goes! Annabelle@KAF
This was my first attempt at making the donuts. My husband and I both loved the light and fluffy donuts and thought the flavor was wonderful. The donuts really puffed up when frying and they looked wonderful! I took the extra dough after cutting the donut rounds and made mini donut holes that I rolled in powdered sugar and cinnamon sugar. After a few hours, however, the donuts deflated and are pretty flat. The donut holes stayed round and puffy.The taste is still wonderful for both, but I am wondering if anyone else had this issue? Any insight as to why they deflated? Something I should change next time I make them?

Hi Kate, it sounds like you're so close to homemade doughnut success! If your doughnuts are deflating after a few hours, it means that the dough might have risen for just a bit too long. Next time, try cutting back on the rising time slightly. The doughnuts should still puff up slightly during frying, but they'll have a sturdier structure that will hold up for more than just a few hours after frying. Also, double check the temperature of your oil, and make sure it's super hot before adding any dough. If the oil isn't at 350°F (or if it dips in temperature during frying), the doughnuts will start to absorb more of the oil, which can make the exteriors heavy with oil. Shoot for properly proofed dough and a hot fry next time, and you should be golden! Kye@KAF
Can I freeze this? Should I freeze the shaped dough, or fry the dough as usual then freeze it?

Hi Del. You can freeze these after they've been fried and cooled for 2-3 weeks. When you're ready to enjoy them, let them thaw on the counter still wrapped and toast in a 350°F oven for a few minutes to re-crisp them. Annabelle@KAF
Superb! My new donut recipe! The dough was wet but after letting it rise at room temperature for the first Rising I then put it in the refrigerator and made them the next morning, no problem at all working with the dough. My grandchildren and my daughter agree you're the best donuts!
I'm sitting and eating the fruits of my labor right now. This recipe makes doughnuts exactly like I like them- light and fluffy but with good structure. (I like a Krispy Kreme, but sometimes I want a little more substance to my doughnut). I didn't use KA flour as I didn't have it on hand, and I used my regular AP flour exactly as listed in the grams section. It is a wet dough. But I bulk proof overnight most of my doughs to make it easier to handle and I had no issue with excessive stickiness when I went to roll them. I even rerolled the scraps and those doughnuts were delicious just the same. This is now a permanent recipe in my collection.