A customized print-friendly version of this recipe is available by clicking the "Print Recipe" button on this page.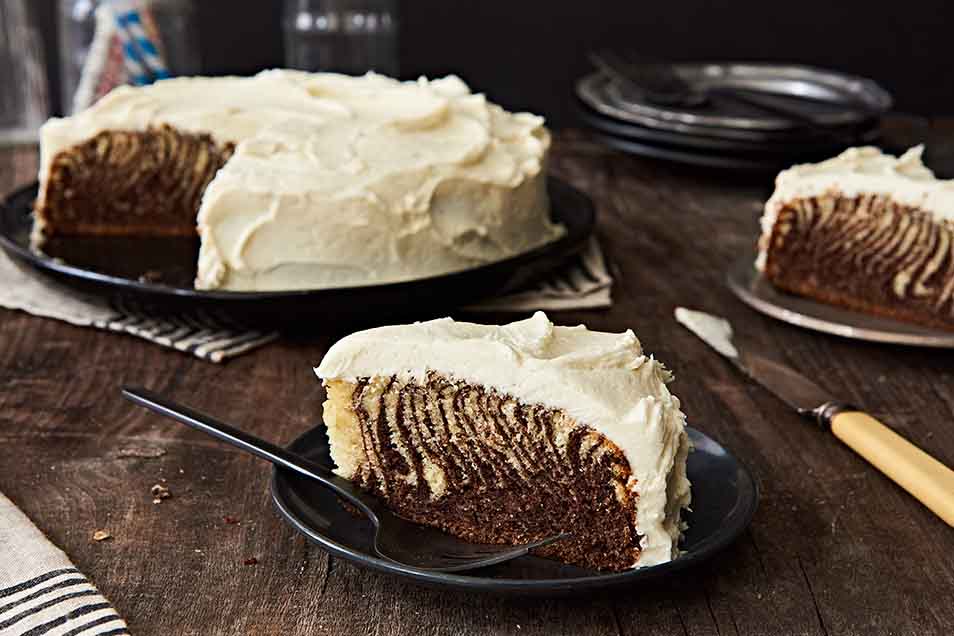 Chocolate or vanilla, chocolate or vanilla? It's an eternal debate for bakers trying to please a crowd. This fun and festive recipe combines chocolate and vanilla batter in the pan to create "zebra" stripes satisfying everyone, especially those who love a touch of whimsy. This cake also bakes up light and tender, ready to accept your favorite icing, and is the perfect size for a small gathering or after school snacking.

Note: As of 1/23/19, we've reviewed, tested, and reworked this recipe to address concerns about its lack of flavor. We think now it tastes as good as it looks!
Instructions
Preheat the oven to 350°F. Lightly spray a 9" x 2" round baking pan with cooking spray. Line the bottom of the pan with a circle of parchment, and spritz again. Set the pan aside.

In the bowl of your mixer, beat the sugar and eggs until lightened, about 2 minutes. On low speed beat in the oil, milk, vanilla extract, and optional almond extract until smooth.

In a separate bowl, combine the flour, baking powder and salt. Whisk to remove any lumps. Add the dry mixture to the wet ingredients. Combine on medium speed 1-2 minutes or until the batter is smooth and lump free. Be sure to scrape down the bowl halfway through mixing.

Remove 2 cups of the vanilla batter and place it in the measure you used for the liquid ingredients. Sift the cocoa and optional espresso powder over this batter, and stir well to combine. Be sure to use a sifter to avoid cocoa lumps in the batter.

Now for the stripes. Spoon about 3 tablespoons of vanilla batter into the center of the cake pan. Next, spoon 3 tablespoons of the chocolate batter into the center of the vanilla batter. This causes the vanilla batter to spread out. Continue to alternate batters, in bulls-eye fashion until all batter is used. You will now have thin rings of each batter on the outer edges of the pan, thicker rings towards the center.

Bake the cake in the center of the preheated oven for 35 to 40 minutes, or until the cake is lightly browned and a toothpick inserted into the center comes out clean. Cool the cake in the pan for 10 minutes, and then turn out onto a wire rack to finish cooling. Frost as desired.
Tips from our bakers
Be sure to use dutched cocoa with this recipe. Natural cocoa will result in a heavy, soapy taste to the cake.
This cake makes an excellent snack cake with just a dusting of confectioners' sugar, or even plain. It's hard to resist those fun stripes!
Reviews
I love King Arthur recipes and typically have great success but this was a stinker. Two stars because the cake looked amazing as the zebra stripes were cool but the cake was not good. I added vanilla and almond plus espresso powder to the chocolate portion but no luck. It was bland and had a weird crumb to it. It was edible but I tossed the leftover 3/4 cake. Loved the technique but the cake itself left much to be desired.

We're so sorry to hear this cake wasn't as tasty as it was beautiful. We encourage you to reach out to our friendly Baker's Hotline staff to help troubleshoot at 855-371-BAKE(2253) Kindly, Annabelle@KAF
I made this cake for my daughter's 10-year birthday, and it was yummy. The only negative is that it came out just a bit too dense, and didn't rise as much as I would have liked. I used a bit less sugar (as I do with all recipes), and topped it with chocolate frosting, ringed with fresh raspberries.
As with many of the other reviewers, I found this recipe needed a flavor punch, and will increase vanilla, and add espresso and extra cocoa powder next time. I wonder if those reviewers who had texture problems measured their ingredients by weight or volume. It makes a big difference. Spend the $20, but a scale and measure by weight!!!

We're right there with you about the scale, Debra! Using too much flour is the most common culprit of dry, heavy cakes. As for the flavor, it sounds like you have the right ideas about how to adjust this cake to your liking. Try using vanilla bean paste in the yellow cake next time (or almond extract) to add another layer of flavor. Consider using Black Cocoa for a visually stunning and flavorful chocolate part of this cake. We hope this helps with your next attempt! Kye@KAF
The stripes looked good, but just a terrible tasting cake with a weird bread-like texture and too dense. I was embarrassed to serve it as a birthday cake. I hope KA re-works the recipe!

We're sorry to hear this cake did not turn out well for you. The bread-like texture may have come from over-mixing the batter and developing the gluten. If you'd like to troubleshoot this recipe with one of our bakers, feel free to give our Baker's Hotline a call at 855-371-BAKE. In the meantime, we will pass your feedback forward to potentially look at this recipe again in the Test Kitchen. Kye@KAF
I added almond flavor to the vanilla portion and bittersweet cocoa and espresso powder to the chocolate. The rings of batter came out perfectly and made a beautiful design, although I ended up with a bit of extra batter that I baked in a teeny--tiny pan for yummy samples :) I piped two-tone (chocolate and vanilla of course!) buttercream rosettes and polka dots on the top and edges to accent the striped top. I just won a first place ribbon in the marble cake division at the fair! :) This was one of the entries that helped to earn the best-of-show ribbon for overall baking entries for me! Thanks KAF - You guys are my BFF~! :)
Very pretty but dry and tasteless. We were very disappointed:(
I love this cake. It was so much fun make and it looks great without requiring icing. It makes a great every day cake. My boys loved it. I think next time I will add a little rum to the cake to complement the chocolate. This pattern was so much fun, now I wonder how I could achieve a cow pattern. Thanks KAF!
It seems that pouring the different batters in haphazard sections (NOT from the center outward) would work. ~Amy
I had high hopes for this recipe. The presentation was so fun and quirky, I just couldn't wait to bake it! I did read several of the reviews before attempting this recipe, so I was prepared for what some called "bland, tasteless" cake. I even tripled the vanilla to a full tablespoon. The assembly went well, with nice concentric rings of chocolate and vanilla stripes. Baking time was much more than recipe calls for: I needed almost an hour before toothpick came out clean. Upon cooling, the cake collapsed drastically, but I was still hopeful that I could cover the uneven sides and surface with frosting. I am glad I tested this at home before baking for an event: when I cut into the cake, the zebra stripes were more blended than strikingly obvious. And the taste....Ugh! This cake bakes up very tasteless and boring. Even with the extra vanilla, there is not much to give this cake any flavor. The texture is very nice and dense. It reminds me of a heavy pound cake or even a flourless chocolate cake. But there is no flavor! Especially paired with a sweet chocolate buttercream frosting, this cake tastes like flour paste. Sorry, King Arthur, but I have to say that this recipe is a dud.
It lacked personality. Maybe the stripes were unusual, but who cares if the cake doesn't taste special.
We hope you are able to use your favorite chocolate / vanilla cake recipes to create a zebra cake that will meet your taste needs. Glad you enjoyed the journey of making a cake with stripes. Irene @ KAF
I agree with many other reviewers that this case looks very impressive, but is pretty tasteless. I threw almost the whole cake out. I'm sure I'll use this technique again to make a striped cake, but I'll use another recipe. Even a box mix would taste better. This recipe, as written, is a waste of ingredients.
Sorry you didn't like this cake. Thanks for your feedback. - kelsey@KAF