A customized print-friendly version of this recipe is available by clicking the "Print Recipe" button on this page.
Zingerman's Hamantaschen with Apricot Filling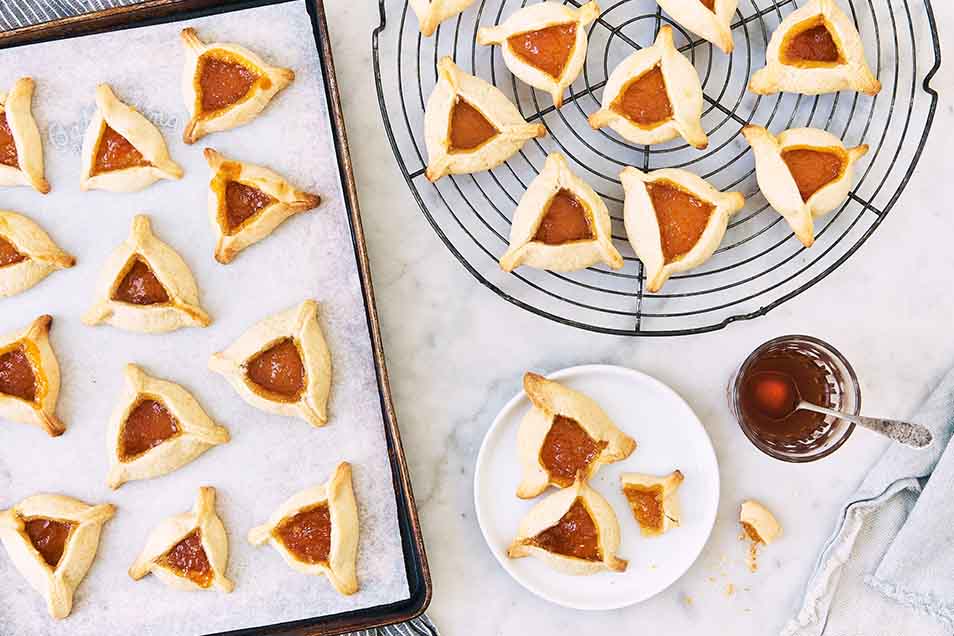 These triangular-shaped cookies with their sweet-tart apricot filling are a favored classic, particularly around the Jewish holiday Purim. For Amy Emberling, managing partner of Zingerman's Bakehouse (an acclaimed bakery in Ann Arbor, Michigan), hamantaschen "are a celebration of the delicious sweetness of life," and we couldn't agree more!

For the greatest success with this recipe, we recommend using apricot preserves without high-fructose corn syrup in the ingredient list. (If that's all you have it'll work, but the flavors and textures may not shine quite as brilliantly.)
Ingredients
Filling
1 1/4 cups apricot preserves
1/2 cup fresh bread crumbs, packed*
*See "tips," below.
Instructions
To make the dough: Beat together the butter and sugar until light and creamy. This can be done by hand or in a stand mixer fitted with a paddle attachment on medium speed.

Add the egg, vanilla, and salt and mix until thoroughly combined.

Add the flour gradually, mixing until everything is completely combined.

Remove the dough from the mixer and divide it in half. Press each half into a rough square and wrap with plastic wrap. Refrigerate the dough for 45 minutes (or for up to a week) before rolling and filling.

To make the filling: Stir together the apricot preserves and bread crumbs.

To roll, fill, and bake: Preheat the oven to 350°F. Lightly grease two baking sheets or line them with parchment paper.

Remove one piece of dough from the refrigerator and unwrap it. Place the dough on a lightly floured work surface and tap it with your rolling pin to soften.

Lightly flour the top of the dough, then gently roll it 1/8" thick.

Using a 3" round cutter, cut out pieces of the rolled dough and place them on the prepared baking sheet. Continue rolling and cutting out circles, rerolling the dough as necessary.

Place a rounded teaspoon of filling (15g to 20g) in the center of each dough circle. Brush the edges of the dough with water.

Fold the edges of each cookie up and pinch together three corners to a make a triangle shape, with the filling visible in the center. Start with two sides, making an A shape; then fold in the third side to finish the triangle. Pinch the corners well and angle the sides towards the center, rather than vertically. You should strive for an equilateral triangle with edges that are about 1" long.

Repeat with the remaining dough and filling.

Bake the cookies for 18 to 22 minutes, or until the edges and bottoms are golden brown. There's a tendency to underbake these cookies; go for some color. It will give them a nice toasty flavor.

Store hamantaschen well-wrapped at room temperature for several days; freeze for longer storage.
Tips from our bakers
To make fresh breadcrumbs in a food processor: Use one slice from a soft sandwich loaf (more or less, depending on how small or large your loaf is). A crusty loaf will work if it's all you have; but do trim the tough crust before turning the interior into crumbs. Pulse the bread until it's become fine crumbs. Alternatively, use the same weight (40g) of dried breadcrumbs, which translates to about 1/3 cup, loosely packed.
The trick to baking beautifully shaped hamantaschen is to get the sides to set before the filling boils enough to blow them out. The recipe works for most people as written; but if you find that your cookies fall apart, here are a few tips for better success:
1) Chill the filling at the same time the dough is chilling.
2) Chill the cookies in the freezer for 15 minutes before baking.
3) If you think your oven runs hot, bake the cookies at 325°F for 5 minutes longer than directed.
Reviews
Looking for an alternative to my mother's canola oil version, was disappointed to find that my Zingerman's cookbook did not include their hamantaschen recipe, so when I googled and found it on my most trusted baking recipe source I knew it had to be the one. I did not use this filling, because I was making them for adults, and also breadcrumbs in hamantaschen filling seems very odd to me. I made Tori Avey's poppy seed mohn and some a simple prune jam with brown sugar. The dough came together easily, has a nice balance between crisp and chewy, and the butter flavor is excellent - reviews from the household include "Mmmm mmmm mmm, sorry, I can't hear you over the sound of how delicious this cookie is!" This will be my go-to dough from now on.
These are amazing! I substituted King Arthur Gluten Free Measure-for-Measure Flour and they came out great. Instead of bread crumbs in the filling, I used ground GF cereal. I did add lemon peel to the dough as it needed some 'zing'. I chatted with one of the KA Chat Line folks and I followed the suggestion of chilling the cookies before baking to prevent the cookies from spreading as they baked. It worked!