A customized print-friendly version of this recipe is available by clicking the "Print Recipe" button on this page.
Zucchini and Sausage Strata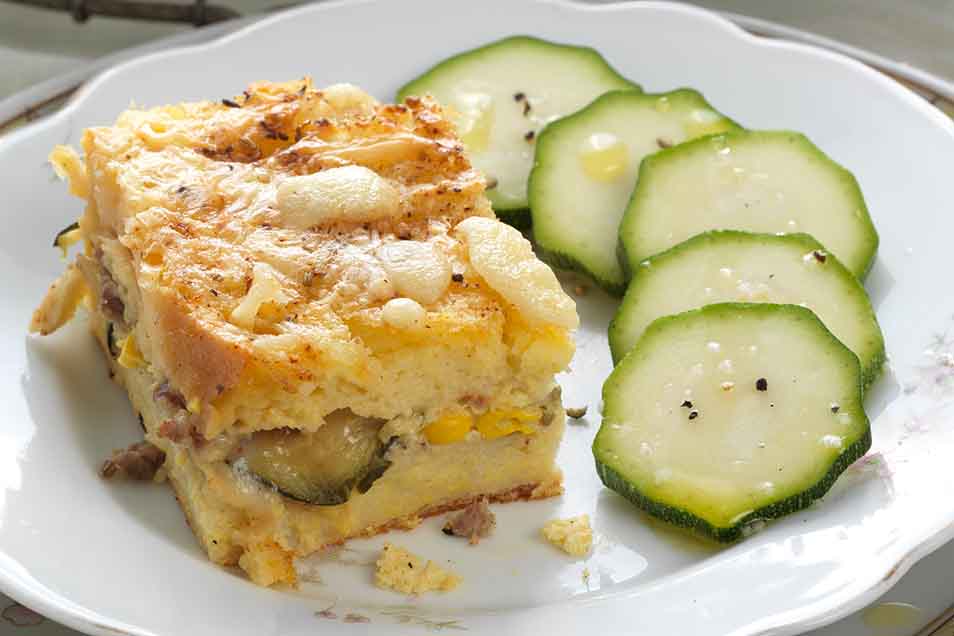 Not many dishes can be the star at breakfast, brunch, lunch or dinner, but this strata transcends all meals. Rich egg custard surrounds layers of bread, sausage, zucchini, and cheese all baked to creamy perfection. If you like bread pudding for dessert, you'll love strata for dinner.
Ingredients
8 slices hearty bread, buttered
1 teaspoon Italian seasoning blend, divided (see tips, below)
1 medium zucchini, sliced 1/4" thick
2 cloves garlic, peeled and minced
1 cup shredded sharp cheddar cheese, divided
1 pound Italian sausage, crumbled
2 large eggs
2 cups milk or half & half
Instructions
Butter a 9" x 2" square baking dish. Place four of the bread slices in the pan, buttered side up. Sprinkle the slices with 1/2 teaspoon of the seasoning. Set the pan aside.

In a medium-sized skillet, sauté one medium zucchini (about 2 cups sliced zucchini) in 1/4 cup of water for 3 minutes. Add 2 cloves of minced garlic. Continue to sauté until the water evaporates and the zucchini and garlic begin to brown; take care to avoid burning the garlic.

Remove the veggies from the pan. Add 1 pound crumbled Italian sausage and cook until browned. Drain the fat and set the sausage aside.

Layer the zucchini evenly over the bread slices. Sprinkle the zucchini with 1/2 cup of the cheese, and the cooked sausage.

Top with the remaining buttered bread (buttered side up), and another 1/2 teaspoon of the seasoning.

Whisk together 2 large eggs and 2 cups milk or half & half. Pour half of this custard base over the strata. Let the bread soak up some of the liquid, then pour on more custard. Repeat until all of the custard has been added to the pan.

Sprinkle the remaining 1/2 cup of cheese on top, and dust with more seasoning, if desired. Cover the strata with plastic wrap, using your hands to gently press the layers down.

Place the well-wrapped pan in the fridge overnight (or for at least 8 hours), to continue the soaking process.

Preheat the oven to 350°F. Remove the pan from the fridge to warm slightly while the oven comes up to temperature.

Bake the strata for about 40 to 45 minutes, until the custard is set all the way through in the center.

Remove the strata from the oven, and serve hot.

Yield: One 9" strata, about 6 servings.
Tips from our bakers
Our Pizza Seasoning is perfect in this dish — savory and spicy and so good.
A baked strata freezes very well for up to 3 months. Having a few on hand makes for fast and easy dinners.