A customized print-friendly version of this recipe is available by clicking the "Print Recipe" button on this page.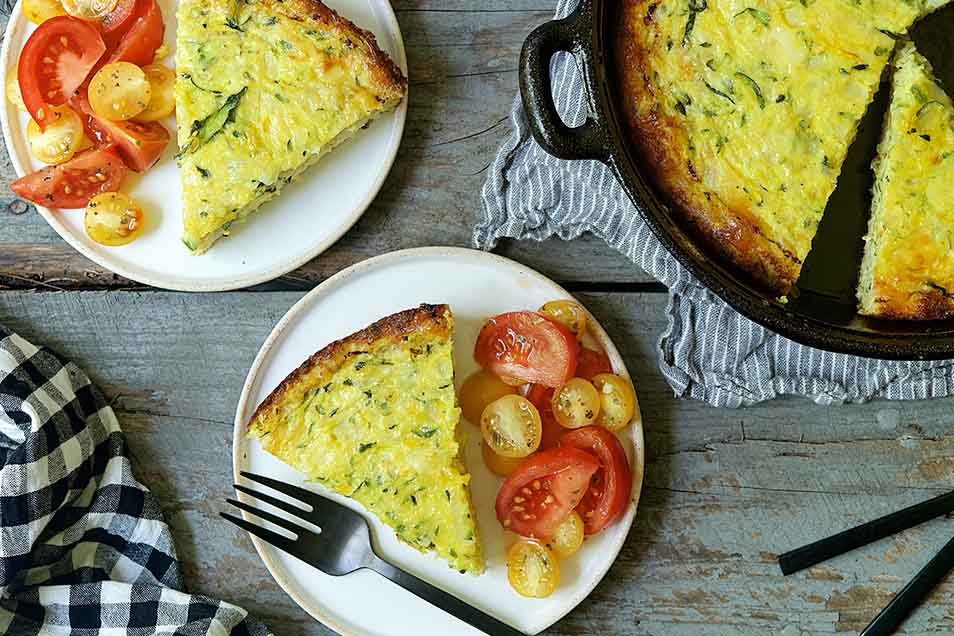 When your garden is overflowing with zucchini — if the horn of plenty has become the horn of "too much" — take a couple of pounds of that prolific squash and make this humble-yet-delicious cheese-and-egg frittata.
Ingredients
2 pounds zucchini/summer squash (about 2 zucchini and 1 summer squash), grated
1/2 teaspoon salt
1 large sweet onion, peeled and diced
1 1/2 cups freshly grated Parmesan cheese
8 large eggs
2 tablespoons King Arthur Unbleached All-Purpose Flour or King Arthur Gluten-Free Flour
Instructions
Stir the salt into the grated squash. Place the squash in a colander, weigh it down, and let it drain for an hour or so.

Combine the drained squash and onion. Fry in 2 tablespoons olive oil in a large skillet until soft, about 20 minutes; the vegetables will greatly diminish in volume. Season to taste with additional salt, if desired, and pepper.

Preheat the oven to 400°F.

In a large bowl, whisk together the cheese, eggs, and flour.

Add the cooked squash, drained of any liquid if necessary. Stir to combine.

Drizzle 1 tablespoon olive oil into a 9" or 10" cast iron skillet, and heat the skillet on the stovetop until the oil is very hot.

Spread the vegetable mixture evenly in the pan. Bake the frittata for about 20 to 25 minutes, until it's light golden brown on top.

Remove from the oven, and serve hot, in wedges.

Yield: 8 to 10 servings.
Tips from our bakers
If you're counting calories, fat grams, or cholesterol, this is a great place to use an egg substitute. One 15-ounce carton is perfect for this recipe.
Reviews
I am with all the other reviewers. This was surprisingly good. I did leave out the flour to keep it gluten free and added milk. The deletion did not take away from the yum factor. I did bake longer to set properly. Thanks KAF for another 5 star recipe. Please keep up the good work and keep the "made from scratch" recipes coming.
I had 2 ears of uncooked corn in the fridge so I sliced it off and added it to the zucchini and onions as they cooked. Also had a couple slices of leftover bacon and added that also. Added a little garlic and used freshly grated Romano instead of Parmesan and used almond flour instead of regular flour! Yummy
This was a lot better than I expected! I would add garlic and a little bit of salt to this recipe next time I make it. A perfect way to use to some of my yellow squash and zucchini from my garden!
I was looking for a brunch dish to feed a crowd when I came across this recipe. Really easy to make and lots of flavor. I used half summer squash and half zucchini. I should have made two because everyone wanted seconds!
This recipe is amazing! I just used straight zucchini since I didn't have any summer squash, added some local farmer's bacon, and swapped the Parmesan for aged Gouda. I even got my zucchini-hating other half to ask for seconds!
This is wonderful. I have some extra zucchini to get rid of and I am trying to do some different things this year. I much prefer to use zucchini in a savory way. I grated the zucchini early in the morning and let it sit in a colendar most of the morning. I then cooked it with the onion and let it drain for a few hours until I was ready to assemble the rest of the frittata. Threw it together baked it about 30 minutes and served it warm with a tomato salad from the garden. It made a tasty summer supper without a lot of hands on time. I have been eating the leftovers heated in the microwave for a quick breakfast this week. I will definitely make it again. I forgot to mention I also had a cooked ear of corn in the fridge. I cut it off the cob and included it in with the eggs before I put it in the oven. I like the crunch the kernels gave the end product.
My family are not big veggie lovers. However, we planted zucchini in our garden this year and had an overabundance. After making 4 loaves of bread, I still had zucchini! So, I tried this recipe. Everyone loved it! This will be my go to recipe for zucchini. Easy, fast and tasty! And leftovers reheat well in the microwave.
You can't go wrong, well, except for maybe figuring out how to clean the cast iron pan. I guess that's a personal problem,though! Maybe I just need to read the recipe a little more carefully because it didn't say anything about using the SAME pan to bake the frittata that was used to cook the veggies. Oops! I guess I won't do that next time. At first it seemed like there was a whole lotta zucchini goin' on, but when it was finished, I wondered if there was enough. Perhaps I'll add a bit more next time. Maybe some carrots...or mushrooms, for sure..or broccoli...or whatever is on sale!
This frittata is easy and very tasty. I added a little ham, you could add anything you chose in a small quantity such as shrimp, peppers or bacon. A great basic dish that invites creativity.
Easy and delicious. Good next day too.