A customized print-friendly version of this recipe is available by clicking the "Print Recipe" button on this page.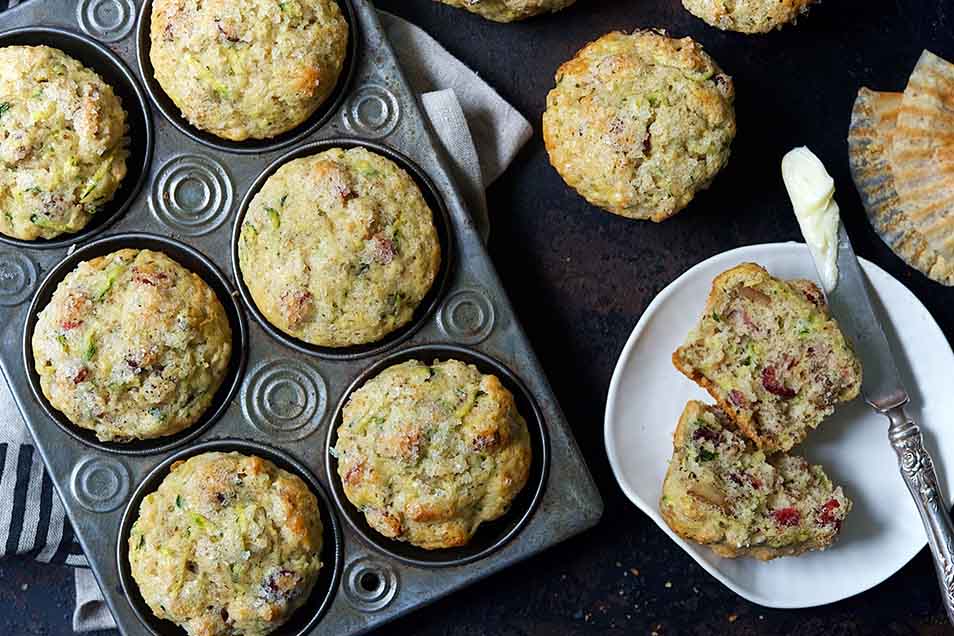 Don't beat those muffins! The baking soda and/or baking powder used to leaven muffins is activated by moisture (baking soda) and moisture/heat (double-acting baking powder). Once this reaction starts, there's no putting it on hold. You can stir your dry ingredients vigorously, and beat your wet ingredients to a froth, but when you put the two together, do it gently — you don't want to disturb those little air bubbles responsible for making your muffins rise.
Ingredients
1/2 cup granulated sugar
1 tablespoon baking powder
1 teaspoon salt
grated peel of 1/2 lemon
1/2 cup (or more) chopped walnuts
1/2 cup (or more) golden raisins or sweetened dried cranberries
2 large eggs, beaten
1/2 cup milk
1/3 cup vegetable oil
1 cup (packed) shredded zucchini
sparkling white sugar, optional; for topping
Instructions
Preheat your oven to 400°F. Grease and flour (or line with papers) a 12-well muffin pan.

Combine the flour, sugar, baking powder, salt and lemon peel in a large bowl. Stir in the walnuts and raisins.

In a smaller bowl (or a two cup liquid measure), combine the eggs, milk and oil.

Make a well in the center of the dry ingredients and add the wet ingredients.

Stir just until barely combined and then gently fold in the zucchini.

Spoon the batter into the pan. Sprinkle with sparkling white sugar, if desired, for added crunch and flavor.

Bake for 20 to 25 minutes or until the muffins spring back when you press them with your fingertips.

Remove from oven and turn out onto a cooling rack. Serve warm or with a little butter.

Store, well-wrapped, for 3 days at room temperature. Freeze for up to a month.