A customized print-friendly version of this recipe is available by clicking the "Print Recipe" button on this page.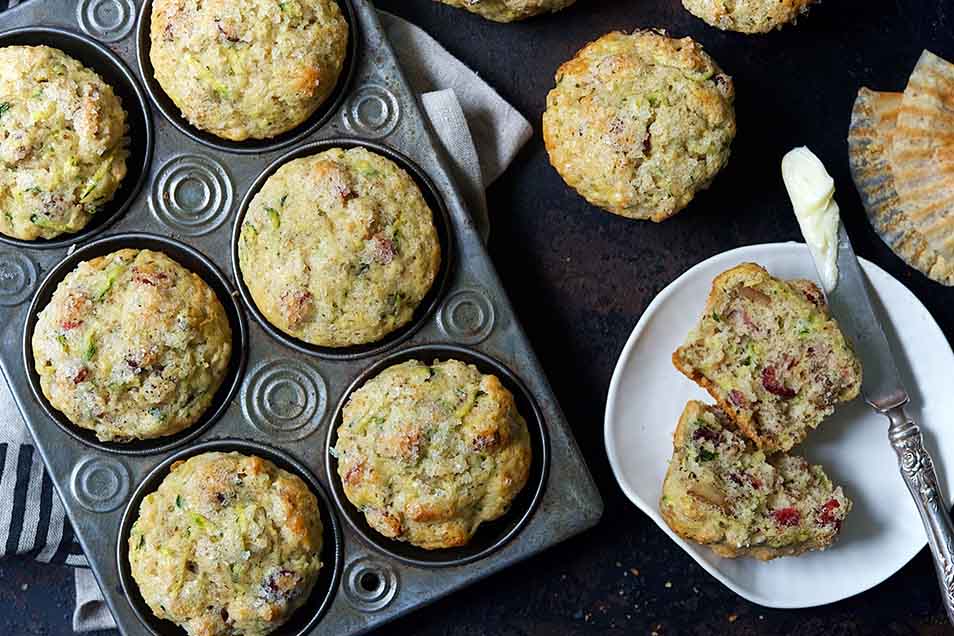 Don't beat those muffins! The baking soda and/or baking powder used to leaven muffins is activated by moisture (baking soda) and moisture/heat (double-acting baking powder). Once this reaction starts, there's no putting it on hold. You can stir your dry ingredients vigorously, and beat your wet ingredients to a froth, but when you put the two together, do it gently — you don't want to disturb those little air bubbles responsible for making your muffins rise.
Ingredients
1/2 cup granulated sugar
1 tablespoon baking powder
1 teaspoon salt
grated peel of 1/2 lemon
1/2 cup (or more) chopped walnuts
1/2 cup (or more) golden raisins or sweetened dried cranberries
2 large eggs, beaten
1/2 cup milk
1/3 cup vegetable oil
1 cup (packed) shredded zucchini
sparkling white sugar, optional; for topping
Instructions
Preheat your oven to 400°F. Grease and flour (or line with papers) a 12-well muffin pan.

Combine the flour, sugar, baking powder, salt and lemon peel in a large bowl. Stir in the walnuts and raisins.

In a smaller bowl (or a two cup liquid measure), combine the eggs, milk and oil.

Make a well in the center of the dry ingredients and add the wet ingredients.

Stir just until barely combined and then gently fold in the zucchini.

Spoon the batter into the pan. Sprinkle with sparkling white sugar, if desired, for added crunch and flavor.

Bake for 20 to 25 minutes or until the muffins spring back when you press them with your fingertips.

Remove from oven and turn out onto a cooling rack. Serve warm or with a little butter.

Store, well-wrapped, for 3 days at room temperature. Freeze for up to a month.
Reviews
I was surprised at how wonderful these turned out. I did use a whole lemon zest and pecans (someone must have eaten all the walnuts) and used golden raisins. I then realized I had no milk so I used "nut pods" coffee creamer. These are really delicious I coarsely grated the zucchini and I love seeing the little specks of green in the muffin. I would love more lemon taste because I love lemons. So maybe I'll up the zest or use some extract next time. I yielded 11 beautiful muffins from this batch.
Not my favorite KAF recipe. Moist enough but not what I'd expect from a zucchini type bread. More of a cake or muffin texture than a banana bread sort of density. The sweetness is very subtle. Almost a savory bread. I didn't add raising/cranberries or nuts because hubby doesn't like them. Made recipe by volume exactly as written except used one whole large lemon of zest (as recommended in comments by KAF). It is ok. Better with butter on it and maybe a glaze?

Ooh, it totally makes sense that this cake would be a little bit too mild for your taste! Since it's designed to highlight the sweetness of the dried fruit, it would naturally seem a touch bland without them. We love jammy bits for those who don't like things like raisins in their muffins, but a glaze would also be delicious as well. We think the glaze from our Lemon Bliss Cake would be perfect on these. Happy baking! Kat@KAF
Excellent. Easy. The lemon flavor is a nice change from other, more traditional, zucchini muffins, that tend to have a spice component like cinnamon or nutmeg, which are also excellent. I used half KAF white whole wheat and hallf KAF AP flour. Worked perfectly. Would easily work with most any compatible nuts or dried fruits. I suggest you use what you like and have on hand. Thank you again KAF.
These are too sweet.

We're surprised to hear that with just 1/2 cup sugar, you found these muffins to be too sweet. You're welcome to try reducing the sugar to 1/3 cup (74 grams) if you'd like less sweet muffins. Also, you can try using tart dried fruit (avoid sweetened) to get a more balanced flavor. We hope this helps, and happy baking! Kye@KAF
I would say these are pretty good. The texture is perfect, and the flavor is subtle but good, but I reeeally got a metallic taste coming through, presumably from the baking powder. Maybe that means I need to switch brands, but I've never had that problem before (I used Clabber Girl, which I've always used). I know metallic taste from baking powder can be an issue, and I wonder if the flavor of these is just subtle enough that it doesn't do anything to cover up the taste.

Hi Melody, it's true that there is quite a bit of baking powder in this recipe, and certain brands can have a more detectable flavor than others. If you've always used ClabberGirl and had good results, you might simply consider reducing the baking powder to 2 1/2 teaspoons. The muffins may rise just the slightest bit less, but we think the flavor will be more balanced for your taste buds. Additionally, consider adding the zest of a full lemon instead of just a half so that the flavor is more rounded and robust. We think this will help make your next batch of muffins delightful. Kye@KAF
I made two batches. The first I made as written (except for subbing pecans for walnuts). The second, I omitted the nuts, dried fruit and zest. I added a tablespoon of instant espresso powder and 5 oz of mini semi-sweet chocolate chips. I liked it as written, but those mocha chip are by far my favorite!
These muffins are FANTASTIC! I wanted a distinct lemon flavor, so I added a splash of lemon extract and the zest of the whole lemon. There's a lovely lemon scent and the flavor is still not overwhelming (I probably added a half tsp of extract). I also toasted the walnuts before adding them, and reserved a few to add right on top along with a good sprinkle of turbinado (raw) sugar. They are fluffy and moist and with a nice crunch to the lid. Will certainly make these again!
First time around success! As others have noted, this recipe is easy to tweak. I was inspired by an over ambitious zuke in the squash patch. I used 2/3 white whole wheat and 1/3 King Arthur all purpose. I used 1/3 cup home canned applesauce (loads of pectin) and about 2 tablespoons butter instead of the oil. I didn't have any lemon, so used a teaspoon vanilla. Also added extra raisins and nuts and baked it in a tea loaf pan. Came out great. My version has more whole grain and less fat and was moist and flavorful.
Really loved this recipe. I have been making it on repeat this summer. Once time I used summer squash instead of zucchini, orange zest instead of lemon, and chocolate chips instead of raisins, and that turned out amazing! I like to rub the citrus zest into the sugar to activate it and that gives a stronger flavor. I would recommend this recipe to anyone.
My husband thought they were a tad dense, but I thought they were perfect. I did add extra lemon extract and powder to boost the flavor and the results were terrific. Will definitely make again.