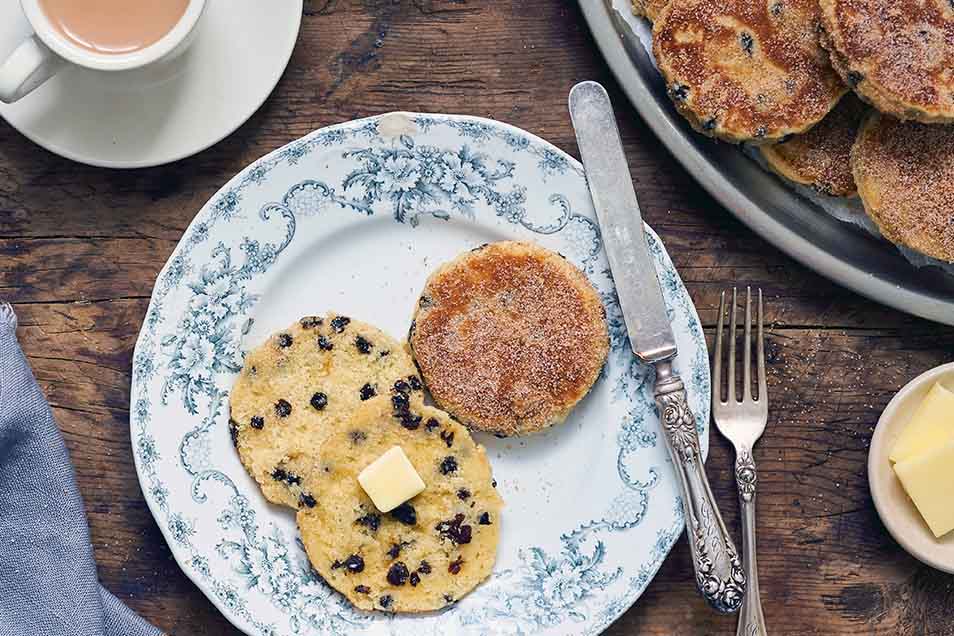 At a Glance
Prep

15 mins. to 25 mins.

Bake

10 mins. to 12 mins.

Total

25 mins. to 37 mins.

Yield

2 dozen 2 3/4" cakes
These soft, tender cakes are a cross between a pancake and a baking powder biscuit, with elements of cookies and muffins thrown in for good measure. Sturdy enough to be eaten out of hand, they can be served plain; sprinkled with sugar (or cinnamon-sugar, our favorite); or spread with butter, and gilded with sugar or jam. In addition, they're excellent the next day, warmed in the toaster as you'd warm toaster cakes.

Native to Wales, as their name suggests, our version of these griddle cakes is slightly sweeter than the original, but in all other respects a fairly close match. Welsh Cakes are the perfect breakfast on the feast day of their native country's patron saint, St. David — celebrated each year on March 1.
3 cups King Arthur Unbleached All-Purpose Flour OR 3 cups King Arthur Unbleached Self-Rising Flour*
1 cup granulated sugar
2 teaspoons baking powder
3/4 teaspoon salt
1/2 teaspoon ground nutmeg
16 tablespoons (1 cup) cold unsalted butter, cut into pats or diced
3/4 to 1 cup currants
2 large eggs beaten with enough milk to yield 3/4 cup liquid
*See "tips," below.
Directions
In a medium-sized mixing bowl, whisk together the flour, sugar, baking powder, salt, and nutmeg.

Work in the butter until the mixture is fairly evenly crumbly; a few larger pieces of butter can remain.

Mix in the currants.

Add the milk/egg mixture, mixing until everything is moistened.

Turn the sticky dough out onto a well-floured work surface, and divide it in half. Shape each half into a thick, 4" to 5" disc. Cover one of the discs with plastic, and refrigerate. Leave the other on the floured work surface.

Roll the soft dough into a 9 1/2" circle; it should be about 1/4" thick. Be sure to lift up the dough and flour underneath it as you roll, so it doesn't stick.

Using a 2 1/2" to 3 1/2" biscuit or other round cutter, cut the dough into circles. Gather and re-roll the scraps, cutting until you've used all the dough.

Heat an ungreased skillet over low-medium heat; an electric frying pan or skillet, set at 325°F, works well here.

Dry-fry the cakes (no grease) for about 2 1/2 minutes on each side, until they're golden brown and cooked all the way through. It's best to fry one sample cake first, to see if your pan is the right temperature.

Transfer the cakes to a rack to cool.

Repeat with the refrigerated dough. Cut the circles, then let them warm at room temperature for about 10 minutes before dry-frying.

Dust the finished cakes with cinnamon-sugar or superfine (castor) sugar; or split them, butter, and spread with jam. A pot of tea is the perfect accompaniment.
Tips from our bakers
If you use self-rising flour, omit the baking powder and salt in the recipe.