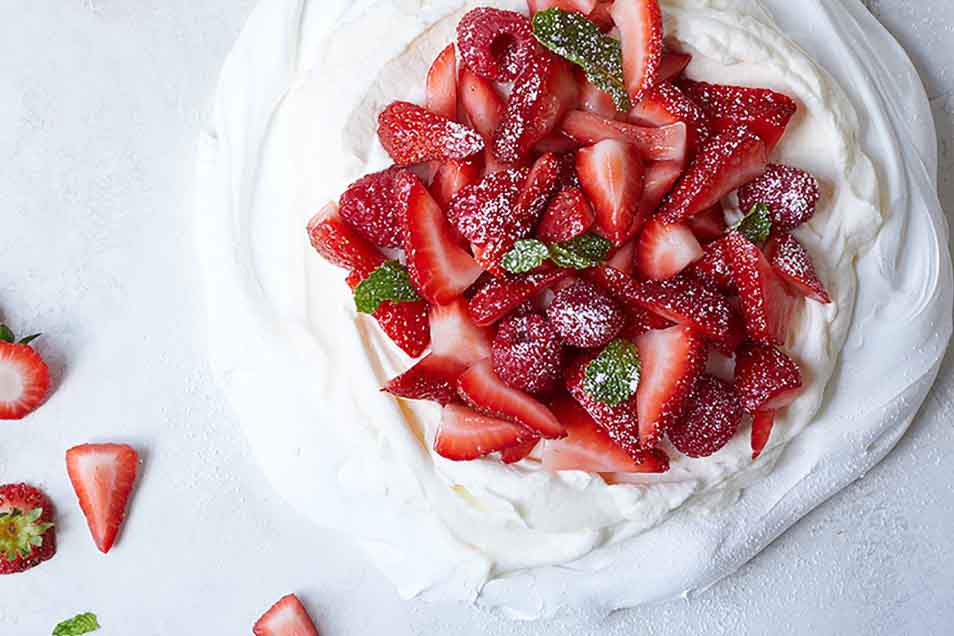 At a Glance
Prep

30 mins. to 40 mins.

Bake

60 mins. to 60 mins.

Total

2 hrs 30 mins. to 2 hrs 50 mins.

Yield

one 9" round pavlova
A stunning combination of crisp meringue, whipped cream, and sweet fruit, this is a dessert for when you want to pull out all the stops.
Meringue
3 large egg whites
pinch of salt
1/2 teaspoon cream of tartar
1 cup Baker's Special Sugar
1 tablespoon cornstarch
Topping
1 1/2 cups heavy or whipping cream
1/4 cup confectioners' sugar
1 teaspoon vanilla extract
2 cups fresh fruit (strawberries, blueberries, sliced kiwi, etc)
Directions
Preheat the oven to 200°F. Prepare a sheet of parchment paper by tracing a 9" round circle on it and flipping it over onto a baking sheet. You should still be able to see the circle outline through the paper.

In a large bowl, beat the egg whites with the salt and the cream of tartar on medium-high speed until soft peaks form.

Combine the Baker's Special sugar and cornstarch and gradually add it to the whites with the mixer running. The mixture will thicken and turn glossy. Beat for about 1 more minute.

Spread the meringue on the parchment inside the circle mounding the outside edges higher.

Bake for 1 hour. Turn off the oven and leave the door closed. Leave the meringue in the oven for at least 1 hour, or as long as overnight. The pavlova will color slightly from white to light tan (small cracks are normal).

Up to an hour before serving, combine the heavy cream with the confectioners' sugar and whip until thickened. Add the vanilla. Pile the whipped cream into the center of the cooled pavlova and top with sliced fresh fruit.

Store refrigerated for up to 1 day; once filled, the meringue will soften quickly.
Tips from our bakers
Baker's Special superfine sugar is a much finer grind than table sugar and makes a big difference in the outcome of the meringue. If you do not have superfine sugar, grind 2 cups of table sugar in the blender or food processor until finely ground. Measure out what you need for the recipe, and store the rest.
Confectioners' sugar may be used for the superfine sugar in the recipe. Increase the amount to 1 1/2 cups and eliminate the cornstarch from the recipe. Be sure to sift the confectioners' sugar before adding to the whites.