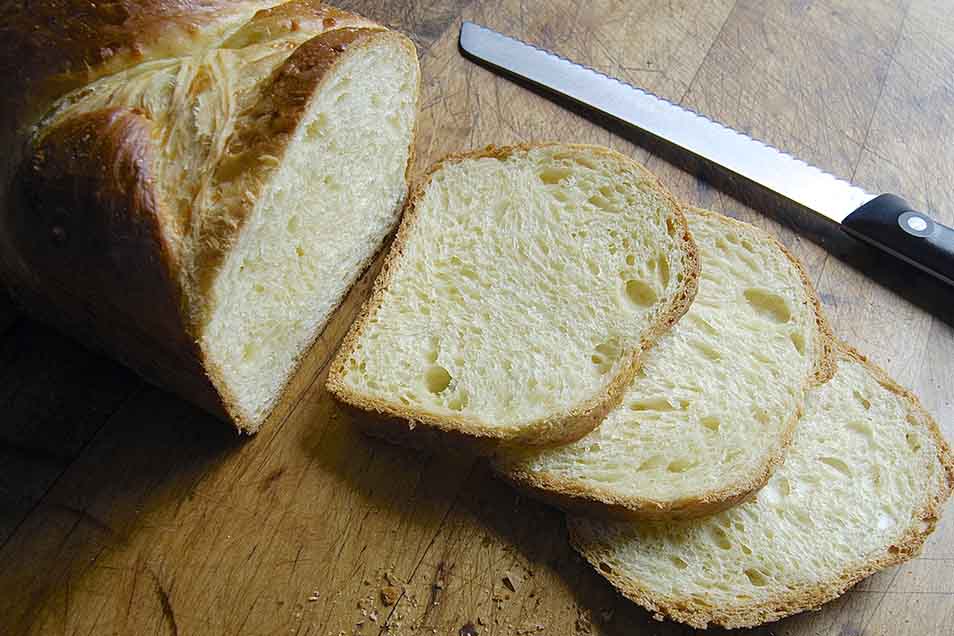 At a Glance
Prep

15 mins. to 20 mins.

Bake

40 mins. to 45 mins.

Total

4 hrs 55 mins. to 5 hrs 35 mins.

Yield

1 large loaf
This delightful golden egg bread is still mostly unknown in this country, and that's a pity. Light-textured and loaded with Parmesan cheese, it perfumes the kitchen with its wonderful savory aroma as it bakes. A nice change from the usual Easter sweet breads, it goes wonderfully well with the Easter ham — both at dinner, and later, when you're making ham sandwiches.

Be aware that this isn't a soft, moist loaf. It's very light, crusty, and quite dry inside. We suggest serving it in thin slices; toasted and buttered; or made into grilled sandwiches (grilled ham and cheese, anyone?)
Dough
2 1/2 cups King Arthur Unbleached All-Purpose Flour
1 1/4 teaspoons instant yeast
3 large eggs, at room temperature
1 large egg yolk, white reserved
1/4 cup lukewarm water
1/4 cup (4 tablespoons) softened butter
1 teaspoon salt
1 teaspoon ground pepper (black if you don't mind the specks, white if you do)
1 1/4 cups freshly grated Parmesan, Romano, or Asiago cheese, or a combination
Glaze
reserved egg white (from above)
2 teaspoons cold water
Directions
Combine all of the dough ingredients except the cheese in the bowl of an electric mixer, and beat on medium speed for 10 minutes, until the dough becomes shiny and satiny. It'll be very sticky; stop the mixer to scrape the sides and bottom of the bowl a couple of times during the mixing process.

Add the cheese, and beat until well combined.

Scrape the dough into a lightly greased bowl, cover the bowl, and set it aside to rest/rise for 1 hour; it won't do much. Gently deflate the dough, turn it over, return it to the bowl, and allow it to rest/rise for an additional hour; again, it may not seem to rise much — that's OK.

Oil or flour your hands. To make a traditional round loaf, form the dough into a ball, and place it in a greased pandoro (star) or panettone pan; a large souffle dish; or another round, deep pan. The pan should be about 6" to 7" wide, and 3" to 4" deep.

To make a pretty loaf, divide the dough into three pieces; roll each piece into a 12" log; and braid the logs. Nestle the braid into a lightly greased 9" x 5" loaf pan.

Cover the loaf lightly, and allow it to rise for 2 hours (or longer, depending on the warmth of your kitchen); the dough should have become noticeably puffy, though it won't have doubled in size.

To bake the bread: Put your oven rack in a lower position, just below the middle, and preheat the oven to 425°F.

Whisk the reserved egg white with the water and brush the top of the loaf.

Place the bread in the oven and bake it for 15 minutes.

Reduce the oven temperature to 350°F, tent the bread lightly with aluminum foil, and bake for an additional 30 to 35 minutes, until it's a deep, golden brown and an instant-read thermometer inserted into the center registers 190°F. The braided loaf will require less time than the round loaf.

Remove the bread from the oven, and let it cool in the pan for 5 minutes. Use a knife to loosen the edges, if necessary, and turn the loaf out onto a rack to cool completely before slicing.

Store airtight, at room temperature, for several days. Freeze, tightly wrapped, for longer storage.

Yield: 1 loaf.
Tips from our bakers
Want to make the dough in a bread machine? Place all of the dough ingredients into the pan of your machine, program the machine for manual or dough, and press Start. Check the dough about 10 minutes before the end of the final kneading cycle, and adjust its consistency as necessary with additional flour or water; it should be shiny and elastic. Allow the machine to complete its cycle, then shape and bake as directed at right.