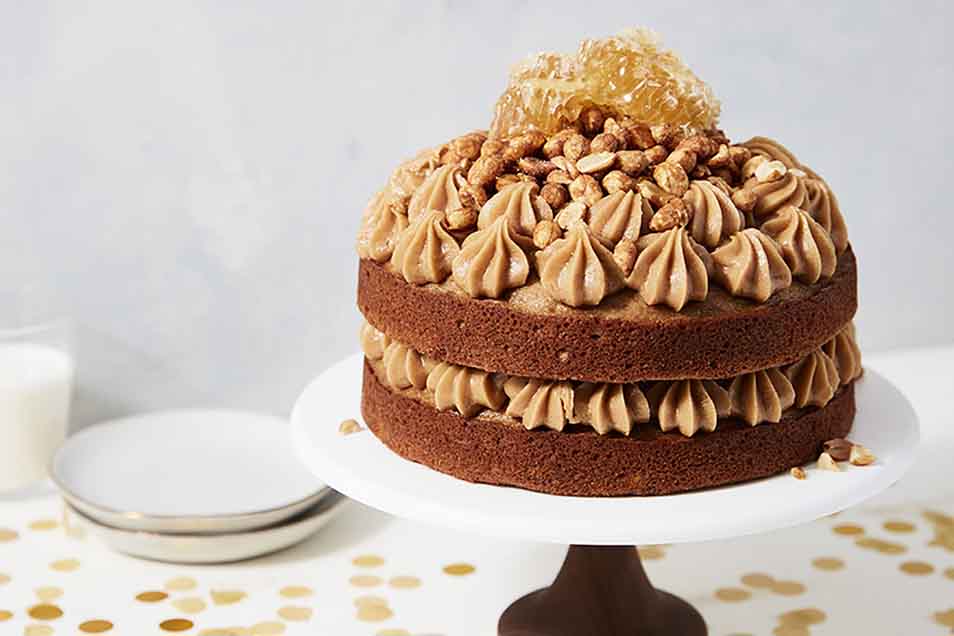 At a Glance
Prep

20 mins. to 30 mins.

Bake

24 mins. to 27 mins.

Total

1 hrs 14 mins. to 1 hrs 57 mins.

Yield

12 cupcakes
Who doesn't love a PB & B sandwich? This classic flavor combo makes a great cupcake: moist banana cake, peanut butter frosting, and a blizzard of crushed salty/sweet honey roasted peanuts on top. To make as a layer cake, as pictured here, see the bakers' tip at the bottom of the recipe.
Cupcakes
1/2 cup (8 tablespoons) softened butter
1 1/4 cups granulated sugar
2 large eggs
3 small or 2 medium very ripe bananas, peeled and cut into chunks
1/4 cup honey
1/4 cup yogurt or buttermilk
1 teaspoon vanilla extract
2 1/3 cups King Arthur Unbleached All-Purpose Flour
1 teaspoon baking powder
1/2 teaspoon baking soda
3/4 teaspoon salt
1 teaspoon ground cinnamon
1/8 to 1/4 teaspoon ground nutmeg, optional
2 tablespoons Cake Enhancer, optional, for moist texture
Frosting
2 cups confectioners' sugar
3/4 cup peanut butter, creamy or chunky
1 teaspoon vanilla extract
1/8 teaspoon salt, optional, to taste
1/3 to 1/2 cup milk or half & half
1 1/3 cups crushed honey roasted peanuts, to garnish
Directions
Preheat the oven to 350°F. Lightly grease a standard muffin or cupcake pan; or line with papers, and grease the papers.

For the cake: In a large bowl, cream the butter and sugar together until smooth.

Add the eggs, and beat well. Stir in the banana, honey, and yogurt(or buttermilk), and vanilla. The mixture may look lumpy or curdled.

In a medium bowl, whisk together the flour, baking powder, baking soda, salt, cinnamon, and nutmeg and Cake Enhancer (if using).

Add half of the dry ingredients to the banana mixture and mix until combined. Scrape the bowl and add the remaining dry ingredients. Mix until the batter is uniform; scrape the bowl and mix at medium speed for 30 seconds.

Scoop the batter into the prepared pan, filling the wells almost full; a muffin scoop works well here.

Bake the cupcakes for 24 to 27 minutes, until a cake tester or toothpick inserted into the center of one comes out clean, or with a few moist crumbs clinging to it.

Remove the cupcakes from the oven, and place the pan on a heatproof surface. As soon as you're able, tilt the cupcakes in the wells of the pan; this prevents their bottoms from steaming.

When the cupcakes are completely cool, make the frosting. Beat together the confectioners' sugar, peanut butter, vanilla, and salt until crumbly.

Add 1/3 cup of the milk (or half & half), beating to combine. If the frosting is too thick to spread easily, add more liquid a tablespoon at a time, beating after each addition.

Put the crushed peanuts in a bowl. Frost the cupcakes, using about 42g (1 1/2 ounces) frosting for each. As you frost each cake, dip it into the crushed peanuts, turning it to cover the frosting completely.

Transfer cupcakes to a rack to set briefly; then cover and store airtight until you're ready to serve them. They'll stay fresh for a day or two; longer, if you've used Cake Enhancer.

Yield: 12 cupcakes.
Tips from our bakers
Use any peanuts — regular or dry roasted, salted or unsalted — in place of the honey roasted peanuts, if desired. Or leave the nuts out altogether. Or crush just 1/2 cup, and garnish sparingly. It's all up to you.
Bake this into two 8" layer cakes, if desired; or a thin 9" x 13" cake. The baking time will be about 25 minutes for the round layers, or 30 to 35 minutes for the sheet cake. Test by inserting a toothpick into the center of the cake; when it comes out dry, or with a few moist crumbs clinging to it, the cake is done.
A single batch of frosting is enough to fill and top the cake as shown; to fully frost the sides, you'll need to double the frosting.