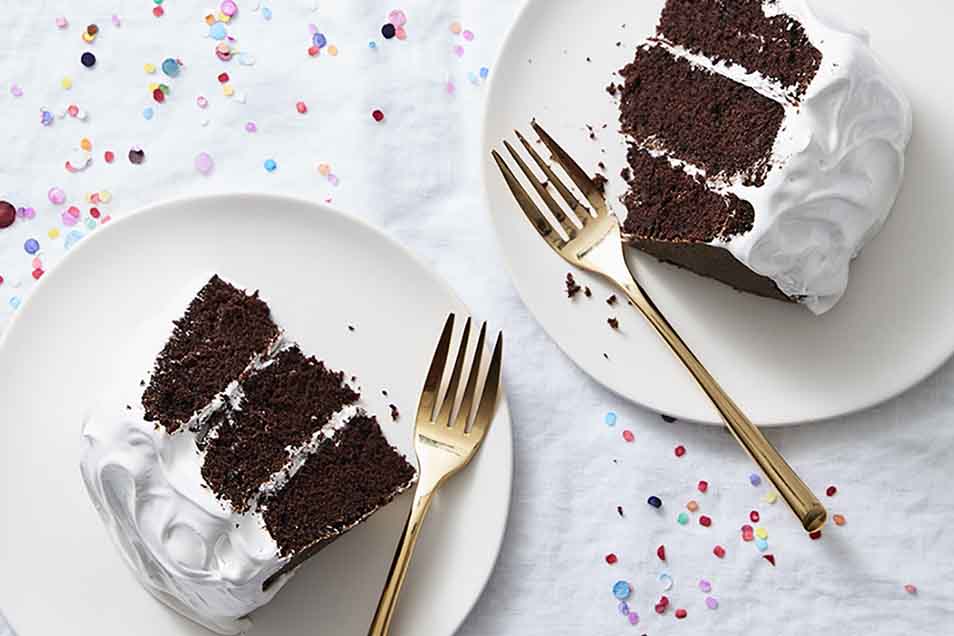 At a Glance
Prep

20 mins.

Bake

35 mins.

Total

55 mins. to 60 mins.

Yield

One 9" x 13" cake, two 9" round layers, or three 8" round layers.
This chocolate cake uses butter for flavor and a bit of oil for a never-fail moist crumb, ideal for celebrations. With more of a milk chocolate, rather than dark chocolate flavor, it's perfect for kids.

Our guarantee: This cake will be tender and moist. It makes a good layer cake, cupcakes, or eat-out-of-the-pan cake, with a fine crumb that you can pick up with the back of your fork.
Directions
Preheat the oven to 350°F. Lightly grease and flour your choice of pans: one 9" x 13" pan, two 9" round pans, or three 8" round pans.

Sift together the flour, baking powder, baking soda, salt, cocoa, and sugar into a large mixing bowl.

Add the butter and mix at low speed for 1 minute. With the mixer running, add the oil and continue mixing until the mixture looks sandy, about 30 seconds more.

In a large measuring cup, combine the vanilla with the milk and coffee(or water), and add all at once to the dry ingredients. Mix for 1 minute at low speed, stop and scrape the sides and bottom of the bowl, then mix for 30 seconds more.

Add the eggs one at a time, beating well at medium-high speed between additions.

Scrape the sides and bottom of the mixing bowl, and mix for 30 seconds more. The batter will be thin.

Transfer the batter to the prepared pan(s) of your choice. Smooth out the tops of the layers with an offset spatula.

Bake for 34 minutes for a 9" x 13" pan, 28 to 30 minutes for 9" layers, and 24 to 26 minutes for 8" layers.

The cake is done when the top springs back when very lightly touched in the center, and the edges just begin to pull away from the edge of the pan. A cake tester inserted in the center will come out clean.

Remove the cake from the oven and let cool completely in the pan(s) on a rack before turning out of the pans to frost.

Cake layers can be wrapped and frozen for up to a month before frosting.
Tips from our bakers
The butter in this recipe needs to be very soft. If you can leave a dent in the butter with a gentle touch, it's ready to use.
The volume of this batter is 5 3/4 cups. It will rise quite a bit during baking. The weight of the batter is 3 pounds, 1 ounce. If you're weighing out layers, put 1 pound, 8 1/2 ounces in each 9" layer, or 1 pound in each 8" layer.
We've tested this cake with natural unsweetened cocoa, and with Dutch-process; both work well. The Dutch-process cake will be darker in color and slightly less sweet.
Try frosting this cake with Seven-Minute Frosting as shown here.