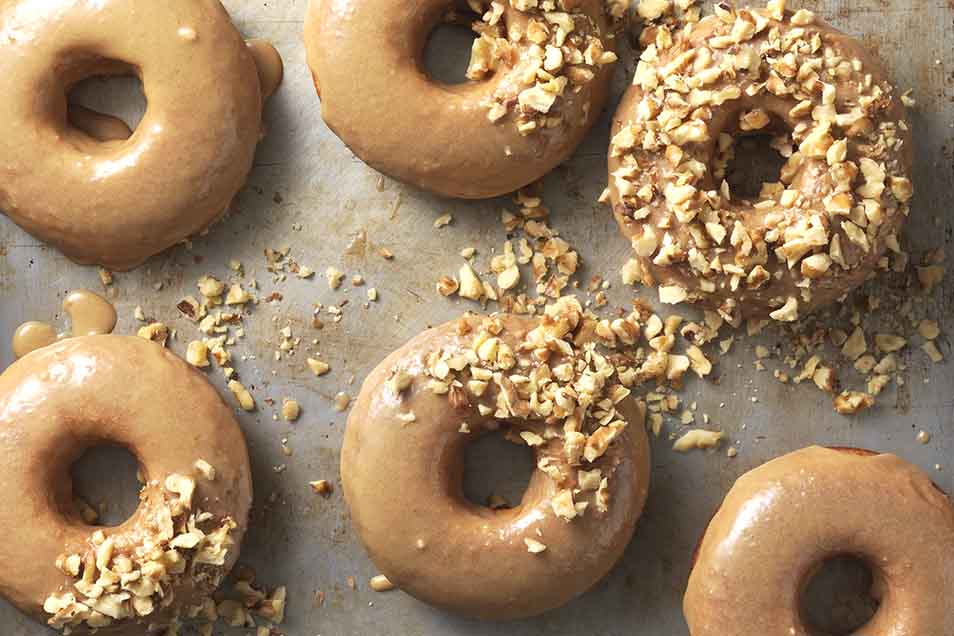 At a Glance
Prep

23 mins. to 29 mins.

Bake

12 mins. to 14 mins.

Total

35 mins. to 43 mins.

Yield

6 servings
A coffeehouse favorite, now in a better-for-you baked (not fried!) version. Maple sugar transforms this basic doughnut into a flavorful, dunk-able cake. Maple is a terrific way to sweeten and flavor desserts and these doughnuts are a delicious example of that!
Glaze
2 tablespoons maple sugar
2 tablespoons confectioners' sugar
2 tablespoons heavy cream
1/8 teaspoon maple flavor, optional
Topping
crushed walnuts, optional
Directions
Preheat the oven to 375°F. Grease a standard-sized doughnut pan.

Whisk together the flour, maple sugar, potato flour, baking powder, and salt.

In a separate bowl, beat the egg, water, oil, and maple flavor until frothy.

Add the dry ingredients to the egg mixture, stirring until well combined.

Fill each doughnut form about half full; a piping bag works well here.

Bake the doughnuts for 12 to 14 minutes, until they spring back when lightly touched and are golden brown on the edges.

Remove the doughnuts from the oven and allow them to cool for a few minutes in the pan before transferring them to a rack to cool completely.

While the doughnuts cool, make the glaze. Whisk together the maple sugar, confectioners' sugar, heavy cream, and optional maple flavor.

Microwave the glaze on high for 15 seconds, until the maple sugar dissolves fully.

Dip the tops of the still warm doughnuts in the glaze. Allow to cool completely before storing.

Sprinkle crushed walnuts over the freshly glazed doughnuts, if desired.

Yield: 6 doughnuts.