A customized print-friendly version of this recipe is available by clicking the "Print Recipe" button on this page.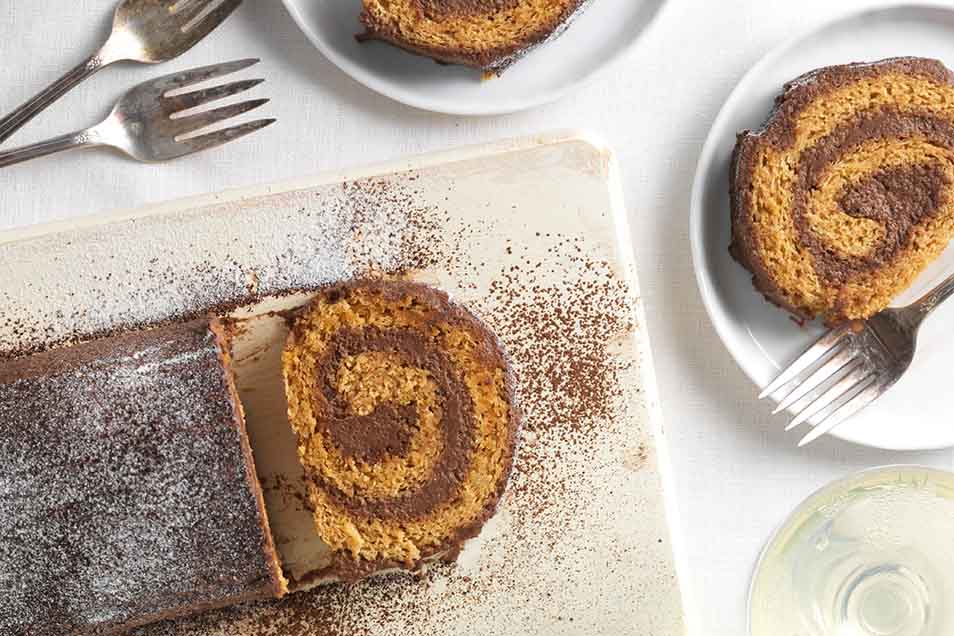 This naturally gluten-free cake, made using almond instead of wheat flour, is a wonderfully tender and moist variation of a classic yule log. The delicately almond-flavored cake is wrapped up in a blanket of chocolate whipped cream flavored with liqueur.
Ingredients
Cake
2 1/4 cups almond flour, or finely ground almonds
1 1/2 teaspoons baking powder
1/4 teaspoon salt
9 large eggs, separated
1 cup brown sugar
1 teaspoon almond extract
Frosting
1 3/4 cups whipping or heavy cream
1/4 cup cocoa powder, Dutch-process preferred
1/3 cup superfine sugar or granulated sugar
3 tablespoons Amaretto, Grand Marnier, or the liqueur of your choice*
*For a non-alcoholic cake, combine 1/2 teaspoon almond, orange, or vanilla extract with 2 tablespoons heavy cream, milk, or water.
Instructions
To make the cake: Preheat the oven to 350°F. Lightly grease a half-sheet pan (13" x 18"), line it with parchment, and lightly grease the parchment.

In a small bowl, mix together the almond flour, baking powder, and salt until evenly blended. Set aside.

In a mixing bowl, beat the egg yolks and brown sugar until the mixture is very light and falls in thick ribbons from the beater. Stir in the almond extract, then fold in the dry ingredients. Set aside.

In a separate bowl, whip the egg whites until stiff peaks form.

Fold a quarter of the whites into the cake batter to lighten it slightly, then fold in the remaining whites, stirring until just incorporated.

Spoon the batter into the prepared pan, spreading it to the edges and into the corners.

Bake the cake for 15 to 18 minutes, until golden brown on top, and a cake tester or toothpick inserted into the center comes out clean.

Remove the cake from the oven and allow it to cool completely in the pan. Note: unlike a typical jelly roll, you don't roll this in a towel while still warm; it's too fragile.

To make the frosting: Whip the cream until soft peaks form. Sift the cocoa powder over the cream, stirring to incorporate, then whip just until stiff peaks form. Fold in the sugar and liqueur.

To assemble the cake: Place a kitchen towel over the cake; the towel should be large enough to cover the entire cake. Gently turn the cake over onto the towel and remove the pan and parchment.

Spread two-thirds of the frosting evenly over the surface of the cake. Starting with a long side, use the towel to help you roll the cake into a log. Place it on a serving platter.

Frost the outside of the cake with the remaining whipped cream, and refrigerate until ready to serve.

The cake is better when served the next day, as it becomes moister and more tender.

Yield: one cake, 8 to 12 servings.
Tips from our bakers
For more almond flavor, use our toasted almond flour. You can also replace the almond flour with any other finely ground nuts or nut flours, such as hazelnut flour (toasted or untoasted) or pecan meal.
Reviews
This was the cake for our Buche de Noel. It was delicious!! Moist, flavorful, rich. Perfect.
This was amazing! I put dulce de leche in the middle, it was a such a great hit! Making again next week. The roll was moist and I followed the tip about making it the day before. The only thing I didn't follow is that I didn't wait for it to be totally cool down to roll it. Everything was still warm and it prevent it from cracking.
This was my first roll cake of any kind to bake. I followed the recipe exactly as written. This turned out amazing with great flavor. Everyone had seconds and I'm already thinking of how to make it better. I used Red Mills Almond Flour (very fine), King Arthur dutch coca, Splenda brown sugar and Splenda for the sugar. The filling was amazing and had great flavor. The cake is fluffy. When I first started rolling it it cracked slightly but then rolled perfectly - no one could tell. I recommend using wax paper between the towel and cake to help with rolling. I can't wait to make this again. I am also in Denver and live 5400 feet above sea level and didn't alter this recipe at all.
I have baked this the last 3 years and every year the cake seems too thick. I use a jelly roll pan from wilton because it has perfect straight edges but again too thick. I am going to use a cookie sheet this year in hopes of a remedy for the thickness. Other than that I found through trial and error that the finner the almond meal the better. And that Chocolate whipped cream is so good but not if they have issues with dairy. I wish you had given an alternative using almond milk(soy is just horrible). Hopefully a call to the bakers hotline can help with that. Thank you for a recipe that is pretty easy and still allows wiggle room to adjust flavors and try different variations with the flour meal.
I read other people's review before I baked this almond log. I added the brown sugar gradually into the egg yolks, it turn out perfect. The best roll I ever made.
I had never used almond flour before but this year I needed to make 4 yule log cakes and decided to use this recipe. It was so much better than a traditional sponge cake; very moist and tender, very easy to roll without cracking. The recipe calls for brown sugar to be beaten into the egg yolks. I've never seen brown sugar used this way before. I made 2 cakes at a time. On the first batch I had trouble getting the brown sugar to dissolve into the yolks, even though they were at room temperature; it was very grainy. I placed the mixing bowl over a pan of hot water and whisked it until the mixture warmed up enough to better dissolve the sugar. Still it remained a little grainy but the cakes still came out great. The next day I baked 2 more of the cakes but this time I put brown sugar in the food processor, then strained out the large bits so I had extra fine brown sugar and that worked much better. The yolks beat up into a wonderful ribbon. I would highly recommend doing this. I added hazelnut extract instead of almond extract as I don't care for that almond flavoring; it's overpowering. The hazelnut wasn't distinctive, but just gave the cake a wonderful rich nutty taste. I also turned the cake over as the top of the cake was easier to roll in and less likely to crack. I brushed it with a rum syrup before filling, then later brushed the outside of the cake with the syrup before frosting. I found it easier to roll with a long piece of plastic wrap in between the cake and the towel; I was able to roll it tighter and keep the round shape better. I wrapped it in the plastic wrap and towel and froze it for a couple of days. That made it much easier to handle and frost. Yule logs have many components but making them over several days makes it much easier to do. The cakes were a big hit. Everyone loved the flavor and the people who were gluten intolerant were delighted to be able to eat it. Of course there was one person at the party who was allergic to nuts, so it still doesn't work for everyone! It's important to let people know it contains nuts. I will definately use this recipe again for any kind of jelly roll cake and want to experiment with the almond flour in other cake recipes as well. Thanks King Arthur!
Since all but one person wanted seconds, I would say this was a success. But--I would NEVER make it this way again. I baked it for 15 minutes, cooled it for several hours, had no trouble getting it out of the pan and onto the towel, and no trouble frosting it. But it cracked in many places as I rolled it. I had already realized that I had no platter long enough for a cake that long, so I cut it in half and put the halves next to each other on a tray. Then I frosted the outside. I will make this again and cut it in quarters, frost and stack them, and then frost the outside. It will taste just as good and without the hassle of rolling it. I used the King Arthur triple cocoa blend and amaretto in the amazing frosting. Another thing--I had 1/4 c. cream left from the carton. Why not use the whole thing in the frosting?
I baked this last night, it went very well and my test slice was delicious! It was my first time with a sponge cake and a rolled cake. I weighed the dry ingredients and was careful to only preheat the oven when I'd actually started beating eggs and sugar so the oven would not be too hot. I did not have almond extract so I used a teaspoon of Amaretto as flavoring in the cake batter. Pulled the cake at 15 mins; it was very moist and pliable (it is very humid here this week, probably helpful). Per recipe, I waited for cake to cool completely before filling; per notes here, I dusted parchment with powdered sugar and placed that on cake top first, then towel over it, before flipping cake...cake came right out of (inexpensive but well greased pan). Parchment lining came right off too. After spreading the filling, I used my fingers to get the roll going then used the towel/parchment to keep the roll going up and over. It did crack a little, low on the sides, but held its shape and looked log-like. It is a very long cake; I could imagine cutting it in halves and rolling first one side, then the other for a little more support. Used Dutch process cocoa in filling--it came out a nice light coffee color and is very tasty. The cake texture is light--not terribly flavorful. I would appreciate hearing from the KA bakers if they think one could get away with adding a little more extract/Amaretto to cake batter without messing up the chemistry of the sponge. It was fun to make and I think will be appreciated by gluten-free friends at party tonight!b

Wow! Thank you so much for such a detailed review of this recipe and your process. I think adding more extract would be just fine if you're looking to boost the flavor. So glad you had success with this. Bryanna@KAF
I followed the recipe almost exactly as written (the only difference was that I used regular cocoa in the filling). I even bought the King Arthur almond flour specifically to make this recipe, and the final product is sitting in the trash. The cake was easy to make - my egg whites were peaked and folded carefully in and the baked cake looked perfect - lightly browned and even. I let it cool completely and made the filling. I found the filling a little bland so I added a bit more sugar, but the final result was pretty good and I thought if the cake had a nice almond flavor that it would be a nice complement. My primary problem was the cake. When I put a standard cotton dish towel over it to flip, the towel stuck to the cake terribly. So, I turned the cake over into a second sheet pan and pulled off the parchment, which stuck, but not too badly. The disaster struck when I tried to roll the cake - it simply broke each time I attempted to roll it. It was very ugly by the time I was done, but I figured if the cake was great, I'd cover it with frosting and let it be. However, I found the cake rather bland, not at all worth the expensive of the ingredients and time. Overall, I didn't think this was good enough to serve at a dinner party and it looked horrible. I threw it all out. I would not recommend this recipe. For reference, I bake quite a bit and have made jelly roll cakes before without any problem.

We're sorry to hear this recipe gave you so much trouble. We'd love to share some tips that may make this recipe turn out better for others in the future. Be sure the cake is not over-baked, as a drier cake cracks more readily. Also unlike normal jelly-roll cakes, this cake must be cooled completely before rolling or else it will break. (The almond flour makes this cake more delicate because it has no gluten in it.) It helps to use a linen kitchen towel that is sprayed or slightly floured to prevent sticking. We've also found that laying a piece of parchment over the cake before the towel ensures easy release. If you'd like to look into a replacement for the Almond Flour so you can try this recipe again, please call Customer Support at 800-827-6836 so we can look into this for you. Kye@KAF
This was my first attempt at a jelly roll cake, and it worked. I used Trader Joes almond flour which is darker in appearance than Bob's Mill almond flour, as well as plain old coco. My 14 and 16 year old loved it. The frosting/filling is amazing and will be used as a frosting for further cakes. If your looking for a simple gluten free dessert, try King Arthur Flour's Almond cloud cookie recipe. Hands down, a great cookie and I always get rave reviews and it is very simple make these.