A customized print-friendly version of this recipe is available by clicking the "Print Recipe" button on this page.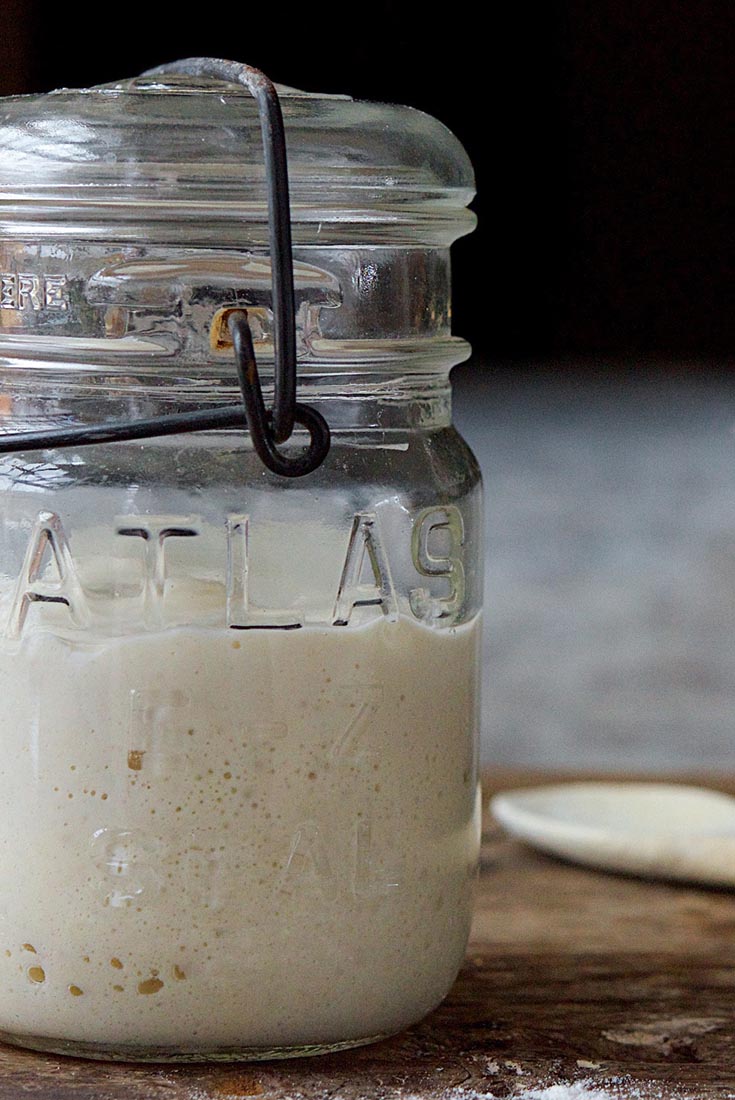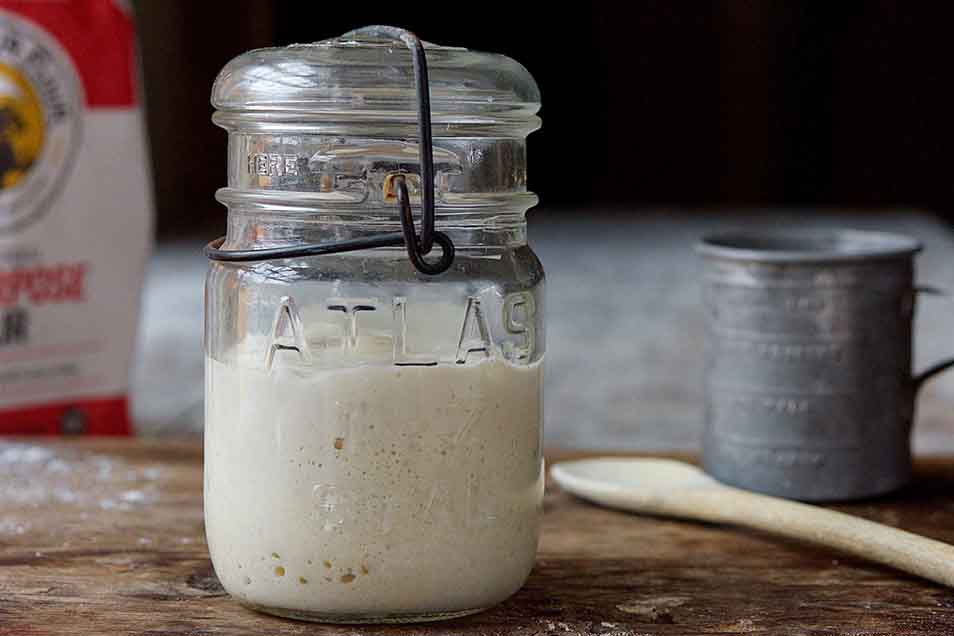 Whether it conjures up a crusty, flavorful loaf of bread or a bubbling crock of flour/water starter, sourdough is a treasured part of many bakers' kitchens. But where does the path to sourdough bread begin? Right in your own kitchen, with your own homemade sourdough starter.

Sourdough baking is as much art as science. The method you'll read here for making sourdough starter isn't an exact match for the one you read on another site, or in a cookbook, or in your great-grandma's diary. But it's the tried-and-true method we use for making starter here at King Arthur Flour, and we feel you'll have success with it.
Ingredients
To begin your starter
1 cup whole rye (pumpernickel) or whole wheat flour
1/2 cup cool water*
*See "tips," below
Instructions
Day 1: Combine the pumpernickel or whole wheat flour with the cool water in a non-reactive container. Glass, crockery, stainless steel, or food-grade plastic all work fine for this. Make sure the container is large enough to hold your starter as it grows; we recommend at least 1-quart capacity.

Stir everything together thoroughly; make sure there's no dry flour anywhere. Cover the container loosely and let the mixture sit at warm room temperature (about 70°F) for 24 hours. See "tips," below, for advice about growing starters in a cold house.

Day 2: You may see no activity at all in the first 24 hours, or you may see a bit of growth or bubbling. Either way, discard half the starter (4 ounces, about 1/2 cup), and add to the remainder a scant 1 cup King Arthur Unbleached All-Purpose Flour, and 1/2 cup cool water (if your house is warm); or lukewarm water (if it's cold).

Mix well, cover, and let the mixture rest at room temperature for 24 hours.

Day 3: By the third day, you'll likely see some activity — bubbling; a fresh, fruity aroma, and some evidence of expansion. It's now time to begin two feedings daily, as evenly spaced as your schedule allows. For each feeding, weigh out 4 ounces starter; this will be a generous 1/2 cup, once it's thoroughly stirred down. Discard any remaining starter.

Add a scant 1 cup (4 ounces) King Arthur Unbleached All-Purpose Flour, and 1/2 cup water to the 4 ounces starter. Mix the starter, flour, and water, cover, and let the mixture rest at room temperature for approximately 12 hours before repeating.

Day 4: Weigh out 4 ounces starter, and discard any remaining starter. Repeat step #6.
Day 5: Weigh out 4 ounces starter, and discard any remaining starter. Repeat step #6. By the end of day #5, the starter should have at least doubled in volume. You'll see lots of bubbles; there may be some little "rivulets" on the surface, full of finer bubbles. Also, the starter should have a tangy aroma — pleasingly acidic, but not overpowering. If your starter hasn't risen much and isn't showing lots of bubbles, repeat discarding and feeding every 12 hours on day 6, and day 7, if necessary — as long as it takes to create a vigorous (risen, bubbly) starter. Note: see "tips," below.
Once the starter is ready, give it one last feeding. Discard all but 4 ounces (a generous 1/2 cup). Feed as usual. Let the starter rest at room temperature for 6 to 8 hours; it should be active, with bubbles breaking the surface. Hate discarding so much starter? See "tips," below.

Remove however much starter you need for your recipe — typically no more than 8 ounces, about 1 cup. If your recipe calls for more than 1 cup of starter, give it a couple of feedings without discarding, until you've made enough for your recipe plus 4 ounces to keep and feed again.

Transfer the remaining 4 ounces of starter to its permanent home: a crock, jar, or whatever you'd like to store it in long-term. Feed this reserved starter with 1 cup of flour and 1/2 cup water, and let it rest at room temperature for several hours, to get going, before refrigerating it.

Store this starter in the refrigerator, and feed it regularly; we recommend feeding it with a scant 1 cup flour and 1/2 cup water once a week.
Nutrition Information
Serving Size

234g (1 cup)

Servings Per Batch

varies
Amount Per Serving:
Calories

440

Calories from Fat

9

Total Fat

1g

Saturated Fat

0g

Trans Fat

0g

Cholesterol

0mg
Sodium

5mg

Total Carbohydrate

92g

Dietary Fiber

3g

Sugars

0g

Protein

15g
* The nutrition information provided for this recipe is determined by the ESHA Genesis R&D software program. Substituting any ingredients may change the posted nutrition information.
Tips from our bakers
Should you use bottled water? Unless your tap water is so heavily treated that you can smell the chemicals, there's no need to use bottled water; tap water is fine.
Why does this starter begin with whole-grain flour? Because the wild yeast that gives sourdough starter its life is more likely to be found in the flora- and fauna-rich environment of a whole-grain flour than in all-purpose flour.
A note about room temperature: the colder the environment, the more slowly your starter will grow. If the normal temperature in your home is below 68°F, we suggest finding a smaller, warmer spot to develop your starter. For instance, try setting the starter atop your water heater, refrigerator, or another appliance that might generate ambient heat. Your turned-off oven — with the light turned on — is also a good choice.
Why do you need to discard half the starter? It seems so wasteful... But unless you discard starter at some point, eventually you'll end up with a very large container of starter. Also, keeping the volume down offers the yeast more food to eat each time you feed it; it's not fighting with quite so many other little yeast cells to get enough to eat. You don't have to actually discard it if you don't want to, either; you can give it to a friend, or use it to bake. There are quite a few recipes on our site using "discard" starter, including pizza crust, pretzels, and waffles, and even chocolate cake.
One of our readers offers the following thoughts about the duration of everyday feeding, which we think is great advice: "Conditions vary so widely that 7 days can be far too little. I've learned the key is to watch for a dramatic and consistent rise in the jar — at least doubling between 1 and 4 hours after feeding. This could be 7 days or less after you begin, or it could be three weeks (for me it was 12 to 14 days). I would encourage you to consider tweaking your wording a bit to guide bakers to watch for this phenomenon, rather than watch the calendar." Thanks, Ken!
Want to put your starter on hold for the summer, or as you go on vacation? Here's how: Drying your sourdough starter.
Reviews
I followed this recipe for 2 weeks and my starter had half-hearted doubling. I was boiling the water and adding vitamin C to remove chloramine, and eventually the water started to develop a biofilm. It wasn't working very well, so I added the scummy water - and my starter took off! It's worked great since then. Some interesting microbial interactions...
I am on Day 7 of this starter. Some days it was bubbly and some days it wasn't but it did increase in size to a smooth consistency. So what if it has increased but there is no bubbly action? Also, should I be storing the discarded starter in the fridge for when I want to use it later? Or keep it out with the one I'm feeding?

Hi Judy. Don't worry if it isn't bubbly when you check on it, so long as it's growing in size, it's healthy. Keep discard in the fridge for no more than a week before either using it in a recipe calling for discard or throwing it away. Annabelle@KAF
I began this recipe 7 days ago. On Day 2, I observed explosive expansion and a kind of 'feet of god' good/bad, cheesey smell. After that quick show, the starter reverted to its original, seemingly lifeless state for days 3-5. Moreover, it was so thick and sticky that I sadly broke my spatula. I found some answers and encouragement in reviews from you readers and responses and advice your team left for them. Yesterday (Day 6), I fed the starter with whole wheat flour in the AM and PM. I also increased the water in each feeding until the mixture is more manageable. Lo and behold, IT'S ALIVE! This morning, I observed an inspiring 25% increase in volume and plenty of healthy happy bubbles! Super cool! So, now I have a burning question: Should I continue feeding this baby with whole wheat flour since it is demonstrably responding to it? OR Should I go back to feeding it AP flour? (OR Should I go out and buy some better quality AP flour and feed it that since I've been feeding it a cheaper brand of flour-- it only occurred to me this instant that the cheap flour might be causing trouble...??) Thanks guys for this terrific recipe and this forum for bakers!! I am having a lot of fun baking with you!!

Welcome to the tasty world of sourdough, Kezia! We're glad to hear that you're enjoying the process so far and can't wait to hear how your loaves of bread turn out. Believe it or not, flour quality really does make a big difference, especially in sourdough starter which is made up of only 2 ingredients. We'd recommend getting our Unbleached All-Purpose Flour for best results, but feel free to do a feeding with whole wheat every few weeks if your starter looks like it needs a quick pick-me-up. Annabelle@KAF
I was raised in the country on a subsistence farm and we always had homemade starter two generations old. I now live in South America. The temperature is cool to cold (16c (60f)) or less and we are at high altitude (2,600m (8,600ft)). We are currently in the rainy season with humidity around 86%. Without access to any specialized flours I made the starter using Bread Flour and distilled water. The first attempt did not give any real good results after 15 days and we don't have a normal oven with a light. The second attempt went perfectly using a large cardboard box with a 50 watt light. Day one up to five was at room temperature while day 5 and 6 was with the light. On day 5 the starter increased by about 25% and on day 6 it almost tripled. For what its's worth to you and your readers JG
After much research in books and on the internet, I concluded that sourdough is just a lot of work! But it is so good and fun, I just kept at it. I have even made sourdough in a Dutch oven in a campfire pit. A friend brought a cooking magazine to work that mentioned KAF website. I immediately tried a starter with whole grain flour (I always used all purpose flour before). AWESOME! Success without the massive effort! I can see I will be spending a lot of time on this website! I have extra tangy sourdough rising in the kitchen right now. Thanks for you willingness to share your secrets!
Should my starter be very thick the first day? I just started day 2 on it and my mommy brain also forgot to discard part of it. Will this affect the outcome if I just discard tomorrow morning?

We've all been there, Rachel, whether we have kids or not! Your starter should be just fine if you continue to discard half of it before each feeding. The starter does begin as a relatively thick paste, but it should thin out as it matures. Be sure you're measuring your flour correctly by checking out the "Measuring standards," link below the ingredients header above; otherwise, you might be using just a bit too much. Good luck, and happy baking! Kye@KAF
Hi there! I had recently commented on this page about my overactive starter. After that I tried making the starter twice with same results, i.e very frothy and bubbly and sour flour/water mixture for just two days n thick sour paste after that, a complete failure!. Dis is so wierd but since it became so frothy and sour within just 12 hrs of first mixing of flour/water, dis time I tried making bread with it directly on the first day itself, and the result was a wonderful loaf!! Should I consider myself lucky??? I don't know!! I don't know the reason at all. Maybe there's too much wild yeast in Mumbai or since the temperature's always above 30°C.
I haven't completed the process yet, but so far everything has gone perfectly. I'm on Day 4, so up to twice a day feedings. Reading ahead, can I get some more instructions on the final starter feedings? When it's in the fridge? Do I leave it out for a few hours, 12 hours, etc before I put it back in each time?

We usually recommend leaving it out for 2-3 hours after feeding and before putting it back in the fridge, Elizabeth, but you'll find a wealth of information on our Sourdough Guide in the Learn section of our website or through our free and friendly Baker's Hotline staff at 855-371-BAKE (2253). Kindly, Annabelle@KAF
This is my second time attempting this recipe. The first time I used bleached flour by accident. This time I started with rye and I'm on day 4 and things look like they did the last time. I get the earthy aroma, the larger bubbles throughout but nothing is rising (the trickiest part of the process). I know I have some more days but am wondering if instead of using KAP I blend it with a mix of WW to diversify the grain. Anyone know if that will boost the yeast activity more?

Using whole grain flour to feed your sourdough starter will likely increase the activity, Angelina. It's a great way to kickstart the fermentation process if your starter seems sluggish. Be prepared to do the subsequent feeding sooner than you might expect with all-purpose flour, as the starter will ferment faster with whole wheat flour. Switch back to unbleached all-purpose flour for regular feedings once your starter doubles in size within 4 to 6 hours after feeding. Kye@KAF
I'm on day 9 of discarding and feeding. I have missed 2 of the 12 hour discard/feeds, and did the discard/feed at 24 hours instead. I have nice bubbling, but absolutely no rising of the starter. Smell remains sour, but not yeasty or fruity. What do you recommend I do at this point?

Don't give up, Kay! You're so close, especially if you see bubbles. This means your starter is alive. You might consider giving your starter one or two feedings with whole wheat flour to kickstart activity before going back to the all-purpose flour. Start baking with your starter in recipes that also call for commercial yeast to be added (or use recipes that call for unfed or discarded starter), and continue to feed your starter daily. It will become more active as it matures. You can also experiment with storing it in a different container in a new place to see if that makes it happier. Good luck and happy baking! Kye@KAF