A customized print-friendly version of this recipe is available by clicking the "Print Recipe" button on this page.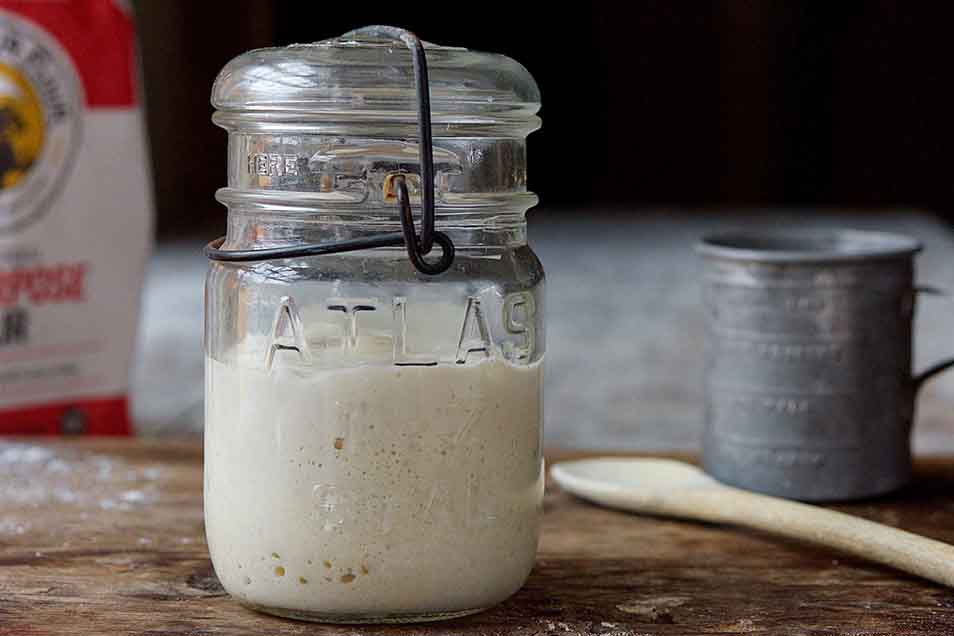 Whether it conjures up a crusty, flavorful loaf of bread or a bubbling crock of flour/water starter, sourdough is a treasured part of many bakers' kitchens. But where does the path to sourdough bread begin? Right in your own kitchen, with your own homemade sourdough starter.

Sourdough baking is as much art as science. The method you'll read here for making sourdough starter isn't an exact match for the one you read on another site, or in a cookbook, or in your great-grandma's diary. But it's the tried-and-true method we use for making starter here at King Arthur Flour, and we feel you'll have success with it.
Ingredients
To begin your starter
1 cup whole rye (pumpernickel) or whole wheat flour
1/2 cup cool water*
*See "tips," below
Instructions
Day 1: Combine the pumpernickel or whole wheat flour with the cool water in a non-reactive container. Glass, crockery, stainless steel, or food-grade plastic all work fine for this. Make sure the container is large enough to hold your starter as it grows; we recommend at least 1-quart capacity.

Stir everything together thoroughly; make sure there's no dry flour anywhere. Cover the container loosely and let the mixture sit at warm room temperature (about 70°F) for 24 hours. See "tips," below, for advice about growing starters in a cold house.

Day 2: You may see no activity at all in the first 24 hours, or you may see a bit of growth or bubbling. Either way, discard half the starter (4 ounces, about 1/2 cup), and add to the remainder a scant 1 cup King Arthur Unbleached All-Purpose Flour, and 1/2 cup cool water (if your house is warm); or lukewarm water (if it's cold).

Mix well, cover, and let the mixture rest at room temperature for 24 hours.

Day 3: By the third day, you'll likely see some activity — bubbling; a fresh, fruity aroma, and some evidence of expansion. It's now time to begin two feedings daily, as evenly spaced as your schedule allows. For each feeding, weigh out 4 ounces starter; this will be a generous 1/2 cup, once it's thoroughly stirred down. Discard any remaining starter.

Add a scant 1 cup (4 ounces) King Arthur Unbleached All-Purpose Flour, and 1/2 cup water to the 4 ounces starter. Mix the starter, flour, and water, cover, and let the mixture rest at room temperature for approximately 12 hours before repeating.

Day 4: Weigh out 4 ounces starter, and discard any remaining starter. Repeat step #6.
Day 5: Weigh out 4 ounces starter, and discard any remaining starter. Repeat step #6. By the end of day #5, the starter should have at least doubled in volume. You'll see lots of bubbles; there may be some little "rivulets" on the surface, full of finer bubbles. Also, the starter should have a tangy aroma — pleasingly acidic, but not overpowering. If your starter hasn't risen much and isn't showing lots of bubbles, repeat discarding and feeding every 12 hours on day 6, and day 7, if necessary — as long as it takes to create a vigorous (risen, bubbly) starter. Note: see "tips," below.
Once the starter is ready, give it one last feeding. Discard all but 4 ounces (a generous 1/2 cup). Feed as usual. Let the starter rest at room temperature for 6 to 8 hours; it should be active, with bubbles breaking the surface. Hate discarding so much starter? See "tips," below.

Remove however much starter you need for your recipe — typically no more than 8 ounces, about 1 cup. If your recipe calls for more than 1 cup of starter, give it a couple of feedings without discarding, until you've made enough for your recipe plus 4 ounces to keep and feed again.

Transfer the remaining 4 ounces of starter to its permanent home: a crock, jar, or whatever you'd like to store it in long-term. Feed this reserved starter with 1 cup of flour and 1/2 cup water, and let it rest at room temperature for several hours, to get going, before covering it. If you're storing starter in a screw-top jar, screw the top on loosely rather than airtight.

Store starter in the refrigerator, and feed it regularly; we recommend feeding it with a scant 1 cup flour and 1/2 cup water once a week.
Nutrition Information
Serving Size

234g (1 cup)

Servings Per Batch

varies
Amount Per Serving:
Calories

440

Calories from Fat

9

Total Fat

1g

Saturated Fat

0g

Trans Fat

0g

Cholesterol

0mg
Sodium

5mg

Total Carbohydrate

92g

Dietary Fiber

3g

Sugars

0g

Protein

15g
* The nutrition information provided for this recipe is determined by the ESHA Genesis R&D software program. Substituting any ingredients may change the posted nutrition information.
Tips from our bakers
Should you use bottled water? Unless your tap water is so heavily treated that you can smell the chemicals, there's no need to use bottled water; tap water is fine.
Why does this starter begin with whole-grain flour? Because the wild yeast that gives sourdough starter its life is more likely to be found in the flora- and fauna-rich environment of a whole-grain flour than in all-purpose flour.
A note about room temperature: the colder the environment, the more slowly your starter will grow. If the normal temperature in your home is below 68°F, we suggest finding a smaller, warmer spot to develop your starter. For instance, try setting the starter atop your water heater, refrigerator, or another appliance that might generate ambient heat. Your turned-off oven — with the light turned on — is also a good choice.
Why do you need to discard half the starter? It seems so wasteful... But unless you discard starter at some point, eventually you'll end up with a very large container of starter. Also, keeping the volume down offers the yeast more food to eat each time you feed it; it's not fighting with quite so many other little yeast cells to get enough to eat. You don't have to actually discard it if you don't want to, either; you can give it to a friend, or use it to bake. There are quite a few recipes on our site using "discard" starter, including pizza crust, pretzels, and waffles, and even chocolate cake.
One of our readers offers the following thoughts about the duration of everyday feeding, which we think is great advice: "Conditions vary so widely that 7 days can be far too little. I've learned the key is to watch for a dramatic and consistent rise in the jar — at least doubling between 1 and 4 hours after feeding. This could be 7 days or less after you begin, or it could be three weeks (for me it was 12 to 14 days). I would encourage you to consider tweaking your wording a bit to guide bakers to watch for this phenomenon, rather than watch the calendar." Thanks, Ken!
Want to put your starter on hold for the summer, or as you go on vacation? Here's how: Drying your sourdough starter.
Reviews
I was building this starter and things were going along great, took about 2.5 days to be really chugging along and the last few days though it appears that growth has stalled. few if any bubbles, despite feedings. I'm wondering if this is a common stall or if something possibly happened. I tried to rejuvinate it by adding some whole rye flour back into the mix but that does not seem to be helping yet. also, I'm curious about the thickness of the starter, what consistency should it be?? the 1 cup flour to 1/2 cup water seems to be awful dry, I've taken to adding a bit of water to get it wet enough to get rid of all the dry flour in the starter. as for enviornment, my house is typically quite cool so I leave it in the oven with the light on, seems to keep it in the 70's temp wise. I'm using standard AP flour to feed, starter began with whole grain dark rye flour, and I'm using bottled water since my tap water is a softened. Any advice on the stall would be great, thanks!!!

Tony, the fourth-day slump in sourdough starter is actually a well-known phenomenon in the baking world. Just keep on feeding and discarding as you've been doing, and it will eventually pick up! The ratio of flour to water is definitely something to watch. We typically recommend weighing your ingredients if you have access to a kitchen scale. Otherwise, make sure you're sprinkling the flour into the measuring cup, rather than scooping right out of the bag to ensure you're getting the right amount. If you click on the "Learn" section of our website, one of the very first videos is called "How to measure flour." That should help you get the healthy, hydrated starter you're looking for. Happy baking! Kat@KAF
Hi I've been working on my starter for two weeks now and it still hasn't doubled in size in 12 hours. I'm getting about 1.5 the size in 12 hours. I've moved it around from on top of my refrigerator in two different parts of the house and also tucked it in between my. IcrowVe and electric kettle. It's been unusually warm for November so I don't think it's too cold as I can walk around the house in a t shirt and shorts. Also, it doesn't smell sour at all. It smells sweet and doughy with a really tacky kind of texture. Any suggestions?? 😋

Hi Kelly! All starters are different and some can take a month-ish to come into fruition so don't worry. If it's thicker than a thick pancake batter consistency, it's possible that some extra flour is getting in there, so you'll want to weigh it for best results. (If you aren't already.) Sour smells will heighten when you make bread dough that rises slowly in the fridge. We encourage you to look at our Sourdough Guide in the Learn section of our website for tons of tips, tricks, visuals, videos, and sourdough knowledge.
I started my sour dough starter approximately 2 years ago. It has been wonderful for all my baking. I have two batches of starter I feed on a not-so regular basis. I keep it in the refrigerator when not baking much. So a few days ago I left my starter at room temperature and when I checked it tonight to see if it was still viable it was very fragrant and tan in color. I fed it but accidentally used 1 cup of water , 1/2 cup of starter and 1 scant cup of all purpose flour. Will the extra water be a problem? Should I add extra flour this time? I will keep you updated on the outcome.

Hi Janet, in short, you'll want to add more flour with the next feeding to return it to a 100% hydration starter. We'd be happy to talk through the details of this process with you if you give the Baker's Hotline a call at 855-371-BAKE (2253). Kindly, Kye@KAF
I know I'm not supposed to watch the calendar but I have zero activity aside from a few teeny bubbles on my starter and it's been almost two weeks. It's cool here in upstate NY now and my kitchen is usually 65 at night at 69 during the day so could that play a factor? Starter performed just fine with the rye flour in the beginning but when I switched over to the double feeding schedule it seemed to have stalled and has been that way for quite sometime. Been putting it in the oven with the light on (which is about 75-80 degrees) and still nothing. Don't know if it matters but I'm using a small cambro container and have been leaving the lid on loosely. Any ideas or should I start again? I've used this recipe in the past and have created a perfect starter but not this time. FYI rye flour is kinda old as well

Everything sounds in the normal realm, Steven, but if you're eager to get it going a little faster, there are two things you can try. One is to get a fresh bag either of whole rye or whole wheat flour and use that for a couple of feedings. The other is to keep on with the all-purpose, but do only one feeding every 24 hours. Sometimes, it just wants a little more time, especially if the temperature is cooler, and that could do the trick. If you have any questions, we encourage you to reach out to our free and friendly Baker's Hotline staff at 855-371-BAKE (2253). Kindly, Annabelle@KAF
I made the starter according to the instructions and forgot it was in my kitchen cupboard when I left for France. I was gone for ten days. When I came home water had separated and risen above the flour mixture. But it smelled good so I started feeding it again for another ten days. No bubbles appeared , it didn't seem to rise but still smelled good. I was somewhat hesitant but used all of it to make a large loaf . Now I'm sorry I didn't keep some! I've been baking for about 40 years. This was the best bread I ever baked! It was fantastic!
Hi - I tried this recipe and admittedly didn't keep to the exact 12 hour schedule. After a couple days, I noticed a small patch of white mold on the inside on my Ball jar just above the surface of the starter. Do you have any tips for reducing chances of mold? How clean should the inside surface of my jar be? It usually has some starter on it from stirring during feeding? Should i switch to sterile container every couple days?

Hi Mike, it's important to begin with a clean jar and lid. Consider running these items through the dishwasher to sanitize or using boiling water to kill any unwanted bacteria that might make your starter more prone to growing mold. Use clean tools when feeding your starter, especially the utensil you use to mix your starter. You don't need to clean the jar every day if you use clean tools. You can also try putting the starter in a different place in your house to see if that captures a different community of micro-organisms and wild yeast. We hope you try again soon and are met with success! Kye@KAF
Hi. I followed this recipe and it worked the first day- it had several bubbles and it rose a bit. . After that, it wouldn't rise anymore and would have only a few bubbles on the top. I was putting the rubbermaid lid on top but didnt close the lid. I also was feeding twice daily.After almost a week of no results, I decided to use half the amount of flour (roughly 1/2cup) since I was wasting so much with no results. I also partially closed the lid and continued the twice a day feeding. Within the first 12 hours, it doubled and had bubbles everywhere. The next day, it doubled in like 8 hours. I am approaching day 3 of successful results and just came to the realization that ever since I changed the measurements, I have been feeding with the wrong measurements- using 1/2 cup of starter, to a scant 1/2 cup of whole wheat flour and 1/4 cup of water. Should I stop doing this? What do I do? Can I start baking with it yet?

We'd recommend using an equal portion of starter:water:flour to ensure your starter has enough food to be healthy and give you a sour flavor. Giving it less will keep it alive (and bubbly) but it will lack sour flavor. However, every starter is different, so if you find the way you're doing it creates loaves of bread you enjoy, by all means, stick with it! Annabelle@KF
Hi and thank you for the amazing baking site. I've started to make sourdough starter with whole wheat flour despite your instruction to use all purpose flour from day 2. To day is day 4 of my starter and everything is fine except the tangy smell. Is it okay to continue feeding my starter with the whole wheat flour? Can I switch to all purpose flour for the next feeding? Please help.

Hello! You can either keep feeding with whole wheat or use all-purpose, though we'd recommend using all-purpose. The starter is still in a very new phase where it could potentially change drastically from day to day as the bacteria and acids balance out. After 10 days to 2 weeks, it usually becomes more stable and consistent. If you have any other questions, please call our free and friendly Baker's Hotline is available at 855-371-BAKE (2253). Kindly, Annabelle@KAF
two weeks ago i made a huge mistake and added ALL my starter (two years old, originally purchased from KA) to my dough after autolyse, forgetting to hold back a bit for next time. I didn't even realize i had done this until the next day after the bread was already baked. After i stopped crying, i started a brand new starter using this recipe and i wish i could show you how nice and bubbly it is now, two weeks later. i built it up last night to the full amount needed (plus extra) and today will be my first bake. Thank you KA!
In your instructions for step six it says; "Add a scant 1 cup (4 ounces) King Arthur Unbleached All-Purpose Flour, and 1/2 cup water to the 4 ounces starter. Mix the starter, flour, and water, cover, and let the mixture rest at room temperature for approximately 12 hours before repeating." Should I add a scant cup or 4 ounces (1/2 cup)? Obviously different. Confusing. I've enjoyed the challenge thus far, I just want to make sure I am getting this right.

We're glad you ask, Dan! One cup of our all-purpose flour weighs 4 1/4 ounces, so a scant up is about 4. So even though it's taking up 8 ounces by volume, it only weighs about 4. On the flip side, a cup of water is both 8 ounces by volume and by weight. The starter is the same. So since flour is lighter, 1 scant cup of flour, 1/2 cup starter, and 1/2 cup of water will all weigh the same amount (4 ounces) and a happy starter is one that has that equal ratios of flour:water:starter. We hope this helps! Check out our Sourdough Guide in the Learn section of our website for some fantastic additional resources and tips. Annabelle@KAF