A customized print-friendly version of this recipe is available by clicking the "Print Recipe" button on this page.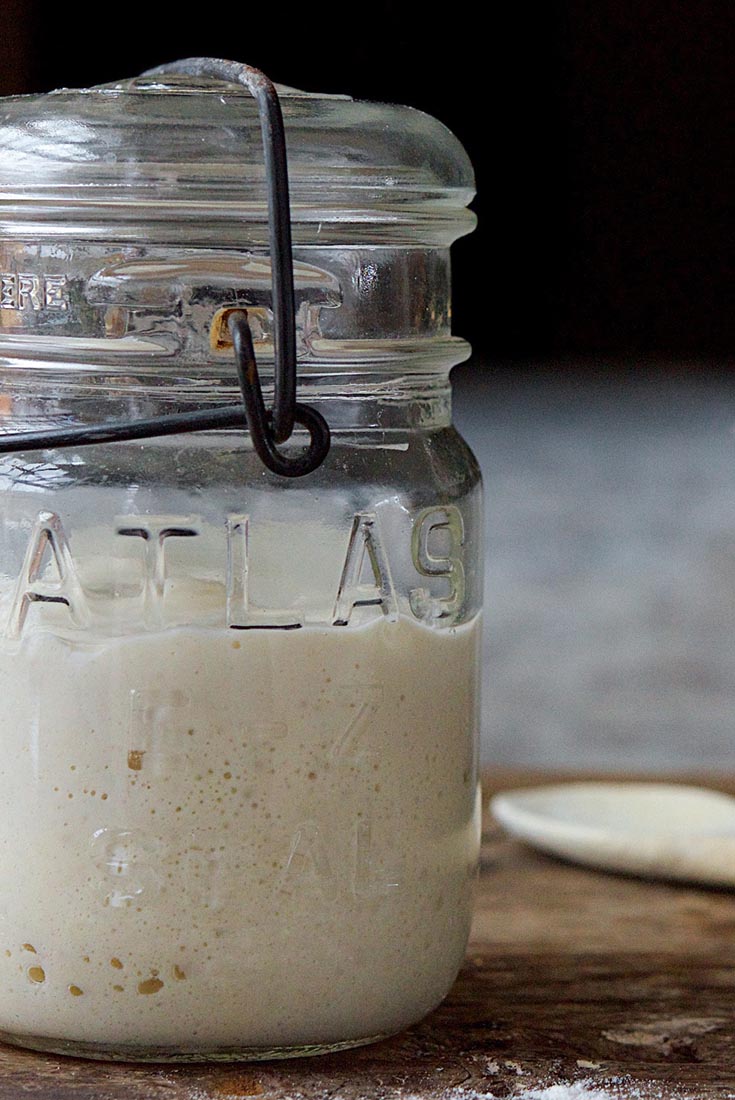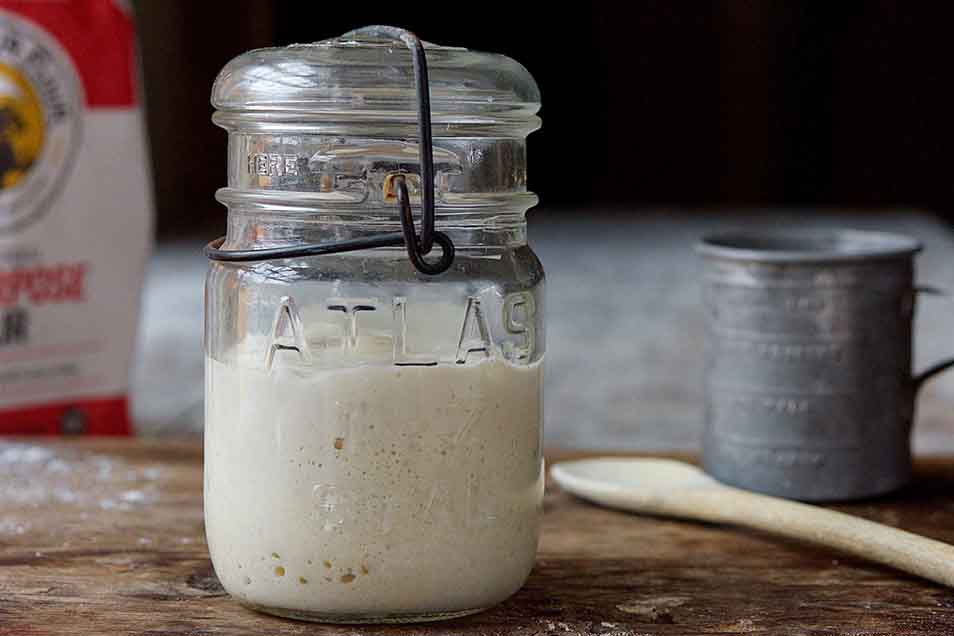 Whether it conjures up a crusty, flavorful loaf of bread or a bubbling crock of flour/water starter, sourdough is a treasured part of many bakers' kitchens. But where does the path to sourdough bread begin? Right in your own kitchen, with your own homemade sourdough starter.

Sourdough baking is as much art as science. The method you'll read here for making sourdough starter isn't an exact match for the one you read on another site, or in a cookbook, or in your great-grandma's diary. But it's the tried-and-true method we use for making starter here at King Arthur Flour, and we feel you'll have success with it.
Ingredients
To begin your starter
1 cup whole rye (pumpernickel) or whole wheat flour
1/2 cup cool water*
*See "tips," below
Instructions
Day 1: Combine the pumpernickel or whole wheat flour with the cool water in a non-reactive container. Glass, crockery, stainless steel, or food-grade plastic all work fine for this. Make sure the container is large enough to hold your starter as it grows; we recommend at least 1-quart capacity.

Stir everything together thoroughly; make sure there's no dry flour anywhere. Cover the container loosely and let the mixture sit at warm room temperature (about 70°F) for 24 hours. See "tips," below, for advice about growing starters in a cold house.

Day 2: You may see no activity at all in the first 24 hours, or you may see a bit of growth or bubbling. Either way, discard half the starter (4 ounces, about 1/2 cup), and add to the remainder a scant 1 cup King Arthur Unbleached All-Purpose Flour, and 1/2 cup cool water (if your house is warm); or lukewarm water (if it's cold).

Mix well, cover, and let the mixture rest at room temperature for 24 hours.

Day 3: By the third day, you'll likely see some activity — bubbling; a fresh, fruity aroma, and some evidence of expansion. It's now time to begin two feedings daily, as evenly spaced as your schedule allows. For each feeding, weigh out 4 ounces starter; this will be a generous 1/2 cup, once it's thoroughly stirred down. Discard any remaining starter.

Add a scant 1 cup (4 ounces) King Arthur Unbleached All-Purpose Flour, and 1/2 cup water to the 4 ounces starter. Mix the starter, flour, and water, cover, and let the mixture rest at room temperature for approximately 12 hours before repeating.

Day 4: Weigh out 4 ounces starter, and discard any remaining starter. Repeat step #6.
Day 5: Weigh out 4 ounces starter, and discard any remaining starter. Repeat step #6. By the end of day #5, the starter should have at least doubled in volume. You'll see lots of bubbles; there may be some little "rivulets" on the surface, full of finer bubbles. Also, the starter should have a tangy aroma — pleasingly acidic, but not overpowering. If your starter hasn't risen much and isn't showing lots of bubbles, repeat discarding and feeding every 12 hours on day 6, and day 7, if necessary — as long as it takes to create a vigorous (risen, bubbly) starter. Note: see "tips," below.
Once the starter is ready, give it one last feeding. Discard all but 4 ounces (a generous 1/2 cup). Feed as usual. Let the starter rest at room temperature for 6 to 8 hours; it should be active, with bubbles breaking the surface. Hate discarding so much starter? See "tips," below.

Remove however much starter you need for your recipe — typically no more than 8 ounces, about 1 cup. If your recipe calls for more than 1 cup of starter, give it a couple of feedings without discarding, until you've made enough for your recipe plus 4 ounces to keep and feed again.

Transfer the remaining 4 ounces of starter to its permanent home: a crock, jar, or whatever you'd like to store it in long-term. Feed this reserved starter with 1 cup of flour and 1/2 cup water, and let it rest at room temperature for several hours, to get going, before covering it. If you're storing starter in a screw-top jar, screw the top on loosely rather than airtight.

Store starter in the refrigerator, and feed it regularly; we recommend feeding it with a scant 1 cup flour and 1/2 cup water once a week.
Nutrition Information
Serving Size

234g (1 cup)

Servings Per Batch

varies
Amount Per Serving:
Calories

440

Calories from Fat

9

Total Fat

1g

Saturated Fat

0g

Trans Fat

0g

Cholesterol

0mg
Sodium

5mg

Total Carbohydrate

92g

Dietary Fiber

3g

Sugars

0g

Protein

15g
* The nutrition information provided for this recipe is determined by the ESHA Genesis R&D software program. Substituting any ingredients may change the posted nutrition information.
Tips from our bakers
Should you use bottled water? Unless your tap water is so heavily treated that you can smell the chemicals, there's no need to use bottled water; tap water is fine.
Why does this starter begin with whole-grain flour? Because the wild yeast that gives sourdough starter its life is more likely to be found in the flora- and fauna-rich environment of a whole-grain flour than in all-purpose flour.
A note about room temperature: the colder the environment, the more slowly your starter will grow. If the normal temperature in your home is below 68°F, we suggest finding a smaller, warmer spot to develop your starter. For instance, try setting the starter atop your water heater, refrigerator, or another appliance that might generate ambient heat. Your turned-off oven — with the light turned on — is also a good choice.
Why do you need to discard half the starter? It seems so wasteful... But unless you discard starter at some point, eventually you'll end up with a very large container of starter. Also, keeping the volume down offers the yeast more food to eat each time you feed it; it's not fighting with quite so many other little yeast cells to get enough to eat. You don't have to actually discard it if you don't want to, either; you can give it to a friend, or use it to bake. There are quite a few recipes on our site using "discard" starter, including pizza crust, pretzels, and waffles, and even chocolate cake.
One of our readers offers the following thoughts about the duration of everyday feeding, which we think is great advice: "Conditions vary so widely that 7 days can be far too little. I've learned the key is to watch for a dramatic and consistent rise in the jar — at least doubling between 1 and 4 hours after feeding. This could be 7 days or less after you begin, or it could be three weeks (for me it was 12 to 14 days). I would encourage you to consider tweaking your wording a bit to guide bakers to watch for this phenomenon, rather than watch the calendar." Thanks, Ken!
Want to put your starter on hold for the summer, or as you go on vacation? Here's how: Drying your sourdough starter.
Reviews
For health reasons, I try to cook with mostly whole grains. What would happen to my sourdough starter if it was regularly fed with whole wheat flour instead of AP flour? Thanks for your great recipes!

Thanks for sharing your positive feedback with us, Katrina. If you like baking with whole grains, we encourage you to save your whole wheat flour for when you make the final bread dough and feed your starter with a white flour (all-purpose) regularly. Otherwise, the starter will begin to ferment faster, which will require more frequent feedings and closer attention and care. It's a better use of your flour and your time to stick with all-purpose flour, if possible, and then bake your recipes with that tasty whole grain flour. Happy baking! Kye@KAF
Hi there, I am on day 2 of the starter. I checked the starter and it was crusted on the outer bit..almost dried. I peeled it off and discarded it (about 1/2). I used a tea towel to cover it. I dampened the towel tonight, do you recommend that?

We recommend covering your start wither plastic wrap or a loose lid. A tea towel will allow too much moisture to escape and your starter will dry out, as you experienced here. For best results, consider using a sourdough crock. (Find one in the shop section of our website by searching for "sourdough crock.") Good luck and happy baking! Kye@KAF
Hi! I love your articles. My starter is taking of VERY quickly, overflowing on the countertop only a few hours after each feeding; even after the first feeding! Should I continue to follow along to the recipe and wait a full day still before the next feeding, or can I accelerate it a bit?

It's a good idea to wait until your starter is at least five days old to ensure it has developed a balance between the bacteria and yeast in the culture. It sounds like your starter has plenty of wild yeast, but it may not have enough bacteria to give your bread the flavor you'd look for in a loaf of sourdough bread. If you need to slow down the fermentation rate of your starter, feed it with cool (or even cold) water. Hang in there, you're starter is almost ready! Kye@KAF
When you weigh out 4 ounces are you supposed to stir it first or just pour it?

Hi Clementine. Just in case any of the liquid has separated and risen to the top of your starter, we'd recommend stirring it before pouring it out so you wind up with a cohesive mixture. Annabelle@KAF
My starter is now 2-1/2 weeks old and doing fantastic. I went to culinary school and we had starters in baking class that were over 20 years old so I learned a lot about starters. As with all cooking and baking the quality of your ingredients is going to determine the quality of your final product. I started with organic - non-gmo flours and that's all I've used in my starter. I don't throw away any. I use it or give it away. I keep mine in a 2 gallon plastic tub with a lid snapped on. I feed it every morning. I also use filtered water. We have a Berkey filter. I would guess that if your starter is not doing well it may be from the flour and/or water you're using. The King Arthur organic flours are fantastic! I use them for everything bread related.
Thank you so much for this clear recipe! I was happy to find one so readily that did not require additional yeast as at the moment I had all the flours but no yeast and was too impatient to wait. One question, I have the discard from day 4 (previous discard has been fed to the chickens and they heartily approve!). The starter has not yet doubled but is bubbly and aromatic. Can I use this for the discard starter recipes or can you not start using the discard until the starter is ready to be refrigerated? Thanks again!

Hi Mel, you're welcome to use your discard from day 4 in recipes that specifically call for unfed starter if it still smells fresh. Store it in the fridge until you're ready to use it in the recipe to ensure it doesn't get too "funky." If it smells off or has been at room temperature for more than a few days, you'll want to toss that discard and use some that's fresher. Good luck and happy baking! Kye@KAF
Hi my starter seems to be doing fine but not risen to double the size yet. I am in day 7 and been discarding and feeding as in the recipe, and baking with the discard. When should I wait until to see if ready to bake a loaf?

Hi Almu! Every starter is different so it's hard to say exactly when it will be ready. Some take 10 days, some take 2 months to fully double after feeding, but so long as it does grow a good amount, it sounds like it's healthy. Try experimenting making bread around the 10 to 14-day mark. Annabelle@KAF
I did this recipe about a year and a half ago and it was wonderful. I even used some of the starter to make sourdough pasta. Although, it wasn't all that "sour." It was earthy, but not that vinegary sour I like. I'm wanting to make it again, but want to know, what did I do wrong? How do I get that magnificent, super sour taste from my starter?

You didn't anything wrong, Keely! Every starter has a different flavor and smell and it changes over time. To bring the acetic acids (vinegar-type acid) to the front line, keeping your starter and doughs in a cool environment is key. Whether you just let your dough rise in the fridge overnight or have a chillier part of the house to keep your starter, the cooler temperatures bring that particular acid up a notch. You can also add Sour Salt (citric acid) or Instant Sourdough Flavor to your breads to enhance the flavor. Happy baking! Annabelle@KAF
I am starting a new batch of starter, having not been able to bake in a while. As usual, the recipe is foolproof. What I would like to know, is can this also be done using the measure for measure flour? I have a relative who was put on a gluten free diet by her doctor and we were wondering if this is possible. Thank you.

Hello! It's so nice that you want to be able to share tasty sourdough with your friend. There's a separate recipe for Gluten-Free Sourdough Starter and we'd recommend using that. You can remove 113g gluten-free flour and 113 water from the Gluten-Free Sandwich Bread and replace them with 226g of ripe, gluten-free starter. We hope this helps! Annabelle@KAF
Hi, I am in the second day of the recipe, and at the start, I used kombucha instead of water. So far the starter is rising but I'm not sure that it's rising as much as it should. Was using kombucha fine will the bread still work out?

Wow, what an interesting experiment! We haven't tried using kombucha in a sourdough starter, so we're not quite sure what you can expect from the next few days. If you switch over to feeding it with water and continue with this for regular maintenance, you might be able to see more "normal" fermentation activity. Feel free to keep us posted about your results. We'd love to hear what happens. Good luck! Kye@KAF