A customized print-friendly version of this recipe is available by clicking the "Print Recipe" button on this page.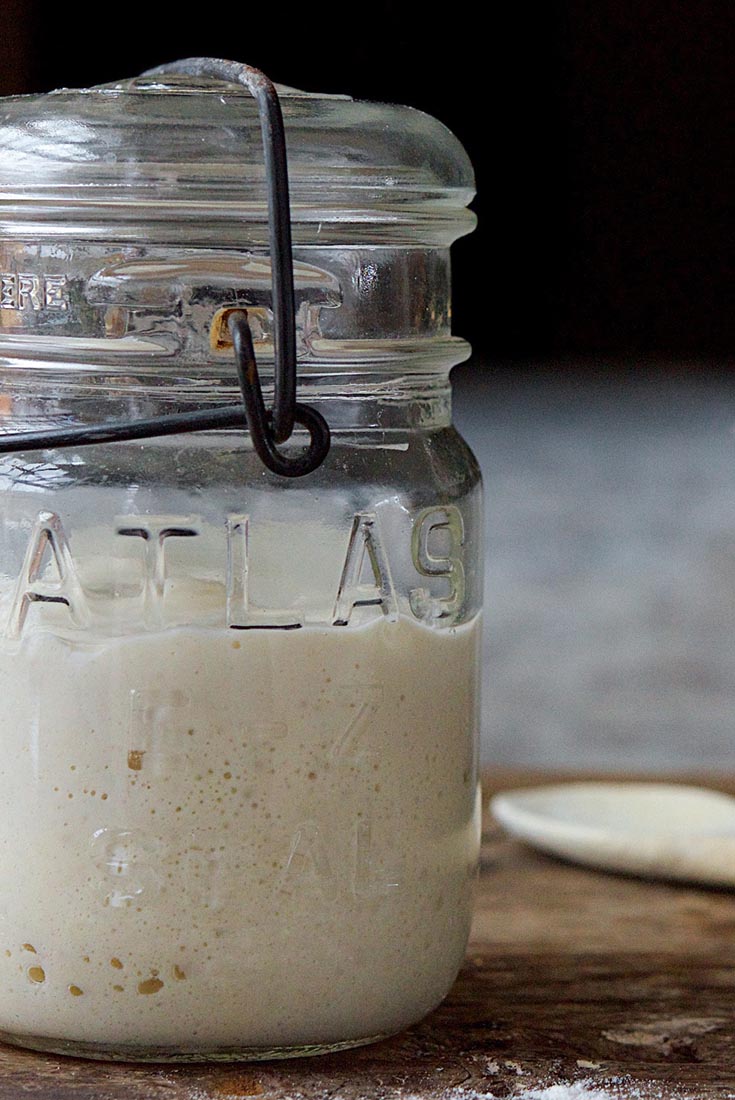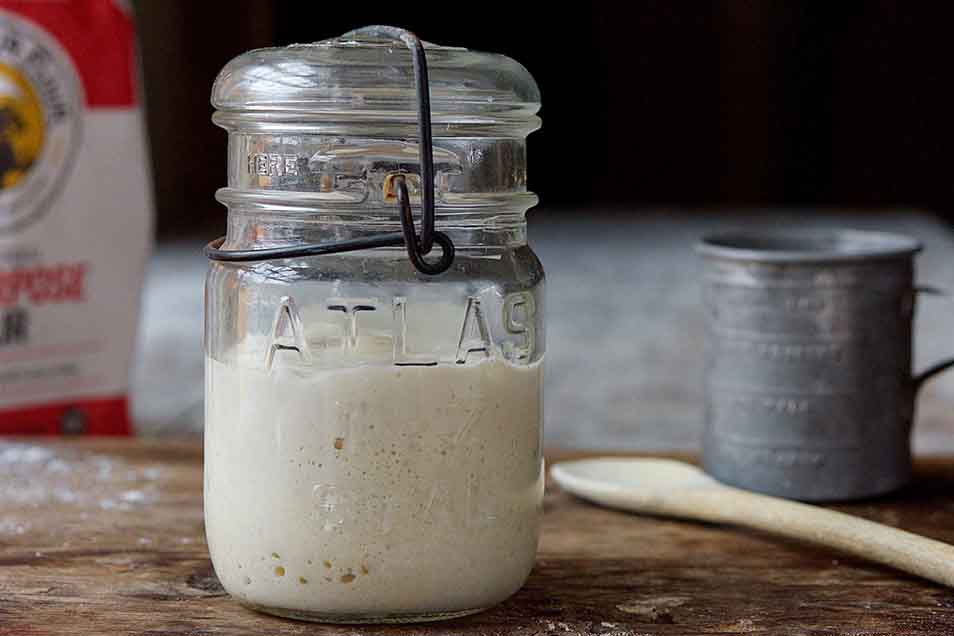 Whether it conjures up a crusty, flavorful loaf of bread or a bubbling crock of flour/water starter, sourdough is a treasured part of many bakers' kitchens. But where does the path to sourdough bread begin? Right in your own kitchen, with your own homemade sourdough starter.

Sourdough baking is as much art as science. The method you'll read here for making sourdough starter isn't an exact match for the one you read on another site, or in a cookbook, or in your great-grandma's diary. But it's the tried-and-true method we use for making starter here at King Arthur Flour, and we feel you'll have success with it.
Ingredients
To begin your starter
1 cup whole rye (pumpernickel) or whole wheat flour
1/2 cup cool non-chlorinated water
Instructions
Day 1: Combine the pumpernickel or whole wheat flour with the cool water in a non-reactive container. Glass, crockery, stainless steel, or food-grade plastic all work fine for this.

Stir everything together thoroughly; make sure there's no dry flour anywhere. Cover the container loosely and let the mixture sit at warm room temperature (about 70°F) for 24 hours. See "tips," below, for advice about growing starters in a cold house.

Day 2: You may see no activity at all in the first 24 hours, or you may see a bit of growth or bubbling. Either way, discard half the starter (4 ounces, about 1/2 cup), and add to the remainder a scant 1 cup King Arthur Unbleached All-Purpose Flour, and 1/2 cup cool water (if your house is warm); or lukewarm water (if it's cold).

Mix well, cover, and let the mixture rest at room temperature for 24 hours.

Day 3: By the third day, you'll likely see some activity — bubbling; a fresh, fruity aroma, and some evidence of expansion. It's now time to begin two feedings daily, as evenly spaced as your schedule allows. For each feeding, weigh out 4 ounces starter; this will be a generous 1/2 cup, once it's thoroughly stirred down. Discard any remaining starter.

Add a scant 1 cup (4 ounces) King Arthur Unbleached All-Purpose Flour, and 1/2 cup water to the 4 ounces starter. Mix the starter, flour, and water, cover, and let the mixture rest at room temperature for approximately 12 hours before repeating.

Day 4: Weigh out 4 ounces starter, and discard any remaining starter. Repeat step #6.
Day 5: Weigh out 4 ounces starter, and discard any remaining starter. Repeat step #6. By the end of day #5, the starter should have at least doubled in volume. You'll see lots of bubbles; there may be some little "rivulets" on the surface, full of finer bubbles. Also, the starter should have a tangy aroma — pleasingly acidic, but not overpowering. If your starter hasn't risen much and isn't showing lots of bubbles, repeat discarding and feeding every 12 hours on day 6, and day 7, if necessary — as long as it takes to create a vigorous (risen, bubbly) starter. Note: see "tips," below.
Once the starter is ready, give it one last feeding. Discard all but 4 ounces (a generous 1/2 cup). Feed as usual. Let the starter rest at room temperature for 6 to 8 hours; it should be active, with bubbles breaking the surface. Hate discarding so much starter? See "tips," below.

Remove however much starter you need for your recipe (no more than 8 ounces, about 1 cup); and transfer the remaining 4 ounces of starter to its permanent home: a crock, jar, or whatever you'd like to store it in long-term. Feed this reserved starter with 1 cup of flour and 1/2 cup water, and let it rest at room temperature for several hours, to get going, before refrigerating it.

Store this starter in the refrigerator, and feed it regularly; we recommend feeding it with a scant 1 cup flour and 1/2 cup water once a week.
Nutrition Information
Serving Size

234g (1 cup)

Servings Per Batch

varies
Amount Per Serving:
Calories

440

Calories from Fat

9

Total Fat

1g

Saturated Fat

0g

Trans Fat

0g

Cholesterol

0mg
Sodium

5mg

Total Carbohydrate

92g

Dietary Fiber

3g

Sugars

0g

Protein

15g
* The nutrition information provided for this recipe is determined by the ESHA Genesis R&D software program. Substituting any ingredients may change the posted nutrition information.
Tips from our bakers
One of our readers offers the following thoughts about the duration of everyday feeding, which we think is great advice: "Conditions vary so widely that 7 days can be far too little. I've learned the key is to watch for a dramatic and consistent rise in the jar — at least doubling between 1 and 4 hours after feeding. This could be 7 days or less after you begin, or it could be three weeks (for me it was 12 to 14 days). I would encourage you to consider tweaking your wording a bit to guide bakers to watch for this phenomenon, rather than watch the calendar." Thanks, Ken!
Why do you need to discard half the starter? It seems so wasteful. Well, it's necessary for three reasons. First, unless you discard, eventually you'll end up with The Sourdough That Ate Milwaukee — too much starter. Second, keeping the starter volume the same helps balance the pH. And third, keeping the volume down offers the yeast more food to eat each time you feed it; it's not fighting with quite so many other little yeast cells to get enough to eat. Also, you don't have to discard it if you don't want to; you can give it to a friend, or use it to bake. There are quite a few recipes on our site using "discard" starter, including sourdough pizza crust, sourdough pretzels, and my all-time favorite waffles.
Why does this starter begin with whole-grain flour? Because the wild yeast that gives sourdough starter its life is more likely to be found in the flora- and fauna-rich environment of a whole-grain flour than in all-purpose flour.
A note about room temperature: the colder the environment, the more slowly your starter will grow. If the normal temperature in your home is below 68°F, we suggest finding a smaller, warmer spot to develop your starter. For instance, try setting the starter atop your water heater, refrigerator, or another appliance that might generate ambient heat. Your turned-off oven — with the light turned on — is also a good choice.
Want to put your starter on hold for the summer, or as you go on vacation? Here's how: Drying your sourdough starter.
Reviews
I have tried and tried again to make sourdough bread with varying success, none of which were especially satisfying; the starter has always been the problem no matter how I've made it. Three days ago I decided to try again using smaller measures, using bread flour, and discarding all but about several tablespoons. I covered it loosely with plastic wrap and stored it this time in my pantry instead of on the cold marble counter top and by the time I fed it the first time after the first day, I had strong bubbling action. I continued discarding most of it and feeding it only about 79g at a time with equal amounts of water and this is the strongest action I've seen. So what has caused the difference in action I'm seeing when I couldn't get this kind of reaction with rye starter or starter made from AP flour?

We're glad your starter is on the up and up! Bread Flour has a higher protein than All-Purpose Flour so it can supply a more vigorous food for your starter. That often means you need additional water to compensate for the extra absorption. Rye starters are notoriously tricky to get going, but a feeding of rye flour once in a while can really perk up a starter and lend a great depth of flavor. If you have any questions, our Baker's Hotline is at the ready at 855-371-BAKE(2253). Happy baking! Annabelle@KAF
Kudos to KAF website and Baker's Helpline! My starter turned out exactly as described in the recipe. I baked with it tonight and my bread was wonderful. I called the Baker's Helpline about halfway through the process of feeding the starter, and they were so helpful and reassuring - I was a little intimidated by the whole process!
Worked exactly as steps said. It's winter here and my home is kept at 68 (kitchen warmer during busy hours, of course). The starter is like a dough when first fed but turns to pancake like consistency as it works it's magic on the counter. I hope it lives a long time in my fridge and I am also gifting some. Thanks!
I'm on my fourth day, having followed your instructions carefully. I live in Connecticut, and it has been cold. I've put the starter in my oven with the light on. It seems pretty warm, so my fear is I've overheated the starter and killed the yeast. The starter is sporadically emitting only large bubbles. I don't see any vigorous activity. Also, its consistency is fluid, but gummy. Is that as it should be? It's difficult to say without more information, so we'd encourage you to give our free Baker's Hotline a call at 855-371-BAKE(2253) to troubleshoot directly with one of our experienced bakers. It may also help to take a peak at the photos included in the blog article linked to this recipe, as well as those available in our "Complete Guide to Sourdough", which you can find through the "Learn" section of our site. Mollie@KAF
Really love the recipe, quick question though on refrigeration after the starter is ready to use. Am I supposed to cover the starter with an airtight lid when refrigerating or do I stay with the cloth and rubber band for the refrigeration portion as well? Thanks!

Hi Hunter, cover your sourdough starter with a loose-fitting lid while it's in the fridge so some gas exchange can occur. You want to prevent it from drying out but not seal it up entirely. A lid slightly ajar or plastic wrap with a hole in it are all good options. Kye@KAF
Fantastic results! Just follow the instructions as written. It worked perfectly. What a thrill when a beautiful loaf rises all on its own with no store-bought yeast--and the flavor was tremendous!
1/08/18: The product arrived looking a bit puny. HOWEVER! I followed the easy to read, included instructions and the starter became a vigorous, bubbly, happy product I've fed three times. Ambient room temp: 68 F. Winter in Gulf Coast Texas region. Placing a rubber band around the starter-holding canister, I can observe how the starter rises, falls, bubbles, and falls during growth. This product provides a nice sour flavor when used--no added yeast product. Try it. Having carefully worked to make my own "wild" starters, this item will jump start your own sour dough baking and will certainly amaze both you and your family as it grows exponentially. Be prepared to feed (use KA "organic" flour--not as refined-- as "organic" has yeast-friendly goodies on the grains) and (bottled only) water frequently when it is out growing. Measure yeast food by scale, keep careful notes, and follow directions included.
there is a dietary issue in this family. Only to eat bread made with sourdough starter. I began mine 2 days ago...so far so good. It's bubbling. Can I use this safely for making bread for the family? Where do a find a recipe to made the bread with only this starter?

Hi Margo, while we can't make any dietary recommendations ourselves, it is definitely possible to leaven a loaf of bread with only sourdough starter, and no commercial yeast. It will take at least 7-10 days for your new starter to be strong and active enough to do so, but once it is, our recipes for Extra Tangy Sourdough Bread and Naturally Leavened Sourdough Bread are both great places to start. Happy baking! Mollie@KAF
It's interesting that though so many people tell King Arthur that the volume measurements result in a ball of dough, rather than pancake batter consistency, King Arthur still (gently) blames the consumer. One cup of flour, regardless of how it's measured, added to one half cup of water results in a dough...not a batter. I really like the King Arthur website, but your interaction with the public comes off snobby.

Our sincere apologies if our responses have not seemed courteous or helpful, Traci. It's our goal to help bakers get on the right track, and your success is of the utmost importance to us. We agree that measuring out 1 cup of whole grain flour by volume and adding 1/2 cup of water can make a thick, sticky dough if it's scooped from the bag or compacted in the cup. We can't emphasize how important it is to either measure by weight using a scale, or fluffing and sprinkling the flour. The way in which the flour is measured can make a notable difference. We hope that you and others who might not be sure if the consistency of their starter is correct to check out the photos in the blog that's linked at the top part of the page. You'll see that a thick batter-like texture is the desired result initially, and it will thin out over time as the starter matures and you continue feeding it. Kindly, Kye@KAF
As instructed, I weighed out 4 oz of flour and 4 oz of water. End result wasn't rock-like, but it was not far from it. Something is amiss with your instructions or my scale.

Thanks for reaching out to us, Bill. We're so sorry to hear this recipe isn't behaving as it should for you. We recommend giving our friendly Baker's Hotline staff a call at 855-371-2253 to troubleshoot where things may have gone awry. Kindly, Annabelle@KAF