A customized print-friendly version of this recipe is available by clicking the "Print Recipe" button on this page.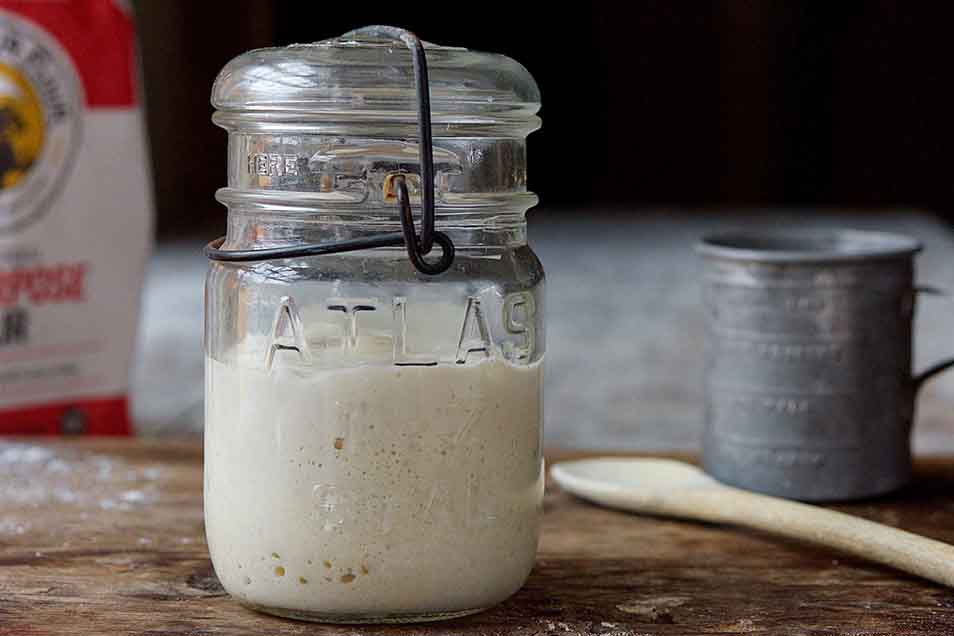 Whether it conjures up a crusty, flavorful loaf of bread or a bubbling crock of flour/water starter, sourdough is a treasured part of many bakers' kitchens. But where does the path to sourdough bread begin? Right in your own kitchen, with your own homemade sourdough starter.

Sourdough baking is as much art as science. The method you'll read here for making sourdough starter isn't an exact match for the one you read on another site, or in a cookbook, or in your great-grandma's diary. But it's the tried-and-true method we use for making starter here at King Arthur Flour, and we feel you'll have success with it.
Ingredients
To begin your starter
1 cup whole rye (pumpernickel) or whole wheat flour
1/2 cup cool water*
*See "tips," below
Instructions
Day 1: Combine the pumpernickel or whole wheat flour with the cool water in a non-reactive container. Glass, crockery, stainless steel, or food-grade plastic all work fine for this. Make sure the container is large enough to hold your starter as it grows; we recommend at least 1-quart capacity.

Stir everything together thoroughly; make sure there's no dry flour anywhere. Cover the container loosely and let the mixture sit at warm room temperature (about 70°F) for 24 hours. See "tips," below, for advice about growing starters in a cold house.

Day 2: You may see no activity at all in the first 24 hours, or you may see a bit of growth or bubbling. Either way, discard half the starter (4 ounces, about 1/2 cup), and add to the remainder a scant 1 cup King Arthur Unbleached All-Purpose Flour, and 1/2 cup cool water (if your house is warm); or lukewarm water (if it's cold).

Mix well, cover, and let the mixture rest at room temperature for 24 hours.

Day 3: By the third day, you'll likely see some activity — bubbling; a fresh, fruity aroma, and some evidence of expansion. It's now time to begin two feedings daily, as evenly spaced as your schedule allows. For each feeding, weigh out 4 ounces starter; this will be a generous 1/2 cup, once it's thoroughly stirred down. Discard any remaining starter.

Add a scant 1 cup (4 ounces) King Arthur Unbleached All-Purpose Flour, and 1/2 cup water to the 4 ounces starter. Mix the starter, flour, and water, cover, and let the mixture rest at room temperature for approximately 12 hours before repeating.

Day 4: Weigh out 4 ounces starter, and discard any remaining starter. Repeat step #6.
Day 5: Weigh out 4 ounces starter, and discard any remaining starter. Repeat step #6. By the end of day #5, the starter should have at least doubled in volume. You'll see lots of bubbles; there may be some little "rivulets" on the surface, full of finer bubbles. Also, the starter should have a tangy aroma — pleasingly acidic, but not overpowering. If your starter hasn't risen much and isn't showing lots of bubbles, repeat discarding and feeding every 12 hours on day 6, and day 7, if necessary — as long as it takes to create a vigorous (risen, bubbly) starter. Note: see "tips," below.
Once the starter is ready, give it one last feeding. Discard all but 4 ounces (a generous 1/2 cup). Feed as usual. Let the starter rest at room temperature for 6 to 8 hours; it should be active, with bubbles breaking the surface. Hate discarding so much starter? See "tips," below.

Remove however much starter you need for your recipe — typically no more than 8 ounces, about 1 cup. If your recipe calls for more than 1 cup of starter, give it a couple of feedings without discarding, until you've made enough for your recipe plus 4 ounces to keep and feed again.

Transfer the remaining 4 ounces of starter to its permanent home: a crock, jar, or whatever you'd like to store it in long-term. Feed this reserved starter with 1 cup of flour and 1/2 cup water, and let it rest at room temperature for several hours, to get going, before covering it. If you're storing starter in a screw-top jar, screw the top on loosely rather than airtight.

Store starter in the refrigerator, and feed it regularly; we recommend feeding it with a scant 1 cup flour and 1/2 cup water once a week.
Nutrition Information
Serving Size

234g (1 cup)

Servings Per Batch

varies
Amount Per Serving:
Calories

440

Calories from Fat

9

Total Fat

1g

Saturated Fat

0g

Trans Fat

0g

Cholesterol

0mg
Sodium

5mg

Total Carbohydrate

92g

Dietary Fiber

3g

Sugars

0g

Protein

15g
* The nutrition information provided for this recipe is determined by the ESHA Genesis R&D software program. Substituting any ingredients may change the posted nutrition information.
Tips from our bakers
Should you use bottled water? Unless your tap water is so heavily treated that you can smell the chemicals, there's no need to use bottled water; tap water is fine.
Why does this starter begin with whole-grain flour? Because the wild yeast that gives sourdough starter its life is more likely to be found in the flora- and fauna-rich environment of a whole-grain flour than in all-purpose flour.
A note about room temperature: the colder the environment, the more slowly your starter will grow. If the normal temperature in your home is below 68°F, we suggest finding a smaller, warmer spot to develop your starter. For instance, try setting the starter atop your water heater, refrigerator, or another appliance that might generate ambient heat. Your turned-off oven — with the light turned on — is also a good choice.
Why do you need to discard half the starter? It seems so wasteful... But unless you discard starter at some point, eventually you'll end up with a very large container of starter. Also, keeping the volume down offers the yeast more food to eat each time you feed it; it's not fighting with quite so many other little yeast cells to get enough to eat. You don't have to actually discard it if you don't want to, either; you can give it to a friend, or use it to bake. There are quite a few recipes on our site using "discard" starter, including pizza crust, pretzels, and waffles, and even chocolate cake.
One of our readers offers the following thoughts about the duration of everyday feeding, which we think is great advice: "Conditions vary so widely that 7 days can be far too little. I've learned the key is to watch for a dramatic and consistent rise in the jar — at least doubling between 1 and 4 hours after feeding. This could be 7 days or less after you begin, or it could be three weeks (for me it was 12 to 14 days). I would encourage you to consider tweaking your wording a bit to guide bakers to watch for this phenomenon, rather than watch the calendar." Thanks, Ken!
Want to put your starter on hold for the summer, or as you go on vacation? Here's how: Drying your sourdough starter.
Reviews
Our sourdough starter is looking good so far! Doing just what the recipe says it will. However, we are at the point (day 6 for us) that we want to use the starter for a loaf! One question: the "Naturally Leavened Sourdough Bread" recipe on your site states that it requires 16 oz (~2 C) of starter and this starter recipe states if a recipe calls for more than ~1 C of starter you should "give it a couple of feedings without discarding." Does that mean that we do one more full day of feedings (two 4 oz each water/flour feedings) without discarding, or can we do two feedings at once (one 8 oz each water/flour feeding) to get the amount we need for that bread recipe? Thanks!

Robyn, that's a great question! We'd suggest doing multiple feedings without discarding in order to bulk up your starter before baking, rather than trying to feed it a double batch of flour and water all at once. A double feeding is a lot for a small amount of yeast to try and eat, and you're better off sticking with the diet that made your starter so vigorous and bubbly to begin with. Happy baking! Kat@KAF
I just baked my first loaf of bread last night and it was excellent! It looked like something you'd get from an artisanal baker. Crunchy crust with big fat holes in the crumb. I used this recipe for the starter, with one alteration. I started with 70 grams of all purpose white flour and 30 grams of whole wheat to 100 grams of water. After that, I fed it per the instructions. 4 oz of starter plus 100 grams of all purpose white and 100 grams of water. I followed this recipe faithfully. For me, it took almost 12 days for the starter to reach the float stage, which I don't think was mentioned in this recipe. I read somewhere else that when it looks bubbly enough, drop a teaspoon of the starter into cold water. If it floats, it's ready to use, if it sinks, it's not. My house is cold though, so I kept the starter in a cabinet next to a wine fridge. The cabinet gets a little warmth from the refrigerator. I wish I could include a photo, I'm so happy with the results!
DOES NOT WORK. DOES NOT RISE. WASTER A WHOLE BAG OF FLOUR. Your recipe doesn't say it may need a day or 2 without feeding for it to develop and "get hungry". It doesn't work. Frustrating. Also your sourdough artisan bread recipe calls for commercial yeast? Yikes man. Disappointed.

Hi Eva. We're sorry to hear that you haven't been successful in getting your starter going. We've found this process to be quite foolproof, but with climate and other variables, sometimes starters can take longer to get established or require more troubleshooting than others. Some of our sourdough bread recipes do call for additional yeast as a bit of insurance for a good rise, but we do have a selection of naturally leavened sourdough bread recipes as well. If you would like to chat further please feel free to reachout to our Baker's Hotline folks at 855-371-BAKE(2253). Kindly, Morgan@KAF
I've used this recipe three times in the past and it makes wonderful bread. I had to start over yesterday and the starter tripled in the first 24 hours, which I find alarming. I can't imagine that it's actually read to use at this point. My question is how do I proceed from here? Do I continue to feed as instructed?

Hi there, Jennifer! We would recommend continuing to feed it as normal and giving the starter more time to get established before baking with it. The faster growth that you saw could have just been due to a warmer location or the temperature of water used. Warm water and a warmer location would speed up fermentation and could result in the reaction you saw. Happy baking! Morgan@KAF
Quick question, can I use bread flour to feed the starter? I'm on day 5 and have been using white whole wheat because that is what I keep on hand. I purchased some bread flour to use once the starter is ready, but am wondering if that would be okay to use to feed as well? Things are looking good so far! I just want to have some whole wheat for baking with as well. Thanks!

Hi Martha! You can feed your starter with Bread Flour if you would like. The Bread Flour will absorb more liquid than the All-Purpose Flour will, so if the starter is too thick or dough-like you'll need to add additional water (probably about a tablespoon). Happy baking! Morgan@KAF
What consistency should it be? I added too much water on one feeding but added an equal part flour in hopes of evening it out. It has been bubbling and smells ok. It is the consistency of thick yogurt.

Hi Linda! That texture sounds good to us. You want to aim for the consistency of thick pancake batter and it sounds like your starter is in that ballpark. Annabelle@KAF
I started making my starter last night - I had the recipe on "volume" which calls for one cup of flour and half a cup of water. It turned into a thick dough and I had difficulty incorporating all the flour as instructed. But I left it to sit overnight all the same. This morning I was reading through the KA Sourdough baking guide (which is excellent) and noticed that on that page, making the starter calls for equal parts flour and water...I came back here and changed the recipe measurements to "ounces" and suddenly the recipe amounts go from 2 parts flour and 1 part water to an even 1:1 ratio. I am going to start again, and I have complete faith that it will work, but I think this inaccuracy could be changed to help future sourdough bakers!

Hi Amity! A cup of our flour weighs between 4 ounces and 4 1/4 ounces, so it's equal parts by weight. We have a feeling that the first batch was thick because flour likes to pack itself into measuring cups giving you too heavy of a cup.

To ensure you're using the right amount, we recommend checking out the "Recipe Success Guide," link next to the ingredients header above. You'll see that either measuring your flour by weight using a scale, or fluffing and sprinkling the flour into your measuring cup are the most accurate ways to measure flour.

If you have any other questions, our free and friendly Baker's Hotline is available at 855-371-BAKE (2253) so always feel free to reach out. Kindly, Annabelle@KAF
The process described in the recipe is fine, but the amount of water was well short of what is required. I found that at a minimum the amount of water and flour should be equal, if not slightly more water than flour. It's much easier if you have a scale - use 100 grams of flour and 125 grams of warm water. Once it's doubling, you can reduce to 100 grams of flour and 100 grams of water.

Adam, you're exactly right that more moisture will result in a faster-moving starter. Given that you're not just in a cool and dry area but also at a high altitude, you made exactly the adjustments we'd recommend for your climate! If you tried that in July in Tampa, though, you'd end up with quite a mess. Ultimately, we're trying to create recipes that can serve as guidelines for home bakers across a wide variety of climates, and encourage those with unusual circumstances to adapt these recipes to their specific needs. We're very happy that you've done so! It serves as a fantastic example to newer bakers who are just beginning to entire the sometimes mysterious world of sourdough. Happy baking! Kat@KAF
I did my best to mess this up but the experts at KA wouldn't let me! I used KA Whole Wheat flour to initiate the recipe, and because some reviewers had recommended bottled or filtered water I decided to use the filtered water from the refrigerator dispenser, heating it up in the microwave to 90 - 100 degrees F. This proved to be a mistake. Other than the usual bubbling and slight expansion on the second day nothing much was happening by Day 5. On Day 6 I decided to experiment, I split my starter into three. To the first I added 4 ounces of KA unbleached APF as the recipe describes. To the second I added the same amount of KA Medium Rye Flour and to the third I added KA Whole Wheat Flour, both for two 12 hour feedings. To emphasize, I added Whole Wheat or Rye flour just twice, and then resumed normal feeding with APF. By Day 7 I was rewarded with just a few surface bubbles on each and no obvious growth. Then the expert at KA came to my rescue. She cautioned that microwaving the filtered water could led to hot spots that could kill any wild yeast. She suggested I use regular tap water, provided it wasn't heavily chlorinated, allowed to come up to room temperature on its own. WOW! What a difference a day makes! On the morning of Day 8 there was significant bubbling and expansion, especially in the one I had previously fed Rye It was bubbly and had essentially doubled in volume. I did another 12 hour feed that evening with APF, and the Rye-fed one doubled in volume again, this time in under 4 hours. There was somewhat less growth in the other two with the original APF one still lagging behind. Feeding on Day 9 resulted again in doubling of the Rye one in under 4 hours, with the Whole Wheat one a close second, and the original a distant third. I think the experts were right, and I had probably killed off most of the wild yeast using my microwaved water. Rejuvenation with Rye and Whole Wheat helped introduce fresh yeast and bacteria but changing to tap water really saved me from myself. I now have one jar of starter in the fridge. I kept the one I had rejuvenated using Rye Flour and discarded the others (not without some regret, but what was I going to do with three bubbling jars of starter?). I have no doubt that the others would have been just fine given another feeding or two. I made my first no-knead sourdough bread (using just 2 ounces of my new starter) and I couldn't be happier with the results. I did reduce the quantities of starter, flour and water in my last feeding to 3 ounces each. It makes it less likely that it will overflow my container, and it reduces the volume of discard. I haven't yet explored the many recommended uses for discarded starter. Other notes: I used a digital scale to weigh everything out. I maintained the starter at a temperature between 70 - 75 degrees throughout. Our cold tap water is COLD at this time of year, about 42 degrees, so it takes a little while to reach room temperature.
I was so excited about making this recipe I could almost smell the bread baking. I started out day one and nothing happened as the recipe said. After 24 hours, I fed it and by the next 12 hours, it was nice and bubbling and had doubled in size. I started feeding it every 12 hours after that. I couldn't feed it accurately every 12 hours, but I got pretty close. It grew pretty fast every feeding. But when I went to feed it the second time on the 4th day, it had collapsed. I still fed it in hopes that it would grow. It didn't by the fifth day and I was crushed. What went wrong? It sometimes gets pretty cold in the house, could that be it? I did continue to use whole wheat flour because I had a lot in hand. But it still grew the first few days. Also, is the lid suppose to be screwed on, off or like half on? I had it half on to off most days. I'm starting the recipe over. I hope it turns out out this time.

Hi Serena, it's somewhat normal for a starter to go through a lull in activity around day 4 to 5. You shouldn't give up hope, even if the starter looks collapsed. Continue to feed it as you normally would, as close to every 12 hours as possible. With your next attempt, try feeding the starter with all-purpose flour for regular feedings (begin with whole wheat flour). Starters sometimes ferment too fast if they're exclusively fed with whole wheat flour, which can be difficult to keep up with. If you continue with regular feedings using all-purpose flour, we think you'll be pulling beautiful homemade sourdough bread out of your oven in no time. Happy baking! Kye@KAF