A customized print-friendly version of this recipe is available by clicking the "Print Recipe" button on this page.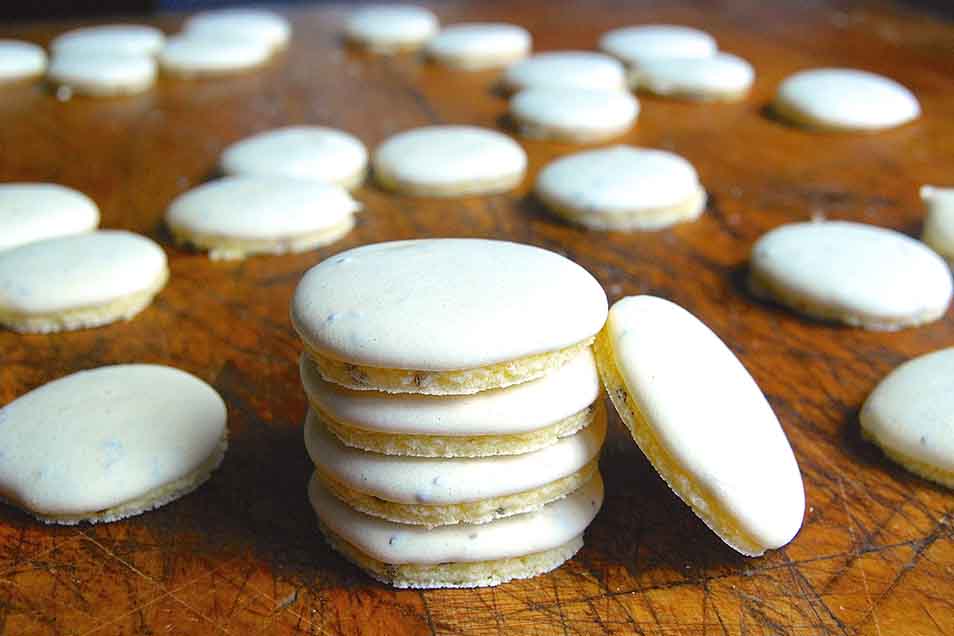 Germany, meet France! One bite into these flat, lighter-than-air crisp cookies (a.k.a. Self-Frosting Anise Drops), and you'll recognize the traditional licorice flavor of holiday springerle. During the long rest period of the scooped cookies, however, some of the egg whites and sugar in the mixture will also have risen to their top surface to form a meringue-type layer that's absolutely reminiscent of French macarons.
Instructions
Beat the eggs until they're frothy. Add the sugar gradually, beating all the while.

Once the sugar has been added, continue to beat the mixture at medium-high speed for 5 minutes.

Whisk together the flour, baking powder, and salt.

Add the dry ingredients to the egg/sugar mixture, and beat at medium speed for 3 minutes.

Stir in the anise seed.

Drop the dough by teaspoonfuls onto well-greased and well-floured or parchment-lined baking sheets, shaping the dough into rounds with a spoon, if necessary.

Let the cookies stand at room temperature, uncovered, for at least 8 hours. Note: food safety common sense prohibits you from nibbling on any unbaked cookie dough while these cookies are "aging."

When you're ready to bake the cookies, preheat the oven to 325°F. Bake them for about 10 minutes, or until they're a creamy just-golden color, not brown, on the bottom.

Remove the cookies from the oven, wait 5 minutes, then loosen them from the parchment/pan with a spatula. Continue to cool the cookies right on the pan.

Yield: about 4 1/2 dozen cookies.
Tips from our bakers
This recipe, formerly known as Self-Frosting Anise Drops, used to call for the eggs and sugar to be beaten for 20 minutes. We tested a 5-minute beat vs. 20 minutes, and found it works just fine.
Reviews
Delightful!! I followed the instructions and was rewarded with perfect, footed, frosted gems. I've tried to make these before and never got the same results: your procedure is really soot on. Thank you for a tasty cookie and a rewarding baking project!
great recipe so professional looking i used 11/2 teaspoons of anise extract instead of seed aged 11 hrs with a fan on them house smells so good taking them to a holiday party packaged in a vintage tin i am so rarely impressed enough with a new internet recipe to add it to my "collection" this is a winner
I've grown up on these cookies since I was a babe. First my great Oma made them, then my Oma, and my mother. I've seen these look so perfect and I've seen them look like a regular cookie.Ive been making them for years.I made a batch yesterday and well I live in FL. Nothing like surprise showers to ruin the look, the didnt cap lol, but it's the taste that matters. I even make a batch where I add vanilla and cut a bit back on anise.Your recipie is the same my family has been making for ages except we beat our egg and sugar longer.For people trying this recipe Dont get frustrated if it does not cap it's not necessarily that you are doing something wrong, but mother nature had its own ideas. This recipie is amazing. You must try these.. Happy Baking
What a neat little cookie! I was looking for something new and a little on the less sweet side to round out my cookie plate this Christmas, and I thought these might do the trick. I was afraid I wouldn't get the nice little feet and frosted top, so I was sure to let them dry out all the way. I let them sit out overnight and then into the next day (in part because that's just the schedule that worked for me.) And that worked! They came out just great - feet, "frosted top", and all! Mine aren't quite as pretty and even as the picture - more like little blobby hats on top, but that can just be a goal for next time. The dough is very sticky, so it's hard to get it smooth if you're just using a spoon (or it was for me anyway.) They have a very nice subtle flavor I really like. Thanks for another great recipe!
I baked these cookies last year with great success. This year the cookies didn't get their " feet" or iced up. I don't know why. Could it be that I should have let them dry longer? I dried them for 10 hrs or could it be that we have much higher humidity this year? I also made a double batch and increased the mixing time to 10minutes rather than 5minutes. I just would like to know whats the magic that the cookies ice up. Bye the way the cookies tasted good they just don't look right. I would appreciate your comment.

These cookies are known for being fairly temperamental, and it's not uncommon for them to work perfectly one day and then fail the next. We think you're exactly on track with your thought about the humidity. The cookies should feel dry to the touch before they go into the oven. If it's particularly humid where you are, it might just take additional time before they're ready. Running a dehumidifier in the room overnight might help, but in the end, we're all at the mercy of the weather to some degree. Happy baking! Kat@KAF
Followed the recipe almost exactly, except I left them out overnight rather than 8 hours and instead of parchment, used silpat sheets. Most had an "iced" look after baking but the tops cracked on almost all the cookies. It really took away from the iced look. Some had feet, others didn't. A few that did not ice and did not crack were flat. It is weird how cookies on the same sheet could look so different! Kind of frustrating to go through all this work and have them cracked, flat and/or no feet. The cookies are also hollow inside the cookies that have feet. How weird!

Weird indeed, Raa! We'd love the chance to talk through the recipe with you, so we encourage you to reach out to our free and friendly Baker's Hotline staff to help troubleshoot at 855-371-BAKE (2253). Kindly, Annabelle@KAF
I have made these cookies before with no problem but today they didn't self ice. I have no idea why. My question is that I have anise extract, can I substitute that for anise seed using same measurements or do I have to lower or raise the amount.

Hi Bernice, sometimes these cookies don't self-ice if they're left to rest in a particularly humid environment (which can happen sometimes simply because of the weather). Bake on cool, dry days if possible and be sure the cookies are left to rest for long enough before baking. As for your question about the extract, you'll want to use about 1 teaspoon or less of the anise extract, depending on the strength of the flavoring you use. The flavors we use made by LorAnn Oils are professional quality, concentrated flavors, so we'd only use about 1/4 teaspoon in this recipe. Feel free to adjust to taste, knowing it's always better to start with less and add more. Happy baking! Kye@KAF
What a lovely recipe! I let my cookies sit for just over 8 hours and yep, they self-iced with no problem. I did find that for my oven, 10 minutes is much too long. I got my third pan of cookies just right at 8 minutes--the first two, at 10 and then 9 minutes, both got color on top, which in my opinion hurts the aesthetics--the little top looks less like icing that way. Anyway, these are light, crisp, and have just the right amount of anise flavor. I will definitely add these to my Christmas baking next year.
I knew I was setting myself up for a flop after reading a few of the reviews where the cookies did not self frost. Especially, since I had to substitute the flour (sorry King Arthur but my husband is gluten free). Also, I live at high altitude in Colorado so baking is always a challenge. I decreased the sugar by 2 TBSP and the baking powder by a spidgen just because that is what you do when you live at 6100 feet. Also, I added 1tsp of anise extract for an extra kick! What a surprise when I opened up the oven and saw that they had self frosted! I love this recipe and it for sure will be a keeper for my Christmas baking!
I was very excited to find this recipe as it's a cookie I ate since I was a child. No bakeries in the Cleveland, Ohio area make them. The recipe went well , an easy recipe that just takes time. However, they did not self ice and get that nice crispy crust on top. I read this blog and thought maybe my oven wasn't hot enough so I raised the temp to 330 for the next batch and still no luck. The taste was right and I like the chewyish consistency. So, I will plug along and keep experimenting. For the last 60 years give or take they've been my holiday favorite. If anyone has any suggestions, I would welcome them. Merry Christmas!