A customized print-friendly version of this recipe is available by clicking the "Print Recipe" button on this page.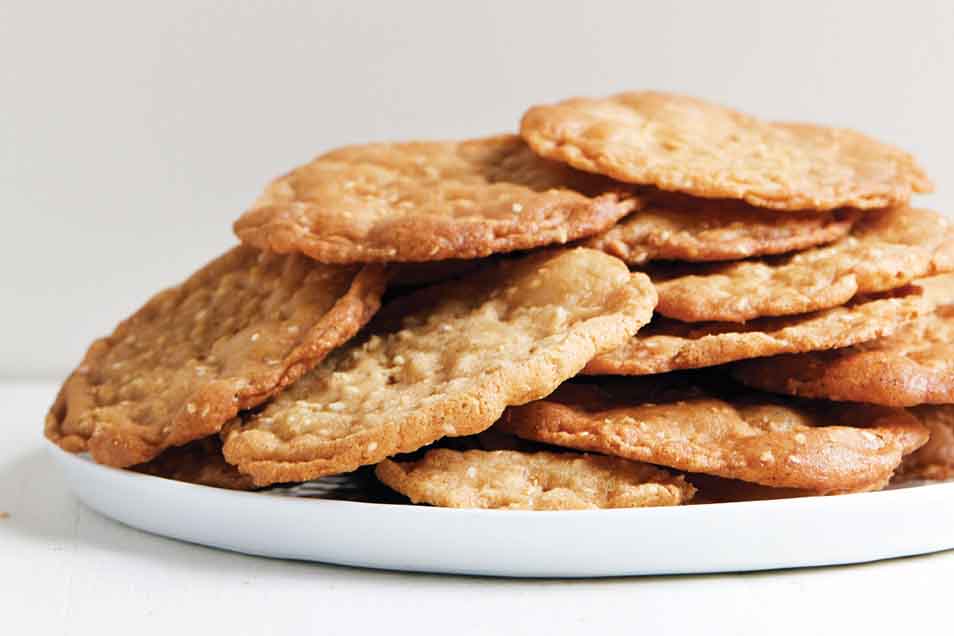 Benne wafers, ethereally light, snapping-crisp sesame cookies, are native to the "low country" of South Carolina. Sesame, a plant with a long history of cultivation, was probably first grown in Africa; West Africans, brought to this country as slaves in the 17th and 18th centuries, called sesame "benne" and legend had it that eating sesame seeds brought good luck. Interestingly, Middle Easterners also called sesame seeds "benne;" there must have been trade routes that brought together buyers from the Middle East with African sellers. Food, as usual, seems to have been a key component in bringing cultures together.

These rich brown cookies, sweet and nutty, have a unique texture: solid and crisp on the bottom, crunchy-light on top.
Ingredients
1/2 cup (8 tablespoons) unsalted butter
1 cup light brown sugar, firmly packed
1/4 teaspoon salt
1/4 teaspoon baking soda
1 teaspoon vanilla extract
1 large egg
1 cup toasted sesame seeds
Instructions
Preheat the oven to 350°F. Line two baking sheets with parchment.

In a large mixing bowl, cream together the butter, sugar, salt, vanilla, baking soda, and egg.

Add the flour and mix until smooth. Stir in the sesame seeds.

Drop the dough by tablespoonfuls (our tablespoon cookie scoop works well here) onto the baking sheets.

Bake the wafers for 8 to 9 minutes, or until they're golden brown.

Remove them from the oven, allow them to cool for 1 minute on the pan, then transfer the wafers to a wire rack to cool completely.

Store in a closed container for up to a week. Freeze for up to a month.
Reviews
Like others, I fell in love with the Benne Wafers in Charleston. The flavors of this recipe are spot on. However, I've baked two separate batches - which spreaded nicely - and they both came out chewy, without the airy crispness I hoped. I used both parchment and silicone mats and the results were the same. I followed recipe with no changes, weighing and measuring ingedients carefully. Any suggestions?

Hi Tamara! There are a couple things that could be causing the chewiness of these wafers. They could just need a little longer in the oven so they have time to get crispier. Our other thought was that because you live in a humid environment it could be that the humidity is causing the wafers to become soft and chewy very quickly. We would suggest storing these in the freezer and only taking out the amount you will be serving so the others stay fresh. We hope this helps! Morgan@KAF
We are going to be moving from Chicago to Charleston so I have been looking for and trying out southern recipes. These Benne Wafers from South Carolina's low country caught my attention right away. I baked them as instructed with the only exception being that I flattened each cookie with damp fingers before placing the tray in the oven. After nine minutes in the oven, I decided they could use slightly more baking time so I added an additional minute and a half. After taking the sheet out of the oven, I let the cookies rest for two or three minutes before transferring them to a cooling rack. We really appreciated the unusual flavor the sesame added. So different from the usual cookie but certainly sweet. They were thin and crispy and just slightly chewy in the center. So glad I made these. Thanks for the recipe.
I was looking for the thin sesame cookies I bought in the market in Jerusalem. The taste of these cookies are delicious but I would have liked them thinner and crisper. See how they are tomorrow when the rest of the family reviews them. I used your measure for measure gluten free flour. Perhaps I should have use baking powder rather than baking soda? I would make them again.

We're so glad that you were able to spark some memories of the cookies you had in Jerusalem, Ellen, and that you were able to make them gluten-free to boot! With the change of flour from all-purpose to Measure for Measure, there's no need to change the leavener from baking soda to baking powder. However, if you're looking for a thinner, more crisp cookie, we would recommend holding back about 2 tablespoons of your flour to create a thinner dough. Gluten-free Measure for Measure Flour will occasionally absorb more liquid than desired. By holding a bit back, the mixture won't be as thick. This will allow for the dough to spread into a very thin cookie. We hope the family approves! Annabelle@KAF
This recipe produced a delicious thin cookie with a crispy edge and chewy middle. So good! I baked them for 9 minutes and left them on the pan for a couple minutes after taking them out of the oven to let them firm up a bit.
Recipe is good but needed to mention chilling dough before baking.

Our experience with this recipe in the test kitchen has shown that chilling the dough isn't necessary for the cookies to turn out well, but it can help control the spread. If you're looking for a thin, crisp cookie, we'd recommend baking the room temperature dough without chilling. If you're looking to make cookies with a bit more height and/or you're baking in a warm environment, a quick chill in the fridge may prove to be beneficial. Kye@KAF
I followed the recipe exactly using 1 tbsp scoop, and it made 24 cookies that did not flatten into wafers. I flattened the second batch hoping they would turn out thin and crisp, but they were still not wafer like. Fortunately, the flavour was superb, and me and my husband loved them. My oldest son did not. They are easy to make, but I wished I knew what I did wrong so that they would be thin and crisp.

It sounds like perhaps there was a bit too much flour added to your dough, which prevents the wafers from spreading during baking. To ensure you're using the right amount, we recommend checking out the "Measuring Standards," link next to the ingredients header above. You'll see that either measuring your flour by weight using a scale, or fluffing and sprinkling the flour into your measuring cup are the best ways to ensure your recipe turns out perfectly next time. Happy baking! Kye@KAF
Just made the 4th batch, except this time added 1 cup of Old Fashioned Quaker Oats, two quick, light shakes of cinnamon and scant 1/4 teaspoon of baking power. Baked about 2 minutes longer. Very, very good either way.
I also creamed the butter and sugar for 15 minutes. It changes the texture of the creamed butter so that it is very light.
As good as the little wafers you can get in South Carolina are, these are way better! I made them much smaller to be the size of the commercial ones. Easy recipe, but hard to keep them around, they are so addictive! I made them for a friend for her 70th birthday and everyone loved them! I used to have them sent from South Carolina to Connecticut where I live, no more! I tried a few other recipes, this one is the best! Only thing missing from recipe is toasting the sesame seeds, and you have to toast them! I did 350 oven, put them on a cookie sheet, and stirred them around every few minutes, took very little time. Watch carefully, they burn easily.
This is an awesome cookie. The first time I came in contact with this little tea cookie was in Charlestown, South Carolina at a Homes And Garden Tour. I researched the recipe and it came up on the King Arthur Flour site. I followed the recipe but used a 1/2 teaspoon measuring spoon. I wanted the cookies to be no larger than a silver dollar because they were to be taken to church for a reception. They were a HIT! I even had a few people ask me for the recipe.