A customized print-friendly version of this recipe is available by clicking the "Print Recipe" button on this page.
Blitz Bread: No-Fuss Focaccia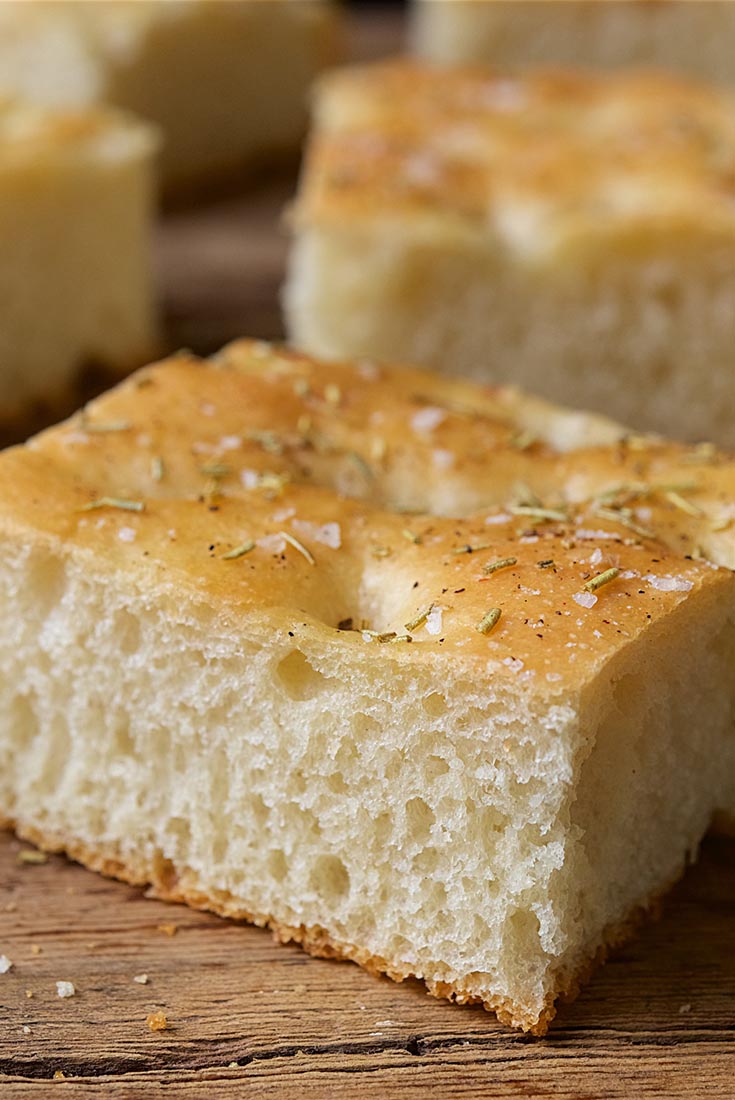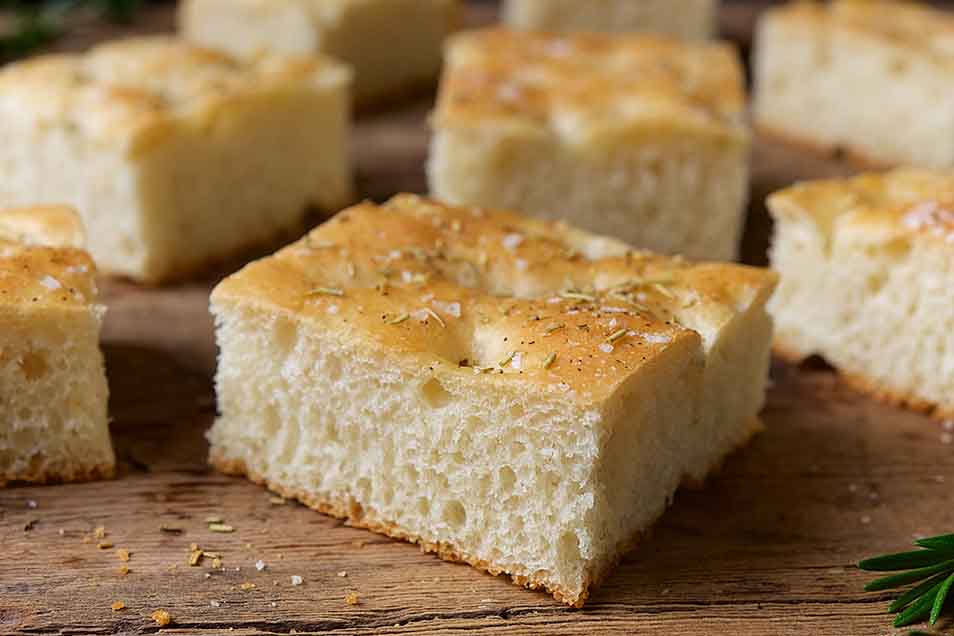 Warm, aromatic yeast bread, hot from the oven - with no kneading, AND in under 2 hours? Here it is. Add Pizza Dough Flavor for over-the-top flavor, and/or cheese powder to turn it into cheese bread.
Instructions
Use non-stick vegetable oil spray to lightly grease a 9" x 13" pan. Drizzle about 2 tablespoons olive oil atop the spray; the spray keeps the bread from sticking, while the olive oil gives the bottom crust great flavor and a bit of crunch.

Combine all of the ingredients, and beat at high speed with an electric mixer for 60 seconds.

Scoop the sticky batter into the prepared pan, cover the pan, and let it rise at room temperature for 60 minutes — it should be quite puffy, but not fragile-looking.

While the dough is rising, preheat the oven to 375°F.

Gently poke the dough all over with your index finger.

Drizzle it lightly with olive oil, and sprinkle with pizza seasoning, and/or the dried herbs of your choice, if desired.

Bake the bread until it's golden brown, 25 to 30 minutes.

Remove it from the oven, wait 5 minutes, then turn it out of the pan onto a rack. Serve warm or at room temperature.
Nutrition Information
Serving Size

70g

Servings Per Batch

12
Amount Per Serving:
Calories

164

Calories from Fat

44

Total Fat

5g

Saturated Fat

1g

Trans Fat

0g

Cholesterol

0g
Sodium

316mg

Total Carbohydrate

26g

Dietary Fiber

1g

Sugars

0g

Protein

4g
* The nutrition information provided for this recipe is determined by the ESHA Genesis R&D software program. Substituting any ingredients may change the posted nutrition information.
Tips from our bakers
To make cheese-stuffed bread, add 1 cup of your favorite cheese, diced or crumbled, to the dough once it's been kneaded for 60 seconds. Crumbled feta, diced cheddar or provolone, and coarsely grated Parmesan are all good choices.
Want to make this bread with whole wheat flour? Substitute 1 1/2 cups (6 ounces) whole wheat flour for 1 1/2 cups of the all-purpose flour.
Reviews
Super easy and delicious with the addition of herbs. Quick question: I'm making this a second time and want to use my stand mixer instead of my hand-held mixer (last time the dough crept up the beaters and into the sockets and it was a mess). Which attachment should I use: dough hook, whisk, or paddle?

We're glad to know you enjoyed this quick and yummy favorite! Most yeast doughs are kneaded with the dough hook, but since this one's just beaten at a high speed for a minute, you'll want to use the paddle attachment here. Cheers to round two! Mollie@KAF
I love this recipe and have used it often. I make a sweet variation that is awesome - replace 1/2 of water with milk, replace olive oil with butter, add 1/2 cup sugar, and 1 - 2 tsp cinnamon, 1 tsp vanilla then sprinkle the top with cinnamon sugar or streusel topping before baking. I have a question, for Thanksgiving, I wanted to try making individual "rolls" using this. Do you think using a muffin tin or some such would work? I figure the baking time would need to reduce a bit if doing this, do you think a lower temperature would be a good idea as well? I may try it tonight, if so, I will update this comment!

We haven't tried a roll variation, Cyndi, but it sounds intriguing. Since this is more like dough than batter, we'd agree that you'd need something like a muffin tin to support the rolls. A muffin or ice cream scoop could help you portion it out. We'd suggest keeping the oven temp the same and simply shortening the bake time. We don't have an exact bake time, so keep a close eye on them and use golden-brown color as a guide. We hope they make for a happy holiday! Mollie@KAF
This is the quickest, most foolproof focaccia around. I didn't have the pizza dough flavoring or the vermont cheese powder so I just added some italian spice, grated grana padana cheese, and chopped up sun dried tomatoes to the dough, then topped it with some more sun dried tomatoes and grana padana cheese, and marinated arthichoke hearts, before I put it into the oven. It came out beautiful, but I did have to cook it the entire 30 minutes. If you do use sundried tomatoes on top you may have to cover it loosely with a bit of foil because the tomatoes do tend to burn.
Used this dough to make a pan pizza and it was delicious! Sprinkled the dough with KA pizza seasoning and then topped it with pepperoni, sun dried tomatoes(in flavored olive oil), burrata and Parmesan cheeses. Had to bake it about 10 minutes more than indicated in the recipe but it came out beautifully. The crust was crunchy on the bottom and had a great chew. Making it again tomorrow-one for my husband and me and one for my friend.
I do not see sugar listed as an ingredient in this recipe. Why are reviews saying they added 2 tablespoons? Please clarify.

Hi Margl, one reviewer wanted their focaccia to develop more flavor, so we suggested adding 2 tablespoons of sugar to the dough. It seems like lots of other bakers have opted to use this variation as well, but it's certainly not necessary. Happy baking! Kye@KAF
I'm not sure what happened on this recipe. I made the recipe to the letter whilst adding the 2T sugar as recommended, and baked it in a medium colored metal 9x13. It was practically glued to the bottom of the pan after baking 25 minutes. Once I finally got it out of the pan, it was definitely yummy, but I had to sacrifice one of the short edges just so I could get a metal spatula underneath it. I never use metal on metal, but no other spatulas would do the trick because they were all bending too much. I wish I had an answer for this one - perhaps the sugar stuck to the metal? I bake in this pan all the time, and oiled it sufficiently, so that doesn't seem likely. Next time I'll try in glass and see if that changes anything. I'm also inclined to try oiled parchment paper instead. Ultimately, I found the recipe to be slightly bland, but the texture was fantastic. I'll probably kick some flavor into the dough next time to bring the flavor up a notch.

Korinda, it sounds like the olive oil that was drizzled into the bottom of the pan might not have been evenly distributed, leaving some parts ungreased. Some of our other focaccia recipes call for spraying the pan with non-stick spray to ensure an easy release, and then drizzling olive oil on top for great crunch and flavor. We've asked our Recipe Team to consider updating this recipe to have similar instructions to prevent sticking in the future. We hope that helps! Kye@KAF
What an easy (no-fuss is so true), tasty, and with great soft-inside-crunchy-outside texture bread! Per Tips, I used 50% all-purpose flour and 50% whole wheat flour. I mixed it manually, which does require some arm strength (as the blog warned). But I mixed the dough for 1 minute only (at high arm speed :) ) and received a great result. I added 1 cup of freshly crumbled feta and pushed down some kalamata olive halves (like one of the reviewers suggested). What a bread! It looks and tastes like it required a lot of time to make. While warm the bread is priceless, but its leftovers should be given credits too. Bread is still delicious and soft for the next few days (in airtight container or wrapped), just loses its outside crunch. Thank you KAF team for another great recipe!
Super easy and tasty. Mine was a little sticky on the bottom after I baked it (in a shiny metal 9X13 for over 30 minutes). I used a bunch of Italian herbs in the dough, added parmesan, and liberally topped with more herbs and roasted garlic on top. Was hard to wait until it was done baking: the smell was divine. Yummy bread, and could not have been simpler. Thank you, KAF!
First time baking this recipe, but certainly won't be the last. WOW!! Used 1.5 cups WW per suggestion-Great! Next time will try the feta cheese in the dough. Good show, PJ!
I've now baked this a few times, and have the recipe in my file, but came back to see updates. This time, I made it using the added sugar (I did 1 1/2 Tbsp.) in the dough, for browning. I also used parchment paper in the pan, and oiled it. On top, before baking, I used a mixture of melted butter, olive oil, and a bit of garlic powder. I then sprinkled that with Penzey's Spices "Sunny Paris", which has shallots, chives, etc. My husband asked why I was trying to drive him crazy (while it baked) because it smelled wonderful, and it's for my Bunco group tonight. Of course, we both had a nice chunk, warm from the oven, with a bit more olive oil/butter/garlic powder brushed on. YUM! So easy.