A customized print-friendly version of this recipe is available by clicking the "Print Recipe" button on this page.
Blitz Bread: No-Fuss Focaccia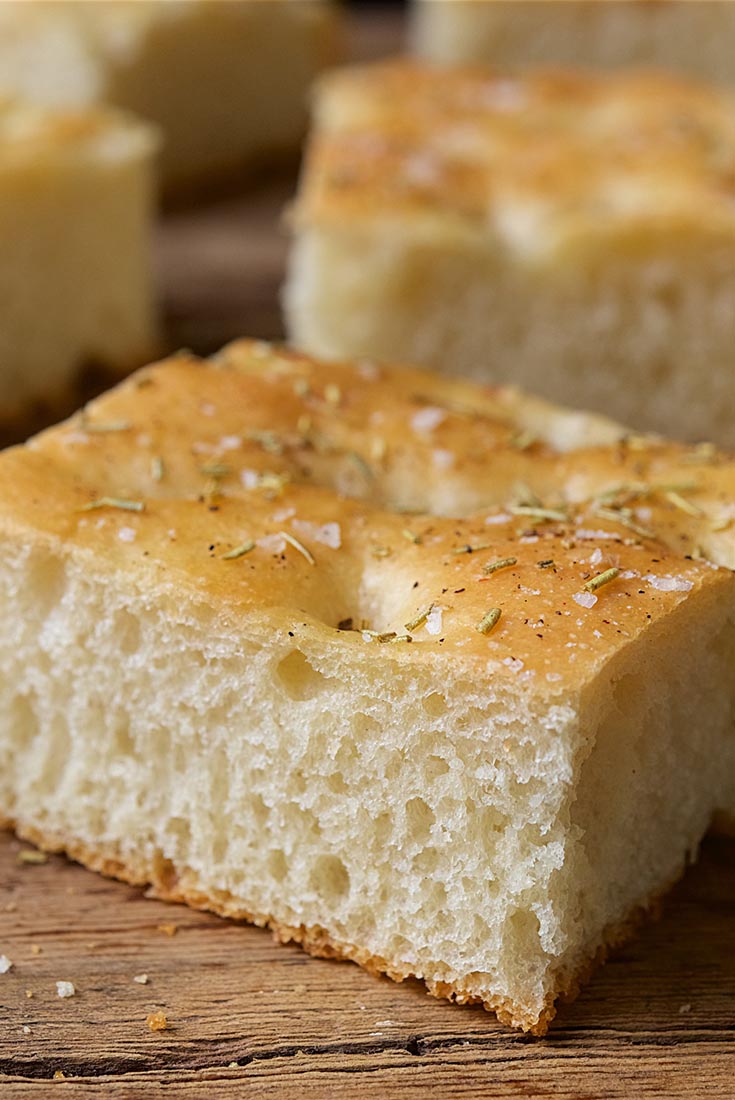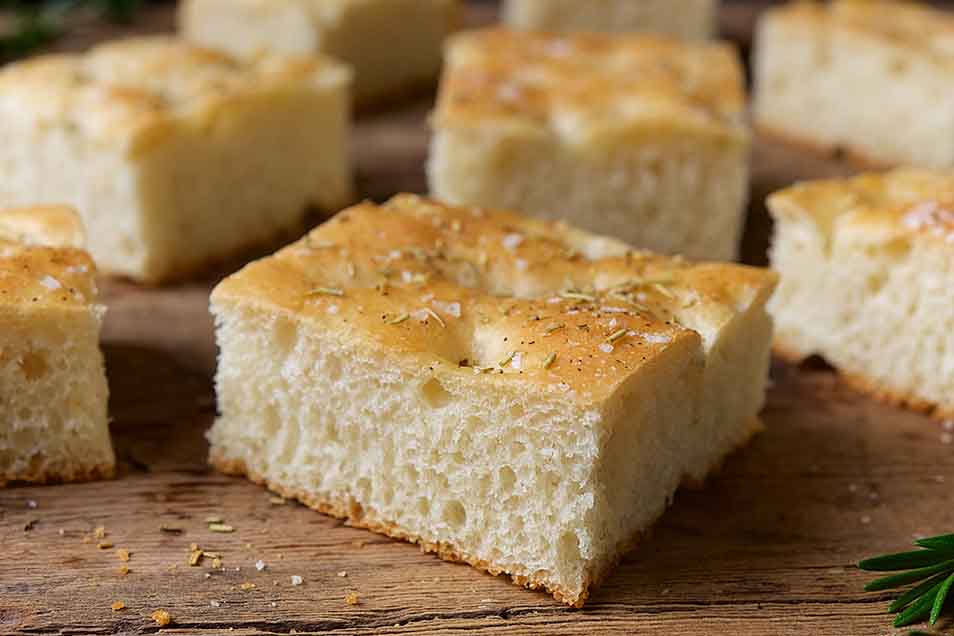 Warm, aromatic yeast bread, hot from the oven - with no kneading, AND in under 2 hours? Here it is. Add Pizza Dough Flavor for over-the-top flavor, and/or cheese powder to turn it into cheese bread.
Instructions
Use non-stick vegetable oil spray to lightly grease a 9" x 13" pan. Drizzle about 2 tablespoons olive oil atop the spray; the spray keeps the bread from sticking, while the olive oil gives the bottom crust great flavor and a bit of crunch.

Combine all of the ingredients, and beat at high speed with an electric mixer for 60 seconds.

Scoop the sticky batter into the prepared pan, cover the pan, and let it rise at room temperature for 60 minutes — it should be quite puffy, but not fragile-looking.

While the dough is rising, preheat the oven to 375°F.

Gently poke the dough all over with your index finger.

Drizzle it lightly with olive oil, and sprinkle with pizza seasoning, and/or the dried herbs of your choice, if desired.

Bake the bread until it's golden brown, 25 to 30 minutes.

Remove it from the oven, wait 5 minutes, then turn it out of the pan onto a rack. Serve warm or at room temperature.
Nutrition Information
Serving Size

70g

Servings Per Batch

12
Amount Per Serving:
Calories

164

Calories from Fat

44

Total Fat

5g

Saturated Fat

1g

Trans Fat

0g

Cholesterol

0g
Sodium

316mg

Total Carbohydrate

26g

Dietary Fiber

1g

Sugars

0g

Protein

4g
* The nutrition information provided for this recipe is determined by the ESHA Genesis R&D software program. Substituting any ingredients may change the posted nutrition information.
Tips from our bakers
To make cheese-stuffed bread, add 1 cup of your favorite cheese, diced or crumbled, to the dough once it's been kneaded for 60 seconds. Crumbled feta, diced cheddar or provolone, and coarsely grated Parmesan are all good choices.
Want to make this bread with whole wheat flour? Substitute 1 1/2 cups (6 ounces) whole wheat flour for 1 1/2 cups of the all-purpose flour.
Reviews
Achieved excellent success with this recipe the first time I tried it. Followed the directions exactly as written, except did not drizzle lightly with olive oil (Step 6) because I have found from other focaccia recipes that the oil in the recipe and the oil on the pan bottom is more than enough oil for this bread. Also sprinkled a small amount of sea salt along with the rosemary over the dough prior to baking. An added plus to this recipe is the short amount of time to obtain the finished product.
Excellent and easy! I did add grated triple cheddar and a bit of seasoning as noted in the add in section. I baked it Sunday afternoon and was tempted to eat only bread for dinner. It's been breakfast and snacks since then. Which leads me to a question, while it was good this morning, I still have about a third of it left. Do you have a suggestion for reducing the size of the recipe? I'm sure I'll be baking it again, but when it's just two of us, I'd rather bake a smaller size and more often. Thank you!

We think a half batch will be just the ticket, Lottie! You can also freeze the fully baked and cooled bread for up to three months if you're looking to have a bit on hand. Happy baking! Annabelle@KAF
A quick, easy and delicious bread! I have made it many times with different herb blends and it's always amazing. I have occasionally put thinly sliced red onions on the top and a sprinkle of Parmesan. Easy enough to make frequently and people are always pleased when I bring it as part of a meal.
Yesterday was the first time I ever made focaccia, & it turned out quite well. No add-ins, but did top with a drizzle of extra-virgin olive oil, flaked Maldon sea salt, & dried oregano before baking. At first I was concerned when, after 30 minutes the crust was firm, but certainly not "golden brown". Took an additional 10 minutes for a total of 40 for that, & I was afraid the interior would be dry as dust. But no fears were necessary, it was tender & delicious, & was perfect for dunking into the delicious sauce of my Greek "Shrimp Saganaki". Will definitely make this again, & look forward to add-ins like feta, Kalamata olives, sun-dried tomatoes, etc., etc.
This is wonderful. I used ounces for the flour...I also added cup of shredded colby jack cheese and when I put the holes in top and sprinkled with seasonings and oil, I added some romano/parmesian shredded cheese. Then baked about 26 minutes. It was so easy to make and tasted like a bakery had made it. It will become my go to bread recipe. Both bottom and top crust was crunchy! Thanks!
A quick, easy and delicious bread! I have made it many times with different herb blends and it's always amazing. I have occasionally put thinly sliced red onions on the top and a sprinkle of Parmesan. Easy enough to make frequently and people are always pleased when I bring it as part of a meal.
I made mine with none of the add-ins and it still came out tasty (albeit weird looking.) My one point of confusion is the "scoop out onto the pan" part. Were we supposed to spread the dough out to fill the entire pan, or just let it fill out however much space it would naturally once it rises?

Scoop or pour the dough into the pan and then use oiled fingers to nudge it out into the corners. It'll take a little bit of adjusting to get the dough to fill the pan completely, but it'll also expand slightly as it rises. Do your best to help the dough cover the pan and then let it rise. We hope that helps, and happy baking! Kye@KAF
Fantastic recipe! King Arthur: you don't specify what type of 9x13. I used a stainless steel roasting pan and I didn't get a very browned bottom crust. Would a glass 9x13 be better for browning? Or maybe I should have baked it just a few more minutes? It's tricky to check the bottom when it's raging hot but I will next time. This recipe is a keeper. Thank you

We're glad this was such a hit, Beth! The bottom of this crust doesn't brown a whole lot, but it may help to let your oven preheat for a good 30 minutes to ensure it's all the way up to temp when you put the bread in. If you have a baking stone in your oven, you could put the pan on top of that for a more even heat distribution. We wouldn't recommend using glass just because that tends to bake and dry out the edges before the center has a chance to bake. Annabelle@KAF
This is the easiest bread dough I have ever made! I used this recipe to make a pizza for my family last night and it turned out perfectly! I added the sauce and cheese before baking. It was simple and delicious! I will make this again, maybe trying different toppings/seasoning.