A customized print-friendly version of this recipe is available by clicking the "Print Recipe" button on this page.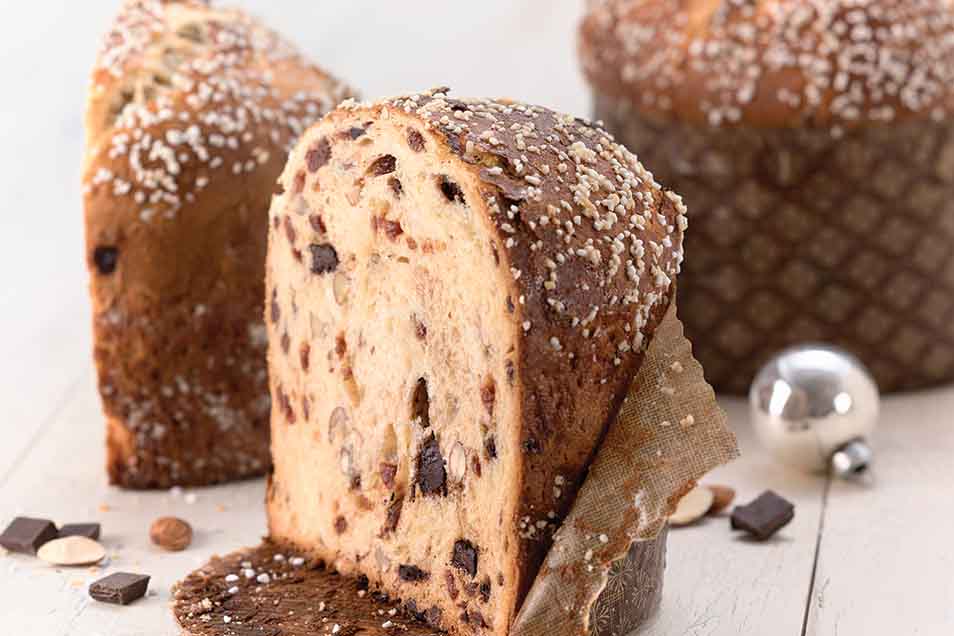 Sweet cherries, rich chocolate, and crunchy almonds take panettone to new heights.
Ingredients
Dough
all of the starter
6 tablespoons unsalted butter
2 large eggs
1/4 cup lukewarm water
1 teaspoon vanilla extract
1/2 teaspoon almond extract
1/4 cup potato flour
3 tablespoons granulated sugar
1 1/4 teaspoons salt
2 teaspoons instant yeast
1 cup dried cherries, chopped
1 cup toasted almonds, chopped
1/2 cup chocolate chips or chunks
2 tablespoons pearl or white sparkling sugar (optional, to top loaves)
Instructions
Combine the starter ingredients in a small mixing bowl, cover, and allow to rest overnight (8 to 12 hours) at room temperature. If using a bread machine, do this right in the bucket.

Combine the starter with the remaining dough ingredients, excluding the cherries, almonds, chocolate chips, and pearl or sparkling sugar; mix, then knead to make a soft, shiny, slightly sticky dough. This dough is difficult to fully develop by hand; we strongly recommend using a mixer or bread machine to knead the dough. Knead in the fruit, nuts, and chocolate chips at the end.

Allow the dough to rise, covered, for 1 to 1 1/2 hours, or till it's puffy though not necessarily doubled in bulk.

Gently deflate the dough, and form it into a ball. Place it in a panettone pan (paper or metal); or other straight-sided, tall, 1 1/2 to 2 quart pan. Cover the pan and let the dough rise till the middle is crested over the rim of the pan, about 1 1/2 to 2 hours.

Toward the end of the rising time, move your oven rack to a low position and preheat the oven to 350°F.

Spritz the dough with water, then sprinkle with the pearl or sparkling sugar. If using a paper panettone pan, place the bread on a baking sheet

Bake the bread for 55 to 65 minutes; check the bread after about 45 minutes, tenting it with foil if it's browning too quickly. The loaf is fully baked when an instant-read thermometer inserted into the center registers 190°F or above.

Remove the bread from the oven, and cool it on a rack. If baked in a metal pan, cool for 10 minutes before turning out onto a rack. If baked in a paper pan, cool completely right in the pan.

Yield: 1 large loaf.
Tips from our bakers
Baker's tip: To take the bread's temperature, you don't have to poke even a small hole in its pretty top. Turn the bread out of the pan, and insert the thermometer through the bottom of the loaf. Or, if you're using a paper pan, push the thermometer probe right through the paper. It'll leave a small, barely noticeable hole.
Reviews
Good recipe. First time making panettone. I weigh ingredients. No issues with dough. Used my own starter. Used white chocolate. Used paper tray. Had to tent at 40 min and cook 15min more after that. Nice flavor.
I couldn't sleep the night after I baked this. The house smelled so good I wanted to EAT the AIR. And the panettone too. But I had to wait as this was a Christmas gift to my husband. This was AMAZING. And I never imagined I'd be baking panettone. Great recipe and instructions.
I enjoyed making panettone for the first time at Christmas. This bread baked up beautifully in a KAF panettone paper, had a nice texture, and looked really pretty. I just wasn't a huge fan of the chocolate-dried cherry combo. Next, I turned to the Overnight Panettone recipe, and I loved that!
Both recipes begin with an overnight starter that will add a distinctive flavor to the dough. We're glad you found a recipe with the add-in's (dried fruit instead of cherry/chocolate/almonds) that are pleasing to your palate. Happy Baking - Irene@KAF
This is a fantastic recipe. Followed directions exactly for family to critique and have made a second batch to give a gifts! Using the stand mixer makes it so easy!!! Thank You for your tested great recipes.
This bread rose beautifully in my 2 qt cast iron pan that had been covered in parchment. Because this was my first time making Panettone, I found the instructions to be helpful in that the dough should be sticky, to possibly cover the bread with foil after 45 minutes which I did, and that the instant-read thermometer should be 190°F when the bread is done baking. Previously, I've eaten Panettone in Italy and the bread and crust is especially soft. Knowing that it's difficult for the home baker to re-produce the commercial product, I wasn't too disappointed when my Panettone had a sturdy crust. Admittedly, I did substitute a couple items. Instead of the potato flour, I subbed a mashed potato and instead of the vanilla and almond extract, I subbed the KAF product, Fiori di Sicilia. Although the taste of the bread was flavorful, I'm not sure that I'll make this recipe again as I'm looking for something softer.
I really liked this recipe. I did not remember to get cherries, so I added extra chocolate and almonds and it was very good. I doubled it without any problem, and used the KAF mini paper pans--I got about 38 out of it, but they were a little small, so next time I will do fewer. I did not use a bread machine or a mixer, and had no problems, just used my hand as a dough hook to mix, then kneaded for about 15 minutes. I brushed the loaves with melted butter as they came out of the oven, then sprinkled with KAF sparkling sugar--beautiful!
Great recipe. It was my first attempt at panettone. I used one cup sourdough mother instead of the starter, to save time. I used Fiori di Sicilia (available from KAF) instead of the almond extract. The result was as good or better than any panettone I've ever had, and there was general agreement by all those that tasted it that it was good enough to serve to company. I'm going to use this recipe, again, with more traditional dried fruit. But, the basic dough will be my starting place for panettone from here on. I served some to a friend - he didn't believe I'd made it. The panettone papers (again, available at KAF) make it look so professional, he didn't believe it was homemade. I showed him the remaining 11 unused panettone papers and then he believed me. It should be noted that the dough is very shaggy based on the recipe. Don't fight it - the final product will be fine.
This comes very close to the recipe I have been using for years which comes from the Italian Talismano by way of Carol Field's book The Italian Baker. I have not tried your recipe yet but probably will because I usually make several batches. Roberta K.
Gorgeous panettone recipe!
I made two batches at the same time. One batch I did in the bread machine and the other in the Kitchen Aid mixer. The one in the bread machine melted some of the chips which turned the dough a light brown. The one in the mixer remained white. The dough from the mixer rose more in the form then the one from the bread machine. When baked they both rose to the same level and look wonderful. The house smelled wonderful too. I only gave this 4 stars since I have not sampled them yet. I would definitely make them again now that I have gotten over the "trying a new recipe" fear.