A customized print-friendly version of this recipe is available by clicking the "Print Recipe" button on this page.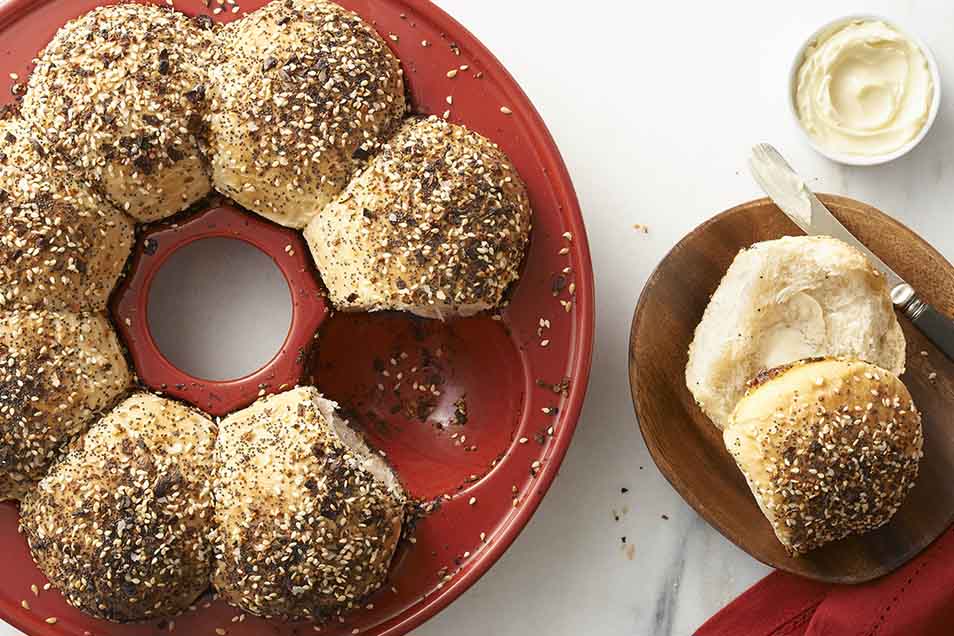 Chewy with sourdough undertones and crunchy Everything Bagel Topping, these bagel-inspired rolls are a versatile addition to any baker's repertoire. Whether for sandwiches, appetizers, or a dinner bread basket, they're a flavorful upgrade from an ordinary roll.
Instructions
Weigh your flour; you'll find its weight by toggling to "ounces" at the top of the ingredient section above. Or measure it by gently spooning it into a cup, then sweeping off any excess.

Combine all the dough ingredients and mix and knead them together — by hand, mixer or bread machine — to make a somewhat tacky, elastic dough; it should be relatively smooth and soft.

Allow the dough to rise, covered, until almost doubled, about 60 to 90 minutes.

Gently deflate the dough on a lightly floured work surface, divide it into eight equal pieces, and shape the pieces into tight balls.

Place the balls in a lightly-greased large Dutch oven or other oven-safe, lidded pan; we recommend our Emile Henry crown bread pan.

Cover the rolls with a lightly greased piece of plastic wrap or the pan's lid, and let them rise for about 1 hour until they're puffy but not necessarily doubled in size.

About 30 minutes into the rise, preheat the oven to 500°F.

Just before baking, whisk together the malt powder and water and brush it onto the risen rolls.

Sprinkle the Everything Bagel Topping onto the rolls and cover the pan with its lid.

Put the rolls into the oven, reduce the temperature to 450°, and bake the rolls for 20 to 25 minutes.

Remove the lid from the pan and continue to bake the rolls about 5 minutes longer, until they're a deep golden brown and a digital thermometer inserted into the center of one reads at least 205°F. Note: You may need to bake the rolls for an additional 5 to 10 minutes if using a Dutch oven.

Remove the rolls from the oven and cool them on a rack. Alternatively, for crustier rolls, open the oven door and allow the uncovered rolls to cool in the turned-off, open-door oven.

Store leftover rolls in plastic at room temperature for up to three days. Freeze the rolls, wrapped airtight, for up to three months.
Reviews
Made these today in the KA bun pans. They weren't as tall as I thought they should have been, but with a nice crisp crust. They weighed about 2.65 ounces each. I was wondering about increasing the ingredients so they would be more like 3.25 ounces. How would I increase the recipe by half? Would I increase all of the ingredients by half, or just the flour, water, and salt? Would the starter and yeast stay the same? By the way, I greased the cups, I don't think I needed to, those bun pans are so slick everything falls out of them!

Hi Barbara! To increase the recipe by a 1/2, you'd want to multiply each ingredient by 1 1/2. Feel free to skip spraying your pan since it sounds like it's really efficient! Annabelle@KAF
Excellent! Great flavor and chew. Soft and moist crumb. Dough seems to be versatile. I used 150 grams unfed all-purpose flour starter and 77 grams rye flour starter. I had a mix of bread flour and unbleached all-purpose flour in the dough. Because my starter was unfed I used a bit more yeast. I also added 2 tbsp vital wheat gluten. The first rise was almost 2 hours. I divided the dough into 7 135-gram portions and shaped them into hoagie rolls. The second rise was 1 1/4 hours. I rose the shaped rolls in a covered enamelware roasting pan and baked them in the same pan, with the cover on, for 15 minutes, then removed the cover and baked for an additional 5 minutes until they were nicely browned, crisp, and at 210°. Cooling in the oven with the door open ensured that the crust didn't soften.
This is the perfect sourdough roll! I made 16 because there were so many comments about them being so big. Although I was distracted and they over-proofed, they actually did spring back up once they were in the oven, which I set at 450°, following someone else's suggestion and papered the bottom of the Dutch ovens, greased the sides though. They still had a nice crunchy crust. I did not use the malt/brown sugar/seeds and they were beautifully browned without it. I did follow Josh's suggestions with the potato flakes and white whole wheat because I really like using potato flakes in all my yeast doughs. They had a hint of sourness, which was just right. Since I messed up the first batch I made a second batch using two KA 8" cake pans, with the 8" parchment papers, greased the sides and covered them lightly with aluminum foil once they were in the oven. I think I will use those from now on instead of the Dutch ovens. Still beautifully browned, crunchy and just the right size for a dinner roll. I would like to use my KA hamburger bun pans for this recipe. So dividing the dough into 12 for two pans, would that work?

You sure could use your Hamburger Bun Pan for these rolls if you would like, Barbara! They might bake a little faster because there will be more airflow, so you'll want to keep an eye on them, maybe check 5 minutes sooner. Happy baking! Morgan@KAF
Adding to my review, 3 days later, still an awesome roll! We love the "spring", the bounce back after the bite. Fun! I made 10 as I mentioned in my oval SurLaTable cast iron with lid, and wondering if 16 would work because these are so big! And if necessary, would it work if a few had to stack in between bottom layer?

Hi Julianne! You could definitely make 16 smaller rolls. We aren't sure about stacking them — our concern is that they'll rise up so high they hit the lid and then collapse. It may work better to just bake the last couple of rolls on a sheet pan or even in ramekins covered with a tin foil tent. Annabelle@KAF
Where have these been all my life! Fed my sour dough last night and this morning decided to give this recipe a try using my cast iron Dutch I've. They are EXCELLENT! And gorgeous! My Dutch oven is oval and I made 10 rolls. Followed someone's advice and used parchment in bottom. Happy I did because the brown sugar drips a bit - made a beautiful chewy crust. Never, have I ever had rolls this awesome! Really proud of these. I had to use brown sugar in the rolls also. I only had the flakes and decided they were different from what the recipe requested. Used the Harvest Blend on top. Really pretty rolls! Thank you KAF!
This recipe works really well for using up the sourdough starter. I used poppyseeds in my buns and they turned out . La crueset pot works well with them. Overall, I just used the temperature 450 for the whole time. Highly recommend!
Really good. I doubled the recipe. Didn't have enough oven proof dishes with lids, so I used one glass pan and covered it with foil. This worked as well as the dishes with lids. I did follow other reviewers suggestions and made the rolls a bit smaller. They turned out to be a perfect dinner roll size and I got 30 rolls out of 2 recipes.
Would have been 5 stars except no where in the recipe does it say to grease the crown bread pan before the second rise in the pan. My instinct told me to grease it, but I figured maybe I should follow a new recipe in a new pan before I riffed on it. Well, they baked up just like the picture, but they were glued to the pan, had to carefully use a knife to get them out without tearing them to shreds.
I agree with the other reviewers, these rolls were sensational. I made my own everything bagels topping, but did splurge on the malt powder. I also used a vake pan and it fit perfectly, though i should have greased the pan. Yes the rolls were big, but then they were perfect for leftover sandwiches the next day.
These rolls are the best! I made these as a trial run for Thanksgiving and will definitely make them to go with our turkey. The most difficult part is finding the right pan to bake them in. I made mine into 16 2 oz rolls, which is a perfect size for us. I used my Emile Henry long baker for half of the rolls and a regular casserole dish for the other 8. The ones in the EH baker were puffier because it's a taller pan so they had more room to rise in the oven. They were all equally tasty. I used the malt powder and the Everything Bagel topping stuck just right. I used AP flour instead of bread flour. Delicious, especially right out of the oven. Definitely a keeper.