A customized print-friendly version of this recipe is available by clicking the "Print Recipe" button on this page.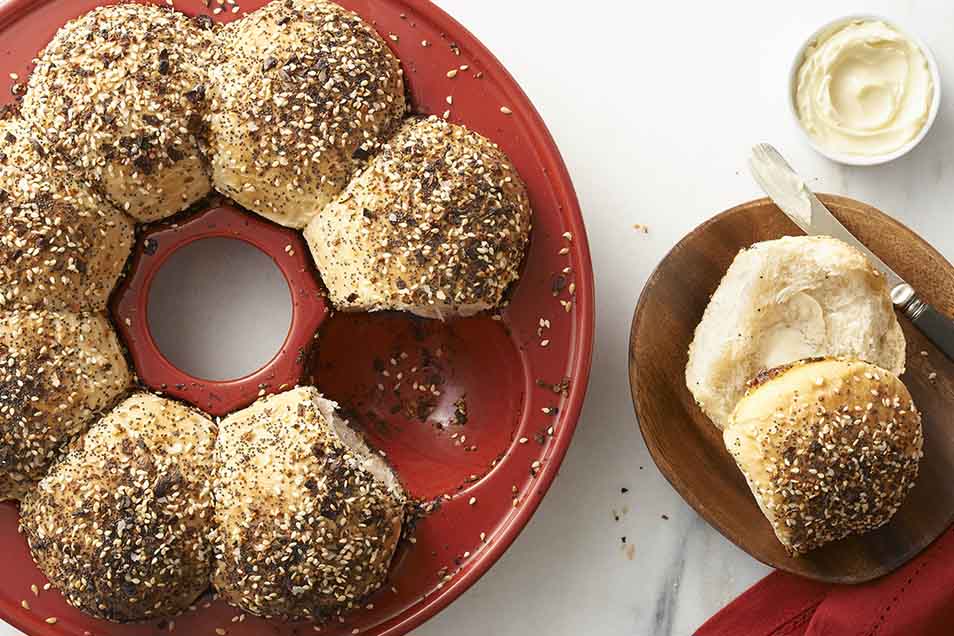 Chewy with sourdough undertones and crunchy Everything Bagel Topping, these bagel-inspired rolls are a versatile addition to any baker's repertoire. Whether for sandwiches, appetizers, or a dinner bread basket, they're a flavorful upgrade from an ordinary roll.
Instructions
Weigh your flour; you'll find its weight by toggling to "ounces" at the top of the ingredient section above. Or measure it by gently spooning it into a cup, then sweeping off any excess.

Combine all the dough ingredients and mix and knead them together — by hand, mixer or bread machine — to make a somewhat tacky, elastic dough; it should be relatively smooth and soft.

Allow the dough to rise, covered, until almost doubled, about 60 to 90 minutes.

Gently deflate the dough on a lightly floured work surface, divide it into eight equal pieces, and shape the pieces into tight balls.

Place the balls in a large Dutch oven or other oven-safe, lidded pan; we recommend our Emile Henry crown bread pan.

Cover the rolls with a lightly greased piece of plastic wrap or the pan's lid, and let them rise for about 1 hour until they're puffy but not necessarily doubled in size.

About 30 minutes into the rise, preheat the oven to 500°F.

Just before baking, whisk together the malt powder and water and brush it onto the risen rolls.

Sprinkle the Everything Bagel Topping onto the rolls and cover the pan with its lid.

Put the rolls into the oven, reduce the temperature to 450°, and bake the rolls for 20 to 25 minutes.

Remove the lid from the pan and continue to bake the rolls about 5 minutes longer, until they're a deep golden brown and a digital thermometer inserted into the center of one reads at least 205°F. Note: You may need to bake the rolls for an additional 5 to 10 minutes if using a Dutch oven.

Remove the rolls from the oven and cool them on a rack. Alternatively, for crustier rolls, open the oven door and allow the uncovered rolls to cool in the turned-off, open-door oven.

Store leftover rolls in plastic at room temperature for up to three days. Freeze the rolls, wrapped airtight, for up to three months.
Reviews
I made these rolls yesterday, but I decided to leave out the yeast and just go with my sourdough starter. What did I have to lose, right? Obviously, the dough took much longer than 90 minutes to double in volume...it was more like 4 hours. Then I divided into 12 balls (I think 16 would actually yield a perfectly-sized dinner roll) and let those rise for another hour. I don't have a dutch oven, so I improvised. I used a cake pan placed inside a turkey roasting pan that has a lid. I did the first 20 minutes lid on, and an additional 20 minutes or so with the lid off, to brown. I ate THREE of them fresh out of the oven. They were crunchy on the outside, deliciously soft and chewy on the inside. The only thing I'd do differently next time is to paint the top with a little egg yolk to get a shine on there...I think they'd look prettier.
These roles tasted fine but they are huge. Way too large to serve as a dinner roll. Also when made following the recipe, I did not think They had enough of sourdough taste.

Sandra, we call for dividing the dough into eight pieces so that it'll fit nicely into the crown bread pan. If you're not using this pan, feel free to divide the dough into 12 or even 16 pieces, depending on how large you want the final rolls to be.

If you're looking for a more sour flavor, let the shaped rolls rise in the fridge overnight. The cool temperatures coax a more sour flavor from the dough. The next day, take the rolls out of the fridge while the oven preheats and then bake the next day, reducing the baking time by a few minutes to account for the smaller rolls. This should help you get just the results you're looking for from this recipe next time. Kye@KAF
these rolls are the best especially with an everything bagel topping! so easy to do, although next time i think i will do as the previous review said, leave them in the frig overnite for a more developed sourdough flavor. highly recommend!!
I think I'm just going to make these from now on, why mess with any other breads when this is so good. I used the max amount of water and had to add an additional tablespoon-ish of flour, and I used brown sugar instead of the malt. When measuring the brown sugar into the bowl a little more than what was called for came out (about double, oops), but they turned out great anyways, although a touch sweeter. Also, after the first rise I shaped it into a round again and left it overnight in the refrigerator to develop a more sour flavor. Took it out the next morning, divided the dough into little rounds and let it sit in the dutch oven for an hour, and then popped it in the oven for 20 minutes cover on and 15 minutes cover off. So easy and so satisfying. Thanks Bakers!!
These rolls are delicious and easy. So flavorful! I baked them in a greased cake pan, which somehow produced a caramelized bottom edgedelish. Like the previous reviewer, I needed much more than five minutes for the final, uncovered cook. I cooled them in an open oven as suggested. The combination of crispy and crunchy was great.
These are possibly the most delicious rolls I've ever eaten! I replaced a 1/4 cup of bread flour with potato flakes for textural purposes and another 1/2 cup with white whole wheat flour for a slightly more complex flavor and they turned out perfect! Used brown sugar as I didn't have the malt on hand. Baked in a lodge Dutch oven the full 25 min covered and needed almost ten uncovered to finish.