A customized print-friendly version of this recipe is available by clicking the "Print Recipe" button on this page.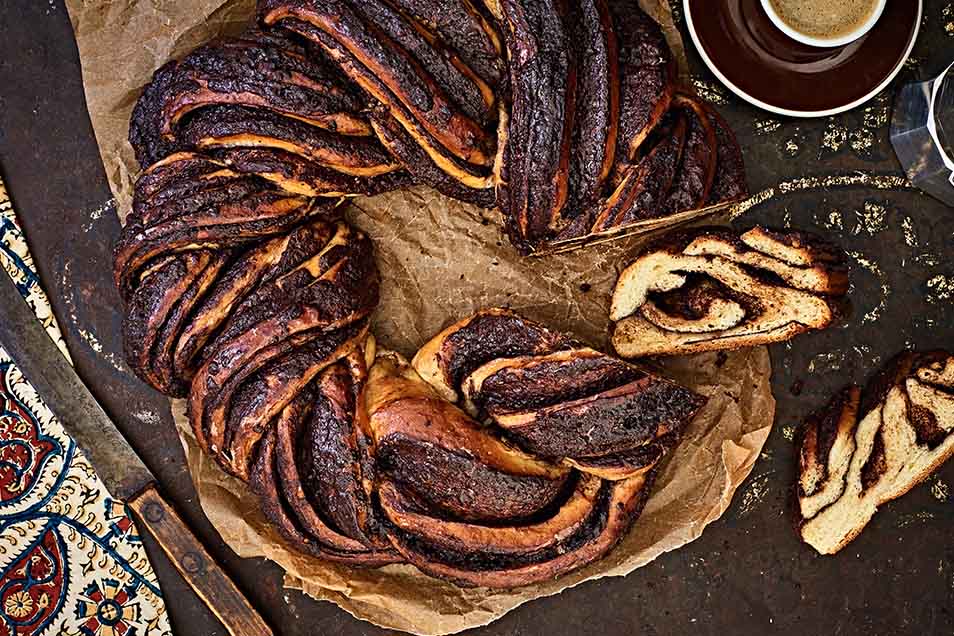 Take rich brioche dough, stuff it with dark chocolate filling, braid, and shape into a wreath. The result? Your most decadent holiday breakfast ever! Our thanks to Michelle Lettrich of Brown Eyed Baker for this recipe, which she in turn adapted from a recipe for Chocolate Krantz Cakes in "Jerusalem: A Cookbook" by Yotam Ottolenghi and Sami Tamimi.
Ingredients
Filling
3/4 cup chopped dark chocolate
8 tablespoons (1/2 cup) unsalted butter
1/3 cup unsweetened cocoa powder, Dutch-process or natural
1/2 cup confectioners' sugar
Glaze
1/3 cup water
2/3 cup granulated sugar
Instructions
To make the dough: Use your fingers to rub together the sugar and lemon zest until all of the sugar is moistened. Combine the lemon sugar with the flour and yeast in the bowl of a stand mixer fitted with the beater blade. Mix on low speed to combine, about 1 minute.

Add the eggs, water, and salt, and mix on low speed briefly. Increase to medium speed and mix for 5 minutes, until the dough comes together (it will appear very dry and shaggy at first; that's OK).

Switch to the dough hook. Add the butter a few cubes at a time, kneading until each cube is completely incorporated into the dough. Continue kneading on medium speed for about 10 minutes, until the dough is completely smooth, elastic, and shiny.

Place the dough in a large greased bowl, turning to coat it, and cover with plastic wrap. Refrigerate overnight.

To make the filling: Place the chocolate, butter, and cocoa powder into a medium heat-proof bowl and microwave in 30-second increments until the chocolate is completely melted, stirring after each (it will take around 2 minutes).

Add the confectioners' sugar, mixing until thoroughly incorporated. Set aside to thicken, about 30 minutes; the mixture should be malleable, the consistency of soft ganache.

To assemble the babka: Divide the dough in half. Working with one piece at a time, roll the dough on a lightly floured surface into a 15" x 11" rectangle.

Use an offset spatula to spread half the chocolate mixture over the dough, leaving a 1/2" border around the edges. Brush a little bit of water along the long edge of the rectangle farthest away from you.

Starting from the long side closest to you, roll the dough into a log. Press to seal the dampened end, then use both hands to even out the roll. Rest the log on its seam.

Trim about 3/4" off each end of the roll using a serrated knife. Using the same knife, gently cut the roll in half lengthwise, starting at the top and finishing at the seam underneath.

With the cut sides facing up, gently alternate crossing the pieces over each other to create a two-strand braid.

Repeat with the second piece of dough and remaining chocolate filling.

Line a large baking sheet with parchment paper. Gently transfer the two babka braids to the prepared pan and shape them into one large circle, braiding together the ends for continuity.

Cover with lightly greased plastic wrap and allow to rise in a warm place for 1 1/2 hours; the babka won't double in size, but will rise by about 20 percent. Towards the end of the rising time, preheat the oven to 375°F.

Remove the plastic wrap. Bake the babka for 25 to 30 minutes, until a skewer inserted into the center of the dough comes out clean and all of the exposed chocolate swirls are firm to the touch.

While the babka is baking, make the glaze. Combine the water and sugar in a small saucepan and bring to a boil over medium heat. When the sugar is fully dissolved, remove from the heat and set aside.

As soon as the babka comes out of the oven, brush all of the glaze over the babka; it will seem like a lot, but just keep brushing!

Slide the parchment paper from the baking pan to a cooling rack. Allow the babka to cool completely before serving.

Store any leftovers, well wrapped in plastic, at room temperature for up to 3 days; freeze for up to a month.
Reviews
Well, well, well - I followed young Annabelle's advice and the fine folks at Kitchen Aid are sending me a brand-spanking new mixer. This is the greatest day of my life! Oh, hang on. Maybe it was when I met my gal.
Well, that just burned out the motor on my new Kichen Aid.

We're genuinely sorry to hear that happened, Ken, and strongly encourage you to reach out to Kitchen Aid as that certainly shouldn't have happened and should be covered under warranty. The only thing we can think of that would work a mixer that hard would be a lot of extra flour. Flour packs down naturally, so by measuring by weight, you avoid the risk of extra flour making its way into your dough. Even still, extra flour shouldn't kill a mixer, so it sounds like there's a fault in the machine. They have an online chat service that's the first thing that comes up when you search "Kitchen Aid customer service" on Google, or you can reach them by phone at 800-541-6390. Kindly, Annabelle@KAF
I made this recipe for a special holiday brunch. It tasted delicious and looked impressive. I made it exactly as directed. I gave it 4 stars because it did not rise as much as I would have thought. It felt a little heavy. It was my first time making it, so it may have been an error on my part, or it may just be the way this particular bread bakes. I also had a hard time getting it to fit nicely onto standard pan when I was braiding it into the wreath--which I'm sure is an error on my part because this sort of finesse work isn't my specialty. Overall delicious and impressive with beautiful ribbons for chocolate.
I made this for a festive Christmas Eve dinner hosted by dear friends in 2017. They flipped over this wonderful wreath! I placed it on a silver tone round serving platter and added a few fresh green leaves & cranberries. It was perfection. The only thing is the recipe makes an enormous wreath. Am making it again this year for the same occasion and will divide the dough into a wreath and a braided loaf.
This is so delicious (especially the dough good lord)!!! Only strange thing was that mine was done and very golden brown after only about 12 minutes in the oven. My whole family and I loved it, but I think next time i'll try baking at 350 instead of 375. Also might add some cinnamon or espresso powder to the chocolate filling.
This recipe was tasty and very rich. I added the juice of 1 orange to the glaze, used orange rind instead of lemon, and orange infused chocolate. I would recommend this recipe. It is not a difficult recipe; it just has a lot of waiting. Their instructions walk you through the entire process. Don't have a stand mixer? No problem! I used a hand mixer. Once the eggs were added, I could only beat for about 3 minutes, and I had to knead the butter in by hand. My apartment's oven and 1 burner seem to run extra hot; I have burnt things on both. I cooked it at 325 for 30 minutes. Delicious.
This is a time intensive recipe that I would reserve for special occasions in the future but it is soooo good! I didn't make a wreath, but instead kept them as two separate loaves and then baked at the same time and temperature. One got eaten right away and the other is in the fridge for later this week. We enjoyed this bread best when it was still warm out of the oven.
Oh my gosh, this thing is huge. Mine baked up to about 16" in diameter. Looks great, smells great. Hopefully tastes great too. Had to use margarine instead of butter to make it non-dairy, hoping it won't make a difference. Would definitely make again.
This was out of this world. Yes, it takes forever. But, it's so worth it. Question: was the dough supposed to rise significantly in the refrigerator? Mine did not. Maybe 30%? It rose the most after assembling the twists. Anyway, awesome recipe. I ran out of cocoa powder prior to making it and just threw in a 1/3 cup Nutella and it was delicious. I also used orange peel instead of lemon peel (because I had no lemons). I like the chocolate/orange mix. It's a visually impressive recipe and super fun to cut. A Winner!
This is a wonderful bread, maybe my favorite of all the breads I bake. Except for adding a little salt, and only refrigerating the dough for 2-3 hours, I followed the directions to produce a beautiful and delicious bread. Thank you for this recipe!