A customized print-friendly version of this recipe is available by clicking the "Print Recipe" button on this page.
Chocolate Caramel Thumbprint Cookies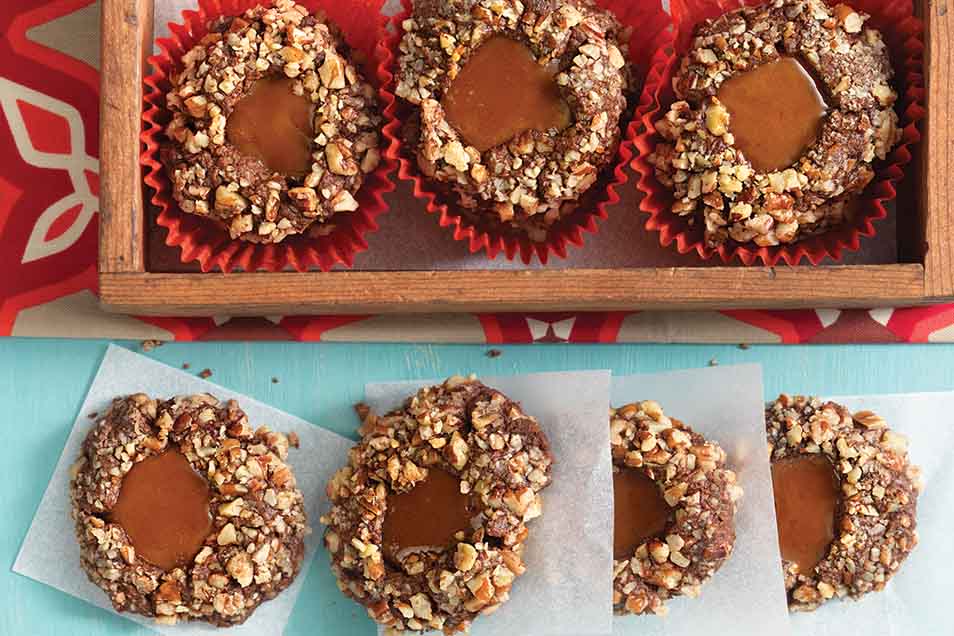 Thumbprints are a favorite for many when it comes to holiday cookie assortments. For this variation on a classic, we've chosen the decadent flavor combination of chocolate and caramel, dressing it up with chopped nuts for a rich, buttery, gooey treat.

Recipe update: Thanks to feedback from you, our readers, we've made some changes to this recipe as of 9/27/18, to ensure minimal crumbliness.
Instructions
Preheat the oven to 350°F. Grease (or line with parchment paper) two baking sheets.

Beat together the butter, sugar, salt, and vanilla until smooth and creamy.

Stir in the cocoa and flour.

Shape the dough into walnut-size balls (a tablespoon cookie scoop is helpful here).

Dunk the balls in the egg white mixture, then roll them in the chopped nuts.

Space the balls evenly on the baking sheet, leaving about 2" between them.

Press your thumb into the center of each ball, flattening it out slightly and creating a pocket. Place a cube of caramel into each pocket.

Bake the cookies for 8 to 10 minutes, until the edges are set and the caramel has pooled slightly in their centers.

Remove the cookies from the oven, and allow them to cool on the pans. Allow to cool completely before serving.
Reviews
Everyone loved these. They were not crumbly. I loved how the oven toasted the pecans, so I did not have to toast them before using them. Next time I will chop them into smaller pieces.
After reading the reviews, I had hesitations with this recipe. I followed the weight measurements, used overnight room-temp butter, and had no problem with the dough. They are a crumbly cookie when complete, but it works. I really like the cookie, but the caramel was uncooperative. I used a "major brand" individually wrapped caramel cube candy. They didn't melt much at all and were nearly inedible once the cookie cooled. I think just need to find a better quality caramel, or make my own.

Tom, we like using Peter's Caramel or Mercken's brand caramel to make the soft-chewy centers of these cookies. Making your own is also a fantastic option if you can plan ahead. Then they'd really be delicious! Kye@KAF
This is a great idea on paper but not in reality. Far too dry and crumbly, it definitely needs more egg or less flour.
I'm very sorry this recipe did not meet your expectations. For more help troubleshooting this recipe, please give out Baker's Hotline a call at 855-371-2253. Barb@KAF
Not a fan... Dough was dry and fell apart during shaping as well as I when I indented. (Yes used room temp butter and no overwhip.) When I baked them they flattened out and the caramel ran under the parchment paper and burned.
Two ingredients to check are the flour measurement (be sure to stir, sprinkle into the measuring cup and level) and butter at room temperature soft. The dough should be pliable enough so you can scoop and roll in your hands. If this isn't resonating, do call our Baker's Hotline at 855-371-2253. Happy Baking! Irene@KAF
These were super easy to make. They smell and taste wonderful. My only issue is that they were dry and crumbly. I followed instructions to the letter so I am a little disappointed.
These were excellent! Definitely putzy but worth the effort. I did not have any issues as the previous reviewer did. I have had issues with cookies spreading when I don't use KAF. I used a high quality home made caramel from a block. I stuffed little balls in each cookie and baked 10 minutes. I did freeze my dough balls till ready to bake, but I thawed them completely so I could make the indent. Great recipe! They will be on my holiday cookie trays.
These cookies puff up & spread. The caramel went everywhere but on the cookie. I used a walnut size ball & was careful not to put too much caramel in each. But because they puff up & flatten, it didn't work. They looked like the after picture on the recipe until I put them in the oven.....The flavor is good, the presentation needs work. Maybe I will try again & bake them in a mini-muffin tin.
We're as disappointed as you are, gentle cookie baker. Be sure to use overnight soft butter, cream or beat - but don't whip extra air into the butter mixture, which might add too much air and create the cookie's puff you experienced. Also be sure to bake at 350' taking them out after 8 minutes. We hope you will try this again and report your results. Happy Baking - Irene@KAF