A customized print-friendly version of this recipe is available by clicking the "Print Recipe" button on this page.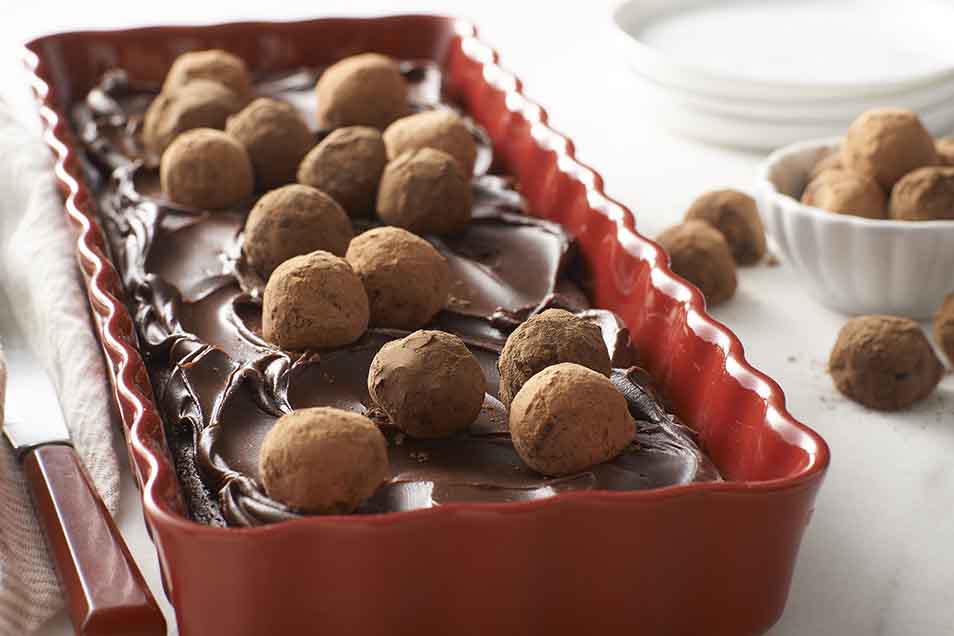 This torte is sure to satisfy the cravings of even the fiercest chocoholic.
Ingredients
Torte
1 scant cup semisweet chocolate (chips, chunks, wafers, or chopped), we like Valrhona Dark Chocolate
1/2 cup (8 tablespoons) unsalted butter
3/4 cup sugar
1/8 teaspoon salt
1 teaspoon espresso powder, optional
3 large eggs
1/2 cup unsweetened cocoa powder; we like our Triple Cocoa Blend
Filling
1 ¼ cups heavy cream
1 3/4 cups semisweet chocolate (chips, chunks, wafers, or chopped); we like Valrhona Dark Chocolate
cocoa powder, for decorating
Instructions
Preheat the oven to 375°F. Lightly grease a 13 ¾" x 4 ½" rectangular tart pan; or an 8" square pan, or 9" round pan. If you're using an 8" square or 9" round pan, it's best to line the pan with parchment and grease the parchment, to facilitate turning the cake out of the pan without crumbling.

Heat the chocolate and butter together, stirring frequently, until melted. This can be done in a double boiler (bain-marie), with a microwave, or on a burner set over low heat. Transfer to a mixing bowl.

Add the sugar, salt, and espresso powder.

Add the eggs, beating briefly until smooth.

Add the cocoa powder, and mix just to combine.

Spoon the batter into the prepared pan.

Bake the torte for 22 to 25 minutes. Remove it from the oven, and cool it in the pan for 5 minutes. Loosen it from the edges of the pan, and turn it out onto a serving plate. Allow the cake to cool completely.

To make the ganache filling: Heat the cream until it just begins to simmer. Remove it from the heat, and add the chocolate, stirring until the mixture becomes smooth. Allow the ganache to cool to room temperature.

Spread half the ganache evenly over the top and sides of the tart. Scoop out teaspoon-sized bits with the remaining ganache, place on parchment or waxed paper, and chill for 1 hour.

Shape the ganache bits into balls, and roll them in cocoa powder to make truffles. If you have a variety of cocoa powders, use them all, for prettiest presentation. Decorate the torte with the truffles as desired.
Reviews
Update to my review on 2-15-19: I forgot to mention that when I took my cake out of the oven after 22 minutes, it was very fudge-like initially, the texture of a really fudgy brownie, but cooled to almost the right doneness after several hours. I followed the directions to a T, too. What happened?

Hi SW, that's what's supposed to happen and it's why a lot of recipes recommend letting things cool completely before eating. (Which can be really hard!) But it's to allow any residual baking to continue and for everything to set up. Annabelle@KAF
This is a wicked simple & delicious flourless chocolate cake; due to its extremely rich nature, however, you will need to serve it with plenty of vanilla bean ice cream and whipped cream. Try it topped with chopped nuts, for some needed texture, too; you just can't go wrong!
Excellent recipe! I questioned the hotline on how to test for doneness. They said an internal temp of 200 on an instant read thermometer. Had to add a bit more chocolate for the ganache to set up! Highly recommend this recipe!
I love this easy cake, however you MUST be sure of your oven temperature, as I baked for 22 minutes only to find the bottom slightly burned (not too bad to eat it) but it did affect the flavor a little bit, and here in Canada butter is too expensive to make room for me to just throw it away and start again. I'll make this one again (and again!) but will lower the temperature for my oven to 350 or even 325 and bake it bit longer.
Great taste and super easy (served with strawberry cream, yum!) My only issue was that the ganache did not thicken enough to make the truffles. Looking at your blog post on ganache, it appears the cream to chocolate ratio is off. I would reduce the amount of cream next time. Fortunately, the truffles are really not needed as you are already in chocolate overload!
The torte recipe is very nice. It's dense and fudgy. I didn't have heavy cream, so I followed the suggestion Laurie@KAF gave to another reviewer to use milk and butter instead. The resulting mixture did not set up at all (which I kind of expected with that much milk), so I added about a pound of powdered sugar and a few tablespoons each soft butter and cocoa powder and beat it. Made a wonderful frosting, which was actually tastier than the torte itself.

We're glad to hear that you were able to adapt the adaptation to get a finished product that worked for you! In a pinch, ganache can be made a number of different ways, but our preference would be to stick with the original whenever possible. Next time, try it with heavy cream. We think you'll be pleased! Mollie@KAF
So easy to make. Deliciously rich chocolatey - wow. I would like to know the best way to store it.
I made the mistake of baking this on convection (even at a lower temp and less time). Thank you to the Baker's Hotline for helping me problem solve! I immediately made it again and the results were amazing. This cake is a chocolate lovers dream! I made this for a birthday and it was loved by everyone. I used a long rectangular torte pan and the end result was dramatic and beautiful - it really is a beautiful presentation.
Delicious and intense chocolate cake that wasn't too hard to make
I want to try this one but heavy cream is hard to get where I live. Could I use softened butter instead ?

To make the ganache, bring 3/4 cup of milk to a simmer before pouring on the chocolate. Add 1/3 cup of butter, let rest for 5 minutes, then stir until smooth. For extra smooth ganache, you can put the chocolate in a food processor and pour in the hot milk and butter. If you have trouble sourcing fresh milk, use a nut based milk and add the butter in the same amount. Process until smooth. Happy baking! Laurie@KAF