A customized print-friendly version of this recipe is available by clicking the "Print Recipe" button on this page.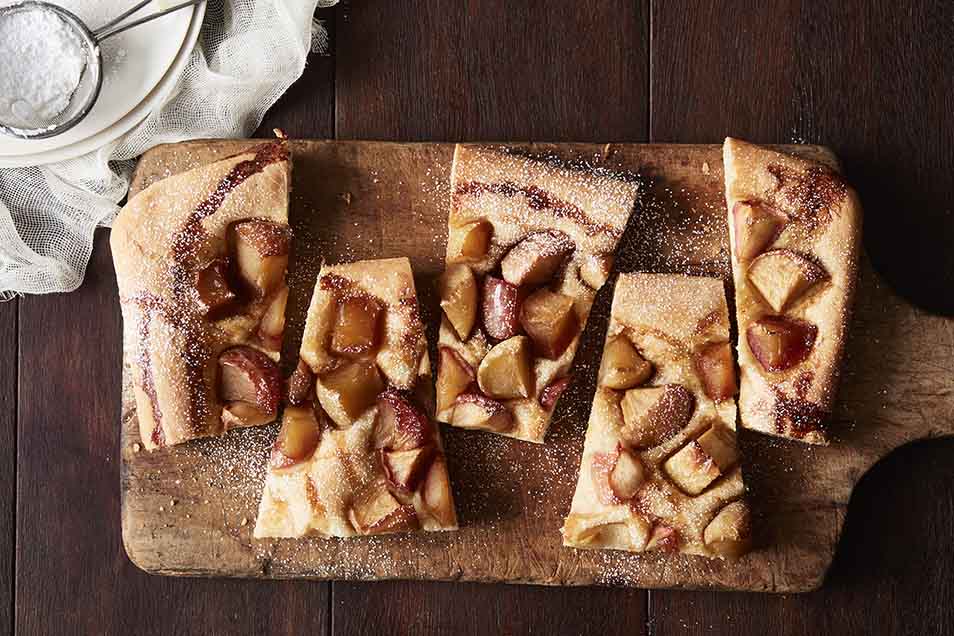 This light-textured yeast bread, topped with cinnamon-y apples, is a delicious snack or breakfast bread. To save time, bake it the day before, then tent lightly with foil and reheat in a preheated 350°F oven for about 10 minutes, just before serving. Individual slices are just fine reheated briefly in the microwave, too.

We know many of you are uncomfortable throwing away the cup of starter you remove from your sourdough each time you feed it. Here's a great use for that unfed sourdough. The recipe works equally well with fed sourdough, too; it may rise a bit more quickly. And, for those of you who don't keep sourdough starter in your fridge, substitute 1/2 cup each lukewarm water and King Arthur Unbleached All-Purpose Flour for the starter.
Ingredients
1 cup sourdough starter, ripe (fed) or discard
3/4 cup lukewarm water
2 teaspoons instant yeast
1 1/2 teaspoons salt
2 tablespoons Baker's Special Dry Milk or nonfat dry milk
3 tablespoons olive oil
Filling
4 very large firm apples, about 2 pounds
1/4 cup boiled cider
1/4 cup maple syrup
*Substitute thawed frozen apple juice concentrate, if you don't have boiled cider.
Topping
1/4 cup Baker's Cinnamon filling or cinnamon-sugar
1/4 cup syrup, reserved from cooked apples
2 to 3 tablespoons coarse white sparkling sugar, optional
Instructions
Combine all of the dough ingredients, and mix and knead them — by hand, mixer, or bread machine — to make a smooth, fairly soft dough.

Place the dough in a lightly greased bowl, and let it rise for 1 hour. Gently deflate it, and allow it to rise for another hour; it should have at least doubled in bulk, or come close to it. While the dough is rising, prepare the topping.

For the topping: Core the unpeeled apples, and cut each into 8 wedges; an apple corer/slicer works well here. Cut each of the wedges into 3 pieces; you'll have 7 to 7 1/2 cups (about 27 ounces) of apple chunks.

Put the chunks in a shallow microwave-safe bowl, and drizzle with the boiled cider and maple syrup. Don't have boiled cider or maple syrup? Drizzle with 1/3 cup honey, 1/4 cup agave syrup, or the sweetener of your choice.

Microwave the apples till they've softened, but still hold their shape. In our microwave here, that took about 9 minutes.

Drain the apples, reserving the juice. Set them aside to cool while the dough is rising.

Lightly grease an 18" x 13" rimmed baking sheet (half-sheet pan), or two 9" x 13" pans. Drizzle olive oil atop the spray; the spray keeps the bread from sticking, while the olive oil gives the bottom crust great crunch and flavor.

Gently deflate the risen dough, then pull and shape the dough into a rough rectangle, and place it in the pan. (Or divide it in half, and put in the two smaller pans.) Pat and stretch to fill the bottom of the pan. The dough will shrink back; as soon as it doe, cover it and walk away for 10 to 15 minutes. Return, and pat it towards the edges of the pan again. You may have to give it another rest; that's OK. Your ultimate goal is to stretch the dough to cover the bottom of the pan, with perhaps just the very corners uncovered.

Arrange the apple chunks atop the dough.

Mix 1/4 cup of the reserved syrup with 1/4 cup Baker's Cinnamon Filling or 1/4 cup cinnamon-sugar. The Baker's Cinnamon Filling will yield a richer, creamier topping. Drizzle the syrup over the apples.

Cover the bread, and let it rise for 1 hour, till it's nice and puffy. Towards the end of the rising time, preheat the oven to 425°F.

Uncover the bread, and sprinkle with coarse white sparkling sugar, if desired. Bake the bread for 25 to 30 minutes, till the crust is golden brown around the edges and feels set in the center. Remove it from the oven, turn it out onto a rack, and serve warm.

Yield: about 18 servings.
Tips from our bakers
This crust is also great for a pizza-type bread. Top the shaped dough with your favorite toppings, cut in chunks rather than slices: bite-sized chunks of pepperoni and cheese, and halved, cooked mushrooms are good choices. Let rise and bake as directed.