A customized print-friendly version of this recipe is available by clicking the "Print Recipe" button on this page.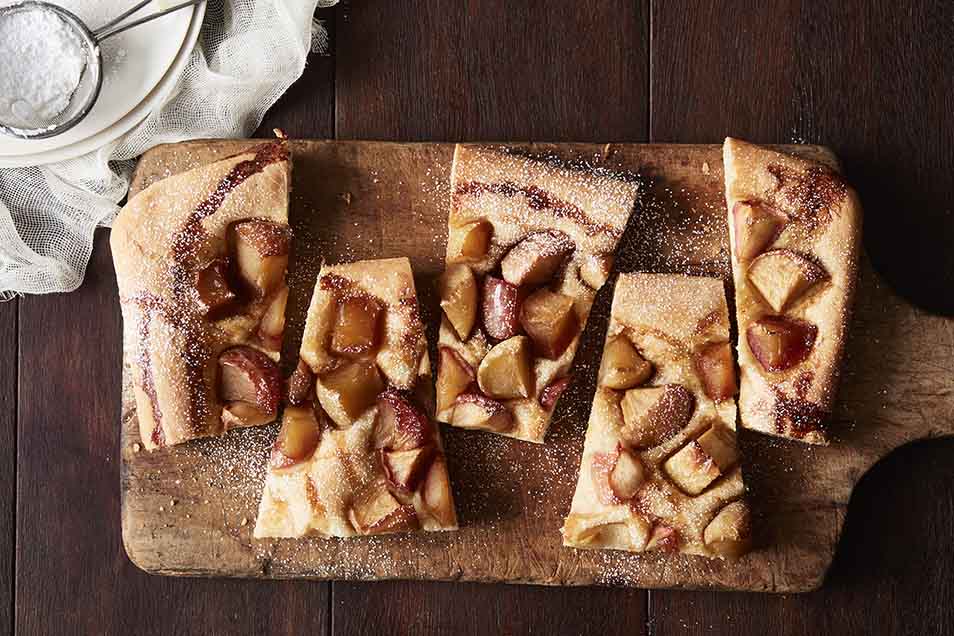 This light-textured yeast bread, topped with cinnamon-y apples, is a delicious snack or breakfast bread. To save time, bake it the day before, then tent lightly with foil and reheat in a preheated 350°F oven for about 10 minutes, just before serving. Individual slices are just fine reheated briefly in the microwave, too.

We know many of you are uncomfortable throwing away the cup of starter you remove from your sourdough each time you feed it. Here's a great use for that unfed sourdough. The recipe works equally well with fed sourdough, too; it may rise a bit more quickly. And, for those of you who don't keep sourdough starter in your fridge, substitute 1/2 cup each lukewarm water and King Arthur Unbleached All-Purpose Flour for the starter.
Ingredients
1 cup sourdough starter, ripe (fed) or discard
3/4 cup lukewarm water
2 teaspoons instant yeast
1 1/2 teaspoons salt
2 tablespoons Baker's Special Dry Milk or nonfat dry milk
3 tablespoons olive oil
Filling
4 very large firm apples, about 2 pounds
1/4 cup boiled cider
1/4 cup maple syrup
*Substitute thawed frozen apple juice concentrate, if you don't have boiled cider.
Topping
1/4 cup Baker's Cinnamon filling or cinnamon-sugar
1/4 cup syrup, reserved from cooked apples
2 to 3 tablespoons coarse white sparkling sugar, optional
Instructions
Combine all of the dough ingredients, and mix and knead them — by hand, mixer, or bread machine — to make a smooth, fairly soft dough.

Place the dough in a lightly greased bowl, and let it rise for 1 hour. Gently deflate it, and allow it to rise for another hour; it should have at least doubled in bulk, or come close to it. While the dough is rising, prepare the topping.

For the topping: Core the unpeeled apples, and cut each into 8 wedges; an apple corer/slicer works well here. Cut each of the wedges into 3 pieces; you'll have 7 to 7 1/2 cups (about 27 ounces) of apple chunks.

Put the chunks in a shallow microwave-safe bowl, and drizzle with the boiled cider and maple syrup. Don't have boiled cider or maple syrup? Drizzle with 1/3 cup honey, 1/4 cup agave syrup, or the sweetener of your choice.

Microwave the apples till they've softened, but still hold their shape. In our microwave here, that took about 9 minutes.

Drain the apples, reserving the juice. Set them aside to cool while the dough is rising.

Lightly grease an 18" x 13" rimmed baking sheet (half-sheet pan), or two 9" x 13" pans. Drizzle olive oil atop the spray; the spray keeps the bread from sticking, while the olive oil gives the bottom crust great crunch and flavor.

Gently deflate the risen dough, then pull and shape the dough into a rough rectangle, and place it in the pan. (Or divide it in half, and put in the two smaller pans.) Pat and stretch to fill the bottom of the pan. The dough will shrink back; as soon as it doe, cover it and walk away for 10 to 15 minutes. Return, and pat it towards the edges of the pan again. You may have to give it another rest; that's OK. Your ultimate goal is to stretch the dough to cover the bottom of the pan, with perhaps just the very corners uncovered.

Arrange the apple chunks atop the dough.

Mix 1/4 cup of the reserved syrup with 1/4 cup Baker's Cinnamon Filling or 1/4 cup cinnamon-sugar. The Baker's Cinnamon Filling will yield a richer, creamier topping. Drizzle the syrup over the apples.

Cover the bread, and let it rise for 1 hour, till it's nice and puffy. Towards the end of the rising time, preheat the oven to 425°F.

Uncover the bread, and sprinkle with coarse white sparkling sugar, if desired. Bake the bread for 25 to 30 minutes, till the crust is golden brown around the edges and feels set in the center. Remove it from the oven, turn it out onto a rack, and serve warm.

Yield: about 18 servings.
Tips from our bakers
This crust is also great for a pizza-type bread. Top the shaped dough with your favorite toppings, cut in chunks rather than slices: bite-sized chunks of pepperoni and cheese, and halved, cooked mushrooms are good choices. Let rise and bake as directed.
Reviews
Delicious!!!! Earned rave reviews from the adults and kiddos! Hubby wants icing next time, but I enjoyed the balance of sweetness in this recipe as is! Always looking for recipes to use my starter and this will go into the regular rotation!
Lovely bread, came out well.
I just made this dee-lish recipe! However, I'd like to substitute the non-fat powered milk with a vegan friendly non-fat powdered milk. Can you please offer any suggestions? Would powdered coconut milk work in this recipe?

Rowena, rather than searching for a vegan friendly powdered milk, you can simply use your favorite non-dairy milk (lukewarm) in place of the lukewarm water called for in the recipe. Hope this helps and happy baking! Mollie@KAF
I'm a newbie to making sourdough and used the 'discard' starter in this recipe. WOW, this flatbread is so delicious, and like another reviewer, I couldn't stop eating it! I halved the recipe, used two 9" round baking pans, and sweetened the granny smith apples with mix of maple and agave syrups. Added an icing sugar/cream glaze after baking and cooling a bit, rather than the sugar sprinkle. The outer crust is crispy, chewy and overall light, almost flaky in parts. Very pleased with this recipe! Can't wait to make it again :)
I loved this recipe and couldn't stop eating it! I made it with a very vigorous sourdough starter, so I left the instant yeast out. I like that the bread isn't sweet, it makes me feel less guilty for eating a whole bunch of it.
Mm mm. I am one of those people who just hate to throw out the cup of starter when I feed my sourdough. I was looking for something different to use it in and I had some apples I needed to use, anyway, so....a match made in heaven! This is a very tasty recipe and can be changed up so many ways. I didn't think I had quite enough apples once they cooked down, so I augmented the apples with dark sweet cherries. I also liked another reviewer's idea to use cream cheese, so I did that, too. I am thinking about using peaches and blueberries next time with sliced almonds. It is well worth the time it takes to make it. Thanks, KAF!
Don't usually tweek a recipes until I've made it once. However in reviewing comments, I made a few 1st time. I cut dough recipe exactly in half to make 1 bread using cake pan. I added 1 tbs. sugar and scant 1/2 tsp.cinnamon to bread. I used 2 large apples, about 1-1/2 lbs. I used same ratio of other filling and topping ingredients to apple weight as in recipe. I meant to substitute a bit of bolied apple cider for some of water in dough but forgot. Next time. It came out very good tasting like a mix of coffee cake & bread.
Great. Always looking for recipes using the sourdough. I used oats, cinnamon, sugar and juice from the apples for the topping and ended up mixing the topping with the apples, then drizzled a little chocolate over the top. Turned out great.
I usually don't rate something when I change the recipe, but this is just an idea some folks might like. I had a lot of apples that were already run through an apple peeler corer that were really tart. They were thin enough I didn't pre-cook them. I read some other reviews and then decided to add a few tablespoons of sugar to the dough. It turned out great, but the apples were still too tart to enjoy so I made a glaze with powdered sugar, boiled cider, dash of salt cinnamon and cream. It did not last long. Thanks once again KAF.
Meh. Too much bread for the toppings. But it was easy to make (even kneading by food processor/hand).
We appreciate your frank review, Pam. Our thinking was that it's one more way to use sourdough starter (either fed or unfed). I see other reviewers made a couple products (small loaf of bread and also a flatbread). We're glad you found it easy to make, which may also inspire others. HappyBaking! Irene@KAF