A customized print-friendly version of this recipe is available by clicking the "Print Recipe" button on this page.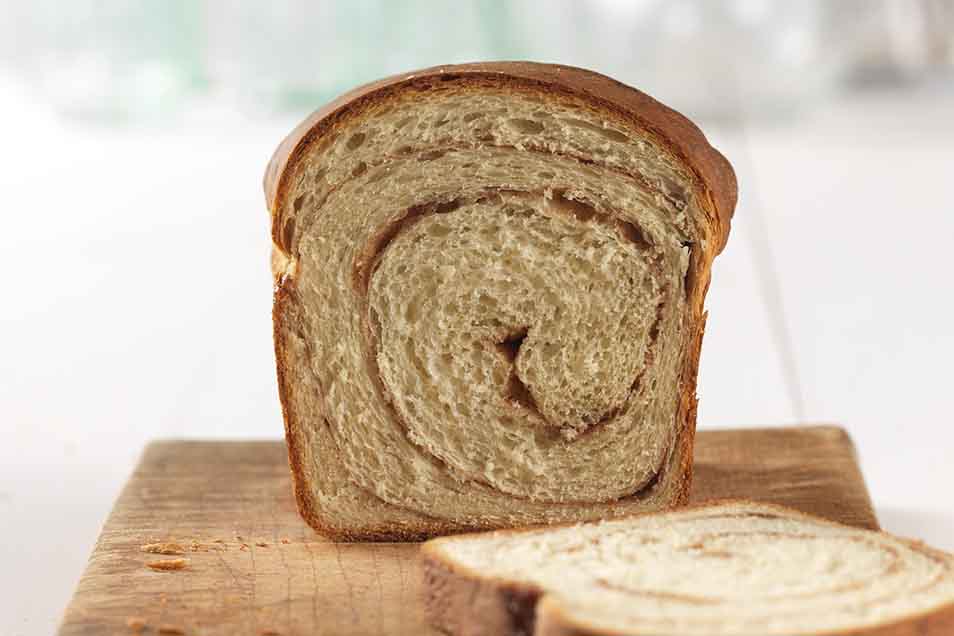 This soft white loaf features a lovely spiral of cinnamon-sugar inside. It makes a delicious peanut butter and jelly sandwich. And, of course, it's ideal for cinnamon toast, and French toast.

Our guarantee: This tender, close-grained loaf rises to a lovely dome, and bakes up golden brown. The thin layer of cinnamon filling forms a pretty spiral inside.

From amaranth to teff, ancient grains offer a world of baking possibilities. Find out how to make this recipe using ancient grains in our complete guide to baking with ancient grains.
Ingredients
Dough
1/4-ounce packet "highly active" active dry yeast; or 2 1/2 teaspoons active dry yeast; or 2 1/2 teaspoons instant yeast
7/8 to 1 1/8 cups lukewarm water*
1 1/4 teaspoons salt
3 tablespoons sugar
6 tablespoons unsalted butter, at room temperature
1/4 cup nonfat dry milk
1/2 cup instant mashed potato flakes
*Use the lesser amount in summer (or in a humid environment), the greater amount in winter (or in a dry climate), and somewhere in between the rest of the year, or if your house is climate controlled.
Instructions
If you're using "highly active" or active dry yeast, dissolve it with a pinch of sugar in 2 tablespoons of the lukewarm water. Let the yeast and water sit at room temperature for 15 minutes, until the mixture has bubbled and expanded. If you're using instant yeast, you can skip this step.

Combine the dissolved yeast (or instant yeast) with the remainder of the ingredients. Mix and knead everything together—by hand, mixer or bread machine set on the dough cycle—till you've made a smooth dough. Adjust the dough's consistency with additional flour or water as needed; but remember, the more flour you add while you're kneading, the heavier and drier your final loaf will be. If you're kneading in a stand mixer, it should take about 7 minutes at second speed, and the dough should barely clean the sides of the bowl, perhaps sticking a bit at the bottom. In a bread machine (or by hand), it should form a smooth ball.

Place the dough in a lightly greased bowl. Cover the bowl, and allow the dough to rise, at room temperature, until it's nearly doubled in bulk, about 1 hour. Rising may take longer, especially if you've kneaded by hand. Give it enough time to become quite puffy.

While the dough is rising, make the filling by stirring together the sugar, cinnamon, and flour.

Transfer the dough to a lightly greased work surface, and pat it into a 6" x 20" rectangle.

Brush the dough with the egg/water mixture, and sprinkle it evenly with the filling.

Starting with a short end, roll the dough into a log.

Pinch the ends to seal, and pinch the long seam closed.

Transfer the log, seam-side down, to a lightly greased 8 1/2" x 4 1/2" loaf pan. Tent the pan loosely with lightly greased plastic wrap.

Allow the bread to rise till it's crested about 1" over the rim of the pan, about 1 hour. Again, it may rise more slowly for you; let it rise till it's 1" over the rim of the pan, even if that takes longer than an hour. While the dough is rising, preheat the oven to 350°F.

Bake the bread for 40 to 45 minutes, tenting it lightly with aluminum foil after the first 15 minutes. The bread's crust will be golden brown, and the interior of the finished loaf should measure 190°F on an instant-read thermometer.

Remove the bread from the oven, and gently loosen the edges with a heatproof spatula or table knife. Turn it out of the pan, and brush the top surface with butter, if desired; this will give it a soft, satiny crust. Allow the bread to cool completely before slicing.
Nutrition Information
Serving Size

1 slice (54g)

Servings Per Batch

16
Amount Per Serving:
Calories

160

Calories from Fat

45

Total Fat

5g

Saturated Fat

3g

Trans Fat

0g

Cholesterol

25mg
Sodium

200mg

Total Carbohydrate

24g

Dietary Fiber

1g

Sugars

6g

Protein

4g
* The nutrition information provided for this recipe is determined by the ESHA Genesis R&D software program. Substituting any ingredients may change the posted nutrition information.
Tips from our bakers
When making yeast bread, let the dough rise to the point the recipe says it should, e.g., "Let the dough rise till it's doubled in bulk." Rising times are only a guide; there are so many variables in yeast baking that it's impossible to say that bread dough will ALWAYS double in bulk in a specific amount of time.
Don't skip the step of brushing the dough with the egg/water wash before sprinkling on the filling. The egg is what keeps the bread from "gapping" around the filling.
If you bake this bread in a 9" x 5" loaf pan, it'll be flatter and not as nicely domed. It will have risen to about even with the rim of the pan when it's ready to go into the oven.
Interested in learning more about ancient grains — and how to use them? See our complete guide to baking with ancient grains.
Reviews
Followed instructions and came out perfectly I needed to bake 4 more min longer ...it disappeared lightening fast
Delicious and easy, I used the following substitutions because my son is allergic to milk: coconut oil instead of butter, corn starch instead of potato flakes (most contain milk) and powdered coconut instead of milk powder. It came out really well and everyone enjoyed it. It did collapse a bit, so doesn't have the nice shape as pictured but still tastes great.
Had an issue with time to knead dough and was answered immediately via website. WOW that's the best customer service ever!!! Bread came out perfectly and now a favorite. Thanks for your recipe and assistance.
I've made this bread many times. It's always delicious! Sometimes I find it to be a bit chewy on the inside even though I cook until internal temp of 190 degrees. Any thoughts as to why this might be?

Katie, thanks for sharing your experience with this recipe! Since you're quite experienced with this recipe and often get excellent results, the differences in texture probably come down to a common cause of inconsistent bread: the weather. On humid days, recipes require less liquid, while dry ones will require less. If you're interested in learning more about this pesky phenomenon, search our site for "Winter to summer yeast baking" for photographic evidence of exactly how differently the same recipe reacts to different weather conditions. It's quite shocking! The best solution? Use a bit more flour on humid days and a bit less on very dry ones. Since you've made this so many times, we're sure you already have a good instinct about how the dough should feel when you're mixing it, so don't be afraid to trust your gut. Happy baking! Kat@KAF
The first time I made this it turned out beautifully . Today I made 4 loaves of this and the moment I took them out of the oven, they fell in the center. The only thing I can think was that I had too much liquid. It was raining outside and I thought it was a bit dry last time so I added more liquid. They'll still taste good, They're just not good to give away. Thank you for your amazing recipes. You are definitely my go to website for all things baking.
This turned out quite well but didn't rise as much as I would have wanted, even after 90 minutes. My SAF yeast is a few months old--could this have been a factor? If so, can I add more of it to get more of a rise?

Hi Aimee, there are a number of factors that often result in bread not rising quite as high as expected, including using too much flour, too wide of a pan, yeast that's not fresh, too short of a rise time, and more. In order to rule out these factors, we encourage you to start by reading the article on our blog called, "My bread didn't rise." After learning about some of the possible factors in this post, consider giving our Baker's Hotline a call so we can troubleshoot together. We're here to help you make the best Cinnamon Bread ever: 855-371-BAKE(2253). Kye@KAF
A very forgiving bread that is great for new bakers who want to try a filled bread. I used some of my sourdough excess to start the dough and it added a nice bit of extra flavor to the bread. Wonderful recipe and kudos to KAF for another good one!
Hi! I am planning to bake this for my family. However, my sister is allergic to potatoes, can I omit it from the recipe? Thank you!

You're welcome to try using 1/4 cup of cornstarch in place of the instant mashed potatoes in the recipe. It'll help keep the loaf tender and moist, as well as extend the shelf life of the bread. You might consider brushing the top of the dough with a butter before and after baking to help it brown and add flavor, both of which will be slightly lacking without the instant potatoes. We think your sister is in for a treat! Kye@KAF
Delicious loaf of cinnamon bread! I apparently let the dough rise a little too long though as a hole appeared on top before I put it in the oven. I do have a question about ingredients--can I use potato flour rather than the potato flakes? If so, in what amount? Thank you for this great recipe!

You can! Just use half the amount by volume of the potato flour. Annabelle@KAF
I love this recipe!! It always comes out great and it's perfect for a delicious french toast! Can I add some cut up fresh apples to the filling before I roll it up or should I cook them a little before? Thank you!!

We think that would be absolutely delicious, Laura! There's no need to cook the apples first, but we would recommend drying them off with a paper towel as much as you can and to toss them (about 1 cup total, diced into bitesize pieces) in a couple teaspoons of flour to help absorb any juices they'll release during baking. You're in for a real treat! Annabelle@KAF