A customized print-friendly version of this recipe is available by clicking the "Print Recipe" button on this page.
Cinnamon-Streusel Coffeecake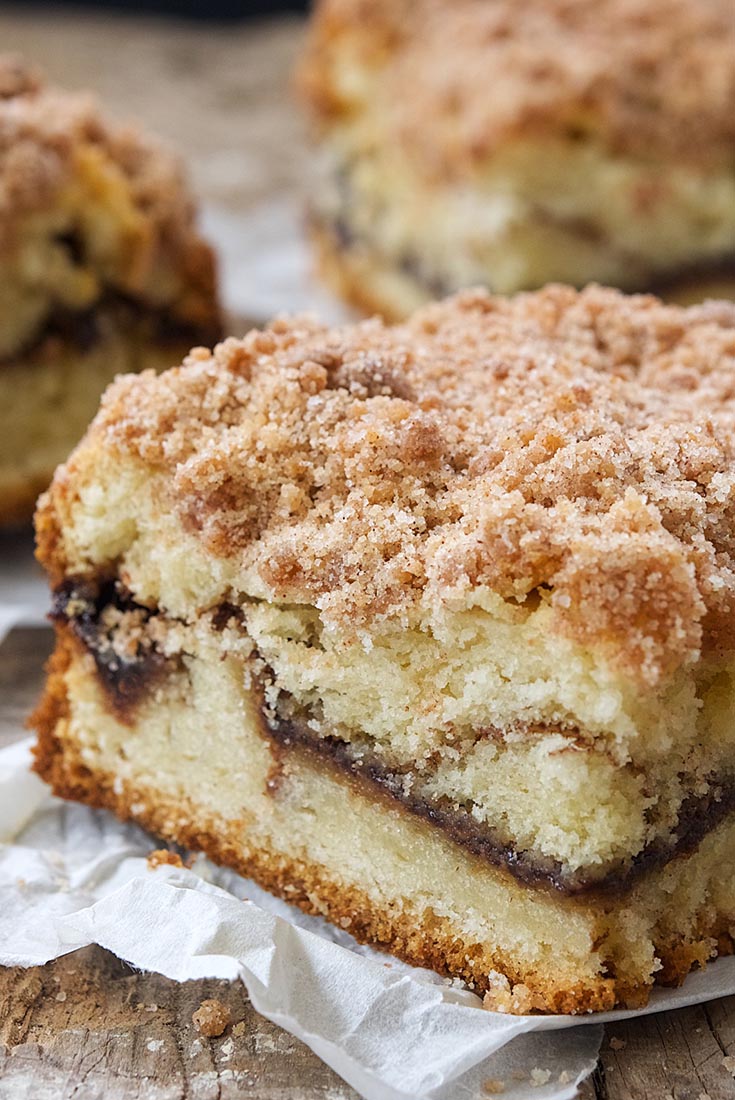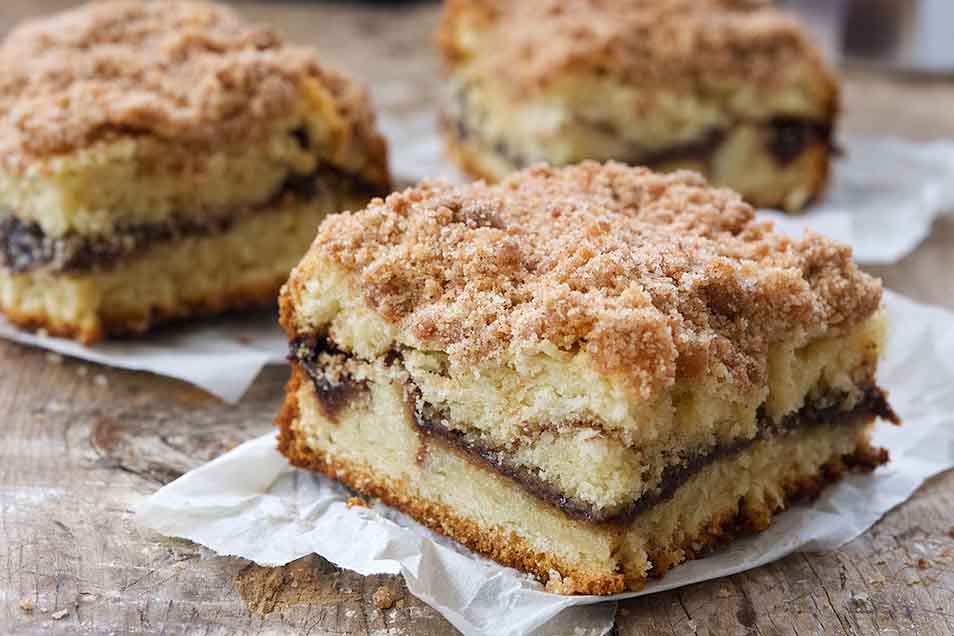 Looking for everyone's favorite comfort-food coffeecake? This is it. Soft and moist, nicely cinnamon-y, this is the quintessential breakfast coffeecake.
Note: For those of you looking for a cake with less filling, one where the golden cake itself is the main attraction, reduce the amount of brown sugar in the filling to 1/3 cup, keeping the remaining ingredients the same.
Our guarantee: This golden cake is tender and moist, with a middle layer of dark cinnamon filling and a crumbly streusel topping.
Ingredients
Streusel topping
1 cup granulated sugar
1/4 teaspoon salt (if you use unsalted butter)
1 tablespoon ground cinnamon
6 tablespoons butter, melted
Filling
1 cup brown sugar, light or dark
1 1/2 tablespoons ground cinnamon
1 teaspoon unsweetened cocoa powder
Instructions
Note: As a result of reader feedback, as of 3/24/17 we've adjusted the ingredient amounts in the streusel to yield a less dry, more pleasantly crumbly topping.

Preheat the oven to 350°F. Lightly grease a 9" x 13" pan, or two 9" round cake pans.

Make the topping by whisking together the sugar, salt, flour, and cinnamon. Add the melted butter, stirring until well combined. Set the topping aside.

Make the filling by mixing together the brown sugar, cinnamon, and cocoa powder. Note that the cocoa powder is used strictly for color, not flavor; leave it out if you like. Set it aside.

To make the cake: In a large bowl, beat together the butter, salt, sugars, baking powder, and vanilla until well combined and smooth.

Add the eggs one at a time, beating well after each addition.

In a separate bowl, whisk together the sour cream or yogurt and milk till well combined. You don't need to whisk out all the lumps.

Add the flour to the butter mixture alternately with the milk/sour cream mixture, beating gently to combine.

Pour/spread half the batter (a scant 3 cups) into the prepared pan(s), spreading all the way to the edges. If you're using two 9" round pans, spread 1 1/3 cups batter in each pan.

Sprinkle the filling evenly on the batter.

Spread the remaining batter atop the filling. Use a table knife to gently swirl the filling into the batter, as though you were making a marble cake. Don't combine filling and batter thoroughly; just swirl the filling through the batter.

Sprinkle the topping over the batter in the pan.

Bake the cake until it's a dark golden brown around the edges; medium-golden with no light patches showing on top, and a toothpick or cake tester inserted into the center comes out clean, about 55 to 60 minutes for the 9" x 13" pan, 50 to 55 minutes for the 9" round pans. When pressed gently in the middle, the cake should spring back.

Remove the cake from the oven and allow it to cool for 20 minutes before cutting and serving. Serve cake right from the pan.
Nutrition Information
Serving Size

1 slice (98g)

Servings Per Batch

24
Amount Per Serving:
Calories

340

Calories from Fat

100

Total Fat

11g

Saturated Fat

7g

Trans Fat

0g

Cholesterol

55mg
Sodium

250mg

Total Carbohydrate

56g

Dietary Fiber

1g

Sugars

36g

Protein

5g
* The nutrition information provided for this recipe is determined by the ESHA Genesis R&D software program. Substituting any ingredients may change the posted nutrition information.
Tips from our bakers
Since butter and sour cream are both key ingredients in this cake, we encourage you to use the best quality you can get. We highly recommend Cabot, a superb Vermont brand available nationally.
It's easy to spread half the batter in the pan when you know how much it weighs. If you have a kitchen scale, half the batter weighs about 28 ounces.
Want to prepare this coffeecake the night before, then bake in the morning? It's easy; simply cover the unbaked cake with plastic wrap, and refrigerate overnight. Next morning, bake the cake as directed. Start testing for doneness at the end of the suggested baking time; you'll probably have to add 5 minutes or so to the total time, to account for the batter being chilled.
Dress it up for guests: Make a glaze with ½ cup confectioners' or glazing sugar and 1 tablespoon milk; drizzle glaze over the cooled coffeecake.
Reviews
These are just some helpful tips I picked up the hard way while searching for what went wrong. These tips come from pastry chefs. First, never dip your measuring cup into the flour. Instead, lightly stir the flour, & spoon it into the measuring cup. Dipping the cup into the flour 'could' compact it down,resulting in more flour by weight. Which in turn can yeild a dry / dense baked good, even if your oven temp is spot on. Be sure to level off the cup with the BACK of a knife or your finger, but a knife back seems to work best for me. 2nd, have your eggs and butter at room temp. When they are cold they don't get absorbed into the batter as well. If you do not have time to wait OR the house is cold, try this: Fill a smallish, deep bowl with HOT water & let it sit for 1 or 2 minutes. Empty it out & wipe it dry. Place stick(s) of butter in the bowl, & cover with a plate. Let sit 4-5 minutes or so. Eggs, can be set in a bowl of hot (not boiling) water for a bit longer. 3rd : You can beat wet ingredients well, BUT once you add in the flour, NEVER over mix. It is best to add dry stuff 1/2 at a time, then stir and scrape side and bottom of bowl with a rubber spatula to insure it all is JUST INCORPORATED . over beating results in too much gluten being developed, and effects the texture of the baked good. Yhis may sound like alot, but it only adds just a very FEW more minutes to your prep time....and far less risk of an inferior result. King Arther would do well to include some of these tips in their recipes. For example list things like eggs @ 'room temp' or 'softened butter' , as well as 'do not over mix' once dry ingredients have been added. (You may have seen these instructions on other sites) Some of the negitive reviews here came from people who changed up the pan size or type. Smaller, divided pans would probably have DIFFERENT bake times .You can notice that on cake mixe boxes for example.

Thanks for sharing these tips with your fellow bakers. We agree that sometimes success hinges on small details, and so we've compiled many tips like this in what we call our "Recipe Success Guide." It's linked on the left-hand side of every recipe page, and we encourage bakers to check it out before starting. Happy baking! Kye@KAF
I decided to make this recipe in two 9' round pans and I wouldn't recommend it. While the cake tastes good, it wasn't very presentable in the round pans. This is the second time in the past week where one of King Arthur Flour's recipes were lackluster. I baked 3-5 times a week. I'm NOT a beginner. Hmmm...

Derek, we're sorry to hear this recipe didn't have the outstanding presentation you were looking for. We'd love the opportunity to hear more about what you were looking for as a final result and see if we can offer some suggestions for ways to achieve it going forward. We hope you'll consider giving our Baker's Hotline a call at 855-371-BAKE(2253) so we can chat about this further. Kye@KAF
This is an excellent coffeecake. I followed the recipe as written. Perfect with a cup of coffee. Highly recommend!
OMG this recipe is by far the best I've ever tasted for coffee cake. The only thing I switched out was the milk. I didn't buy milk when I was at the store so I used half and half. I mixed it the day before baking and it turned out great. It was a hit at the brunch I made it for. Will make again.
I had been looking for a Cinnamon Streusel cake for quite some time. I am so thrilled that I found this one. It was nice and moist with perfect flavors throughout. The only downfall is it is a little time consuming to make as it has several steps. The good news is though all those steps are worth it. This got rave reviews from all my family members and is now a family favorite.
For those who think this is to large please note that it freezes beautifully & defrosts quickly. Quick & easy to go with coffee, tea, etc. for a breakfast treat or an afternoon or evening snack. If you like it warm just nuke for a few seconds. I cut & wrap in squares so I have individual pieces - Also quick & easy when company shows up.
I LOVE this coffee cake! It is easy to make and extremely tasty! My family and friends eat it so fast that I am always sad that I didn't make two!
Yum! Yes, this has lots of sugar but whatever. It's a delicious once in awhile treat.
This was a delicious cake but perhaps too sweet. I was disappointed in the crumb topping as it was so dry! I baked my cake in a tube pan to make a Saturday morning coffee ring but the dry crumbs made such a mess and diminished the presentation of the cake. I ended up slicing and placing on a platter for my friends at work. But still very messy to eat. I would recommend more butter in the crumb topping and LESS sugar throughout.
I have made a few recipes from this site, another with a streusel topping and it was very dry, and this one was even worse, way too much dry ingredients for a streusel topping. The cake was very heavy and overly sweet and even though I followed your cook times and watched it 15 minutes before it was too late, it was dry and over cooked. My oven temperature is calibrated and exact, have never had this problem before. For information I used two round pans, and measured the in the batter exactly as described. This was unfortunately inedible and went into the compost right away, too bad I was planning on giving one to a neighbour for a treat.

KC, we regret to hear about this disappointing baking experience, especially since you were trying to bake for good and spread some joy among your neighbors. It sounds like it may be beneficial to consider measuring your flour by weight with a scale if you're not already doing so, as scooping the flour into measuring cups is often the cause of heavy, dense, and dry baked goods. It may also be that your taste buds were looking for something that was less cake-like and more of a naturally-sweet, breakfast-suitable treat. In that case, you might consider using our recipe for Tuscan Coffeecake, which is delightful when paired with a cup of tea and doesn't have any streusel to worry about. We hope you find what you're looking for. Kye@KAF