A customized print-friendly version of this recipe is available by clicking the "Print Recipe" button on this page.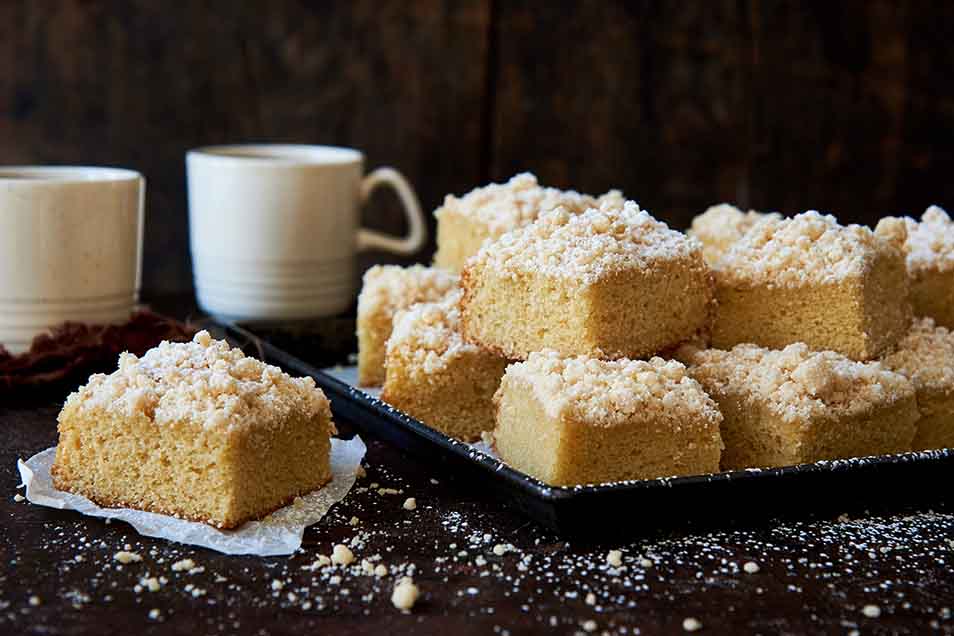 This dense, moist cake is a perfect base for its white sugar crumb topping. Watch out when you cut it; in typical crumb cake fashion, the topping will scatter a bit.

Read our blog about this cake, with additional photos, at Flourish.
Ingredients
Topping
4 tablespoons butter, melted
2/3 cup confectioners' sugar
1/4 teaspoon salt
1/2 teaspoon vanilla extract
1/4 teaspoon Buttery Sweet Dough Flavor, optional but tasty
1 to 2 tablespoons confectioners' sugar or non-melting white sugar, for sprinkling on top
Instructions
Preheat the oven to 325°F. Lightly grease a 9" square cake pan.

In a medium-sized mixing bowl, beat together the butter, sugar, salt, and flavorings for 2 minutes, till smooth.

Add the eggs, beating well after each addition; continue beating after adding the last egg for at least 3 minutes at medium-high speed. The batter should look fluffy, with no grains of sugar visible.

Add the flour and baking soda to the butter mixture, beating gently to combine.

Add the buttermilk/yogurt/sour cream, beating gently until well-blended.

Spread the batter in the prepared pan.

Bake the cake for 30 minutes. While it's baking, prepare the topping.

Mix all of the topping ingredients together just till medium crumbs form. If you mix too long the crumbs will become too large, so pay attention.

After 30 minutes, remove the cake from the oven. Quickly and gently sprinkle the crumbs on top, and return to the oven.

Bake for an additional 15 minutes, until a cake tester inserted into the center comes out clean. Remove the cake form the oven, and cool it completely on a rack.

When the cake is completely cool, dust it with confectioners' sugar.

Yield: One 9" square cake.
Tips from our bakers
For a blueberry crumb cake, sprinkle 1 cup fresh or frozen blueberries atop the batter in the pan before baking.
For more distinct crumbs on top, prepare the topping with 1/4 cup vegetable shortening and 4 tablespoons butter, cut in chunks, in place of the 4 tablespoons melted butter.
Reviews
I have made this cake twice, once with sour cream and once with a buttermilk substitution of 1/2 cup milk and 1 1/2 teaspoons vinegar. Both times the cake was moist and delicious. Also, I have only made it with vanilla and do not feel that it lacked for flavoring. The biggest changes that I have made is baking the cake in a square casserole dish (because I did not want to purchase another pan) and cutting the topping recipe in half the second time made.
Can you use a 9x9 round cake pan

Feel free to bake this Classic Crumb Cake in a 9" round cake pan. The pan should be at least 2" deep. The baking time and temperature can remain unchanged. Happy baking! Kye@KAF
Looks yummy! Could you add cinnamon in the batter or in the topping? If so, how much?

Sure! Start with 1/2 teaspoon and increase it the next time if you want a stronger cinnamon flavor. Annabelle@KAF
Excellent taste & texture.. will definitely make this one again!
I have been making this recipe for years-before they had the ingredient Buttery sweet dough flavor. They used to sell the papers, so you would have your own individual cake. The recipe made 9 cakes and is absolutely delicious. I never had any problems and always received requests to make this for brunch from friends and family! I have found the paper wrappers in certain stores, since KAF no longer carries them.
I'm pretty sure 9 inch square baking pan is wrong size. My cake spilled over everywhere and there was no room to put crumb topping. Middle never set because pan was so full, I put crumbs on and placed overflowing pan on sheet tray but it wouldn't cook through. I'm bummed because I regularly make lots of KAF recipes with much success

Oh no, Tara -- what a disappointing mess! Any chance your 9"x9" pan wasn't at least 2" deep? A standard 9"x9" is, but if yours happened to be smaller, that might explain the spillover. Either way, we're really sorry for the disappointing bake and wish you continued success with your other favorites. Mollie@KAF
I used 1/8 tsp. lemon oil & sour cream to make this yesterday. It made a really soft, lightly lemon flavored cake with a fine crumb. For once, mine looks as good as the one in the picture! It was quick & easy to put together, and it was done in exactly the time the recipe said. Next time, I will cut back on the lemon oil & add the blueberries. I made this a few years ago & did not follow the directions about beating the egg/butter/sugar mixture for 3 minutes. That cake was dry & disappointing. I'm so glad I tried it again!
That was amazingly good. I had to increase the baking time by about 10-12 minutes. The topping was very good with a dusting of powdered sugar.
I used fresh cranberries instead of blueberries and the contrast of the sour with the sweet was fantastic. Everybody really liked it.