A customized print-friendly version of this recipe is available by clicking the "Print Recipe" button on this page.
Coconut and White Chocolate Brownies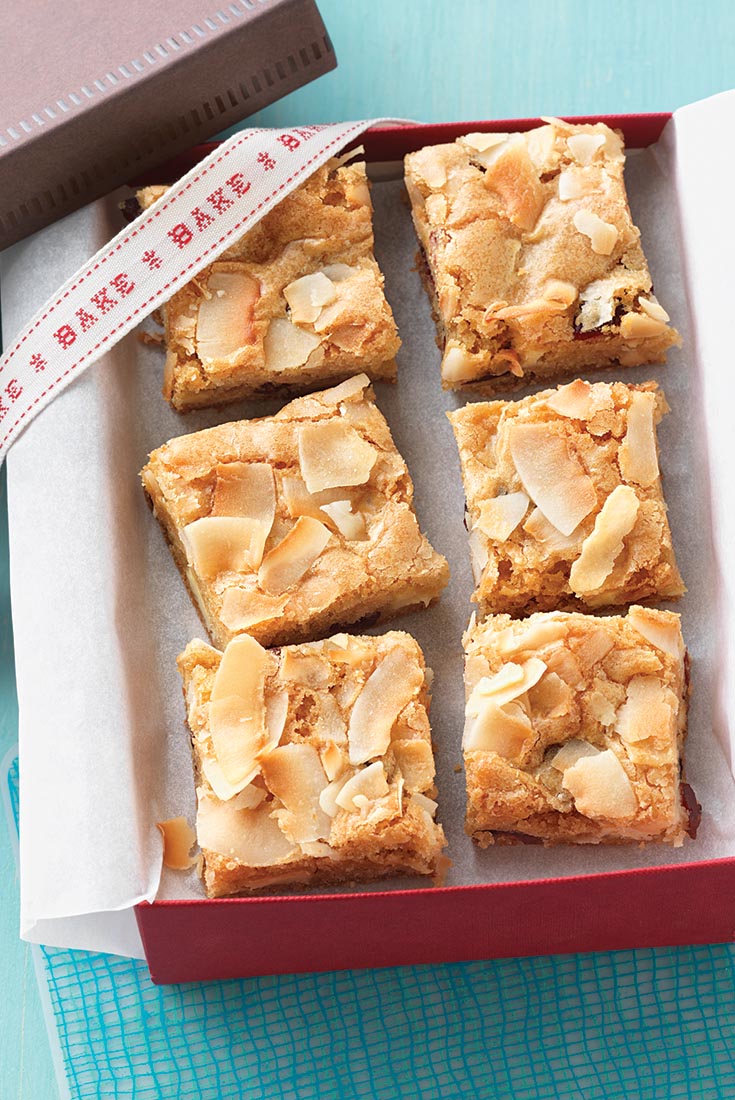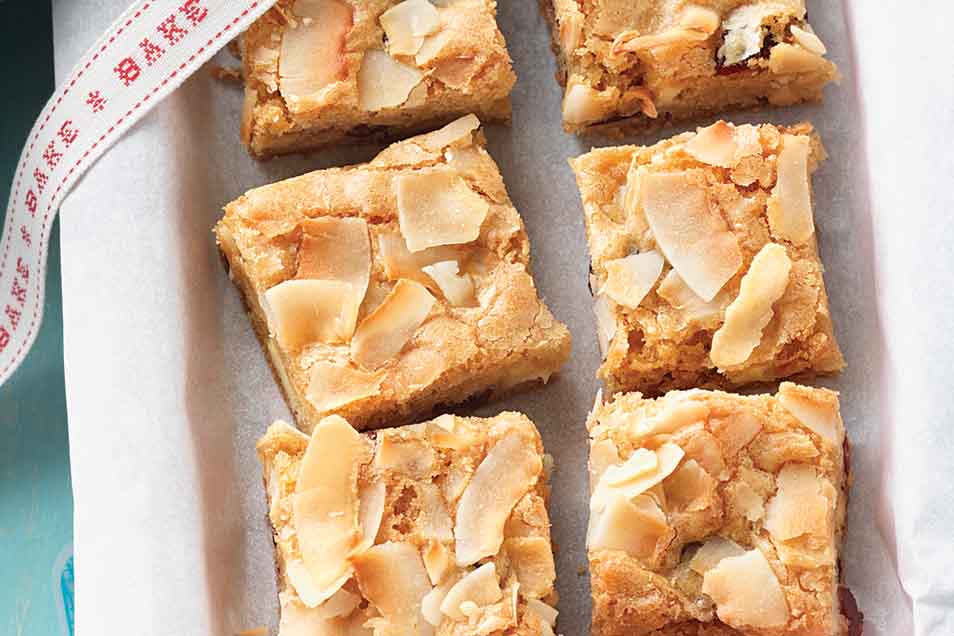 If you're looking for a last-minute homemade gift for the holidays, this recipe is for you. This soft, buttery bar is an ideal base for the contrasting, yet complementary flavors and textures of smooth and creamy white chocolate, tart and chewy dried cranberries, and nutty and crunchy coconut flakes.
Instructions
Preheat the oven to 350°F. Lightly grease a 9" x 13" pan. To ensure that the bars release from the pan without sticking, line your greased pan with parchment paper, and grease the parchment.

Combine the butter and sugar in a medium-sized bowl, stirring until smooth.

Beat in the eggs one at a time, then stir in the vanilla and salt.

Combine the flour and baking powder. Add these dry ingredients to the butter-sugar mixture, stirring to combine.

Fold in the chocolate, cranberries, and half the coconut flakes.

Spread the mixture evenly into the prepared pan, sprinkling the remaining coconut evenly over the top.

Bake the bars for 25 to 30 minutes, until they're golden brown on the edges and top.

Remove the bars from the oven and allow them to cool in the pan before cutting and serving.

Yield: about 2 dozen 2" squares.
Reviews
Delicious, chewy and decadent. I tried it using semisweet chocolate chips as well, and it was just as good as the white chocolate version, tasted sort of like samoa cookies. Hubby's coworker asked for the recipe, so I directed him to this website. Highly recommend it!
I highly recommend this recipe with a few changes to cut the sweetness factor; I decreased both the brown sugar and white chips to 1 cup and they were a HUGE hit at work. Toasting the coconut took them to the next level. I'm making another batch as I write at the request of the staff at work. Thanks KA
At Christmastime, I usually try at least one new cookie, and this was it for this year. I was disappointed. I consider it a waste of good and pricey ingredients, the wonderful coconut, Barry Calebaut white chocolate chunks, and lower sugar Paradise Meadow dried cranberries. It was not too sweet, probably because of the lower sugar cranberries, but the batter itself wasn't particularly tasty. I won't make it again. As much as I like white chocolate, coconut and cranberries, I thought it would be fantastic. Not so.

We're sorry to hear this recipe didn't deliver the flavor you hoped it would bring. We're interested in hearing your thoughts about specifically what parts of the recipe were lacking, aside from being less sweet than expected. Feel free to share your thoughts with us on the Baker's Hotline at 855-371-BAKE(2253) so we can chat about this recipe, and try to come up with something that may better suit your preferences. Kye@KAF
Made these for a luncheon..Big hit with everyone! Cut down the sugar by about 1/3 cup..toasted the coconut flakes..this is a four star keeper!
These have good flavor, texture and are attractive but, as most blondies, they are too sweet for my taste. Adding nuts would help cut the overly sweet taste but I doubt I will make them again. Blondie lovers should enjoy these bars.
I wanted something with coconut that would bake in a 9x13 pan for a crowd. These were perfect - loved the sweet of the chips and the coconut and the tartness of the cranberries. I baked them in my USA pan for 25 minutes and thought they were a bit on the dry side, so I'd underbake them by about 3 minutes next time. They disappeared almost instantly and were more popular than the Kiera's Chocolate Chocolate Chip cookies (also a favorite), which surprised me. Would definitely make again as hubby is a huge fan of coconut and doesn't care for for dark or milk chocolate. Another winner from KAF!
Quick and good! Agreed with someone here that it needs to be baked longer than 25 - 30 minutes. I kept mine in the oven for 40 and it came out nice and chewy but not at all dry. Also agreed with someone who said used toasted coconut flakes. Make a few minor changes - reduced the sugar by 1/4 cup and substituted chopped dried apricots for cranberries, and added a few drops of almond extract. Came out great! Will definitely make it again.
Absolutely fabulous! I love love love these! I didn't have all white chips, so I used a combination of white and semi sweet. I also used some other suggestions from the reviews, like toasting the coconut before putting them in the batter, and added walnuts (just a few). The result was amazing. I am taking them to a family party so I cut them into 1" bite size squares. The middle ones were slightly under-done, so I will bake them a little longer than 25 minutes next time. Make these! You won't be disappointed!
Just made these today - outstanding! I didn't have the cranberries, so I used walnuts instead. And as I like thicker brownies, I used a 10" square pan, and added about 5 minutes to the bake time. Will definitely add these to my holiday baking list.
I found this recipe to be too sweet and subtle. 1.5 cups of brown sugar and 1.5 cups of white chocolate chips made it overly sweet for my taste buds. Next time, I would cut the brown sugar back to 1 cup, and maybe replace one tsp of the vanilla with almond or coconut extract for a little more punch.