A customized print-friendly version of this recipe is available by clicking the "Print Recipe" button on this page.
Coconut-Filled Lemon Cake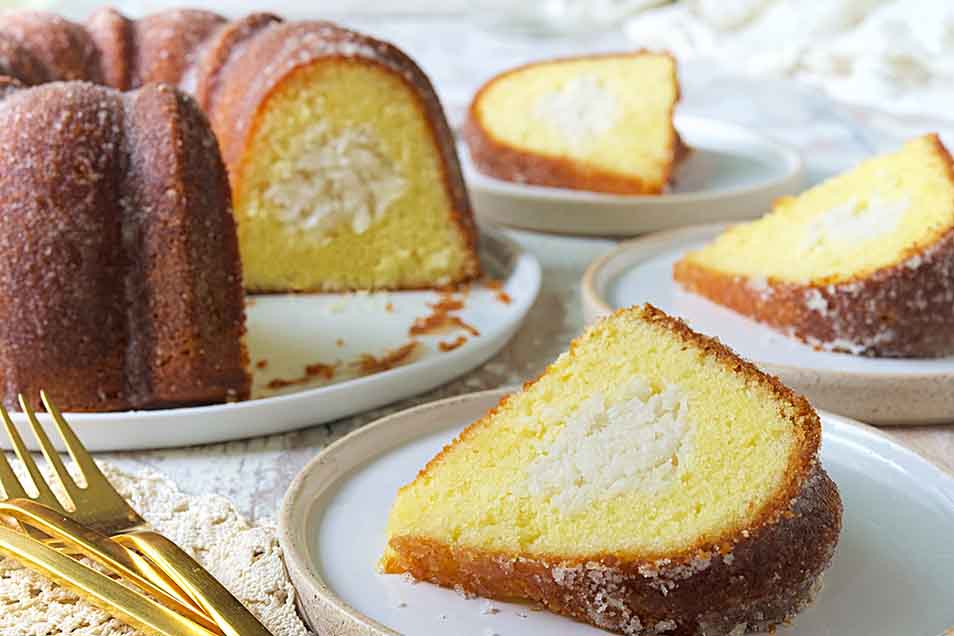 Moist lemon cake, glazed with lemon syrup, harbors a surprise inside — sweet coconut filling. Remember the "tunnel" bundt-style cakes that were so popular back in the day? This is a "taste of the tropics" clone.

Our thanks to cookbook author Maida Heatter, grande dame of delicious desserts, for the inspiration behind the cake part of this recipe.
Ingredients
Filling
2 large egg whites
1/4 teaspoon cream of tartar
1/8 teaspoon salt
1/2 cup confectioners' sugar
1/8 to 1/4 teaspoon coconut flavor OR 2 teaspoons vanilla
2 cups shredded or flaked sweetened coconut
2 tablespoons King Arthur Unbleached All-Purpose Flour
Cake
1 cup unsalted butter
2 cups sugar
1 teaspoon salt*
4 large eggs
2 teaspoons baking powder
1 cup milk
finely grated rind of 2 lemons OR 3/4 teaspoon lemon oil
*Use just 1/2 teaspoon salt if you're using salted butter.
Glaze
1/3 cup freshly squeezed lemon juice
3/4 cup sugar
Instructions
To make the filling: Beat the egg whites, cream of tartar, and salt in a large bowl until the mixture is soft and fluffy.

Add the confectioners' sugar, and beat at high speed until the mixture forms fairly stiff peaks. When you scoop some up in a spoon, it should hold its shape easily.

Stir in the coconut flavor or vanilla.

Toss the coconut with the flour, and add to the egg white mixture, stirring until thoroughly combined. Set it aside while you make the cake.

Preheat the oven to 350°F. Lightly grease a a 9" to 10", 9- to 10-cup capacity bundt-style pan, or a 9" or 10" tube pan.

Beat together the butter, sugar, and salt, first until combined, then until fluffy.

Add the eggs one at a time, beating well after each addition, and scraping the sides and bottom of the bowl after you've added the first 2 eggs.

Add the baking powder, then add the flour alternately with the milk, starting and ending with the flour. Mix until smooth. Stir in the grated lemon rind or lemon oil.

Spoon about 1/3 of the batter into the prepared pan, smoothing the top with a spatula. You want to add enough to cover the bottom, and start to come up the sides; but not so much that you don't have enough left over to cover the filling.

Distribute the stiff filling atop the batter, centering it within the ring of batter so it doesn't touch the sides of the pan. Pat it down gently.

Dollop the remaining batter on top, again smoothing it with a spatula.

Bake the cake for 50 to 55 minutes, or until a cake tester or toothpick inserted into the center comes out clean.

While the cake is baking, make the glaze by stirring together the lemon juice and sugar. Set it aside.

Remove the cake from the oven, and set it on a rack. After 5 minutes, run a knife around the edge of the pan to loosen, and turn the cake out onto a rack.

Poke the hot cake all over with a cake tester or toothpick. Stir the glaze to combine, and immediately brush it on the hot cake. Let it sink in, then brush on more glaze, continuing until all the glaze is used up.

Allow the cake to cool before slicing.

Yield: about 16 servings.
Tips from our bakers
If you have superfine sugar in your pantry, use it in the glaze for this cake; it dissolves more easily in the lemon juice.
Reviews
I made this today and it tastes fabulous. My filling does not in any way resemble the picture. My filling turned gray?? An odd shade ..I don't know why it turned gray and didn't stay white but I used it anyway. The filling is not a smooth consistency at all but chunky coconut which I like but others may not. The cake itself is delicious. Fluffy and moist. Really doesn't need the lemon glaze it is perfect without it. But I like sweet so I used it all up. Besides the odd color of the filling the cake Is good but I couldn't serve this to anyone but family due to the gray colored filling. Any suggestions King Arthur as to why the filling turned grey??

We're honestly surprised to hear about your filling turning gray, Susan. Is it possible that the discoloration you noticed was the vanilla turning the filling slightly off-white? You can try using coconut flavor and omitting the vanilla next time to see if this helps. Another possibility is that the kind of coconut flakes that were used reacted strangely with the cream of tartar (an acid) or otherwise oxidized. Perhaps try using a different kind of coconut flakes to see if this helps, and be sure you're using the filling right away and not letting it sit for an extended of time.

One last thing to check for, be sure your whisk attachment isn't scraping against the bottom of the bowl as this can release little particles of metal, which can then turn your filling gray. We hope this helps you troubleshoot further, and good luck! Kye@KAF
Try this with limes instead of lemons..... you will be delighted
I made this for my mom's birhday. It was so good! It came out perfectly, moist and a bit dense with a lovely coconut tunnel. We couldn't wait for it to cool completely so we cut into it while still a bit warm. She said "I think I have a new favorite cake!" When we had another slice the next day, we decided it was even better warm...microwaved for 15 seconds! So good!
I made this because my husband likes lemons and son likes coconut. It turned out great except for the color of the cake. Mine was not yellow. What did I miss?

So glad to hear you enjoyed it, Amy! The color of the cake can be subtly influenced by the color of the butter and/or egg yolks, which is in turn influenced by the animals' diet. As long as it was tasty, we wouldn't worry too much about the color. Mollie@KAF
The flavor is ok, but the coconut filling is too chewy and the cake texture is a bit too dense. And most of all, the 2 parts don't match and they separate in the mouth. I don't feel like making it again.

We're sorry this cake wasn't for you, Miaousic. If we can help you find something that better fits your tastes, please send us an email or give us a call at 855-371-BAKE. We'd be happy to point you to some of our other favorites. Mollie@KAF
I made this cake, substituting orange for lemon (I was out of lemons!) It was very delicious, but the filling seemed to "disappear" in the cake. I made as directed, and even put the filling in a pastry bag so that I could get it in the middle of the cake without touching the sides of the cake. If I had not known that the cake had a filling, I just would have thought that it had coconut mixed in. It was very tasty, and everyone loved it, but I was disappointed that the cake, when cut, looked nothing like your picture. I was expecting that "tunnel of fudge" type of appearance with my marshmallowy coconut filling. What did I do wrong? Why did the filling get absorbed by the cake?

Lisa, the most likely reason why the filling "disappeared" in the cake is because the egg whites weren't beaten quite enough. It order to give the filling body, the white should reach stiff peaks. (When you pull your beater from the mixture, the whites should hold a pointy shape without folding over.) Try beating it a bit more next time to see if that helps create more of a distinctive layer. Happy baking! Kye@KAF
Very tasty! One question I have is why flour is listed as an ingredient with the coconut filling but not included with the instructions (unless I missed it somehow). I made the filling without the flour and ultimately it was absorbed into the cake. Tasted great but it didn't look like the picture. Will definitely make again! Thank you King Arthur Flour, King of All Cakes!

Elizabeth, you'll see the flour to tossed with the shredded coconut in step 4. It helps keep the ingredients evenly distributed. Hope that helps! Kye@KAF
Making this cake gluten-free is possible! It was heavier than I hoped, but good. I made these changes: For the filling I left out the pwd sugar and I used dried shredded unsweetened coconut soaked in three tablespoons of coconut drink. I used pwd vanilla AND just a drop of coconut flavor. I set it in the fridge to chill, to make it easier to handle, then made little loose logs with my fingers and set those around on the batter before covering. It's like a loose macaroon batter. For the cake I used a vegan stick margarine-like product instead of butter, as I am allergic to casein. I reduced the baking powder to one tsp and substituted Sprite soda for the water, blending in at the last minute before pouring. For the glaze I added a half tsp lime zest and added one tsp lime juice, I poked with a long, very thin screwdriver (yep) and did the first brushing of glaze, then let the cake cool until just warm. I added more powdered sugar before drizzling it on like icing. Notes: I didn't have KA gluten-free flour so I used what I had - KA would've made it lighter. If you let the iced cake rest on the rack until cool, you can then transfer easier to a pretty cake plate with a paddle or wide spatulas. Wherever the icing got into the cake, the flavor is wonderful, so be sure to poke the cake deep down into the filling and brush on the glaze several times like it says. I was afraid a gluten-free cake might fall apart if I saturated it with ALL of the glaze so I thickened to an icing as above. I used a sprayed AND floured 12-cup Nordicware bundt pan. I baked it for one hour and had no trouble getting it out of the pan after 15 minutes of cooling. I took it to work today to a baby shower and think everyone liked it. Thanks for the recipe, it's in my file - I will make this again someday!
Good recipe, easier than I thought it would be. My filling didn't look that pretty and I don't know if I love that part. The cake was really nice though. I made it for my mom and she loved it so that's what matters!
I enjoy resurrecting my Bundt pans from the 80's with KAF's recipes! I have two lemon trees, so love the lemon recipes! I served this cake to about 16 people over two days and everyone handed me back an empty plate - everybody ate every last bite. I used vanilla in the coconut filling because I find coconut extract too "soapy" tasting. I think I filled the first layer of batter a little too full (more than the 1/3 recommended-oops) - the coconut filling pretty much settled in the bottom of the cake. Even so, it was very good. I used only fresh lemons - no extract - and the flavor was very lemon-y. As a veteran Bundt baker from the 80's, make sure those Bundt plans are AMPLY greased! I learned those lessons long ago! There is no such thing as a non-stick Bundt pan!! :)