A customized print-friendly version of this recipe is available by clicking the "Print Recipe" button on this page.
Cream Cheese Carrot Cake Muffins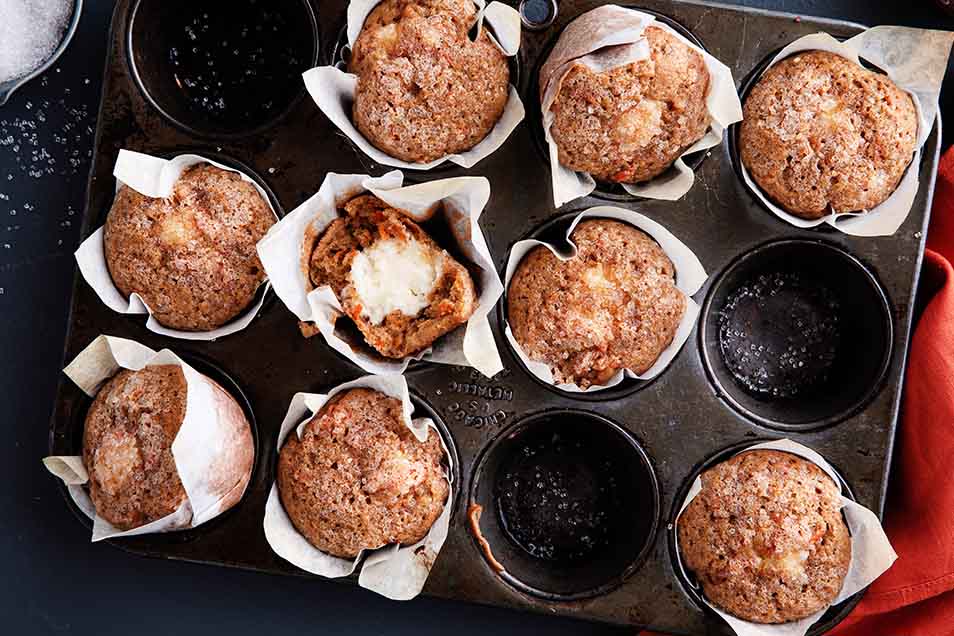 Did you ever wish you could eat carrot cake for breakfast? These muffins are a tasty stand-in. Moist and tender, studded with grated carrots and lightly spiced with ginger and cinnamon, they hold a tasty surprise within: a melting pool of sweetened cream cheese filling.
Ingredients
Filling
one 8-ounce package cream cheese or Neufchâtel cheese
1/4 cup granulated sugar
a few drops of Fiori di Sicilia flavor, optional but very tasty
Muffins
2 1/4 cups King Arthur Unbleached All-Purpose Flour
1/2 cup granulated sugar
¼ cup light brown sugar, firmly packed
1 1/2 teaspoons baking powder
¼ teaspoon baking soda
1 1/2 teaspoons ground cinnamon
3/4 teaspoon ground ginger
3/4 teaspoon salt
2 large eggs
3/4 cup water
1/3 cup vegetable oil
1 cup grated carrots, lightly packed; about 2 medium-large carrots
coarse white sparkling sugar, optional; for garnish
Instructions
Preheat the oven to 400°F. Lightly grease a standard 12-well muffin pan. Or line the pan with paper muffin cups, and grease the cups.

To make the filling: Place the cream cheese in a microwave-safe bowl, and heat on low power for 40 seconds. Stir in the sugar and flavor. Set aside.

To make the muffin batter: In a medium-sized bowl, whisk together the dry ingredients.

In a small bowl, whisk together the eggs, water, and oil.

Stir the wet ingredients into the dry ingredients.

Fold in the grated carrots, stirring to combine.

Drop about 2 tablespoons of the batter (a tablespoon cookie scoop works well here) into each muffin cup, spreading it to cover the bottom.

Dollop on a heaping tablespoon of filling; a level tablespoon cookie scoop works well here.

Cover with enough batter to fill the muffin cups quite full. The batter will come to within about 1/4" to 3/8" of the top of each muffin cup. But don't try to use all the batter; unless you have particularly deep cups, you'll have abut 1/3 cup batter left over. Bake it in a separate custard cup, if desired.

Sprinkle the tops of the muffins with coarse white sparkling sugar, if desired.

Bake the muffins until a toothpick inserted into the cake part of one (not into the cream cheese filling) comes out clean, about 20 minutes. The tops of the muffins will feel firm to the touch.

Remove the muffins from the oven, and as soon as you're able to handle them, transfer them to a rack. If you serve the muffins warm, the filling will be molten. If you wait for them to cool, it'll firm up.
Reviews
Very good recipe. Very moist and flaky. I have this in my recipe book for favorite recipes.
Followed as directed with exception of flavoring in cream cheese mixture (only because I didn't have any). My muffins came out moist and flavorful! They are not oily like some carrot cake tends to be. Would this batter work if I placed in a loaf pan?

We're glad to hear that you enjoyed these muffins, Amanda! You sure could make this as a loaf — we'd suggest using a 9" x 5" loaf pan, baking it at 350°F and checking on the loaf after about 40 minutes in the oven. Happy baking! Morgan@KAF
The filling came out of the top of the muffins while baking. The tops sunk. My oven is a mess.

Wow Julie, we're so sorry that happened! While there are a few things that could cause this, our best guess is that your muffin tin is darker in color or that your oven runs a bit hot. In cakes, this will cause the centers to dome. In a filled muffin like this, that extra rise in the center could push the topping up higher than intended, resulting in just the kind of mess you're describing. Switching to a lighter colored muffin pan or doubling up on them can help insulated your edges a bit and help prevent this kind of erupting center. We hope your next batch comes out beautifully! Kat@KAF
I love this muffin. I made it to sell in work and it was a hit. Loved it. Just follow the recipe to a "T". Excellent
Fabulous, made them for the second time. If you microwave them on the second day, the bit of warmness makes the cream cheese super yummy.
My muffins turn out delicious, thank you!
I just made this and followed a previous reviewer's suggestion of 375 for mini muffins and they came out great! I also followed the actual directions and made some standard sized muffins as well, and those came out perfectly! I am certainly going to make these again, but think I will stick to regular or large muffins, the cream cheese in the center makes a lot more of an impact (and that is why you were probably looking at this recipe in the first place)
Super yummy! My partner told me the muffins were 'awesome.' Fluffy and moist with a dense cream cheese center, the muffins definitely hit the target for 'carrot cake.' The next time I need a dessert for a party, I'll be making these instead of a cake or cupcakes.
Was not crumbly and dark like carrot cake. Disnt taste all that great. Disappointing.

We're genuinely sorry to hear about your disappointing results, Sara, and we're wondering if something went awry with this recipe as it usually evokes a delicious, classic carrot cake. It's possible that either too much flour was used or the carrots weren't quite as fresh as we'd hope they'd be. We encourage you to consider giving our friendly and experienced bakers on the hotline a call so we can troubleshoot further and find just the right carrot cake recipe for you. Kye@KAF
I followed this recipe to a tee and it is the best carrot muffin cake I have ever made. To have the cream cheese centre filling is just the best idea ever. The muffins are nice and fluffy, yet moist at the same time. This recipe is a keeper and will be making it again and again.