A customized print-friendly version of this recipe is available by clicking the "Print Recipe" button on this page.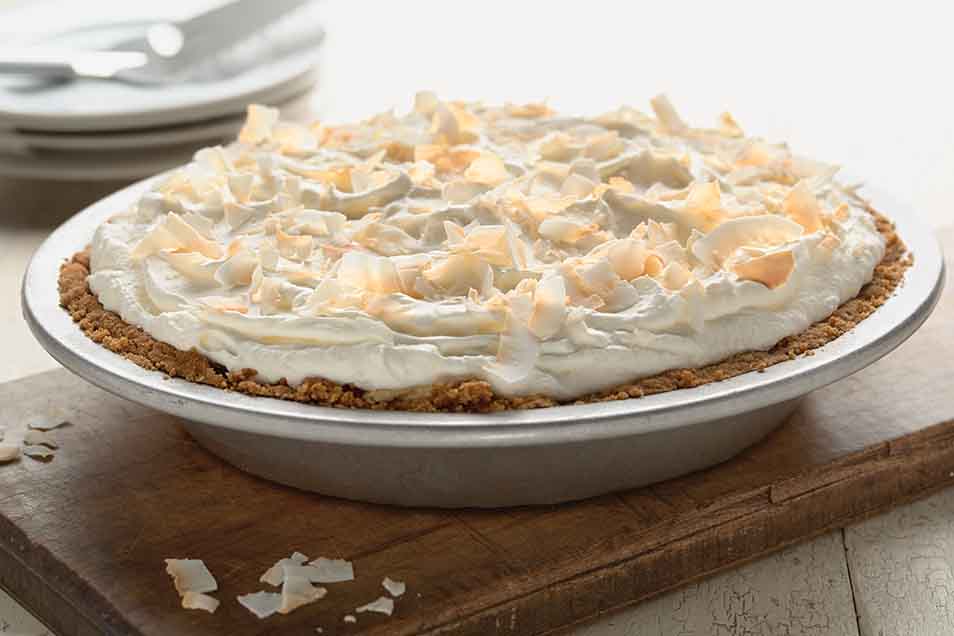 This pie is both quick and delicious, with nicely chewy bits of sweet, toasted coconut in a smooth, creamy filling.
Ingredients
Crust
1 1/4 cups finely crushed graham cracker crumbs
1/4 cup sugar
5 tablespoons butter, melted
1/2 teaspoon cinnamon, optional
Topping
1 cup heavy cream
1 tablespoon sugar
1 tablespoon Instant ClearJel, optional; to stabilize whipped cream
2 to 3 drops coconut flavor or 1 teaspoon vanilla extract
toasted coconut flakes, optional, to garnish
Instructions
Preheat the oven to 375°F.

To make the crust: Blend the crust ingredients, and press into the bottom and sides of an 8" or 9" pie pan.

Freeze for 15 minutes, then bake for 8 to 10 minutes; the crust won't change much, just become slightly brown around the edges. Remove from the oven, and set aside to cool.

To make the filling: Combine the pastry cream filling mix with milk, cream, and flavorings. Stir until blended, then beat for 2 to 3 minutes, until thick.

Stir in the toasted shredded coconut, and spoon the filling into the cooled pie shell.

To make the topping: Combine the cream, sugar, ClearJel, and flavorings, whipping until fluffy. Spoon or pipe onto the top of the pie.

Refrigerate the pie for at least 2 hours, or overnight. Garnish with toasted large-flake coconut, if desired, and serve. Refrigerate any leftovers.
Tips from our bakers
No pastry cream filling mix? Prepare one small box of vanilla instant pudding mix as directed on the box, using heavy cream in place of one of the cups of milk. The cream will make the pudding taste much richer.
Reviews
I made the graham cracker crust from the blog recipe which came out really good except for the fact that it shrunk after I took it out of the oven. (it goes in the freezer for 15 mins). I also made my pastry cream from scratch as I am familiar with that recipe and have made the cream several times without issue. I toasted my coconut (just the regular kind) and when my pastry cream cooled off I mixed it into my pastry cream. I also ended up whipping up 2 cups of cream for the top as I put it in a pipping bag as we were having guests. One cup just wasn't enough to cover the top of the pie. Everyone raved about the pie. It was so creamy and tasted of toasted coconut, with that crunch of graham cracker.
Terrible thick filling. I even added more milk. The Pastry Cream Mix is not a quality product I have never had success with it., i will not use it again.

Todd, we're disappointed to hear that you haven't had success with our Pastry Cream Mix or with this recipe. If we can help at all (to troubleshoot, offer alternatives, etc.), please give our free Baker's Hotline a call at 855-371-BAKE. Mollie@KAF
This pie looked beautiful but the crust was too tough and the custard too stiff - I never have trouble with any crust recipes so I was rather surprised this did not come out as I would have hoped.
Tough graham cracker crust may be caused by pressing too well in the pan before baking or baking it a little longer than needed. We're sorry this easy recipe didn't match either of our expectations and hope you'll find one that will be your dream coconut cream pie. Happy Baking! Irene@KAF
Update: since I wanted to use up the rest of the pastry mix, I found this was certainly a very quick recipe to make to bring to an event that requested desserts to serve. So, the package of pastry cream makes 4 coconut cream pies in all, if used for this particular recipe. It makes an attractive pie with the toasted coconut on top, and while I'm not in love with the taste of the pie, it is certainly makes a quick dessert to make at this busy time of the year!
This recipe was definitely easy. I made it per instructions, but the pie was so thick and stiff and bland that we had to throw it out. However, I usually make everything from scratch, so maybe this is how a mix tastes.
This may be answered under product reviews for the pastry cream mix. Be sure to use only 1 1/2 cup of the pastry cream mix with 1 cup milk and 1 cup cream. If the entire packet pf pastry cream mix was used or less liquid was used, that would result in a stiff cream pie. We're here to have a conversation about this at our baker's hotline at 855-371-2253 for more problem solving. Irene@KAF
Fantastic for a quick & easy & delightful pie. Made it for a Pi Day (3/14/15) party and people raved about it
Fantastic for a quick & easy & delightful pie. Made it for a Pi Day (3/14/15) party and people raved about it
I made this recipe using the pastry cream mix and it was delicious. I bought a graham cracker crust it was still delicious, everyone liked it. Also, I made whipped cream without any stabilizers and it was still good 24 hours after being made. I will say, that using the pastry cream mix as directed in the recipe resulted in a pastry cream that was a little thick for my taste so, I thinned it out with some milk and it was perfect. I will be repurchasing the mix.
Sorry to have to be the one to break the 5-star bonanza reviews, it was bc of all those 5 stars I had high hopes, even tho' I would give high marks for simplicity; but where it counts most--taste--this one missed the mark for me. I used the vanilla pudding and added pure coconut extract, but it was to me still just a poor imitation, a 'wannabe' coconut cream pie. I'd rather use the oven and go back to my easy-bake version. Much better in every way.
Easy and delicious. Everybody loves it. I always use the vanilla pudding.